ARTS & ENTERTAINMENT
Five Sydney Record Store Owners Give Us Their Classic Album Picks
Hear from the enthusiasts about what makes a classic record — and where to buy it.
in partnership with

How do you define a classic album? Is it sales figures, popularity over time, how influential it is, or something completely indefinable? We've all got our personal favourites, but with countless great LPs throughout the history of music, at some point you need to ask the experts. Luckily, Sydney has a number of peerless record stores, all staffed by helpful and knowledgeable enthusiasts keen to share the sounds they love with you.
In partnership with LEGO Art, which has paid tribute to The Beatles' The White Album in its latest range, we spoke with five record store owners about the albums that make them tick and what, in their own personal view, makes a record worthy of the term 'classic'. Read on to find out what made the cut.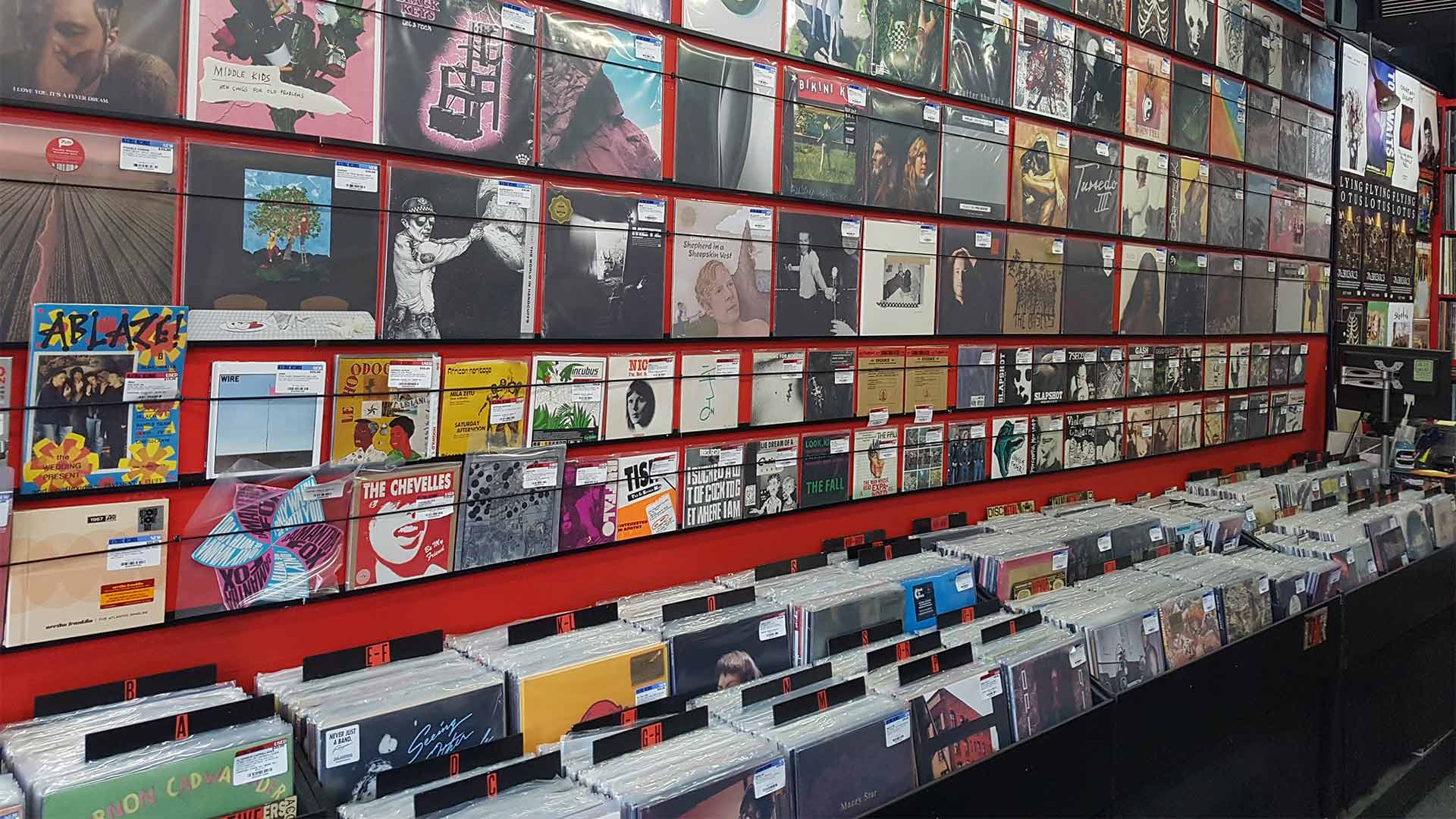 BEATDISC RECORDS: 'DOUBT SEEDS'
Parramatta institution Beatdisc Records will soon celebrate its 25th anniversary, and owner Pete Curnovic is keeping it local with his classic album selection: Doubt Seeds, the swansong LP from Sydney alternative rockers Bluebottle Kiss. "They knew it was their final album so they went all out," he tells us. "It was all recorded analogue in Leichhardt and it's never been pressed on vinyl." Curnovic says the band's foray into experimentation and improvisation is why it's topped his personal list, as well as the memorable show at Manning Bar around the time of the album's release. Fourteen years since it hit the shelves, Doubt Seeds is still on Curnovic's playlist at least once a month. Find Beatdisc at Queensland Arcade, Church Street, and check out what's in store, here.

THE RECORD STORE: 'FRANCIS INFERNO ORCHESTRA PRESENTS VERANDA CULTURE'
"The perfect album at one point isn't a perfect album at another point," says The Record Store's Stephan Győry. The Surry Hills store owner eventually settled on Francis Inferno Orchestra Presents Veranda Culture, a 2017 release that's as suitable for "losing your mind on the dancefloor", says Győry, as it is for "chilling out on the couch on Sunday at 3am". He says, "It's my go-to when I'm on the doof island." The Record Store continues to buy and sell new and second-hand records, as well as a range of equipment for vinyl enthusiasts. Find The Record Store at 34/277 Crown Street. Its online store has free shipping within Australia for orders over $100.

COTTONMOUTH RECORDS: 'ILL AT EASE'
Cottonmouth Records' label and store boss Zach Williams firmly believes the albums you love in your formative teenage years can shape your entire musical identity, and the Enmore-based store owner picked Ill At Ease, the 1995 release from Adelaide metal mainstays The Mark Of Cain, as his classic album pick. "I was angsty and it was the most raw record I'd ever heard," says Williams, who puts much of the record's impact down to the production from hardcore punk icon Henry Rollins. Williams also played in a band that covered a handful of The Mark Of Cain tracks as a teenager, so his connection to the record runs deep. Find Cottonmouth Records at 182 Enmore Road, or visit its online store to stock up on vinyl.

REPRESSED RECORDS: 'FUN HOUSE'
Fun House, the second album from The Stooges, is often held up as one of the most influential records in punk's history, and Repressed Record's Nic Warnock certainly agrees. "It drew a line to the things I like now," he says, before adding that a new live album of the band from the time has recently been released and, even though it "kind of sucks", it makes him love the record even more. "It's part of being human," he says, noting its messy recording, and the rich lineage that makes punk such an important and enthralling subculture. Find Repressed at 413 King Street, Newtown, or shop for records, books and CDs from its online store.

DESIRE BOOKS AND RECORDS: 'THE STONE ROSES'
The Stone Roses' eponymous debut "oozed all the cool and swagger that had been brewing in Manchester [in the 80s] into some sort of defining crescendo," says Desire Book's & Records owner Tim Barber, who chose an album that shaped his teenage years, and celebrated the scene known as 'Madchester'. Barber says, "Pop music always moves on, very few records get remembered and even fewer become classics". But, in the eyes of many, over 30 years on, The Stones Roses has truly stood the test of time. Find Desire Books & Records at 3/3 Whistler Street, Manly.

Discover more about the new LEGO Art range, here. 
Top image: The Record Store, Kitti Gould
Published on September 11, 2020 by Joe Rivers