Four Light Works Keeping Sydney Aglow (Even After Vivid Ends)
Even when Vivid's lights go out, these artworks continue to brighten up Sydney at night.
in partnership with

Oh, Vivid. You beautiful beacon of light. You bring us out into the streets to dance to your music and marvel at your colours, and you inspire us to connect and create. But you're long gone, as if you were only a dream, and now we're left still looking longingly at boring old buildings that don't even shimmer and shimmy along to electronic dance music.
But here's the thing. Like a fourteen-year-old girl suddenly seeing clearly again after her first major crush, we have come to realise that there's a whole world out there of LED-studded, neon-framed possibilities. We'll always love you, Vivid. We can't wait to see you again. But now we have other shining lights to brighten our nights, too.
---
BADU GILI CURATED BY RHODA ROBERTS
Badu Gili, a new sound and light show in celebration of Australia's First Nations culture, is making Sydney's sunsets a whole lot more dramatic. No longer do you have to wait for Vivid to come around to see the Opera House transform into an ever-changing, illuminated canvas. As the sun goes down each day — and then again at 7pm — the House's iconic sails beam with a vibrant, seven-minute projected animation exploring ancient Indigenous stories, First Nations artworks and stunning soundscapes from Damian Robinson of Wicked Beat Sound System. The name Badu Gili translates to 'water light' in the language of the site's traditional owners, the Gadigal people.
Find Badu Gili on the Opera House sails.
---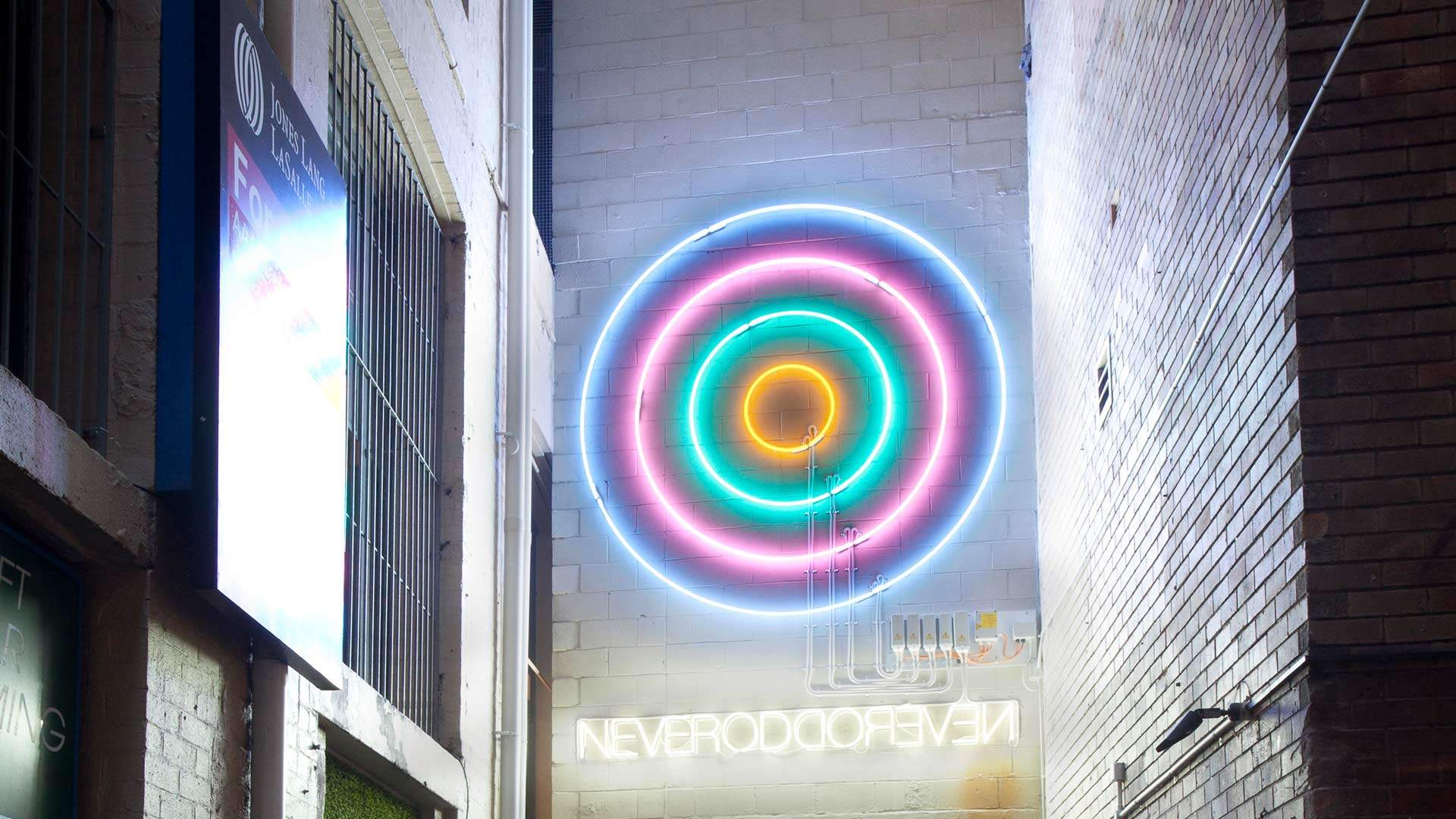 CIRCLE/S IN THE ROUND FOR (MILES AND MILES +1) BY NEWELL HARRY
Hidden away in a dark back alley charmingly called Temperance Lane, concentric neon circles brighten the path of all those who pass beneath them. The installation by Newell Harry pays homage to Miles Davis' 'Circle in the Round', aiming to capture and reflect the "entwined order and chaos" of the very best in jazz. The pulsing circles and accompanying textual wordplay (a brightly lit, palindromic NEVERODDOREVEN) are meant to evoke the beats and structures of Davis' "electronic period," which began with 'Circle in the Round' and continued through to his final musical contribution, the album Doo-Bop.
Find Circles in the Round in Temperance Lane in the CBD.
---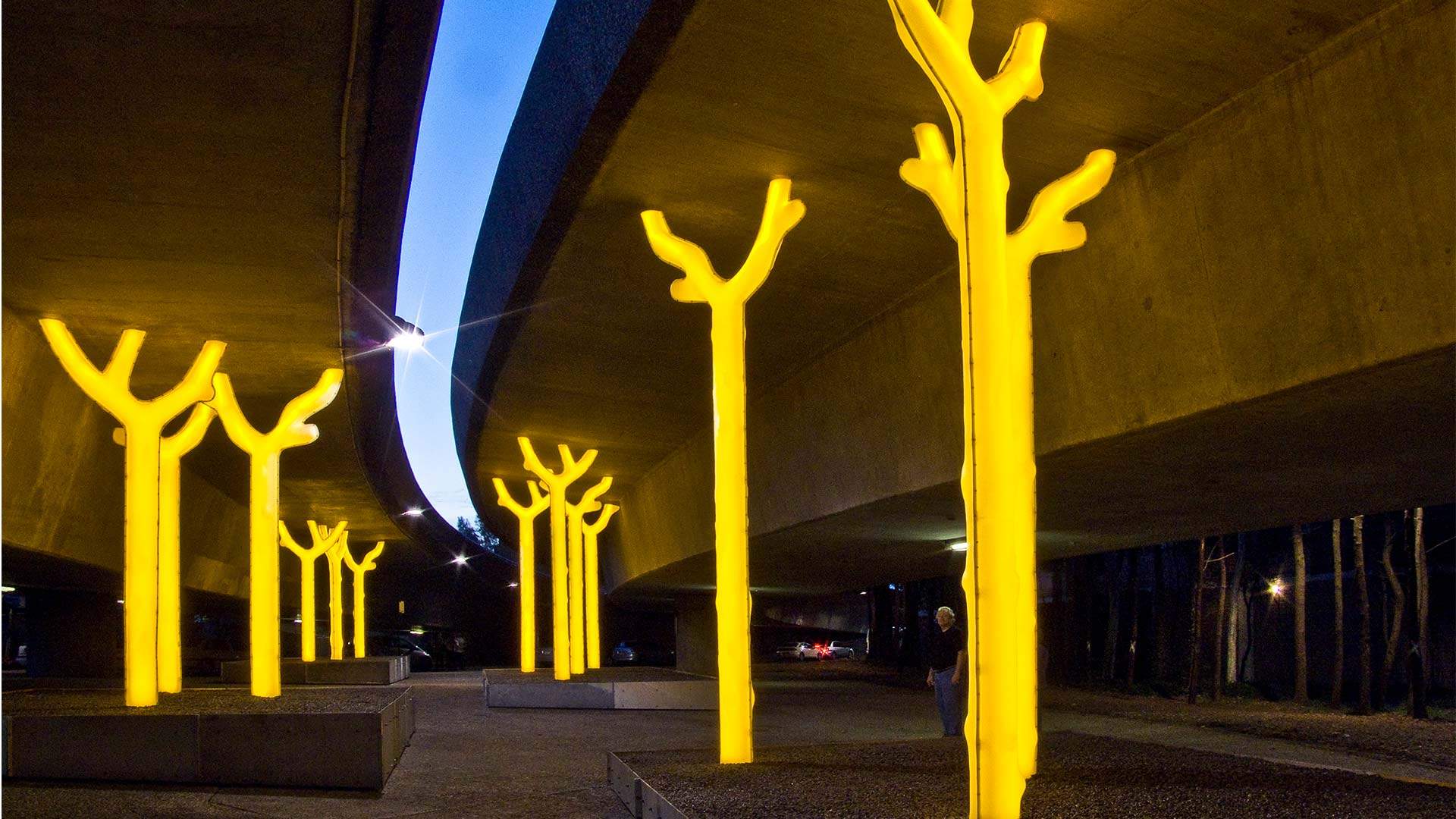 ASPIRE BY WARREN LANGLEY
Glowing golden trees reach their branches upwards, seeming to bear the spectacular weight of the Western Distributor overhead. Their heroic effort pays tribute to the nearby Fig Street community's teamwork, which succeeded in preserving local housing slated for demolition. The work by Warren Langley is both utilitarian, lighting the way for pedestrians and motorists passing by, and aspirational, reflecting the immense progress we can make as individuals and communities when we unite towards a common goal. Combining these elements, the installation "acknowledges the growth and perpetuation of neighbourhoods within the city landscape."
Find Aspire in Ultimo underneath the Western Distributor.
---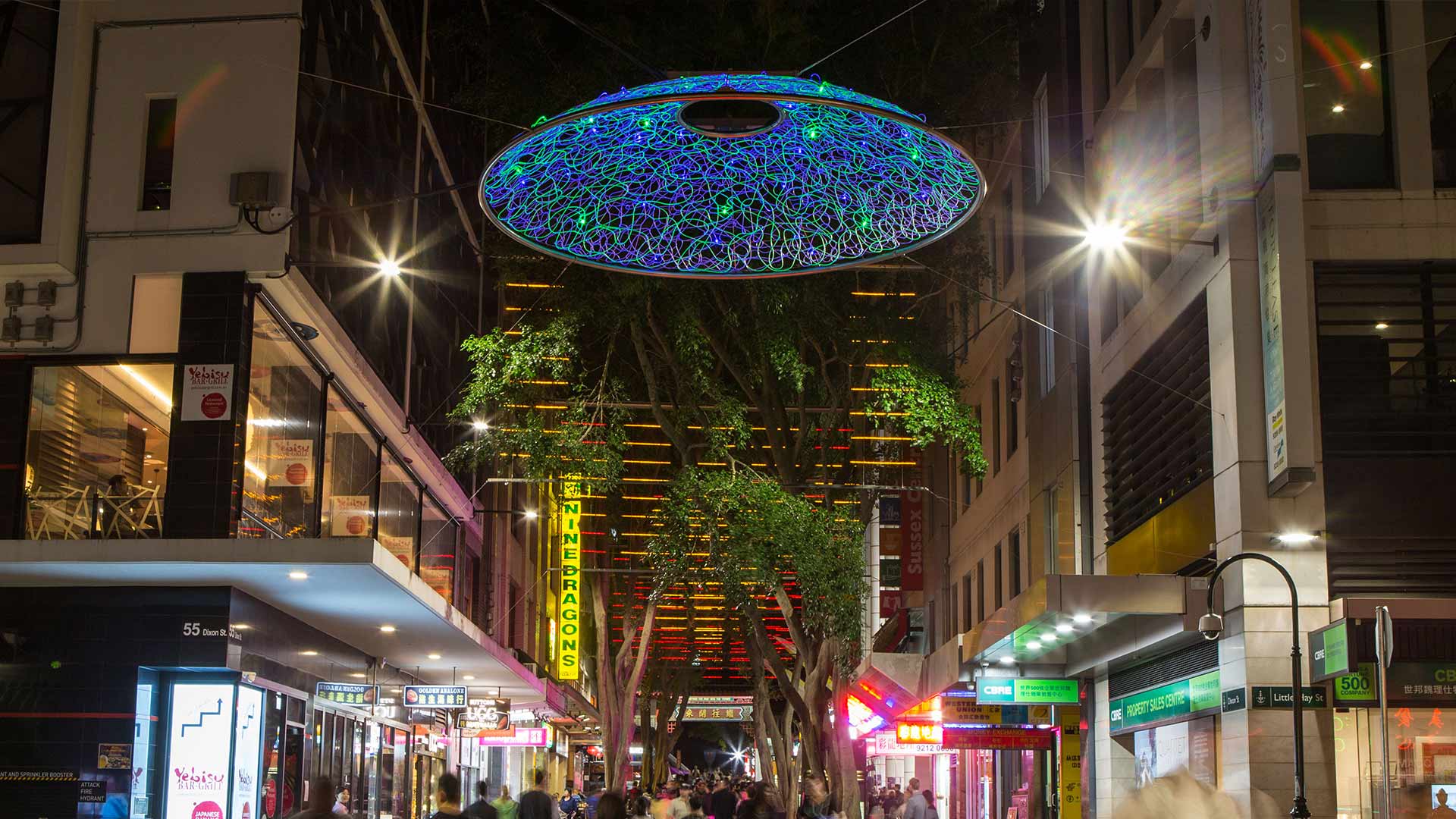 HEAVEN AND THE DIXON STREET LIGHT SCREENS BY PETER MCGREGOR
We've found Heaven, and it's at the intersection of Dixon and Hay Streets in Chinatown. A luminescent, colour-changing maze of fibre optics suspended mid-air, the installation at once evokes Mordor's Eye of Soron and the intersecting curves and edges of a Chinese lantern. Heaven is set against the backdrop of the Dixon Street Light Screens. This set of installations glow fire hues, deepening gradually in colour from 6pm until midnight, as Heaven's larger fibre lights change colour every hour on the hour until then. The creator of both works, Peter McGregor, drew inspiration from his Chinatown surroundings: "drawing on Chinese architecture, mythology and philosophy, the work is colour coded based on feng shui diagrams, which place the work at the symbolic centre of Chinatown."
Find Heaven and the Dixon Street Light Screens at the intersection of Dixon and Hay Streets in Chinatown.
Introducing Concrete Playground Trips
Book unique getaways and adventures dreamed up by our editors