KFC Has Created a Peking Cluk Burger and It's Throwing a Festival on Cockatoo Island with Peking Duk to Celebrate
Catch Peking Duk, Baker Boy and Thandi Phoenix on Cockatoo Island next month and get the chance to try the Colonel's new Peking duck-inspired creation.
Fried chicken lovers: start drooling. KFC is set to unveil a brand new burger inspired by the flavours in Peking duck, but there's a catch: the only place you can get your hands on it will be at their new music festival on Cockatoo Island.
The Colonel will throw the music festival in the iconic Sydney Harbour spot with an all-star local lineup on Sunday, March 13, and yes, all tickets include free KFC Peking Cluk burgers. You lucky ducks.
The Peking Cluk burger has been created in collaboration with local TikTok sensation Dimsimlim and is made from Original Recipe fried chicken coated in a hoisin glaze sauce with a healthy topping of dry spring onions, cucumber and cabbage slaw.
As for the headliners at the festival — it's Peking Duk, of course. The rowdy DJ duo are stepping up to help the Colonel as KFC's official burger spokespeople, and will be performing at the festival alongside beloved Yolngu rapper Baker Boy and Sydney favourite Thandi Phoenix.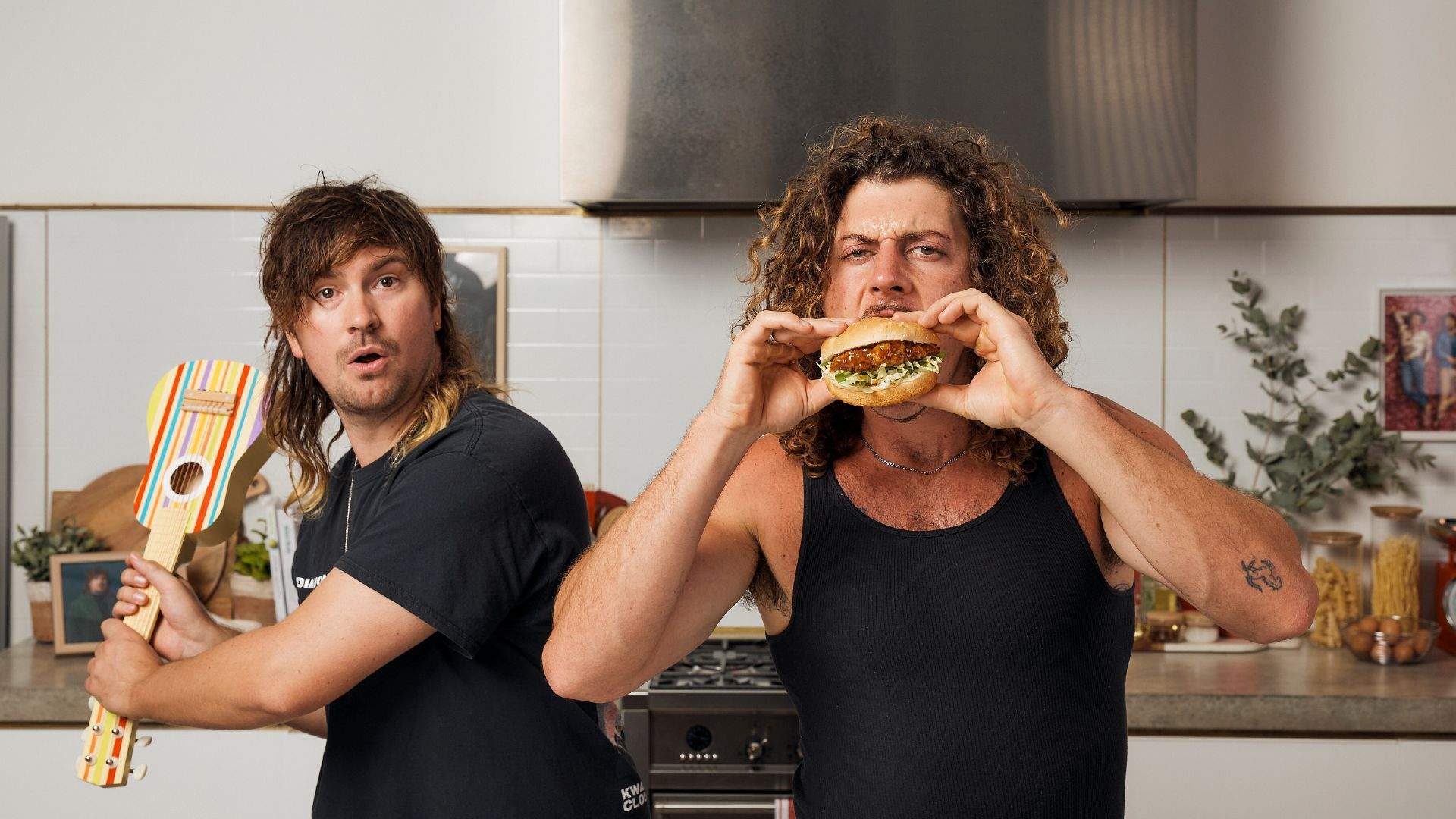 Attendees will be treated to Peking Duk's brand-new live show that they created over the last two years. The show has only been seen a few times at the likes of Field Day and features big party energy, remixes of previous material and plenty of synthesisers.
"We've been in the bunker making the live set totally different, totally unique. It's going to be fun and it's going to be an experience that nobody's had before," Peking Duk's Reuben Styles told Concrete Playground. 
Adam Hyde of the duo put it more succinctly: "Get clucked, go cluck yourself, cluck off and have a clucking great time on Cockatoo Island with the boys."
Cockatoo Island is a UNESCO World Heritage Site and has hosted iconic musicians including The Wailers, Nick Cave and the Bad Seeds, Skrillex and Lorde.
"We've never done Cockatoo Island and that's such an iconic spot for gigs. So many epic artists have come through and done shows there," said Styles. "We didn't expect our first time playing there to be a KFC collab, but god damn it's going to be so fun."
The festival will mark one of very few gigs the pair have been able to play since the start of the pandemic. "Anytime a gig goes ahead now it feels like a huge relief that we actually get to put on a party and play a set for people," Styles continued. "It's so hard to pump people up about a gig when you know there's such a high chance it won't go ahead. Doing more intimate shows like the KFC one is so great for the interim because you can say, 'Hey, here's a show, it's going to go ahead, let's all get excited.'"
Style and Hyde, alongside festival buddy Thandi Phoenix and a heap of Aussie musicians took a stand last month against the NSW Government's restrictions on live music and religious gatherings. The group of musicians labelled themselves Thrillsong after it was revealed that Hillsong hosted a large youth event with many similarities to a music festival during a time when festivals were unable to go ahead.
"I think it was a great thing," Styles proclaims about Hillsong's gathering. "It shined a light on how stupid the government's rules were to allow religious events to go down but no any other form of musical events."
If you want to catch Peking Duk's new set and get your hands on the Peking Cluk burger, tickets to KFC's Cockatoo Island music festival are available via Moshtix now for $50, but be quick as they're sure to be snatched up quickly.
There's no word yet whether the Peking Cluk burger will be on offer more widely in KFC stores.
KFC's Cockatoo Island music festival will be on Sunday, March 13 featuring Peking Duk, Bakery Boy, Thandi Phoenix and plenty of burgers. Tickets are on sale now.
Top image: Peking Duk at Sunset Piazza, DNSW
Introducing Concrete Playground Trips
Book unique getaways and adventures dreamed up by our editors