Calle Rey
An all-vegan Mexican and Peruvian restaurant with a dedicated pisco bar in Newtown.
You've tried a pisco sour, but have you had a pisco margarita or a pisco-spiked cosmopolitan? What about a pisco espresso martini? At King Street newcomer Calle Rey, you'll find all four. It's showcasing the true potential of this under-represented Peruvian spirit at its Diablo Pisco Bar, which serves up well-crafted cocktails that are worth coming back for.
The cocktail list offers seven pisco-based drinks, including one of the best versions of the classic pisco sour ($18) we've had. But the Pisco Daisy ($18) — a take on the classic margarita — or Pisco Espresso ($18) are equally well done.
You'll also find enormous (and seriously sweet) 'largaritas', which come topped with either a Vodka Cruiser or a Sol beer for $25 a pop — and could easily be shared between four. Flavours include watermelon, passionfruit, strawberry and lime.
Apart from the drinks, the Newtown restaurant offers a 100 percent vegan menu that melds Mexican, Peruvian and Japanese cuisines. Executive Chef JC Miranda hails from Peru and boasts over 25 years in the kitchen, having spent seven of those years focusing solely on plant-based creations.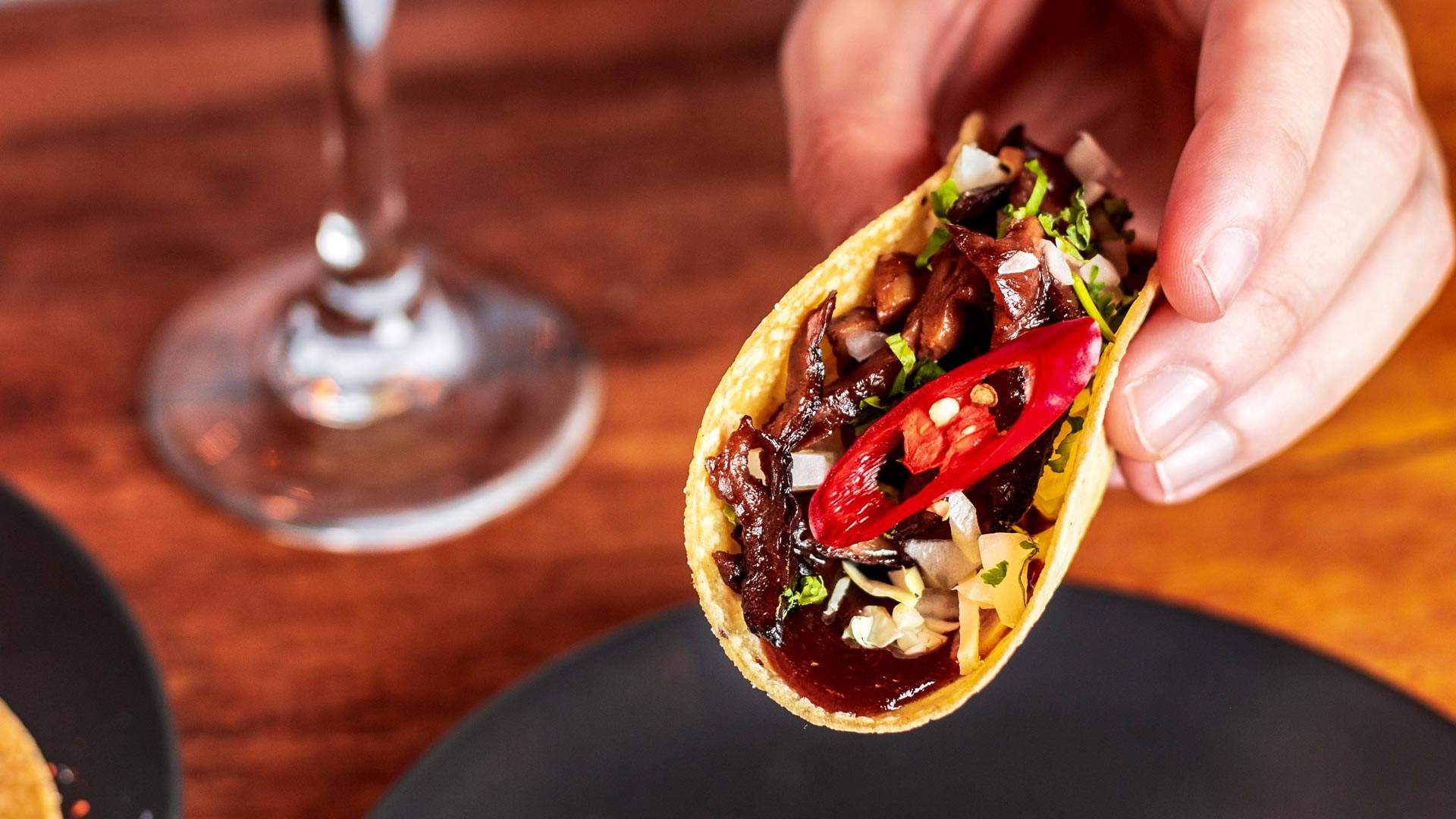 At Calle Rey, you'll find cauliflower buffalo wings ($15) in a smoky barbecue sauce; 'chicken' enchiladas ($28) topped with almond cojita and two types of salsa; and 'prawn', 'roast duck' and 'fried calamari' tacos (all $12) — all of which are made with vegan ingredients, but do a good job of making you think otherwise.
The star dish, though, is the Peruvian Sashimi Nikkei ($16), which truly mimics the taste of tuna. Instead of fish, it's made of thin sheets of konjac (a plant) that's marinated in tiger's milk and topped with avocado, togarashi, snow peas and teriyaki sauce. Plan to order more than one serve, because you won't want to share.