KISSUU
Find a Japanese restaurant with eats from an ex-Nobu chef downstairs and a disco-heavy party bar upstairs.
Oxford Street is no stranger to a party, and Kissuu is all about the party. The hybrid restaurant bar is bringing together two of Sydney's favourite activities — hitting the dance floor and snacking on top-notch Japanese food.
Now open in Darlinghurst, Kissuu is serving up feeds from former Nobu chef Adam Burke and disco curated by his partner, DJ Richy Penny, five nights a week.
"We miss Sydney's glory days and we're so ready to bring the energy back and provide our guests with the complete package under one roof — an exceptional restaurant layered with a late-night bar boasting a rotation of the best DJs on the scene," Penny says. "It's the sort of place you can keep coming back to for a guaranteed quality night out."
The two levels of Kissuu each provide distinct energy and utility. Downstairs is the 40-seat restaurant, boasting moody lighting, an eye-catching green marble counter, several banquet tables and a collection of Burke's Japanese dishes that he's perfected across his time in kitchens at Nobu London, Toko Dubai, Gordan Ramsay's restaurants and Sunset Sabi.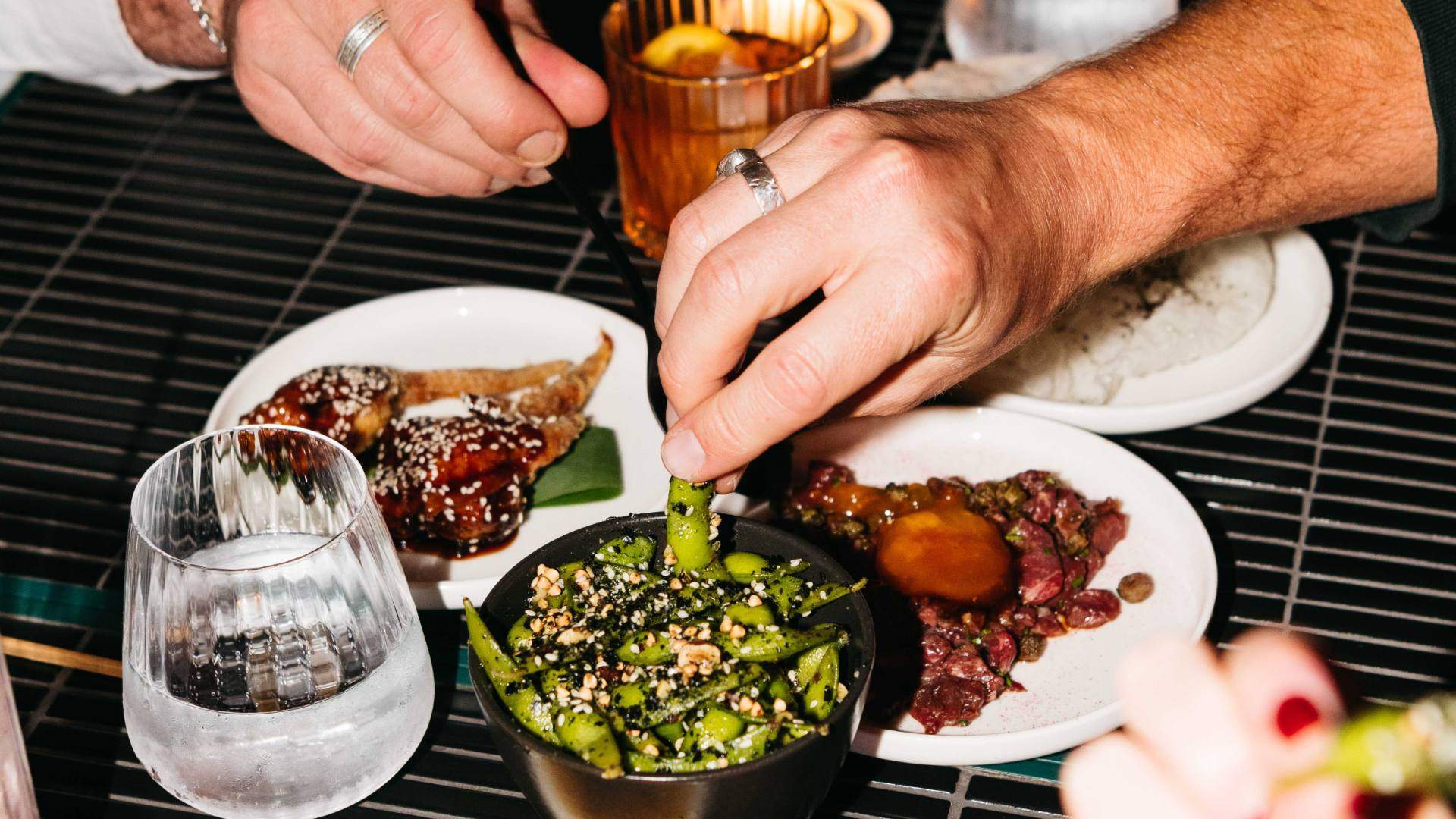 The menu is calling out to be enjoyed as a banquet-style feast of share plates, however, it can also be attacked solo. There are snacks like stuffed chicken wings with prawn and wasabi kimchi or tempura Balmain bug lettuce cups; prawn and scallop dumplings; crispy tuna, kingfish or eggplant tacos; and a wood-fired robata menu staring the likes of miso-glazed toothfish, lamb ribs and koi-marinated spatchcock.
"This menu is all about using fresh ingredients, having fun and making delicious and creative dishes," Burke says. "My unique style draws inspiration from my extensive travels around the world and my Burmese heritage to create Japanese dishes that celebrate local, seasonal and native ingredients."
Head upstairs and the attention shifts from the food to the music. According to Penny, "Disco lends itself perfectly to getting a sexy Japanese eatery grooving."
Once you're ready to cut shapes, you can head to the luminous dance floor, flooded by red neon lights. Complimenting the Diana Ross and Gibson Brothers remixes emerging from the DJ booth are orange lounges, mirrored walls and Kissuu's vibrant cocktail menu.