Eight Stunning Locally Made Jigsaw Puzzles for When Boredom Strikes (Again)
Got too much time to kill? Instead of flicking on the TV, give these beautiful, brain-tickling gems a go.
Over the past two years, we've already spent too much time burning through our streaming queues, so simply settling in for a stint of TV has lost a bit of its lustre. And, there's also the fact that our day-to-days are pretty well dominated by screens anyway. From waking up and checking the weather/news/Instagram to then packing our days with staring at a computer at our nine-to-fives, sitting on the loo watching TikToks and cooking the recipes we view on iPads, it's no wonder we've got screen fatigue. So, put that remote down and treat yourself to another way to kill time: a jigsaw puzzle. Yep, it's time to get analogue.
For many of us, 2020 was the year of hobbies and home activities. So, no doubt you already have a jigsaw or two lying around — which means you're in need of fresh puzzle talent. Or, you might've resisted the recent trend, only to now realise that you missed out on some wholesome, puzzle-piecing times. Either way, we're here to help.
Here are our eight puzzle picks for when boredom next hits like a tonne of bricks — whether you just have a few spare hours, you're spending time in isolation or you feel like you've watched every streaming series there is to watch.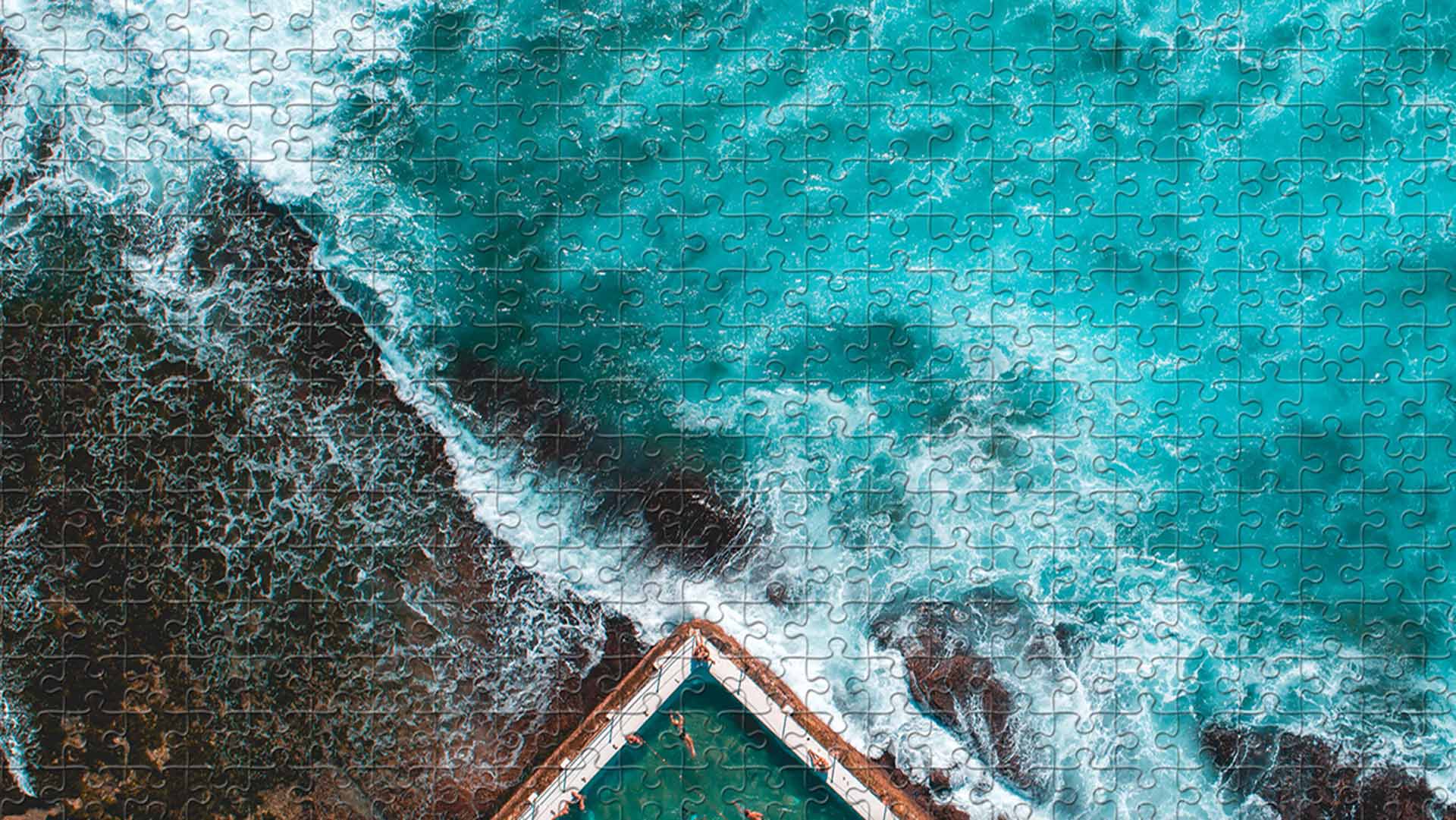 AUSTRALIA UNSEEN
Bring the beach to your living room with these serene coastal scenes in puzzle form. Australia Unseen's Vincent Rommelaere takes photos of Australian beaches and rock pools, and usually sells them as prints on his website. But in 2020, as iso-life became the new normal, Rommelaere began transforming some of his snaps into jigsaw puzzles. At the moment, he offers seven different puzzles available as 1000-piece ($49) jigsaws.
If you're into ocean pools, you can keep your fingers busy with a puzzle of Bondi's famed Icebergs. Otherwise, there's shots of the Coogee Beach rainbow path, the Bronte Baths and people sunbathing at Bondi. Or, if you'd prefer to look at Melbourne, you can opt for one of the city's CBD skyline.
Delivery within Australia is $10 and international shipping is also available, with cost and delivery time dependent on region. All jigsaw puzzles in stock are shipped from Sydney and you'll score free shipping on orders over $100.
Buy via Australia Unseen's website.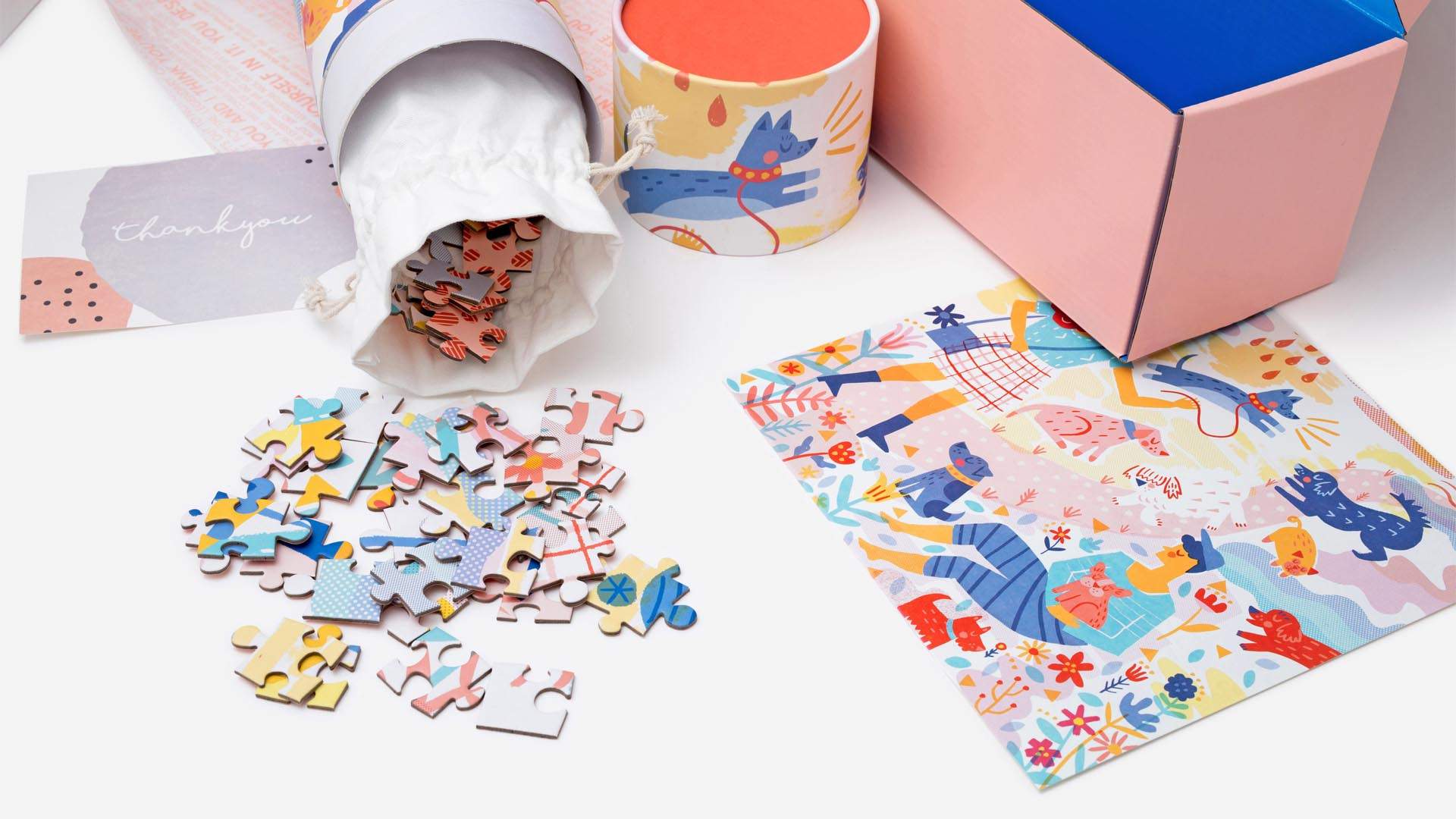 OKAY LADY
Chances are at least one of your housemates developed a penchant for puzzles over the past two years and, if that's the case, a pressie from online jigsaw puzzle company Okay Lady will be a winner. Think of it as the perfect 'thanks for putting up with me' gift that you benefit from, too.
Okay Lady puzzles champion Aussie women illustrators and come in environmentally friendly packaging — no plastic in sight. The artists also receive royalties from every single sale, which we love to see. If you happen to live with your bestie, there's a super-cute 400-piece jigsaw by Queensland artist Sophie Beer that features two besties and some adorable pups. Or, nab the Night Dancer puzzle, designed by artist Alice Lindstrom, for a truly vibrant work of puzzle art.
All Okay Lady jigsaws are $59 and each 400-piece design is aimed to be more of a mindful activity than a super challenging, days-long process. Shipping is free across Australia with orders shipped from the Melbourne office every weekday, so expect about five–seven business days for your package to arrive. Can't wait? Opt for express delivery for $15.
Buy via Okay Lady's website.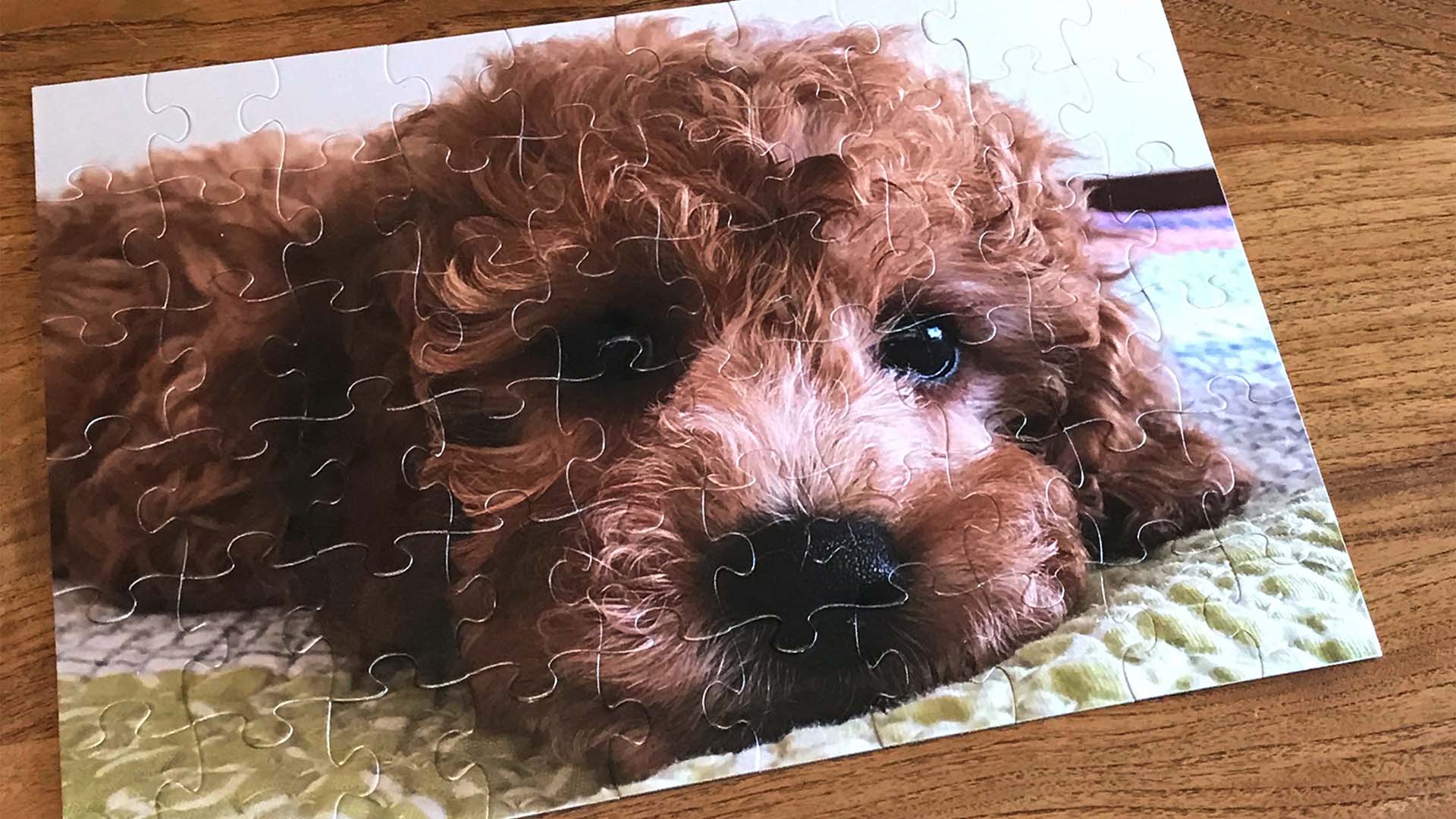 SMOOCHY POOCHEY
Ever wanted to piece together a portrait of your adorable pooch? Of course you have — which is why Queensland-based company Smoochy Poochey exists. While the company allows you to pick whichever kind of personalised puzzle you like, getting a jigsaw puzzle emblazoned with your pet's cute little face is a clear winner.
Think of it this way: you've already spent so long gazing at them because they're just so adorable, and you've well and truly committed their face to your memory in the process, so this should be the easiest jigsaw you've ever done. And if you'd like to provide more than one photo for a single puzzle — as uploaded via the company's website — you can. Just simply upload multiple pics of of Fido, Fluffy, Polly or Nemo and create a collage.
A number of sizes are available, ranging from a simple, kid-friendly 30-piece jigsaw to challenging 1000-piece ones for when you have hours upon hours to kill. Prices range from $28.25 for the smallest puzzle and up to $59.95 for the largest. Delivery is via Australia Post, with a standard $12.95 flat rate across Australia, or you can opt for express delivery for $16.
Buy via the Smoochy Poochey website.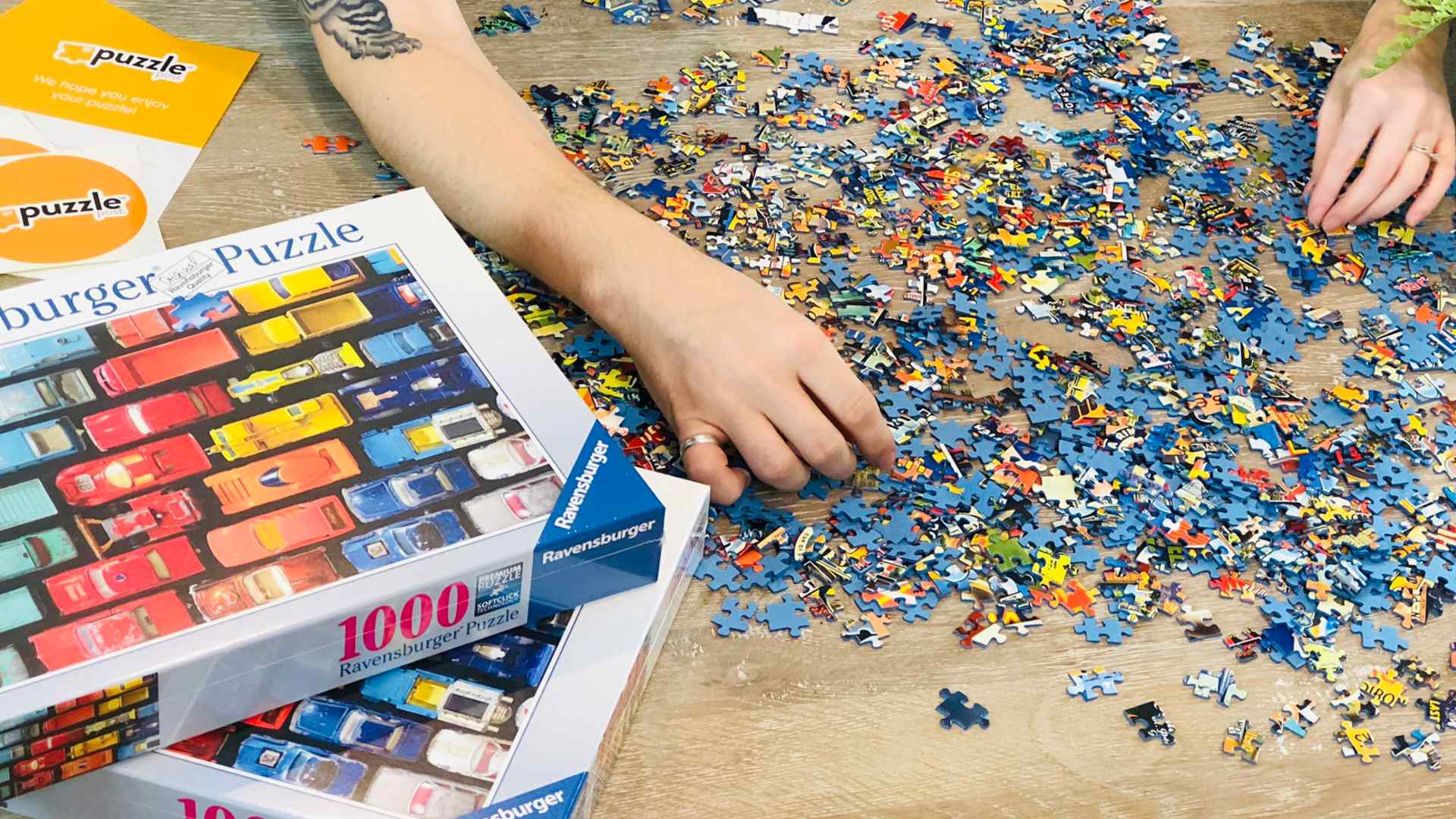 PUZZLE POST
You've done it: you've reached peak puzzle madness. You can't get enough of the brain-tickling activity and you want a regular rotation of jigsaws landing on your doorstep. Enter: Puzzle Post — Australia's first jigsaw puzzle subscription. Puzzle Post delivers a new jigsaw to your doorstep every month, and factors in your tastes. Now that's a service.
From the same minds behind book subscription service Bookabuy, the idea for this new venture spawned after owners Chris and Mel Tantchev noticed something of a jigsaw puzzle resurgence. Look around these pandemic days and you'll notice those little cardboard pieces have made quite the comeback. There are a bunch of themes from over 20 categories — including cats, nostalgia, flowers, Disney and food — ranging from easy (500 pieces) to harder, 1000-plus piece puzzles. By answering a few quick questions at checkout, you'll end up with a jigsaw haul personalised just for you.
You can opt for a one-off puzzle delivery ($29) or organise a three-, six- or 12-month subscription, which'll set you back between $87–348 up front (or $29 per month). If every month is too frequent, you can choose to get a new puzzle delivered in two- or three- month intervals, too.
Subscribe via the Puzzle Post website.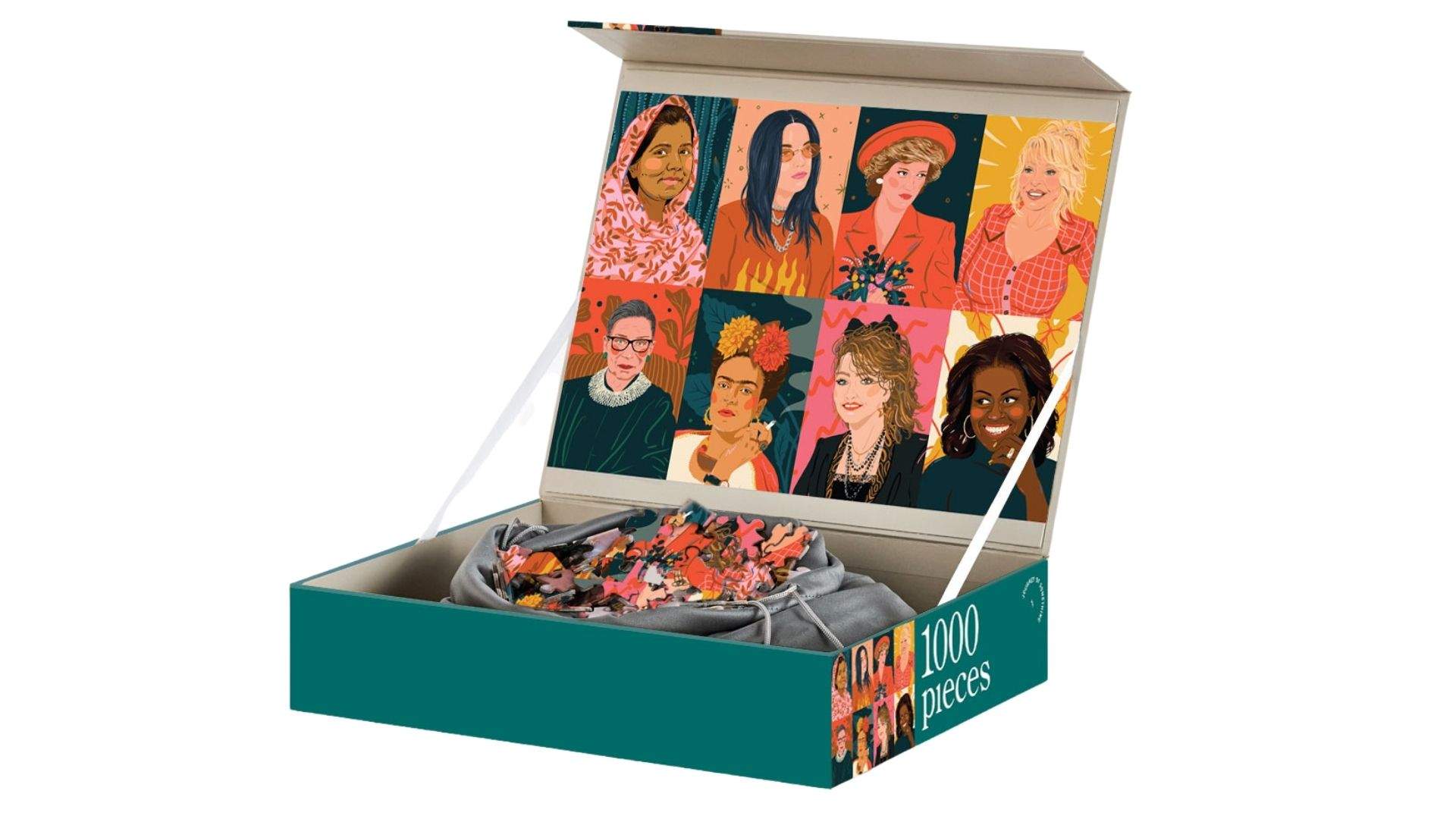 JOURNEY OF SOMETHING
Journey of Something is a female-founded and Australian-owned company dedicated to combining art with activities (read: beautiful puzzles, art kits and games). But, you're here for puzzles — not the other stuff — so we'll get right to it.
It stocks a bunch of jigsaws, ranging from mini puzzles to 1000-piece beasts, which are all designed by local artists. Order yourself a puzzle decorated with iconic women such as Dolly Parton, Frida Khalo and Malala Yousafzai — or, there's a cute mini puzzle that'll have you doing your daily affirmations in no time.
Puzzles range from $20–64, and Journey of Something also offers some duo packs and a 12-month subscription. Shipping costs depend on how much you're buying — starting at $10 for one puzzle.
Buy via Journey of Something's website.
RONE
If you're bored of putting together rainforest scenes or that 500-piece Monet puzzle was just too easy, Melbourne street artist Rone has come up with the goods, releasing three of his large-scale artworks (Home Wrecker, The Dining Room and The Study) as jigsaw puzzles.
For those not in the know, Rone normally creates large-scale artworks on the sides of nine-story buildings or in abandoned spaces throughout Melbourne. He's particularly known for his massive portraits that combine elements of beauty and ruin, alongside concepts of new and old. Since bursting onto the local scene in the early 2000s, his work has been shown in London, New York, San Francisco, Miami and Hong Kong. So, he's kind of a big deal — and you can now build a piece of his art in your living room.
Rone's puzzles are priced at a reasonable $64, considering his art prints are selling upwards of $400. Each art-cum-puzzle is comprised of 1000 pieces and includes enough detail for a challenging afternoon of puzzling. Shipping to locations across Melbourne costs $10.95, while it's $14.89 for the rest of Australia. Hot tip: buy two puzzles and you save yourself the delivery fee, thanks to Rone offering free shipping on orders over $100.
Buy via Rone's website.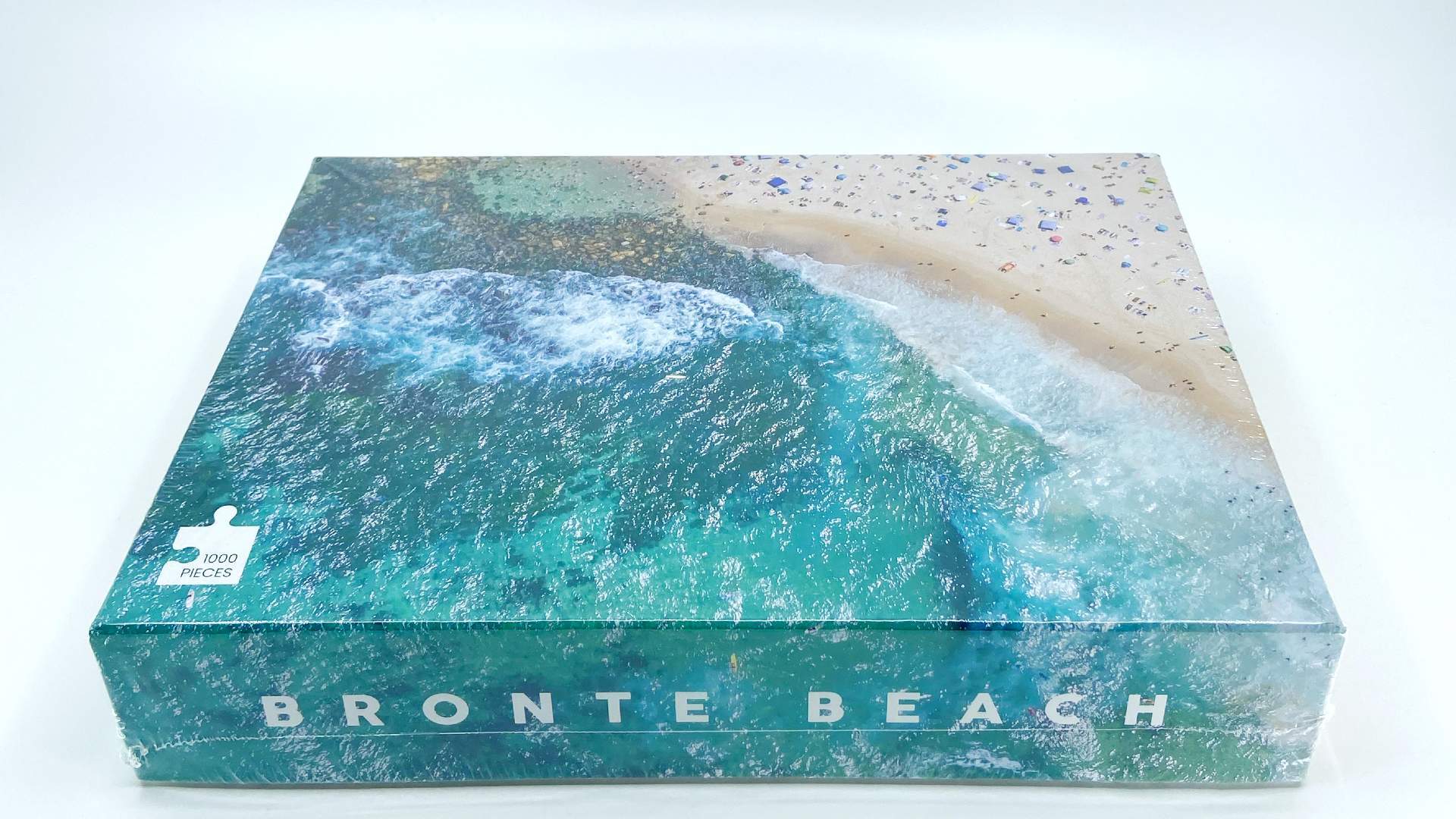 SALTY GALLERY
Similar to the popular Australian Unseen puzzles, photographer Dharma Bendersky and his gallery Salty Gallery have turned his stunning shots of Sydney beaches into 1000-piece jigsaw puzzles. So, if you're missing sunny afternoons at the beach and simply can't get enough of creating intricate cardboard artworks, then add these beauties to your cart.
There are currently four idyllic puzzles on offer, featuring a selection of spots. If you're more a fan of concrete-covered bays, Bedersky also plans to unveil more designs.
Each puzzle is $59, includes free shipping Australia-wide, can be delivered internationally, and are shipped in eco-friendly compostable bags.
ONLINE ART PUZZLES
We know, we know — we told you to lay off the screens. But these digital jigsaws come in handy if you're an absolute puzzle fiend who can't wait till your next one arrives in the post, or you're a try-before-you-buy kinda person. Either way, these art-filled gems are sure to fill many hours (and save you some cash).
First up, the Art Gallery of NSW has some killer online puzzles — seven to be exact — so you can digitally put together masterpieces such as E Phillips Fox's Nasturtiums and Paul Cézanne's Banks of the Marne. Melbourne Museum also has digital jigsaws on its website, including ones of fur seals, the Royal Exhibition Building and Phar Lap.
Or, check out the National Library of Australia website to complete puzzles using its collection, with everything from art by Ellis Rowan to Australian birds.
Head to the AGNSW, Melbourne Museum and National Library of Australia websites for some free — and wait-free — puzzling adventures. 
Top image: Australia Unseen
Concrete Playground Trips
Book unique getaways and adventures dreamed up by our editors