Bistrot 916 Takeaway Menu
This Potts Point bistro has launched an extravagant takeaway and heat-at-home menu featuring steak banquets, oysters and next-level cheeseburgers.
Potts Point's new French restaurant Bistrot 916 has been offering up fun and exciting new takeaway options throughout lockdown. It started with the Burger 916, a limited-edition burger which sold out daily. In the last couple of weeks, the team have taken things up a notch with the neighbourhood bistro launching a full takeaway menu that spans from caviar service to cheeseburgers and hash browns.
You have two choices when ordering takeaway from Bistrot 916: browse the takeaway menu and swing past its Challis Ave home to pick up your food, or choose from the more extravagant options available on Providoor. Here you can order two-person steak, duck and vegetarian banquets ($120-180). The more reserved duck banquet comes with duck frites, chicken liver parfait, lumache a l'escargot (tomato-braised snails), Valrhona chocolate mousse, plus salad, bread and butter. Not excessive enough? The steak banquet swaps the duck for steak and adds a set of 12 oysters.
Each banquet can be ordered alongside an at-home beverage pairing experience that includes four glasses of wine designed to complement the meal.
If you're not looking for such a luxe and bank-blowing meal, you can order a set of two next-level cheeseburgers made with Rangers Valley beef patties and topped with Bistrot 916 burger sauce, hash browns and soft drinks for the still-pricey but more reasonable $69. Or, if you're looking to get just a little fancy, order yourself 12 oysters with mignonette, lemon, lime and ginger gelee for $48.
Wine and cocktails are available for purchase on their own if you want to pair your cheeseburger with a negroni.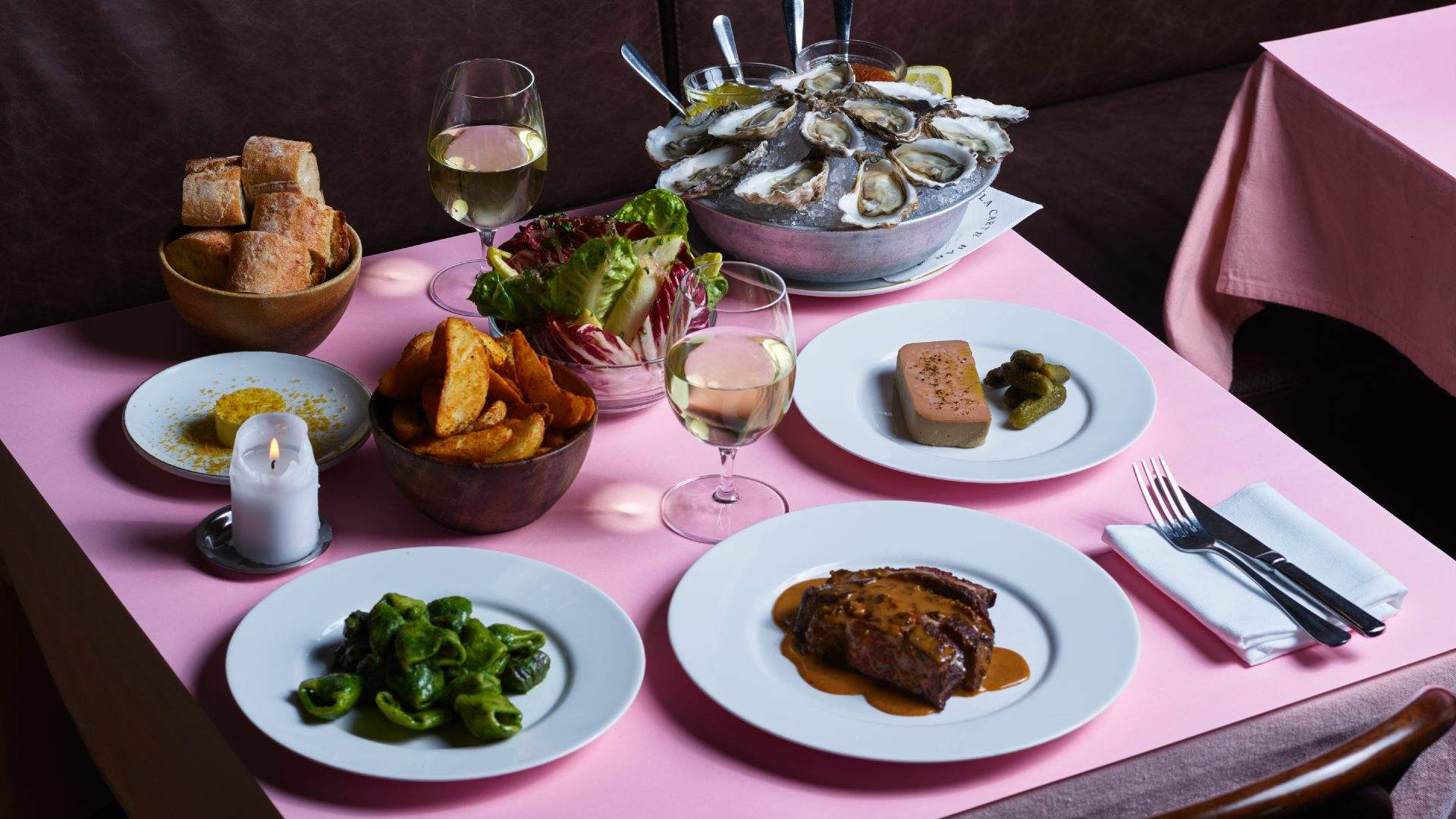 Images: Steven Woodburn