FOOD & DRINK
Glass Island Spring and Summer Cruising
The gleaming three-level floating venue is setting sail again.
Fancy cruising around on a glass-walled boat, partying over three levels, and pairing a killer view with a beach club vibe and plenty of beverages? Then you'll want to book a berth on Sydney's returning floating bar and party venue, Glass Island. After first sailing through Sydney Harbour earlier in the year, it's returning from September for a series of spring and summer cruises — and it's your latest excuse to live it up on the water.
If the concept sounds familiar, that's because Seadeck has been doing the same thing for the past couple of years. In fact, Glass Island is actually the brainchild of one of that luxe vessel's creators. This time around, hospitality entrepreneur Scott Robertson has paired up with his frequent design collaborator Alex Zabotto-Bentley, aiming to mastermind "the most iconic hospitality location afloat in Australia". The resulting boat certainly stands out — surrounding out the ship with glass will do that, of course.
Those gleaming, glistening panels are found on Glass Island's middle deck. In a space inspired by Miami pool clubs and beach front hotel lobbies, patrons will also find a seven-metre-long bar covered in mint-hued tiles, raw timber flooring, and a heap of lounges and other seating. The windows slide open, too, so you can enjoy the breeze.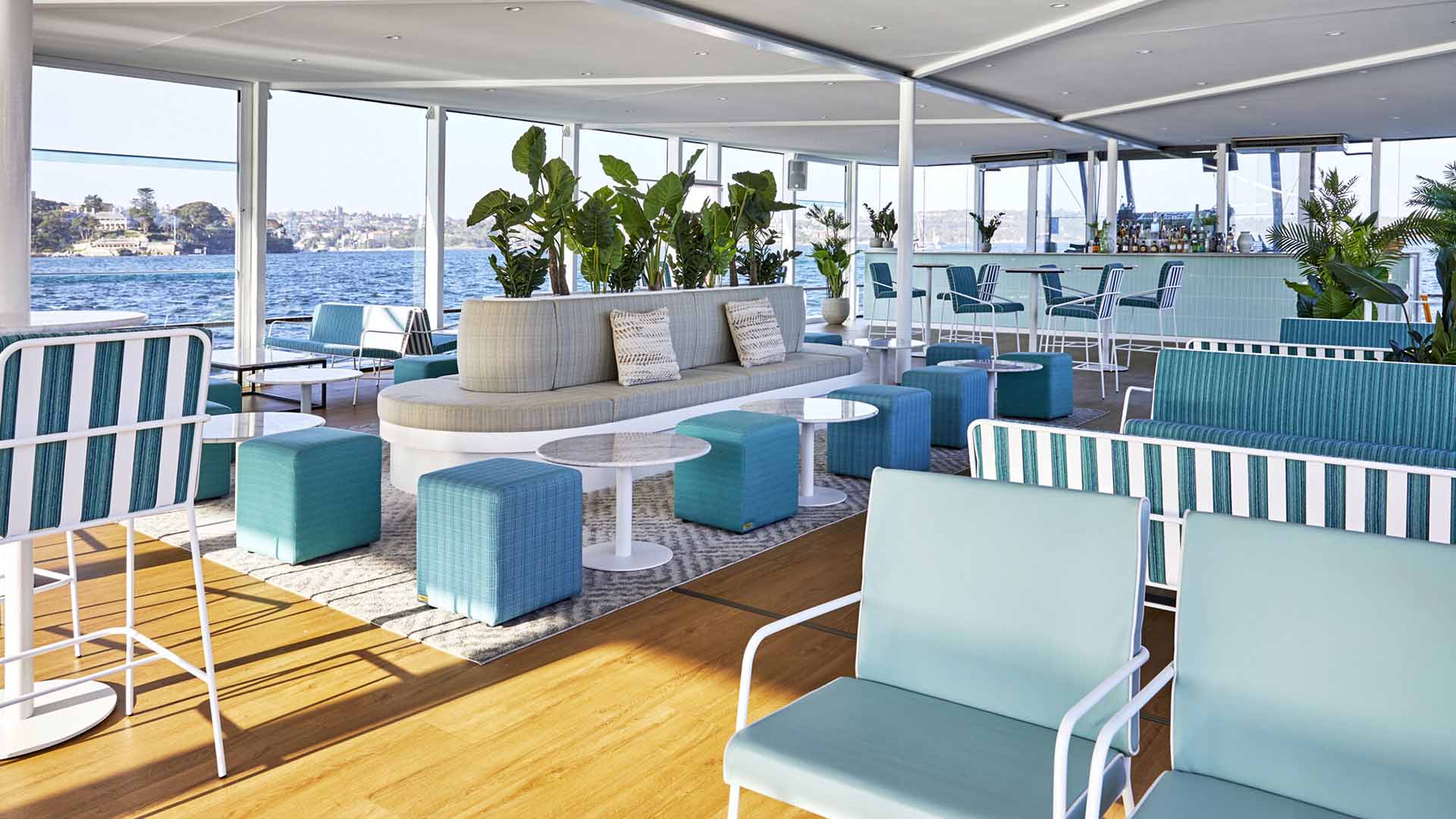 Upstairs, Zabotto-Bentley nods to Mediterranean beach clubs. Think dark orange, red and white colours, lounges you can sink into, VIP seating and crimson-toned umbrellas. There's one other big highlight up here as well: the 360-degree views.
When the new Glass Island season kicks off with cruises at 1pm on Saturday, September 19 and Sunday, September 20, obviously things will be little bit different, with the venue adapting to COVID-19 requirements. You can only book a table — for two, four, six or ten — and, when you're onboard, you'll only be able to consume alcohol while you're sitting at your table. Food and drink ordering will be contactless, and you won't even need to leave your table to order.
As for what you'll be eating and sipping, expect cheeseburgers on potato buns, cheeseburger spring rolls, roasted beef brisket rolls and freshly shucked oysters, plus ten types of new signature cocktails. Neither your food nor drinks are included in your entry price.
Glass Island will start floating around Sydney from Saturday, September 19 , setting off from King Street, Wharf 9, Darling Harbour, with tickets starting at $34.51. For more information — or to buy tickets to its current season — visit the venue's website.
Images: Glass Island.
Food & Drink

Thursday, November 18 - Thursday, November 18

Various Sydney venues

Food & Drink

Friday, December 17 - Monday, December 20

Customs House Forecourt

Food & Drink

Wednesday, November 24 - Thursday, February 24

Montage Piazza

Food & Drink

Wednesday, December 22 - Wednesday, December 22

Carriageworks
Food & Drink

Sunday, November 14 - Wednesday, December 22

Sea Life Sydney Aquarium