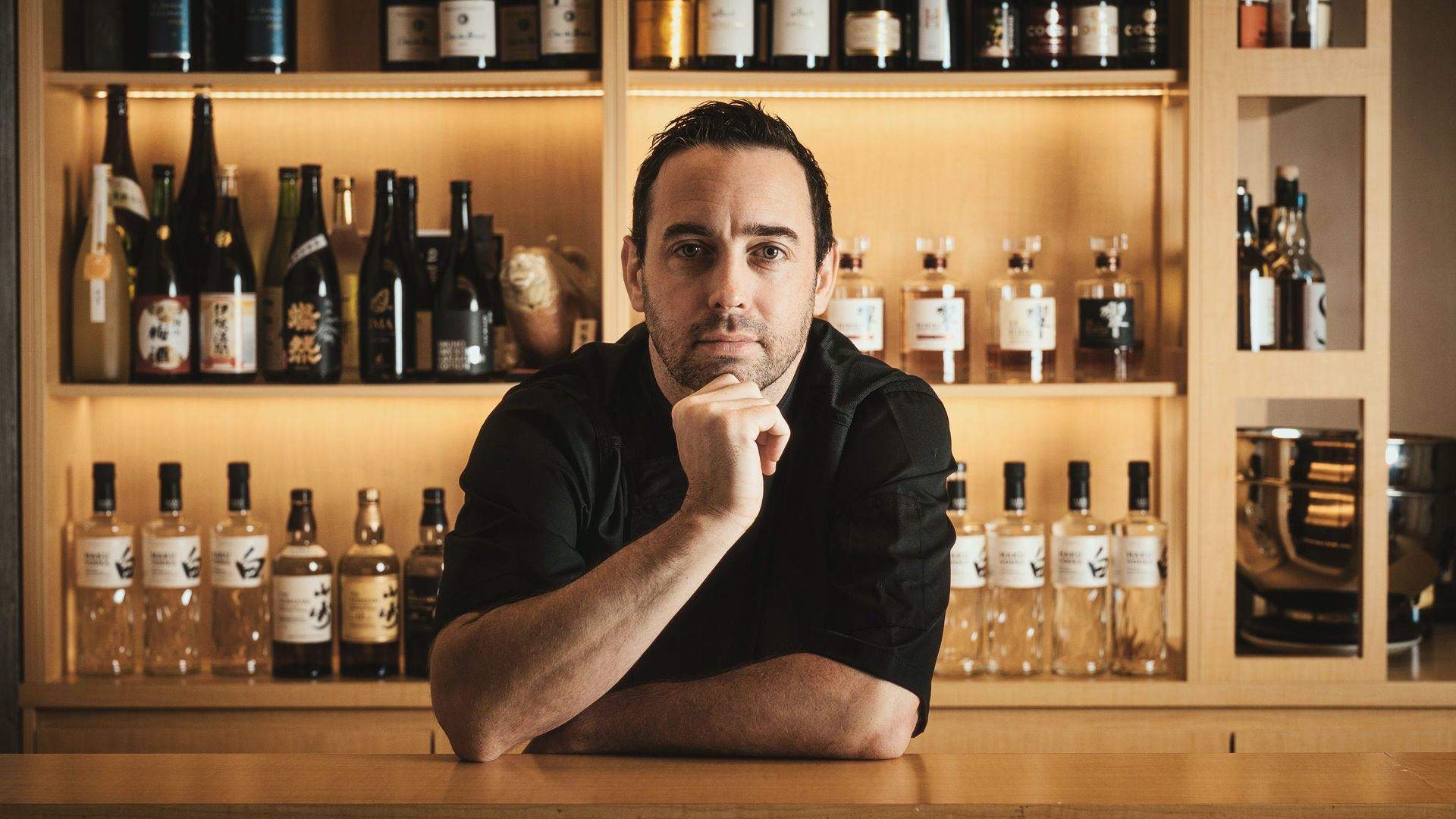 Early-Morning Fish Market Trips, Precision and Perfect Pairings:
Besuto's Joel Best on His Love For Omakase
"Selecting our beverages is like selecting our seafood. We spend a lot of time and precision on making sure we're selecting the best of the best."
Omakase literally means 'I'll leave it to you', and when you sit down at one of the 14 counter seats at the intimate (and recently hatted) Besuto, you'll have found yourself left in truly exceptional hands. The harbourside restaurant sits in the Quay Quarter Lanes precinct and is co-owned by Joel Best (chef, seafood expert and self-professed Japanophile), Hirofumi Fujita (an expert sushi chef) and Tomi Björk (the Finnish celebrity chef), who've made an elite Japan-meets-Sydney dining experience their mission.
"I love sitting down at a seat and allowing the chefs to decide what is going to be served," Best starts. "It's the best of the best of the day. Besuto is a passion project, cos I love sitting in the chair."
When this kind of passion meets a dedication to culinary excellence, meticulous processes and artful creativity, and is backed by a hardworking team (chef Hirofumi Kano, venue manager Jake Errey and a cast of kitchen staff), the result is outstanding: delicate plates, world-class produce, stunning surrounds.
For the uninitiated, omakase, in the simplest terms, is "a culinary experience taking you through an array of different types of seafood and fish that transport you to Japan and back," according to Best.
Accompanying this journey is a curated drinks menu and, right now, a bespoke Haku Martini. With the central ingredient of Haku Vodka — a craft spirit from the House of Suntory — the cocktail delivers umami notes through an infusion of nori, dry vermouth and a garnish of pickled ginger. The Haku Martini will be an element of an exclusive 15-course menu at Besuto throughout spring.
Together with Haku, in celebration of craftsmanship and taste, we sat down with Joel Best to chat passion, precision and early-morning market runs — then we were treated to Errey's Haku Martini (and the recipe).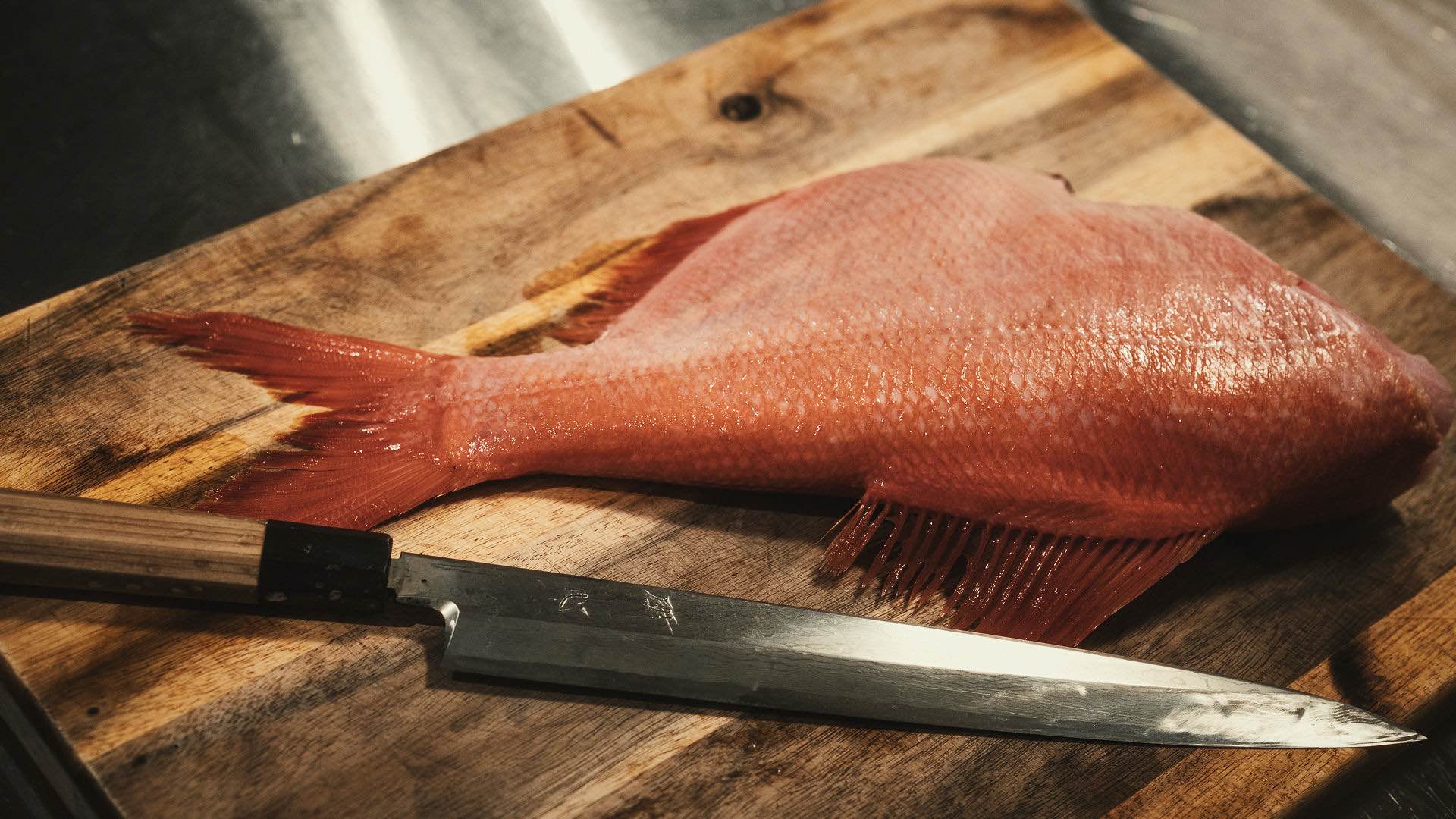 Early-Morning Fish Market Trips
Joel, in Japanese, Besuto translates to 'best', which is a strikingly confident name for a restaurant. How much preparation behind the scenes goes into executing a dining experience of such high calibre?
"Besuto does translate to best and Best is my last name. So it is something that the staff and my business partner have to live up to on a day-to-day basis. Preparation starts at 6am talking to the guys at the market, going down picking out the fish, picking out the live produce, bringing it back into the restaurant and preparing it. And it doesn't stop until we finish at about 11.50pm."
That's a monumentally long work day — does it always start that early?
"Sometimes 6.30am. [At the fish market] there might be six fish in one box of emperador or alfonsino, and I'm like 'I want that one fish'. Or I want those two fish. Those six fish have to go through ten or so omakases in Sydney — if someone's willing to pay more for a whole emperador it can work out to almost $200 a fillet."
So it's an early morning auction?
"[In Sydney], there's two, three… let's say two-and-a-half buyers that want those boxes. The emperador, the hairtale, the alfonsino. So you've gotta have relationships with both [bidders], cos one will outbid. For me, I don't care what we pay, I just want to get the best."
"I normally finish prepping by two o'clock, go home, shower, put a suit on, then work the floor. It doesn't matter if it's a 300-seat restaurant or 14-seat, there's still all the work to do. I trained at The Pier in Rose Bay under Steve Hodges, I worked at Fish Face, so how I process and age the fish is really important to me. The Japanese are very precise in the way things are done, that's where my love of Japan comes from."
Do you need a backup plan for your nightly menu or is there high-quality produce always available?
"I'm always looking to the future, eight to nine days ahead: what's the weather doing? What's happening in New Zealand? Is it blowing a gale? Are the fishermen going to be out? What's happening with Tasmania? Then all the way up to Queensland. So if the weather turns bad, I can go 'Right, I can buy fish'. We've got a special static fridge out the back, so there's no air flow."
During an omakase experience, there's a seemingly never-ending number of courses. You're currently offering a 15-course menu, with the addition of the Haku Martini. How do you create a fluid dining experience of that length?
"A lot of hard work *laughs*. A fluid dining experience of 15 or more courses comes down to the drinks pairing. Being able to balance the flavours within each dish and pairing accordingly… it takes time, takes effort, takes experience."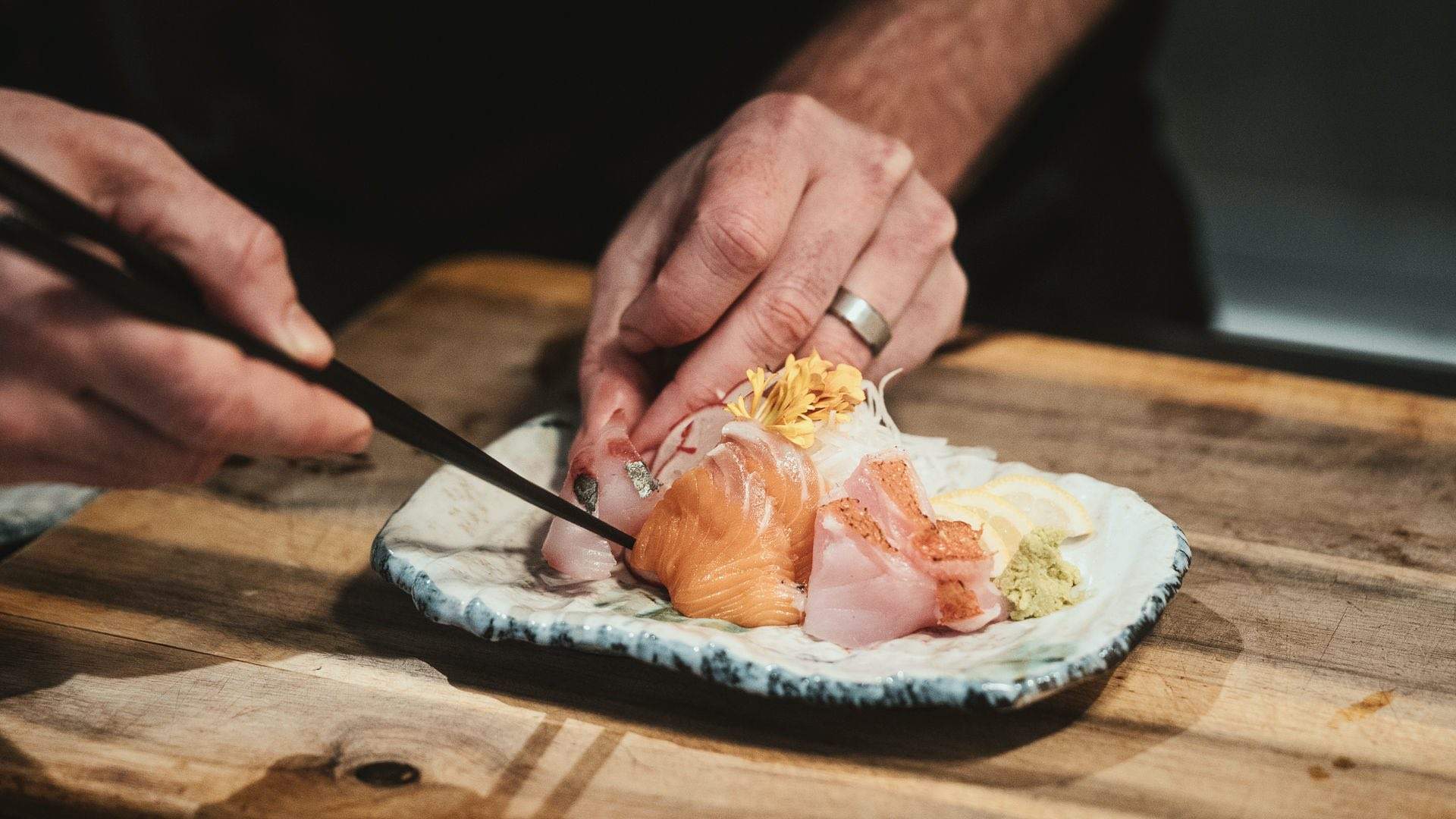 Precision
Today you paired a royal miyagi oyster with umeshu jelly — how do those simple flavours complement each other?
"So with that dish — whether it's a royal miyagi oyster which we served today or a wild belon oyster — we just try to source the best oyster on a given day. The saltiness that comes from the brine matches really well to the umeshu which has a little bit of sweetness to it."
Today you also prepared chawanmushi, a dish that's over 300 years old. Have you stuck to a traditional method or made it your own?
"Chawanmushi, or steamed egg custard, is very traditional. The traditional style normally comes with a ginkgo berry, edamame and a little prawn. Our chawanmushi will change daily — it could be scampi, it could be lobster, champagne crab, mud crab, marron. It all just depends on what we can source."
As you prepared the dish you noted the silkiness of the custard, how is that achieved?
"With chawanmushi, there are different ways to cook it. You can cook it quick and fast, or slow and long. I prefer to cook it slow and long, normally at 90, 95% steam and 90 degrees. And it can take up to 55 minutes or an hour to cook — that's where we get the silkiness from."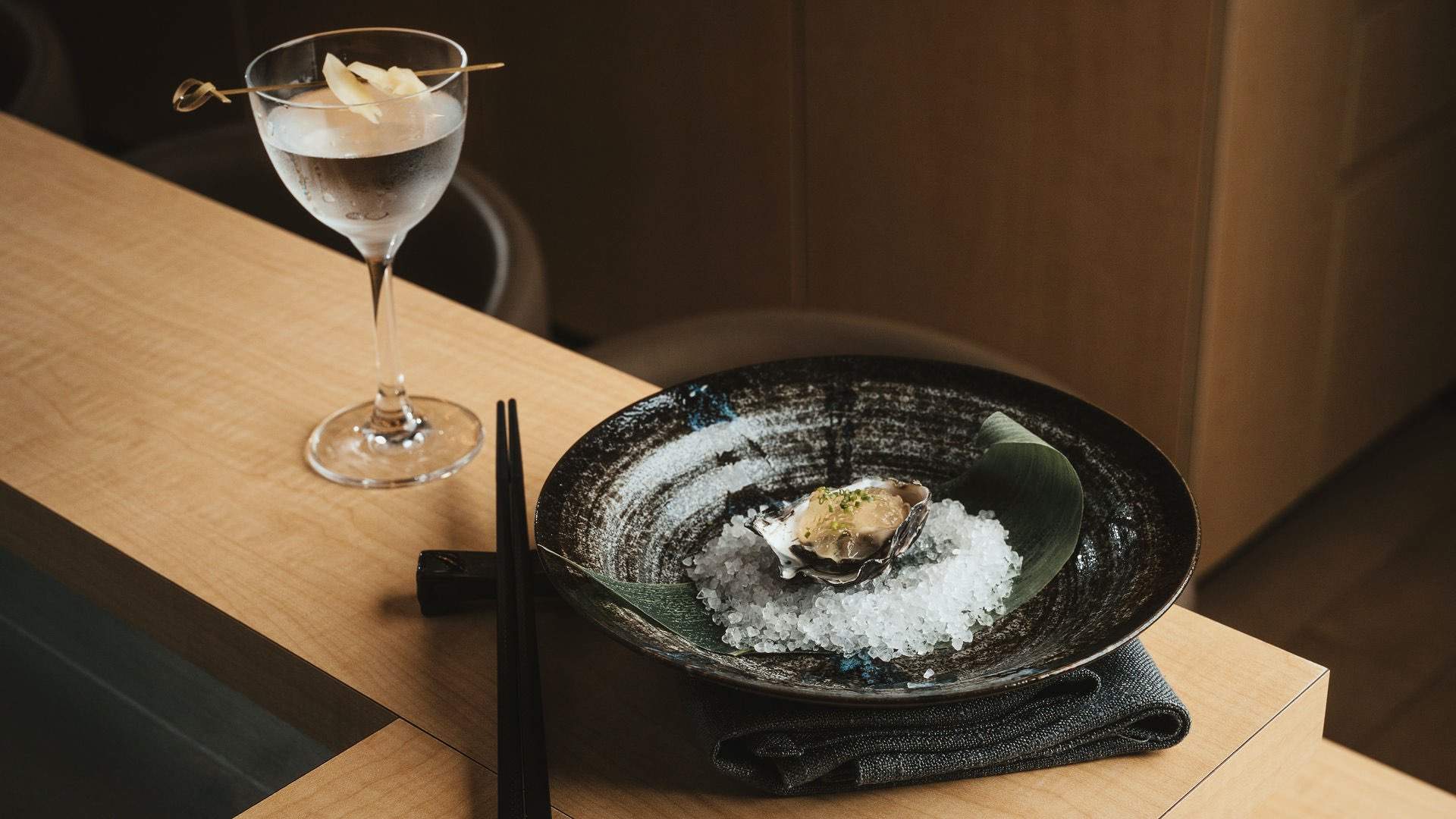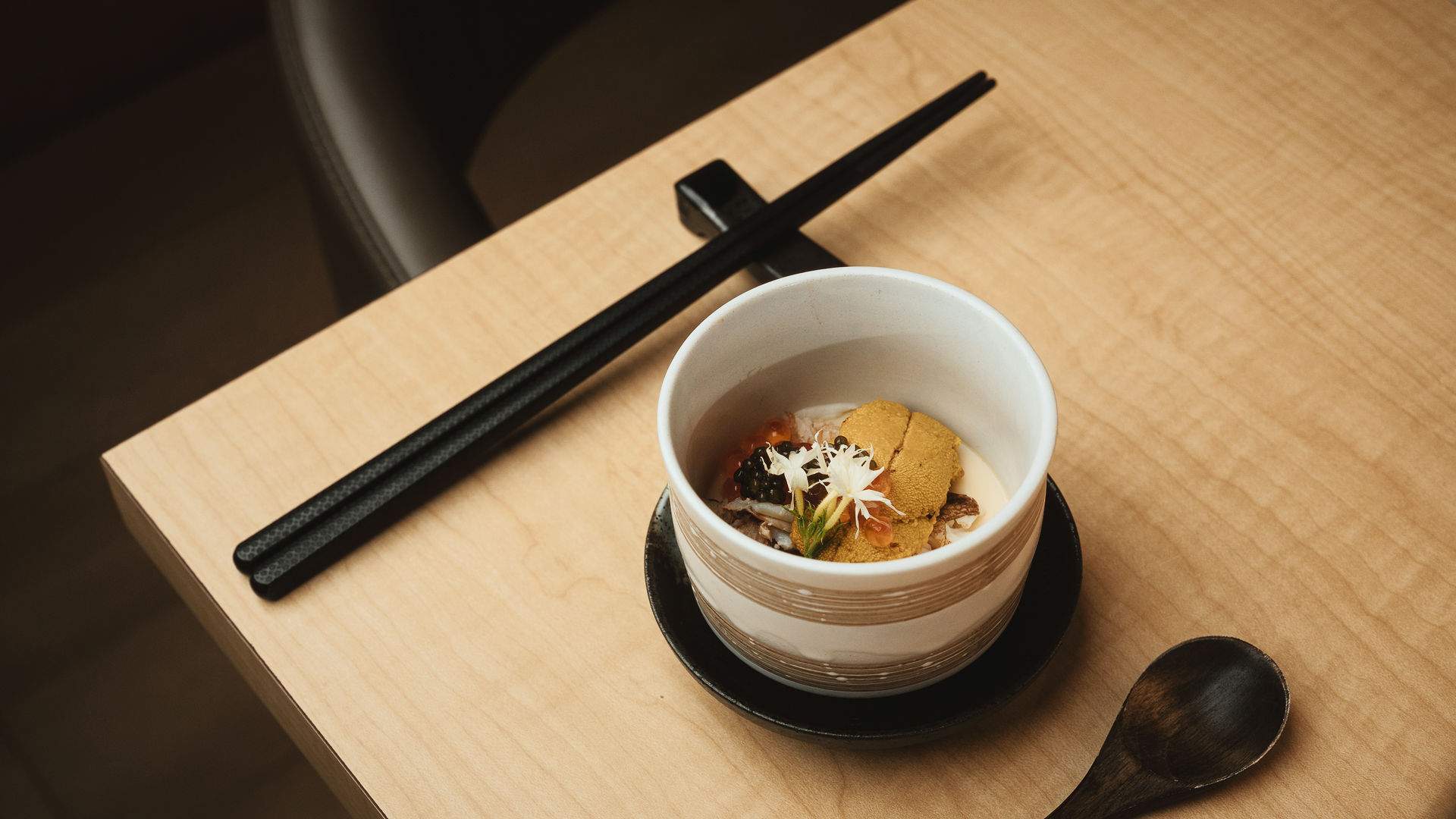 Could you dive deeper into the preparation of the fish at Besuto?
"Once I get back from the markets, we will always dry scale, dry fillet — using no fresh water. That's the most important step. Once you add fresh water to fish it starts to break down the flesh. We remove all the bacteria and then age the fish depending on its size. When you're serving sashimi, the right thickness, the right weight is really important. By itself, sashimi needs to be fairly thick, have bite to it, you need to be able to taste the fattiness of the flesh and the flavour of it. Sashimi that's going in a dish, in a salad, can be a little bit thinner, because it's going to get coated by different dressings."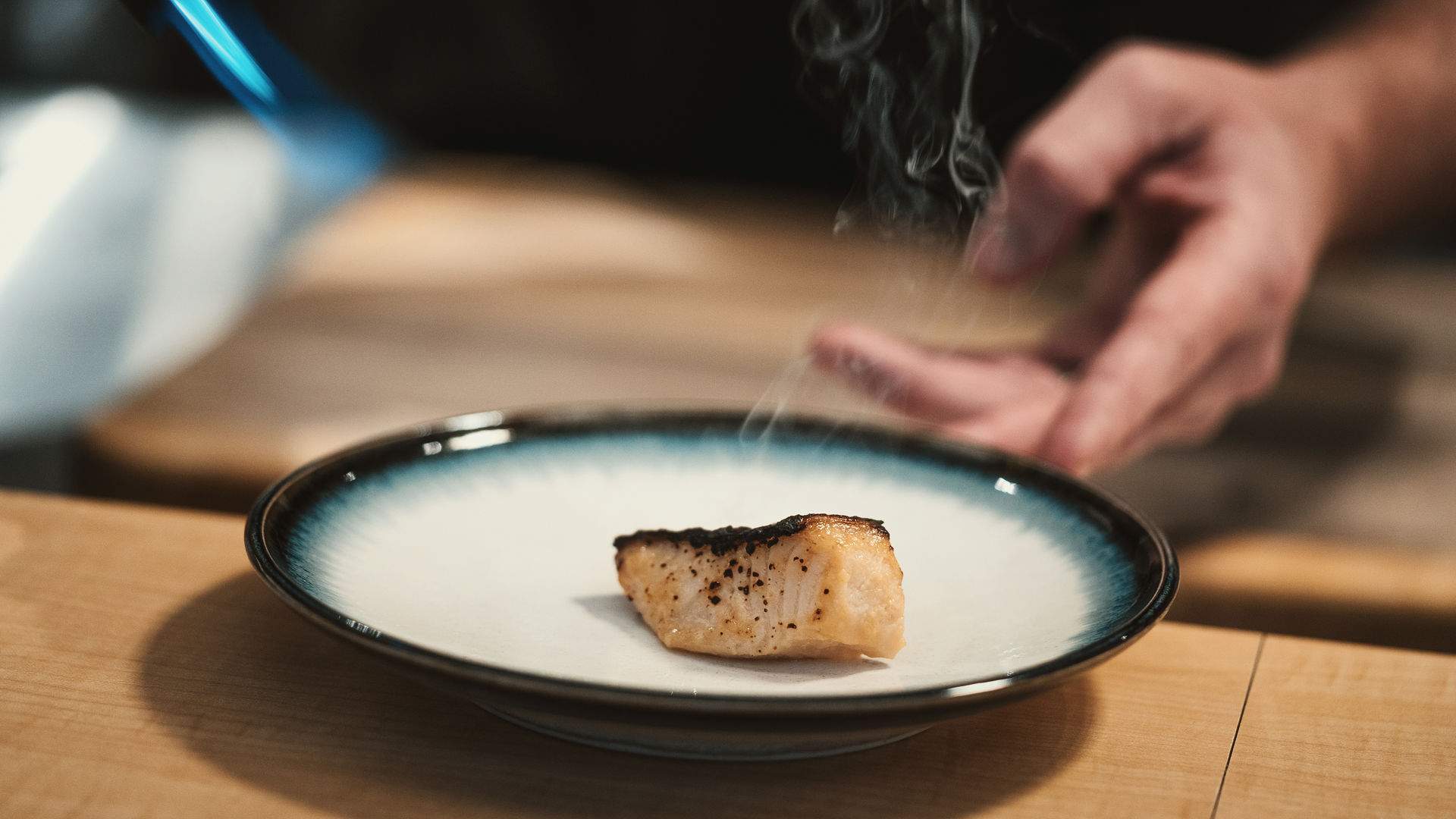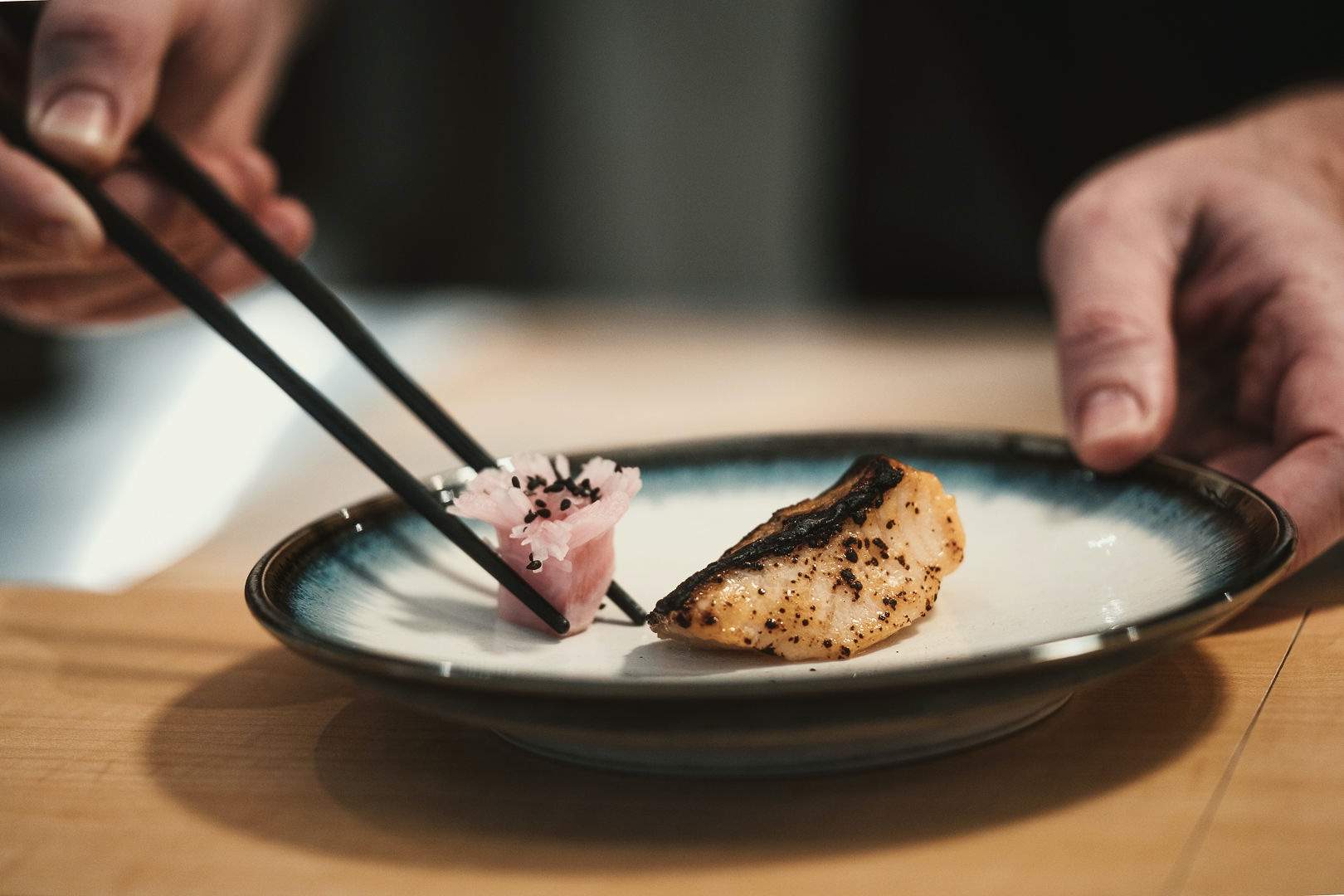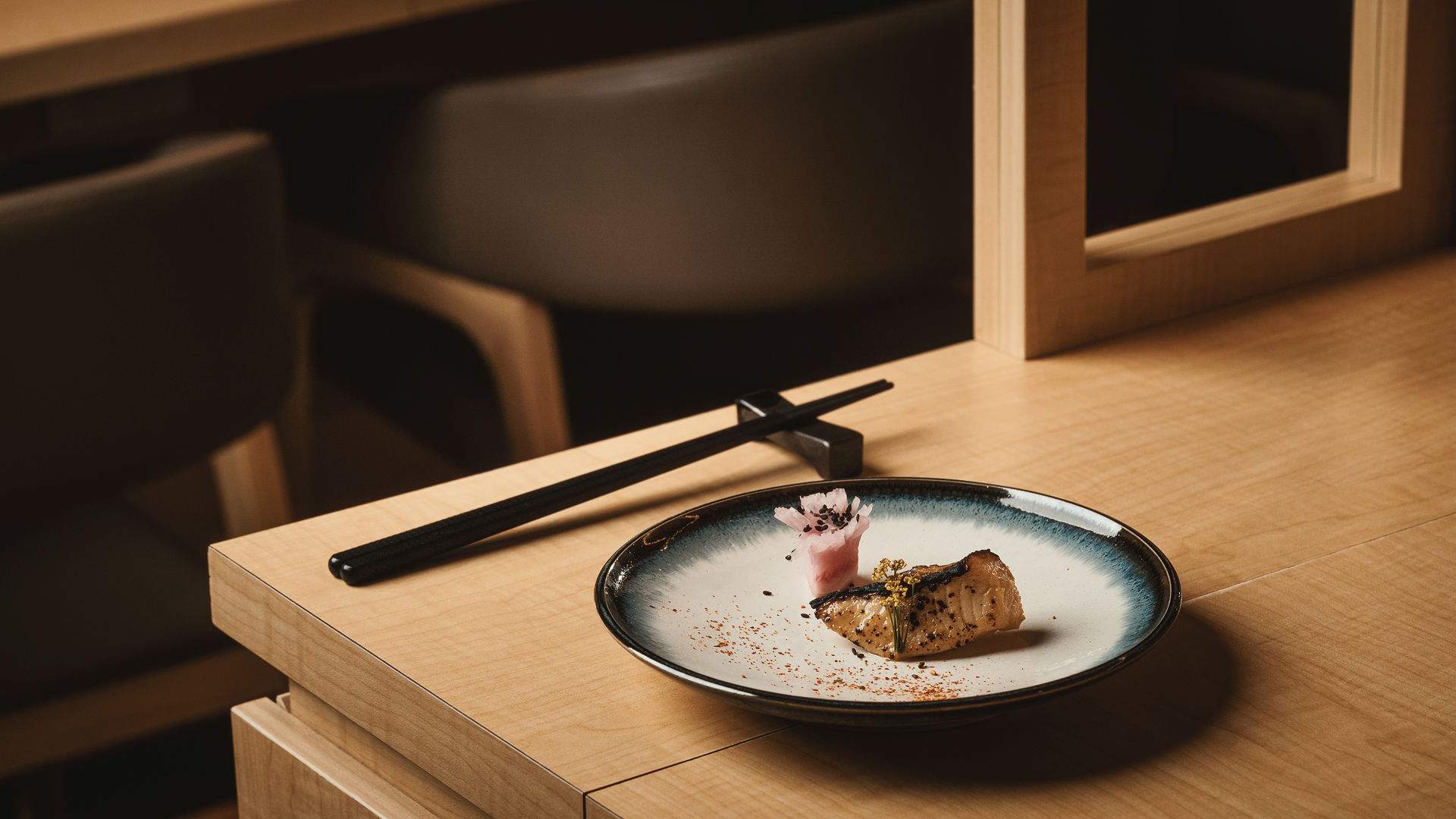 Omakase is all about attention to detail, past the food, does this extend to the drink offering?
"The passion, the precision that we produce here in our omakase extends to the drinks that we provide to our guests, whether it be a wine pairing, a sake pairing, a whisky pairing — or creating a bespoke Haku Martini specifically for the first courses that we serve. Pairing is a great joy of mine in particular, and it's what makes our omakase different; we have an amazing pairing roster.
Selecting our beverages is like selecting our seafood. We spend a lot of time and precision on making sure we're selecting the best of the best, the most premium products that are going to complement our food."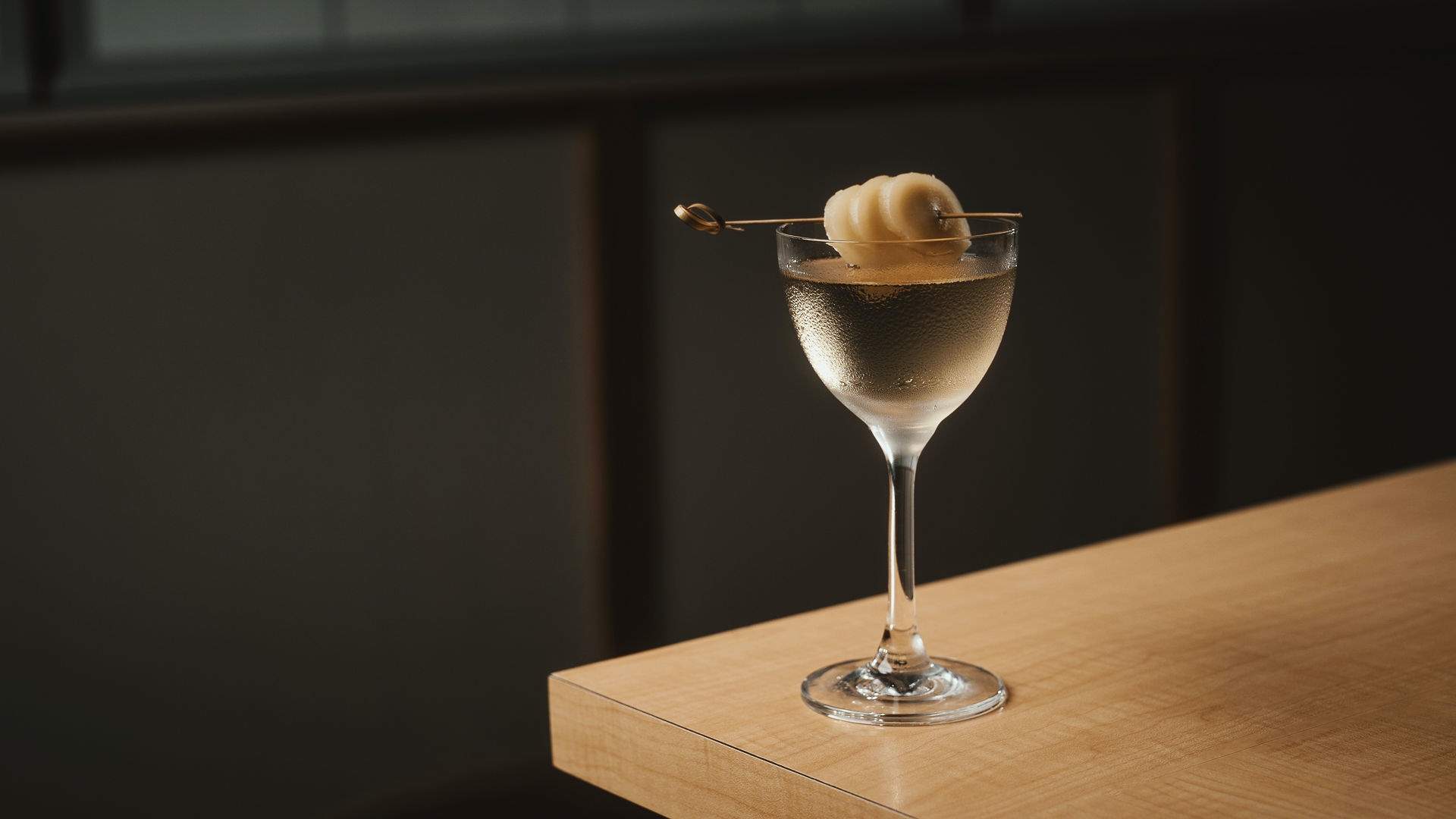 Besuto's Haku Martini
Taking the reigns for the production of the Haku Martini is Jake Errey, Besuto's venue manager. Here, he shares how he conceived the cocktail and how to make your own:
"When developing the cocktail, I was looking to make a dirty Japanese martini with kombu. But, the kombu had this overwhelming earthiness to it so I decided to try nori. Playing around with it, it needed some sweetness — we had umeshu on hand. Obviously, the umeshu jelly with the oysters to start, I thought 'This is going to work perfectly'. Then, it was just playing around with the ratios."
Ingredients
50ml Nori-infused Haku Vodka
25ml Umeshu
25ml Dolin Dry Vermouth
Pickled ginger to serve
Ice
Method
Soak one 20cm x 20cm sheet of nori in 700ml of Haku Vodka for one hour, then fine strain and rebottle.
To a mixing glass add ice, 50ml of nori-infused vodka, 25ml of dry vermouth and 25ml of umeshu (Errey uses Mii No Kotonuki's Mii No Umeshu), then stir down.
Pour into a chilled Nick & Nora glass, and top with a skewered piece of pickled ginger.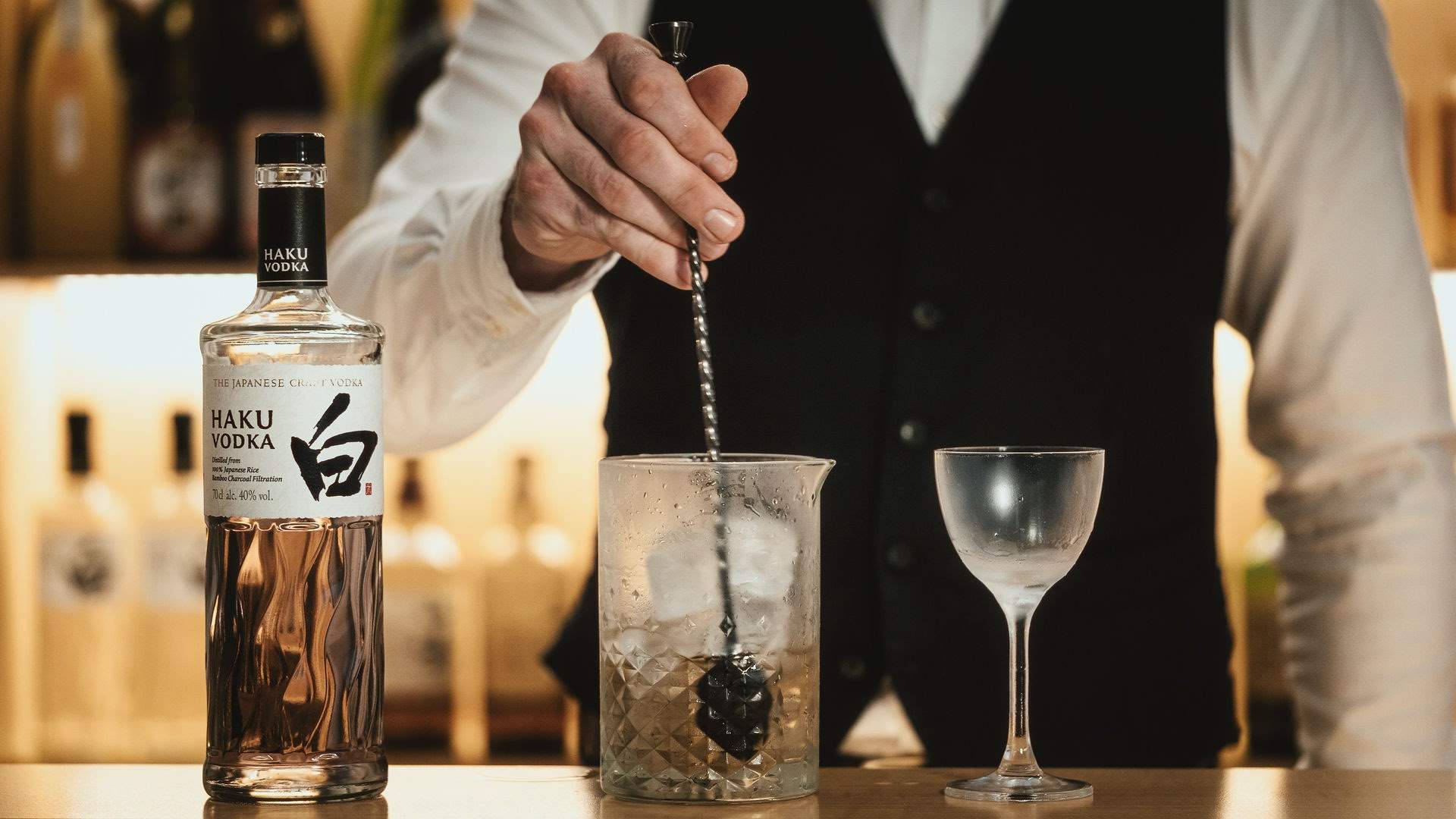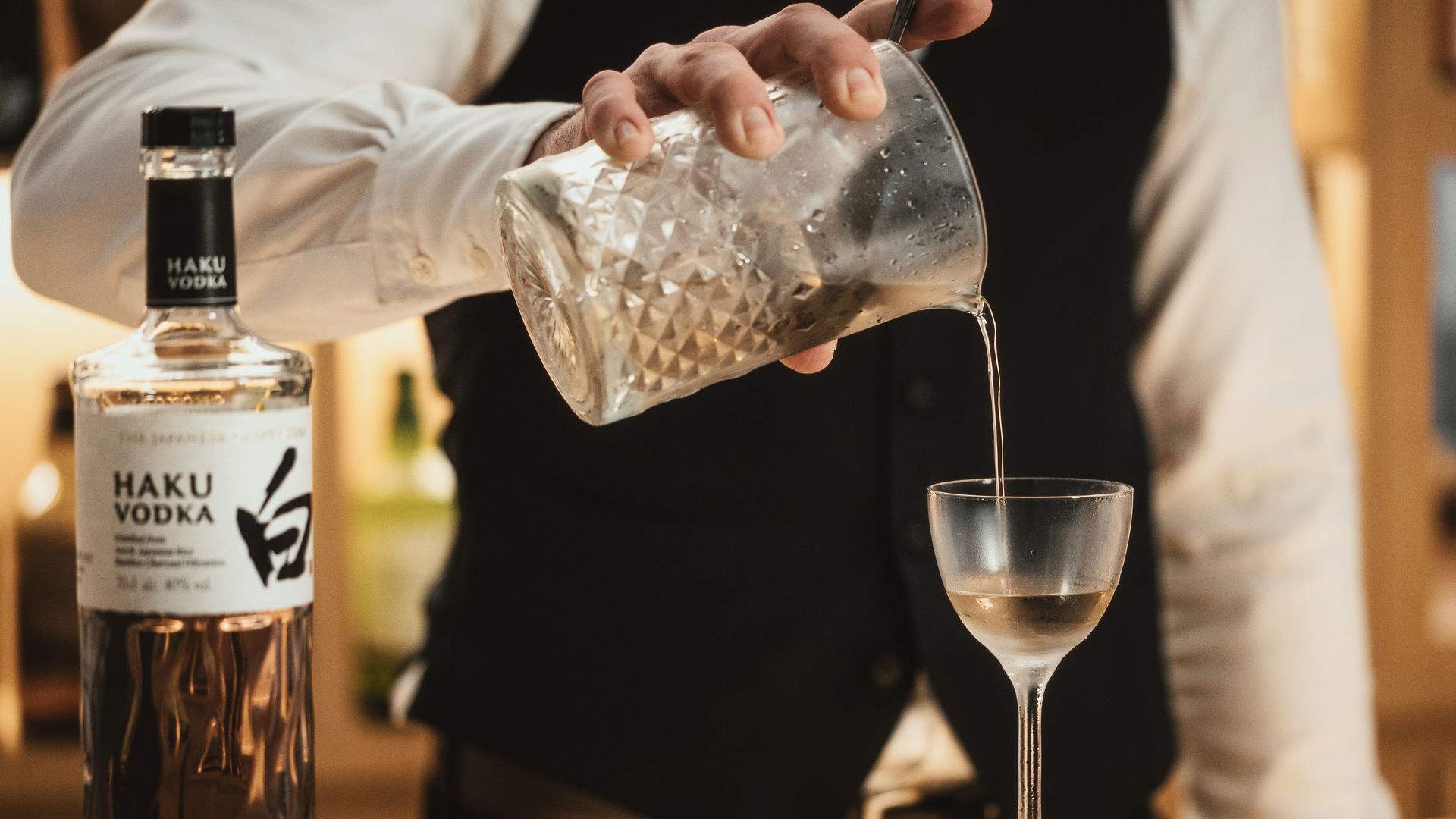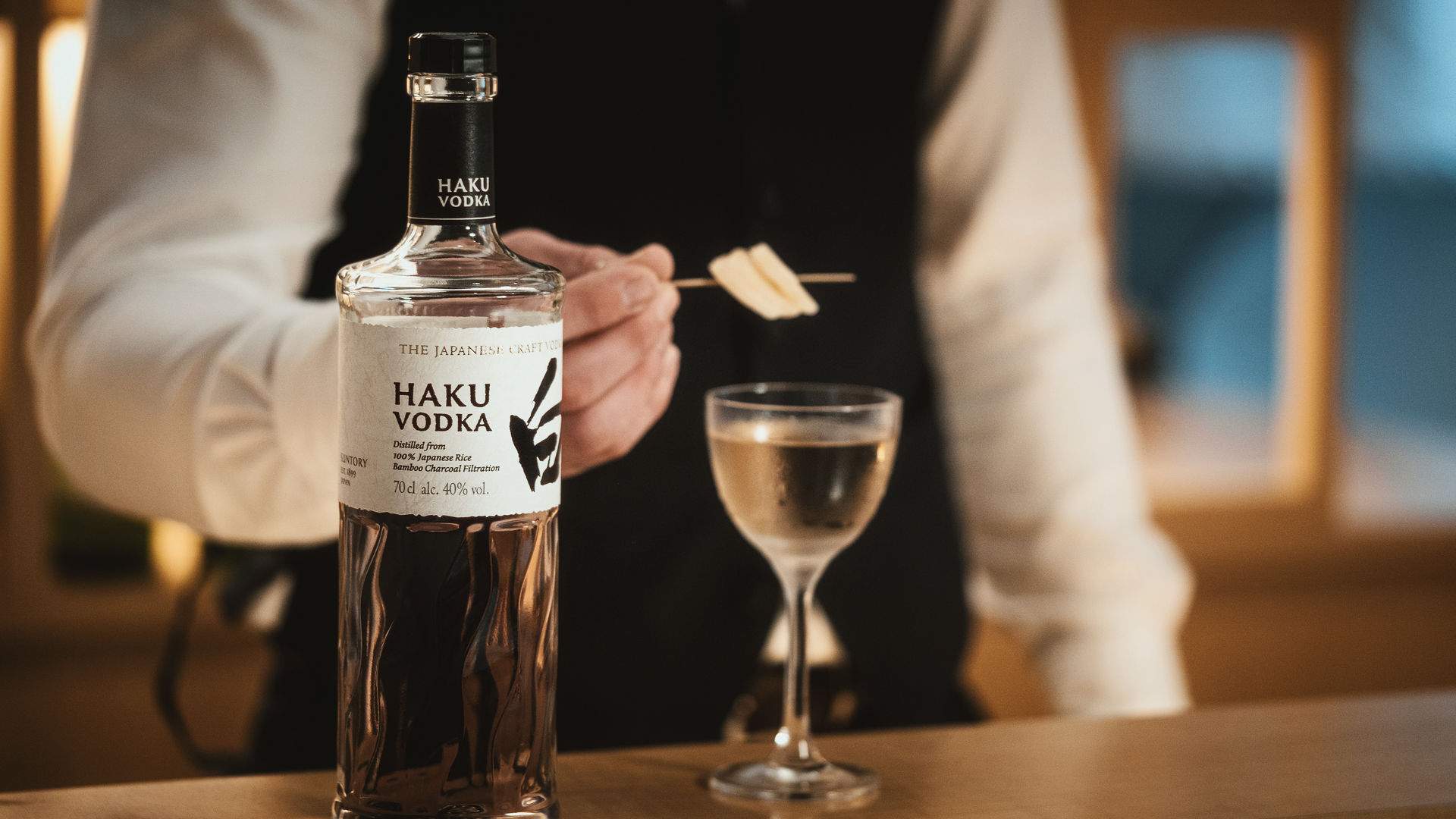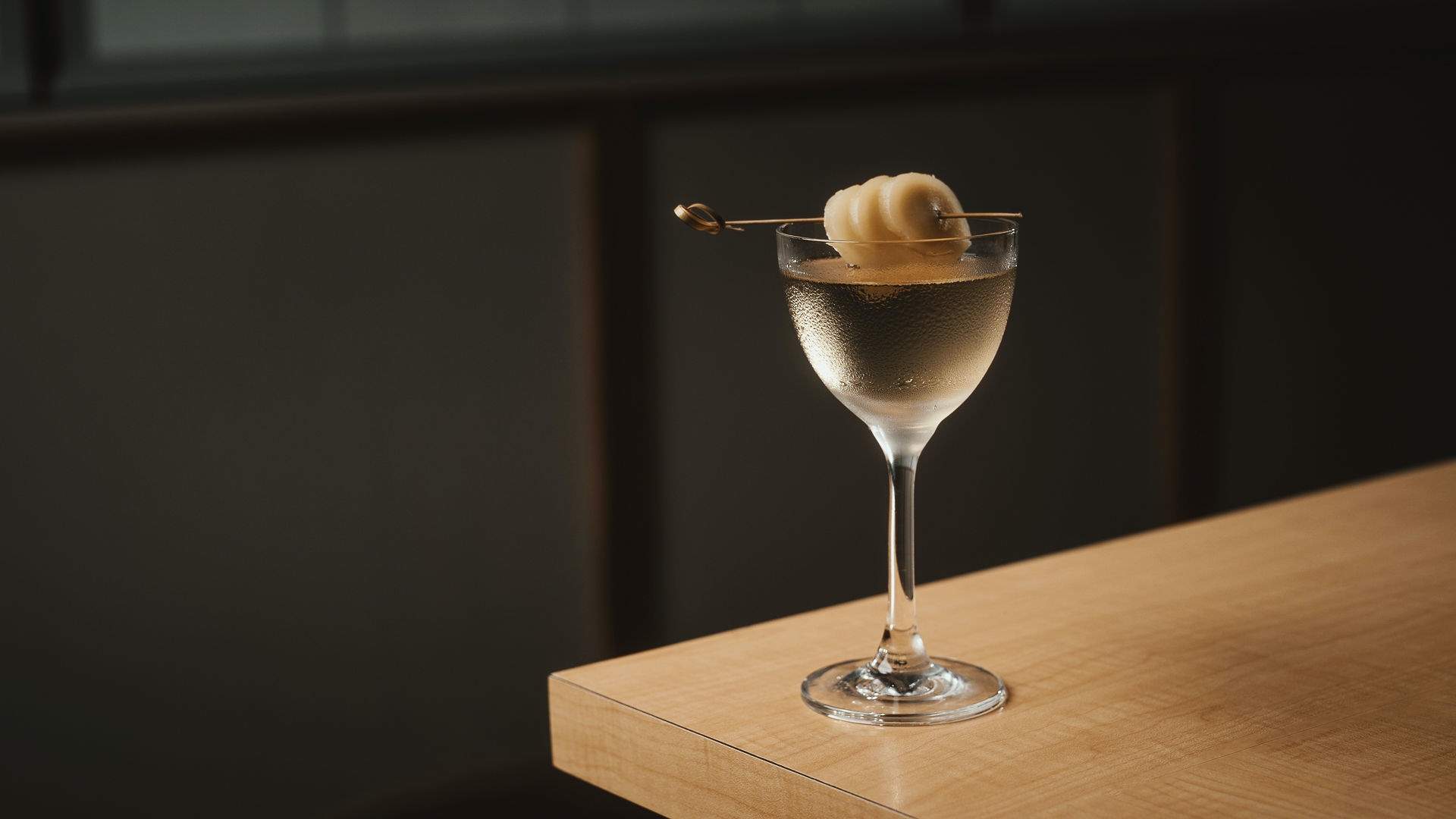 How does this martini land? "Haku Vodka starts with this little bit of sweetness on the back end," Errey shares. "Nori does have that umami as well as the hint of sweetness, so it just builds off the base of the vodka. It gives you that slightly briny note reminiscent of the ocean, which fits perfectly with our first few courses."
It's evident that from the moment you arrive at Besuto, you're embarking on a culinary trip carefully designed and meticulously executed by a passionate and talented team, with Best at the helm.
Besuto is exclusively serving its bespoke Haku Martini on arrival with a 15-course omakase menu for a month from Tuesday, October 3. This offering is available from Tuesday to Saturday across two dinner seatings (5.30pm and 8pm), and on Fridays and Saturdays for lunch (12.30pm). Mark your diaries: the booking window opens on September 1.
Haku Vodka's signature serve is the Haku Martini, a drink that showcases the craftsmanship, nuanced flavour and exceptional quality of the premium Japanese liquid. To learn more, head to the website.
Images: Declan Blackall
Updated: August 15, 2023.
Concrete Playground Trips
Book unique getaways and adventures dreamed up by our editors