FOOD & DRINK
This Baklava Croissant Is Banksia Bakehouse's Latest Genius Limited-Edition Hybrid Dessert
It's layered with pistachios, almonds, walnuts and a honey lemon clove syrup.
It's safe to say Aussie bakeries have a bit of a knack for pastry hybrids. You'll recall some pretty tasty iterations of the cronut, the cruffin and, more recently, the doughnut ice cream cone. Now, Sydney's much-loved Banksia Bakehouse has dropped another genius dessert mashup, and it promises to take your tastebuds on a trip to Paris via the Middle East. Introducing: the baklava croissant.
This little beauty is a nod to the venue's pastry chefs' own love of the classic Middle Eastern dessert. It features one of Banksia's signature buttery croissants stuffed with a baklava-inspired filling of chopped pistachios, almonds and walnuts, then finished with a honey lemon clove syrup. An extra burst of sweetness comes in the form of a pistachio frangipane, which is layered in the middle.
If that's got you salivating, you'll have to move quick — the limited-edition croissant special is only starring on the menu until the end of April, and it's available fresh each weekday from Banksia Bakehouse HQ in Grosvenor Place on George Street. Head in from 10.30am, but be warned that they'll probably sell out before the end of each day.
Of course, it's not the first time that the Banksia chefs have unleashed some creativity in the croissant department. Last month, they paid homage to an Aussie sweet tooth classic with their lamington croissant — a cube-shaped pastry coated in dark chocolate and shredded coconut, and filled with dark chocolate coconut ganache and a strawberry rose jam. And as luck would have it, that hybrid treat is now also available until the end of April.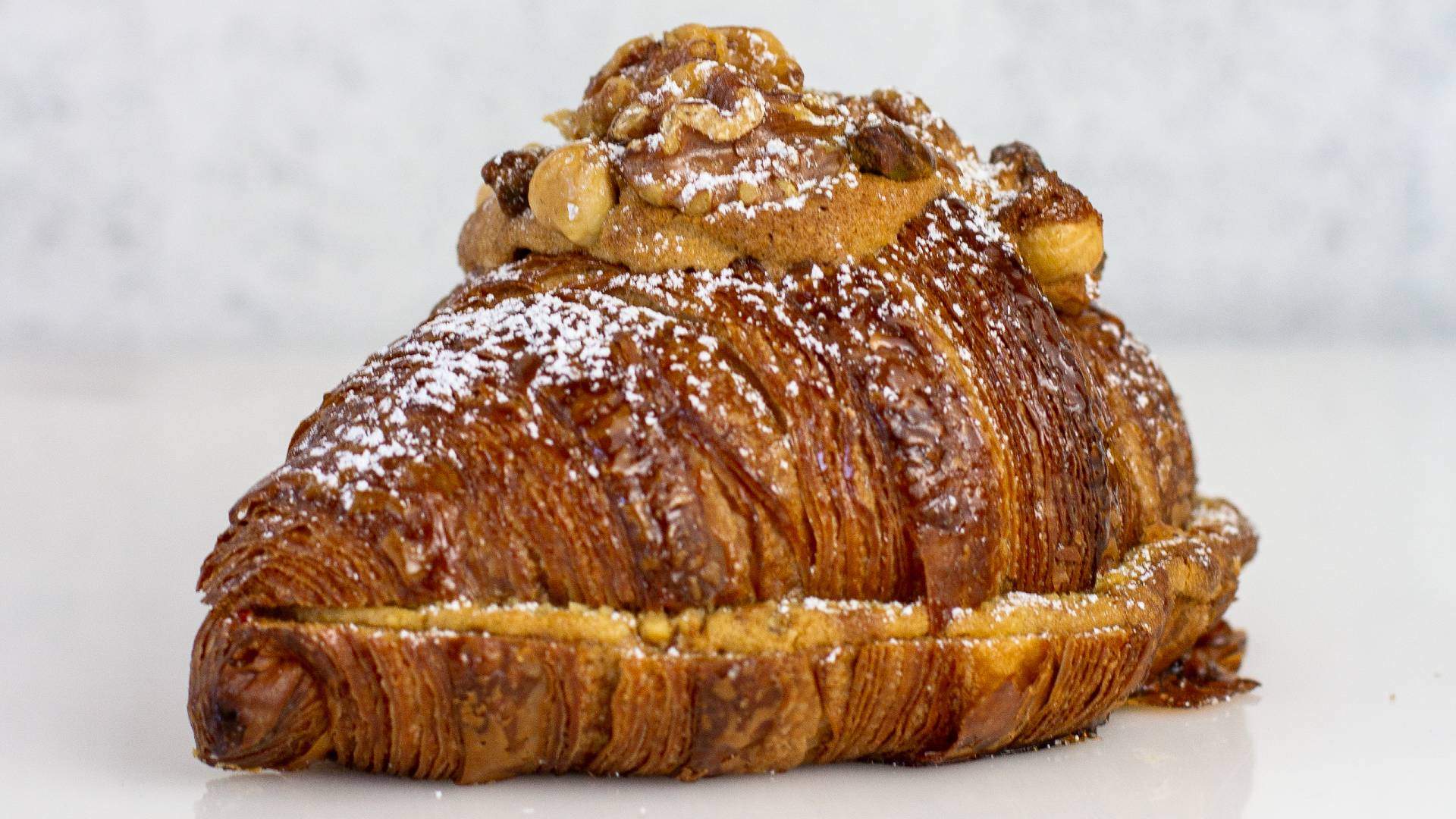 Baklava croissants are available at Banksia Bakehouse, Grosvenor Place, 225 George Street, Sydney, from Monday–Friday until Friday, April 30.
Published on April 09, 2021 by Libby Curran