BrewDog Is Opening the World's First Alcohol-Free Craft Beer Bar
It's the brewery's first bar of its kind, too — and all 15 of its taps will pour booze-free craft brews.
If you eagerly drink your way through the taps at most craft beer bars, then a host of tell-tale signs await the next day: headaches, cold sweats, dehydration, a queasy stomach and a strong craving for greasy food, usually. That won't be the case at BrewDog's latest venture, however, with the Scottish brewery opening up the world's first alcohol-free craft beer joint.
Called BrewDog AF — with the final two letters standing for "alcohol-free", rather than the other term that instantly popped into your head — the bar launches in London on Monday, January 6. Every one of its 15 taps will pour booze-free brews, focusing on draught craft beer sans alcohol. That includes both zero-percent and 0.5-percent tipples, with the latter also officially classed as alcohol-free.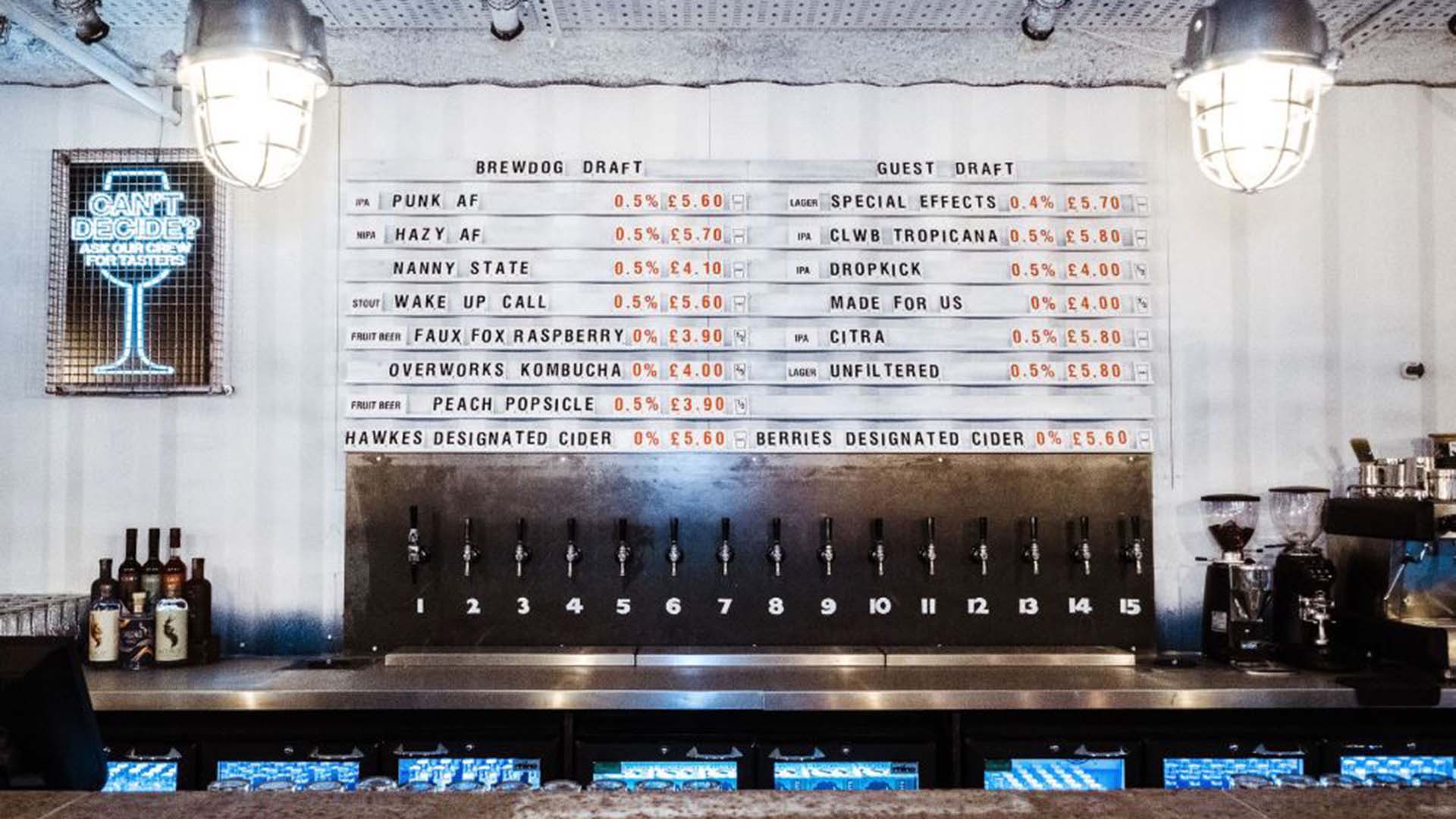 On the menu: BrewDog's 0.5-percent pale ale Nanny State, as well as the alcohol-free version of their flagship Punk IPA, Punk AF. It's also creating two new booze-free brews: a coffee stout called Wake Up Call, and Hazy AF, an alcohol-free version of its New England IPA, Hazy Jane. Alcohol-free spirits and cider will be available too, as will burgers, salads and buffalo wings — and if you're looking for something to do over your booze-free pint, get ready for karaoke and bingo, among other activities.
While BrewDog has been busy opening bars and breweries around the globe over the past decade — launching its first Australian site in Brisbane late in 2019, in fact — BrewDog AF marks its first fully alcohol-free venue. It's not London's first booze-free bar, or the world's, but it is the first to focus on alcohol-free (and hangover-free) craft brews.
To celebrate that fact, as well as the new range of booze-free beers, the brewery has also dubbed the entire month 'drink all you can Jan' — when it comes to alcohol-free beers, that is. Not only at BrewDog AF, but at all of BrewDog's bars and breweries worldwide, drinkers can score free refills of all alcohol-free beers throughout January.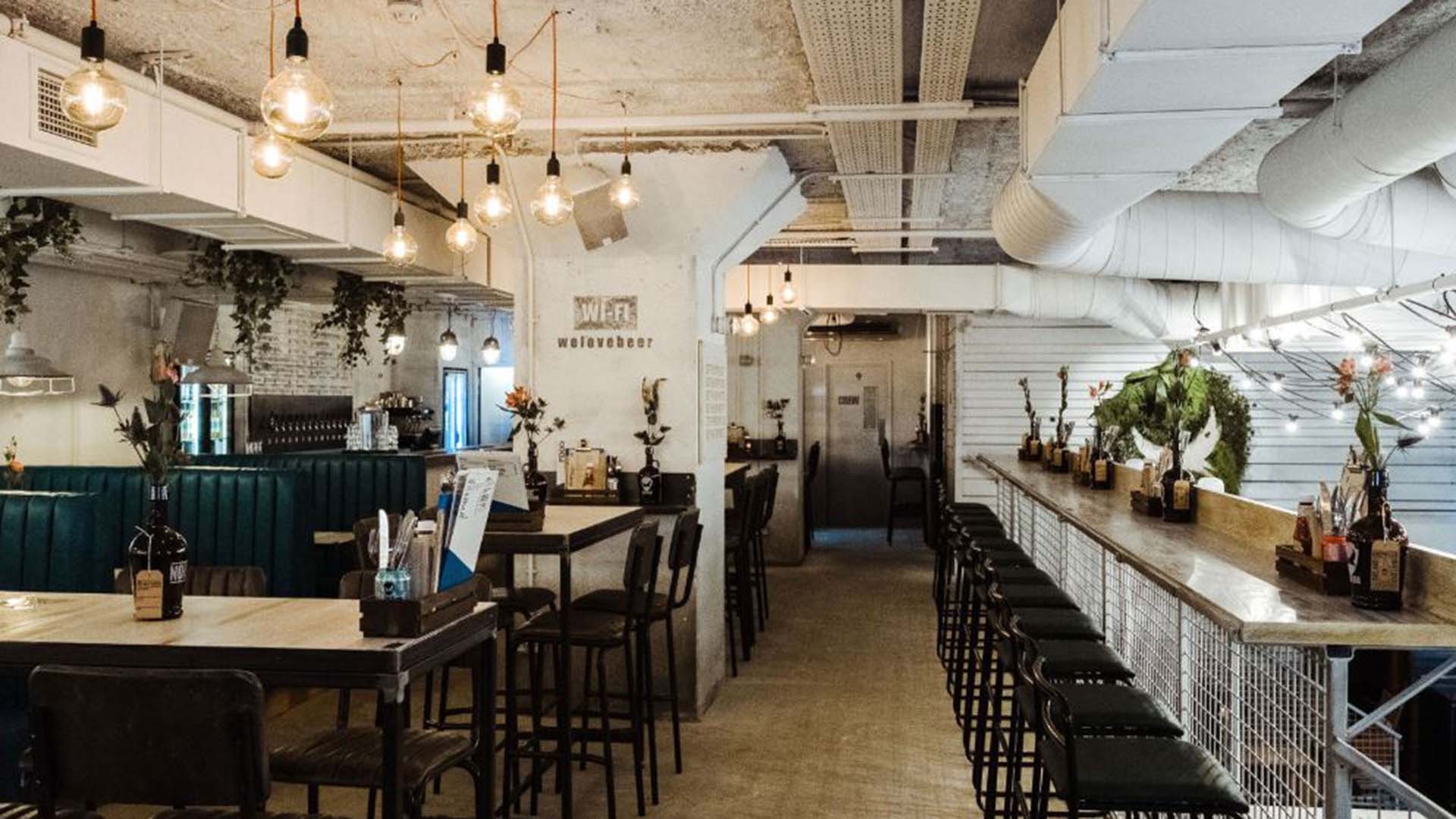 BrewDog AF and its increased non-alcoholic craft brew range forms part of the company's mission to whip up a craft beer for everyone, including folks who like their brews sans booze. As brewery founder James Watt explains, "drinkers opting for low or no alcohol are in danger of compromising on quality, taste and experience. And that's just the beer – forget about places in which to enjoy it. We are going to change that. We exist to be a point of difference, and our first BrewDog AF Bar is just that."
Even if a trip to London isn't in your future, BrewDog's new venture is a welcome development for anyone who has tried to forgo alcohol during Dry July, doesn't drink booze but would still like to sink a few cold ones with their mates, or can't imbibe for a number of reasons — medication interactions, other health reasons or just by choice. With non-alcoholic spirits like Seedlip and Brunswick Aces gaining more attention, bars such BrewDog AF are the natural next step. Yes, you can get non-boozy beverages like juice and soft drinks anywhere, but it's not the same as knocking back booze-free beers in a spot that celebrates the drink but not the alcohol.
Find the BrewDog AF Bar at the Mews Unit of the Bower Development at 211 Old Street, London, from Monday, January 6 — open 12pm–11pm Sunday–Thursday and 12pm–11.30pm Friday–Saturday.
For booze-free beer lovers in Brisbane, BrewDog's first Aussie brewery — DogTap at Murarrie —  is serving up unlimited refills of BrewDog alcohol-free beers until January 31.
Concrete Playground Trips
Book unique getaways and adventures dreamed up by our editors