FOOD & DRINK
Melbourne Bar Mr West Is Delivering 1.5-Litre 'Bagnums' of Espresso Martini and Negroni
And you can get them delivered to your doorstep across Melbourne, Sydney and Brisbane.
Footscray's Mr West is known for many things: its craft beer-packed bottle shop, its dog-friendly bar, its charcuterie boards and its espresso martini and negronis on tap. Previously, you had to visit the Melbourne bar to try said cocktails, but now you can have them delivered to your door. In 1.5-litre 'bagnums', no less.
Made with Mr Black Coffee Liqueur, Boston Black cold drip coffee, stout and vodka, the Good Spirits espresso martini packs a serious alcohol- and caffeinated-punch. The Good Spirits negroni is made with Poor Toms dry gin, Campari and Mr West's house-blended vermouth. It's suggested you serve the latter over ice with an orange garnish, but straight-up in a mug is okay, too.
Each 'bagnum' (a portmanteau of 'bag' and 'magnum') costs $99 and contains 12 serves of espresso martini and 20 serves of negroni, which works out to be about $8 a serve for the former and $5 for the latter (a bargain). As an added bonus, the espresso martini bag also comes with a mini Parisian cocktail shaker, so you can froth up your drink a little before serving.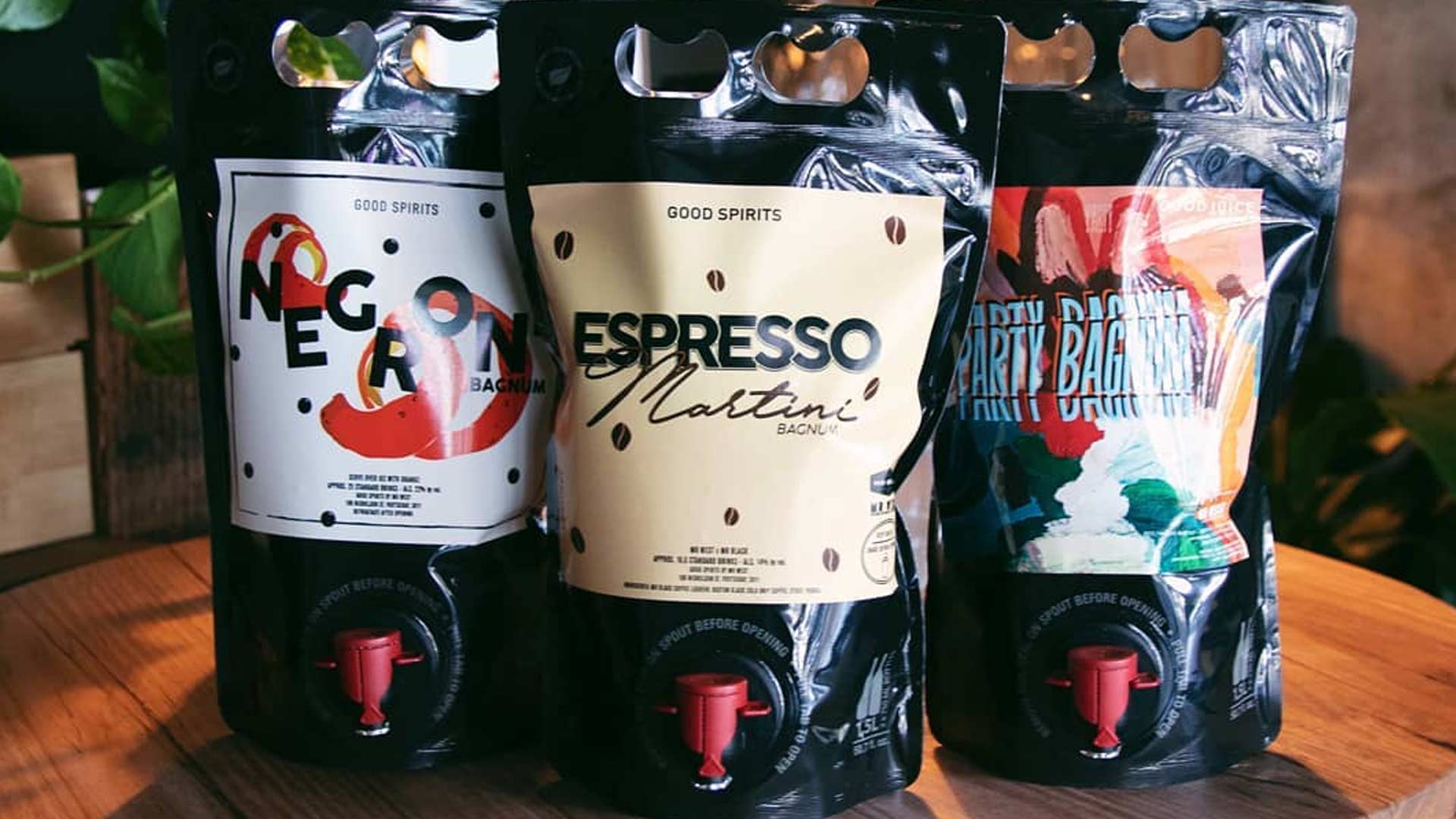 If you're located in surrounding suburbs in Melbourne, you can get the bagnums delivered to your door within an hour from 1–7pm daily for a $7.50 flat rate. Sydneysiders and Brisbanites can get them shipped in three-to-ten days from $12.
Mr West's online bottle shop doesn't just have oversized cocktail bags, either. You'll also find a whole heap of craft beers, natural wines, local and international spirits, sakes and so much more. Those wanting to commit to more regular drinking can also sign up to Mr West's subscription service Good Booze Project, which sees boxes of three, six or 12 wines and beers delivered to your door every month.
You can order a Good Spirits espresso martini or negroni bagnums via the Mr West online shop.
Published on March 30, 2020 by Concrete Playground