FOOD & DRINK
What Do The World's Best Sommeliers Think of Australian Wine?
Following the World's 50 Best Restaurants awards, we shared a local glass with a few professional wine drinkers and gauged their thoughts.
in partnership with

When the World's 50 Best Restaurants awards descended on Australia earlier in the year, we were lucky enough to not only have the world's best chefs on our shores, but also the world's best sommeliers. Over April, Wine Australia took 50 talented wine professionals on a tour of our best wine bars, restaurants and wine regions — starting in Sydney before moving on to Melbourne and visiting bars including Embla and Bar Liberty, then stopping to experience wine regions in Victoria, Tasmania, Canberra, South Australia and Western Australia.
For one of their first stops at Newtown's Continental Deli, established wine writer Mike Bennie took the sommeliers on a wine-tasting journey. We couldn't lose an opportunity to get all patriotic, so we asked them for their thoughts on Australian wine. A pattern appeared in their answers: Australia, once known only to produce bulk, heavy wine varieties like Chardonnay and Shiraz, is going through a renaissance of sorts. A new generation of winemakers are jumping in and producing unique vintages with a true expression of the Australian terroir. All that small-batch, natural wine you've been hearing about is finally garnering the interest it deserves from international sorts.
Sitting at the table was Alessandro Perricone of Copenhagen's relaxed, fine dining establishment Relae, Heidi Nam Knudsen, a wine buyer who works closely with Yotam Ottolenghi in the UK, Fahara Zamorano, head sommelier at Curtis Stone's restaurant Gwen in Los Angeles, Ambrose Chiang, of Australia's own Momofuku Seiobo, and Hiroshi Ishida, a multi award-winning sommelier from L'aube (an established restaurant in Tokyo with little online presence). Over the morning, each of them tasted around ten different Australian wines — they remained controlled and professional at all times, but make no mistake, they were drunk.
What did you know about the Australian wine industry before coming to Australia?
Alessandro Perricone: I knew little. While working in Italy at the beginning of my career, I came across some famous Australian brands which, in my opinion, speak more for themselves rather than talking about a territory. Now in Copenhagen, some of the new-generation winemakers are getting more and more popular, but my knowledge was quite confused before I arrived.
Hiroshi Ishida: I know quite a lot about Australian wine as I've visited before. Australian wine is really diverse, it honestly offers the A-to-Z. I am more familiar with established regions such as the Hunter Valley, Yarra Valley, Barossa, Clare Valley and Margaret River. These are all sophisticated and sustainable wine growing regions, with well-known large wineries that we are familiar with in Japan.
Fahara Zamorano: My knowledge about the Australian wine industry was limited to the wines I had been shown in the US. I do have the privilege to taste some beautiful Aussie wines in California, but the selection is quite limited in comparison to everything that's happening in Australia right now.
Heidi Nam Knudsen: To be honest I didn't know a lot. I stopped paying attention a few years back because I felt that all the wines I tried were too big and heavy. It was all about Shiraz and Chardonnay, but without much terroir-driven personality. Only recently did I start taking notice again, when I tried the wines from a new generation of winemakers in the Adelaide Hills.
How has your perception of Australian wine changed?
Ambrose Chiang: This program has shown me how physically big Australia is — Portugal to Poland is almost as far as Perth to Sydney. Imagine the different micro and macro-climates! The Australian wine industry has seen tremendous growth in the past decade. From internationally recognised as a single wine region for big, bold, alcoholic Shiraz and cloying, toasted Chardonnay, to establishing a country with a diverse range of terroirs which produce wines not only reflective of place, but good farming, skilled winemaking and dedication toward quality wines.
FZ: My perception changed immensely, I was extremely surprised in the best possible way to find a renaissance happening in Australian wine right now. The energy is contagious, the collaboration between winemakers within regions is inspiring, and the unification of the country to elevate the world's perception of Australian wine is just a wonderful thing to witness.
AP: Yes! I certainly went deeper regarding some territories. I see a change in style with the last vintages and in general a much better approach to winemaking with less intervention. Different to what my thoughts of Australian wines were. Many of the wines in Australia have a hard time talking about a terroir, as the approach to agriculture and viticulture is wrong, but this new wave of producers makes me hope for a better future.
HI: On this trip to Australia I felt dynamism. There is much more diversity in the styles that winemakers are crafting, from conventional to funky. It's obvious there is some great talent within the new generation. There are new, emerging regions and I saw a lot of potential.
Describe Australian wine in one sentence.
AP: Australian wine is a total lack of rules and pure freedom. It can easily turn into something marvellous, or just as easily, into a mess!
FZ: Renaissance.
HNK: There's more history to Australian wine than one might think, and judging from what I've seen on this trip there's a big, bright future ahead of it. I guess the biggest difference is that Australia is such a large country and almost every climate and soil type can be found. That means Australia can produce all of the major wine types from red, white, fortified to sparkling wines.
AC: I believe that it's almost impossible to describe Australian wine in one sentence. Our freedom of viticulture and vilification and the dedication of so many producers, along with the multiplicity of terroirs, drives us to be one of the most diverse and innovative wine industries in the world.
What were you looking forward to seeing the most, and did it live up to your expectations?
HI: I wanted to see the potential in new regions and explore the Victorian High Country and Tasmania. Absolutely, this trip lived up to more than I expected. All the sparkling wine from Tasmania was fantastic. We tried sparkling wines from House of Arras, Josef Chromy, Pipers Brook.
FZ: I was very excited to visit Tasmania because not much of their wine makes it out of Australia (thanks Melbourne and Sydney). The little exposure I had prior to this trip left me wanting more. Tasmania lived up to and surpassed my expectations. For such a young wine growing region, there's some serious talent that's 'put all their eggs in that one basket' as we say in America. That alone is an indication of the potential of the region. Now they just need to make more juice so we can get some too!
HNK: I was really excited about visiting Adelaide Hills and visit some of the vineyards there. On my last day I went to Manon Farm up in Forest Range. It was one of the most beautiful places I have ever been to. Spending time with Tim and Monique on their beautiful farm was very special indeed and their approach to farming really inspired me.
What was the most notable wine you've tasted, or thing you've seen on the tour?
FZ: The wine that left me speechless was Henschke Hill of Grace. There's a lot of high end/expensive wines out there and I've been fortunate enough to taste many, but not many have the soul that wine has. Every vintage I tasted, from 1986 to current vintage was absolutely stunning. That kind of depth is only developed with the wisdom of time and those vines have attained it and pass it along in their fruit. It's hard to describe in technical notes. Like I said, it left me speechless.
AC: Out of the 1000-plus wines tasted, the most notable wines were 2014 Si Vintners Halcyon Cabernet Sauvignon, 2004 Yarra Yerring Chardonnay and 1996 Henschke 'Hill of Grace' Shiraz. They were wines that displayed incredible flavour. One of the best trips in the program was visiting Western Australia. The sunset at the White Elephant Cafe was out of this world.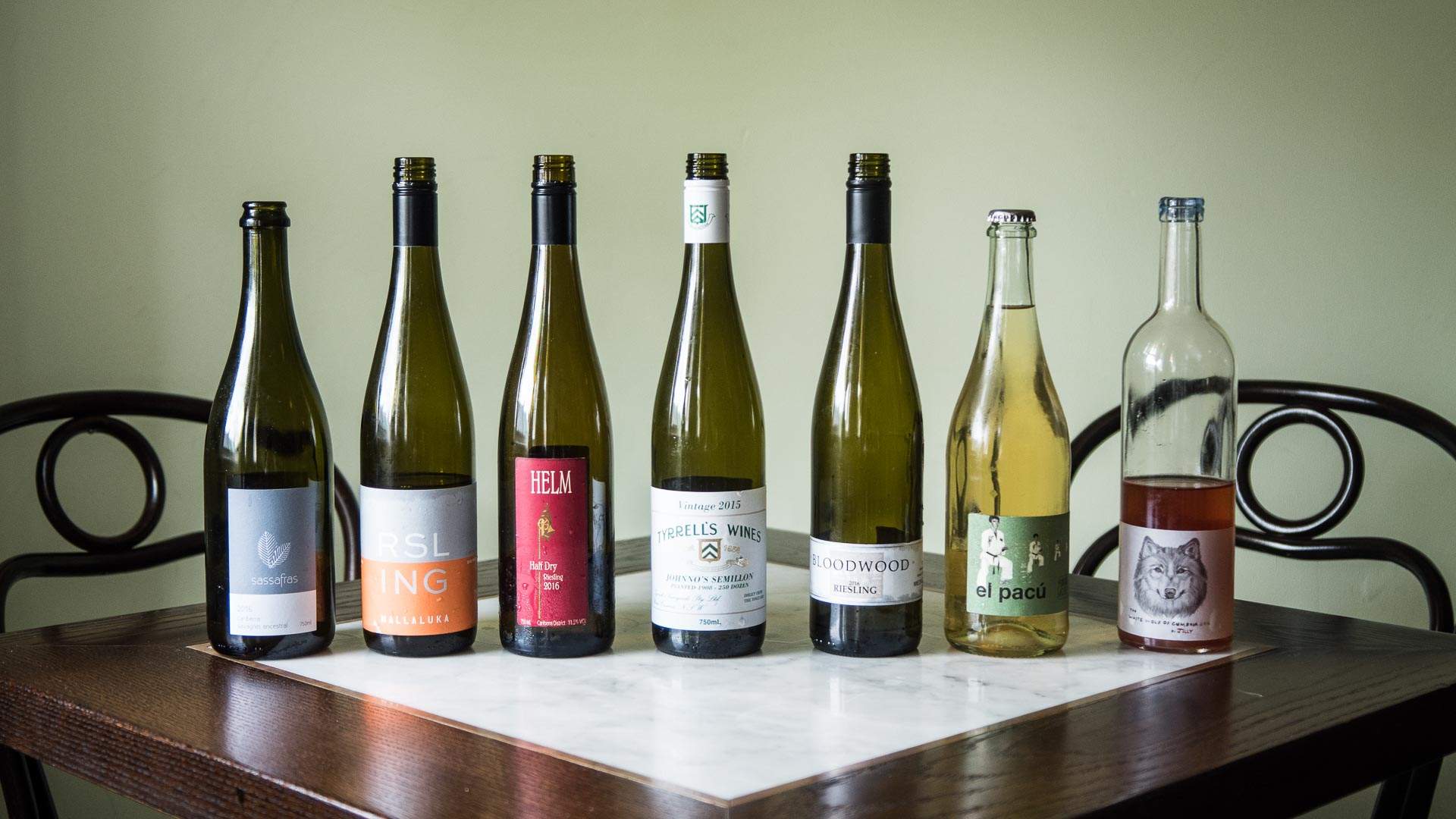 What are you taking back home?
AP: The passion of the people, organisers and winemakers who worked so hard and beautifully showed me their jobs, their produce and their land. I'm taking home Australia, as it deeply touched my heart. I will start importing some of the young and small producers I met during my trip. I look forward to coming back to Australia.
FZ: Love.
HI: I'll be taking a huge amount home. I use Australian wine very often in wine pairings in my restaurant, and I'd really like to showcase more Australian wine so Japanese diners can recognise its diversity.
HNK: The energy and excitement of the new generation of winemakers in the Adelaide Hills and Basket Range and the outstanding quality of food on display everywhere we went.
Celebrate Australian wine by attending Aussie Wine Month over May — there are events and tasting opportunities happening across the country.
Images: Kimberley Low.
Published on May 03, 2017 by Kelly Pigram