FOOD & DRINK
Young Henrys Launch Their First Batch of Noble Cut Gin
From brewing to distillation, these Newtown lads have a new trick up their sleeve.
Young Henrys Launch Their First Batch of Noble Cut Gin
From brewing to distillation, these Newtown lads have a new trick up their sleeve.
It's been said that once you stumble onto a good thing, stick to it. In the case of Sydney brewers Young Henrys, they've gone one step further — from brewing to distillation. Famous for their Newtown-based brews, now stocked in bars and beer fridges across the city, the lads have just announced the launch of their first small batch of hard liquor. Meet Young Henrys Noble Cut Gin.
Blending the team's brewing skills with distillation techniques, this handcrafted, London Dry style of gin is a game changer for the company. Offering a cheeky combination of infusions — featuring everything from Australian pepper-berry, bush tomatoes and even cascara from the outer layer of Toby's Estate beans — this twice-distilled gin is punchy, complex and layered with unexpected additions.
Young Henrys co-brewer Oscar McMahon believes the secret to this grain neutral spirit's signature taste is the brewery's homegrown approach — bringing across many of their beermaking techniques to their newfound spiritmaking process. "Unlike many other gins, we create our gin from scratch; meaning that the whole product, from grain to glass, is done in-house by our crew," he says.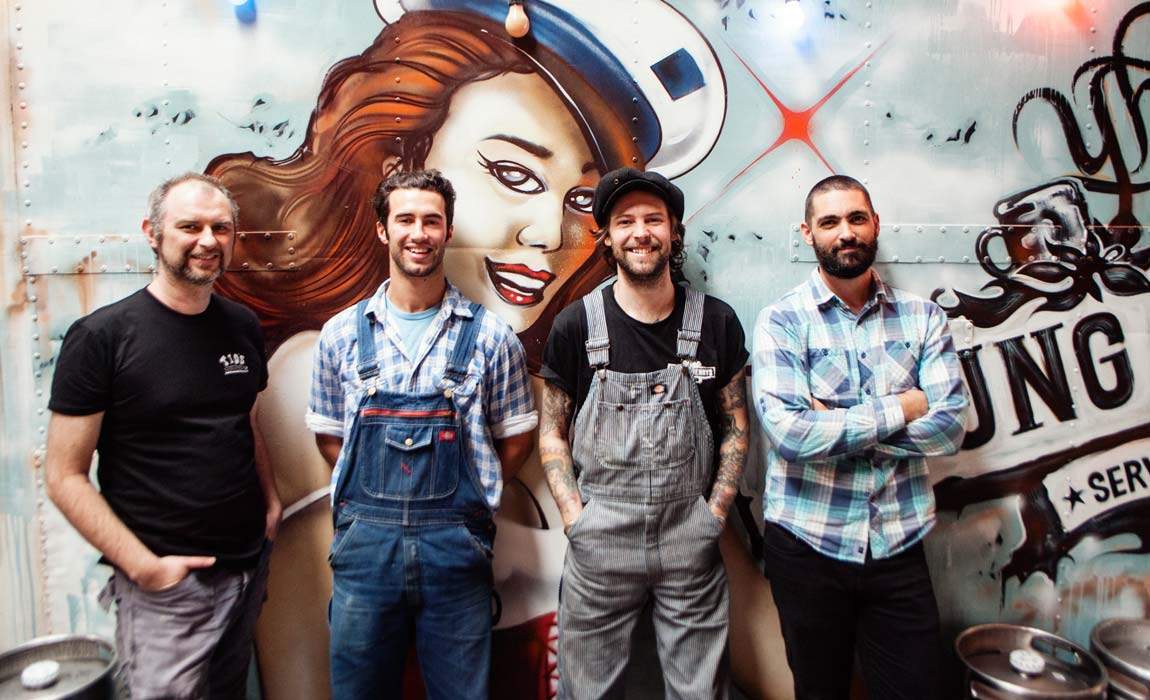 So how did the team choose which flavours made the (noble) cut? McMahon says a shortlist of over 30 ingredients were put to the test. "We basically went through this amazing process of assessing how each botanical acted in alcohol and what flavours, aromas or sensations it added." Staying true to their roots, Noble Cut features a splash of locally-grown Enigma hops for a full-bodied drinking experience. And despite all these cutting edge extras, Young Henrys know what traditionally works. With classic notes of juniper, coriander, orange peel, cassia bark, liquorice and angelica root, lovers of traditional gin recipes will be looked after too.
But it's a case of first in, best dressed with these bottles. Emphasising their limited batch quantities and small-scale production, getting your hands on one of these original babies isn't going to be easy. "Small batches emphasise variation throughout the year," says McMahon. "They are a truer product of both the human producer and the natural ingredients." Pre-ordering for batch numero uno begins today ($75 per bottle, due for delivery after the Easter long-weekend), followed by ambitious nationwide venue and store launches early next month. But it's this can-do optimism that has brought the company such success so far, as McMahon states, "The only stupid idea is the one you can't get into a glass."
With plans for new projects already in the works, the YH team is showing no signs of slowing down in 2015. And by the taste of things so far, we're damn glad to hear it.
Young Henrys Noble Cut Gin is available for pre-order now here for $75 a bottle, but will be nationally launched on April 2. Batch Two will available in stores from April 10.
Published on March 09, 2015 by Lucinda Starr