Eight Grown-Up Easter Treats to Hunt Down Around Sydney in 2023
You're never too old for this Easter hunt.
This year, Easter hunts are not just for kids. Inventive bakeries, restaurants and other businesses around Sydney are getting busy creating sweet treats and other Easter-themed goodies for an audience that may have outgrown the Easter bunny.
From cocktail-filled chocolate eggs to all kinds of wild hot cross bun creations, here's a curated list of Easter goods worthy of a spot in every grown-up Sydneysider's Easter hunt.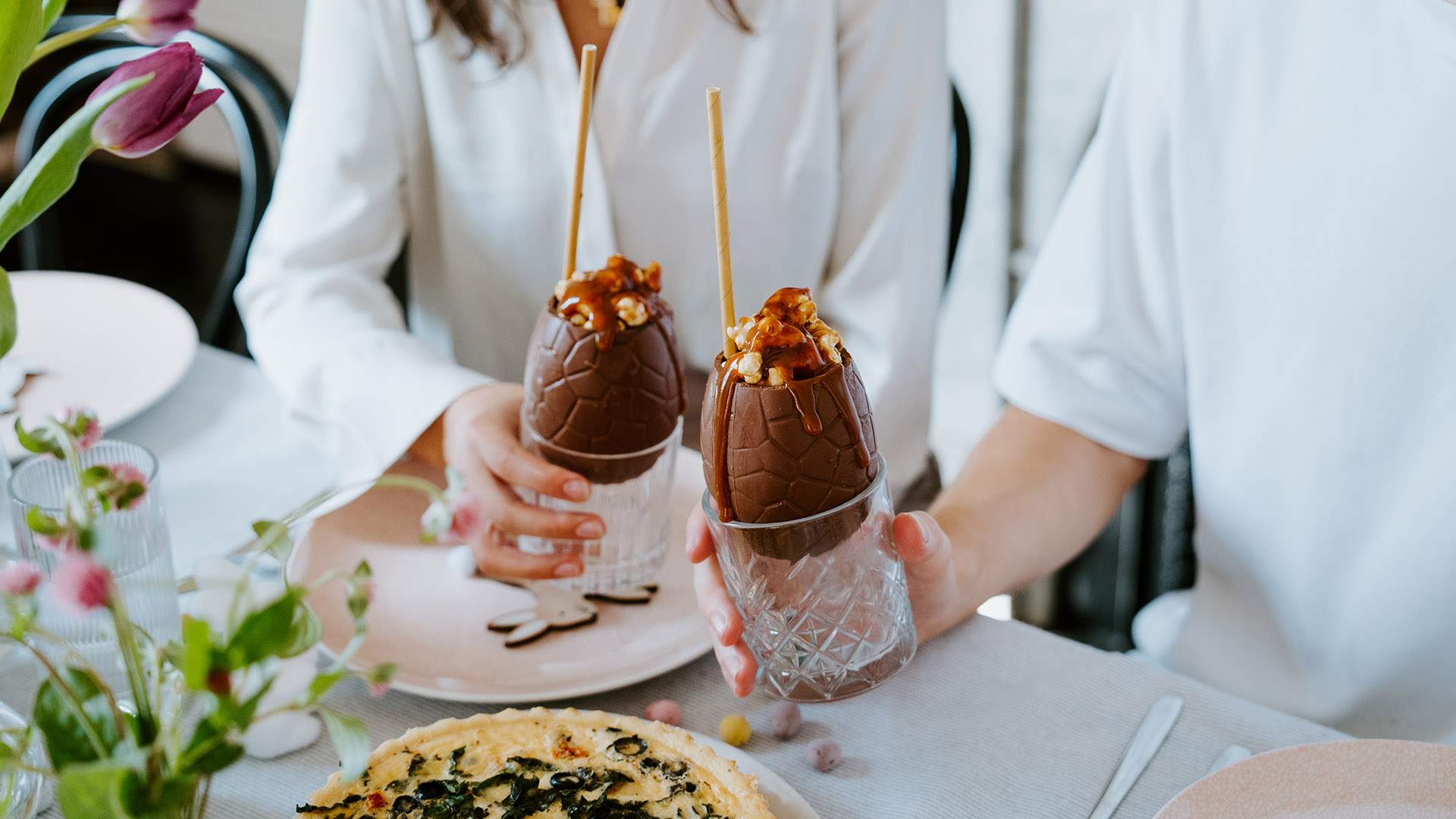 DIY COCKTAILS IN EASTER EGGS FROM COCKTAIL PORTER
Like Gelato Messina? Love Easter eggs? Then Cocktail Porter's DIY kit is your kind of treat. The make-at-home pack lets you whip up your own boozy beverages — Messina dulce de leche salted caramel and coffee cocktails, no less.
There's no gelato, but there is Messina's popular topping, Baileys, cold-drip coffee and Mr Black Coffee Liqueur, plus chocolate Easter eggs to pour your mixed liquids into (and drink them out of) — and pieces of salted caramel popcorn to pop on top. Go small and you'll pay $80 to make five drinks. The large costs $145, and makes 12.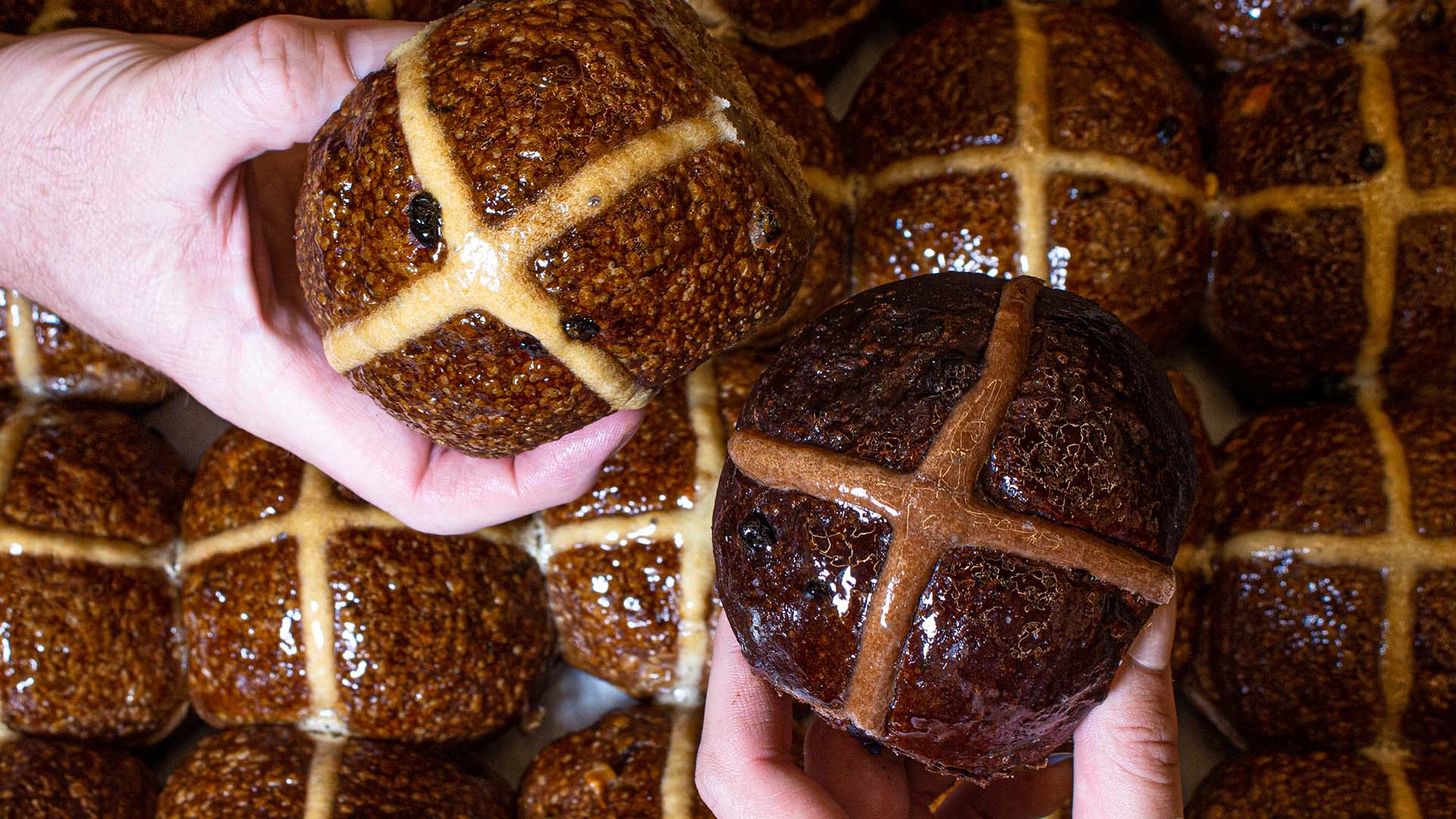 Easter is a time for gorging on sweet things — so it's only fitting that two of Australia's best-loved dessert spots team up to release something special in honour of the occasion. The pastry masters at Black Star have come together with chocolatier Koko Black and launched their own dreamy take on the traditional hot cross bun.
These beauties are spiked with Koko Black's 60-percent dark chocolate, topped with a lightly spiced glaze and finished with that all-important cross — reimagined with more chocolate, of course. They're available by the single serve, in a six-pack or by the dozen, to pick up from any of Black Star's Sydney stores up until Monday, April 10. You can also order a box online.

DOUBLE CHOCOLATE HOT CROSS BAO FROM DIN TAI FUNG
Din Tai Fung has once again created a delicious festive treat with its Easter hot cross bao. And these bao buns have taken things up a notch from the previous Nutella-filled creations of previous years. This time around, the treats are doubling down on the chocolate, pairing cocoa-rich dough with a molten chocolate filling.
The bao are available at all Din Tai Fung locations, or can be delivered frozen to your home if you intend to stockpile them in your freezer to enjoy after Easter passes. The buns are available for $8.90 for two in stores, or $12 plus a delivery fee, for three delivered to your door.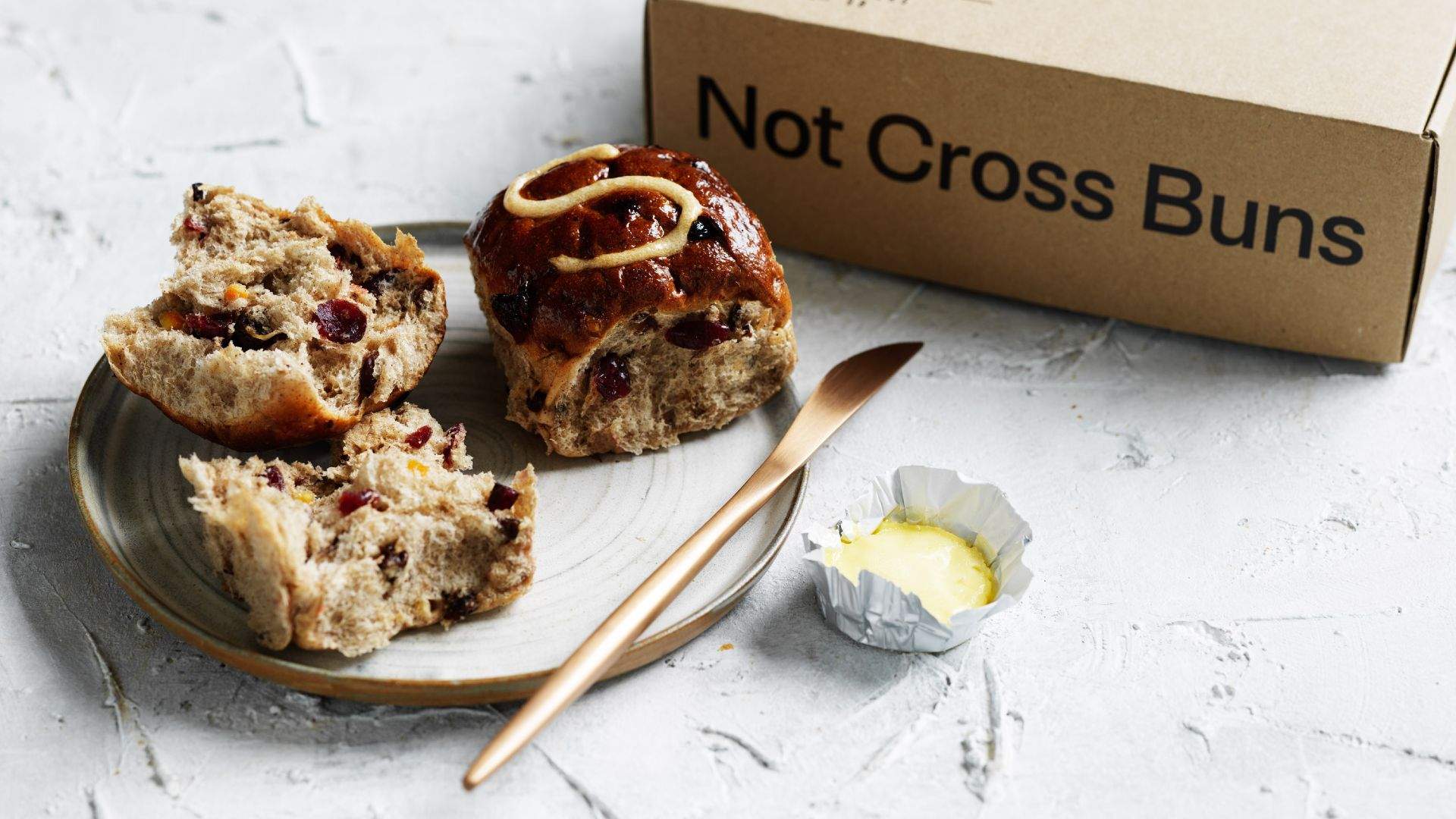 If you're craving a new take on a traditional hot cross bun this Easter, Sonoma bakery has put its own twist on the dessert. Instead of the traditional cross you'll find at most bakeries, Sonoma adorns its treats with an "S" — giving them the name of "Not-Cross Buns." Before they're piped with the signature "S", however, each bun is baked with Sonoma's special blend of raisins, cranberries, apricots and candied orange.
They are then brushed with a coffee- and spice-steeped sugar glaze for the perfect finish. The buns are available in-store until Monday, April 10, individually for $3.50 or in a box set of six for $20. You can also have a box delivered to you if you order online.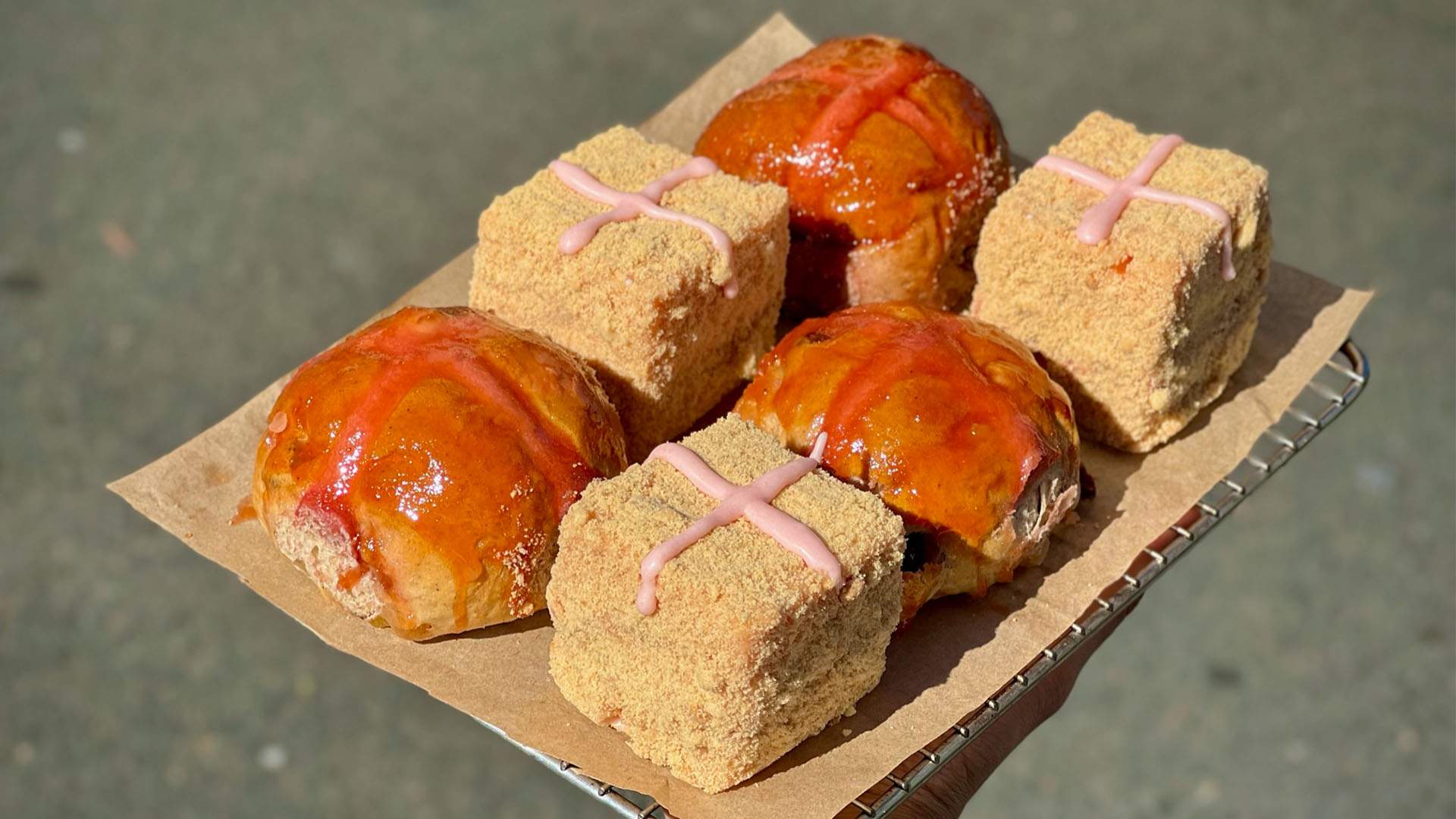 SAKURA HOT CROSS BUNS AND HOT CROSS LAMINGTONS FROM TOKYO LAMINGTON
Inner West lamington wizards and collaboration kings Tokyo Lamington have two limited-time Easter treats, both playing on the hot cross bun. Inspired by a meeting with a sakura farmer on a recent trip to Tokyo, the first creation is a more classic bun infused with yuzu and sakura, then finished with a sticky sakura cross to give it that Tokyo Lamington twist.
The second is, of course, a hot cross lamington. The cubes of Easter goodness include spiced cream, mixed fruit, cinnamon sponge cake, spiced white chocolate and a crushed hot cross bun coating. You can head into the Newtown store to pick one up or order online. The hot cross lamingtons will set you back $7.50 and the sakura hot cross buns are $5 a pop, or you can claim an Easter pack with three of each in it for $35.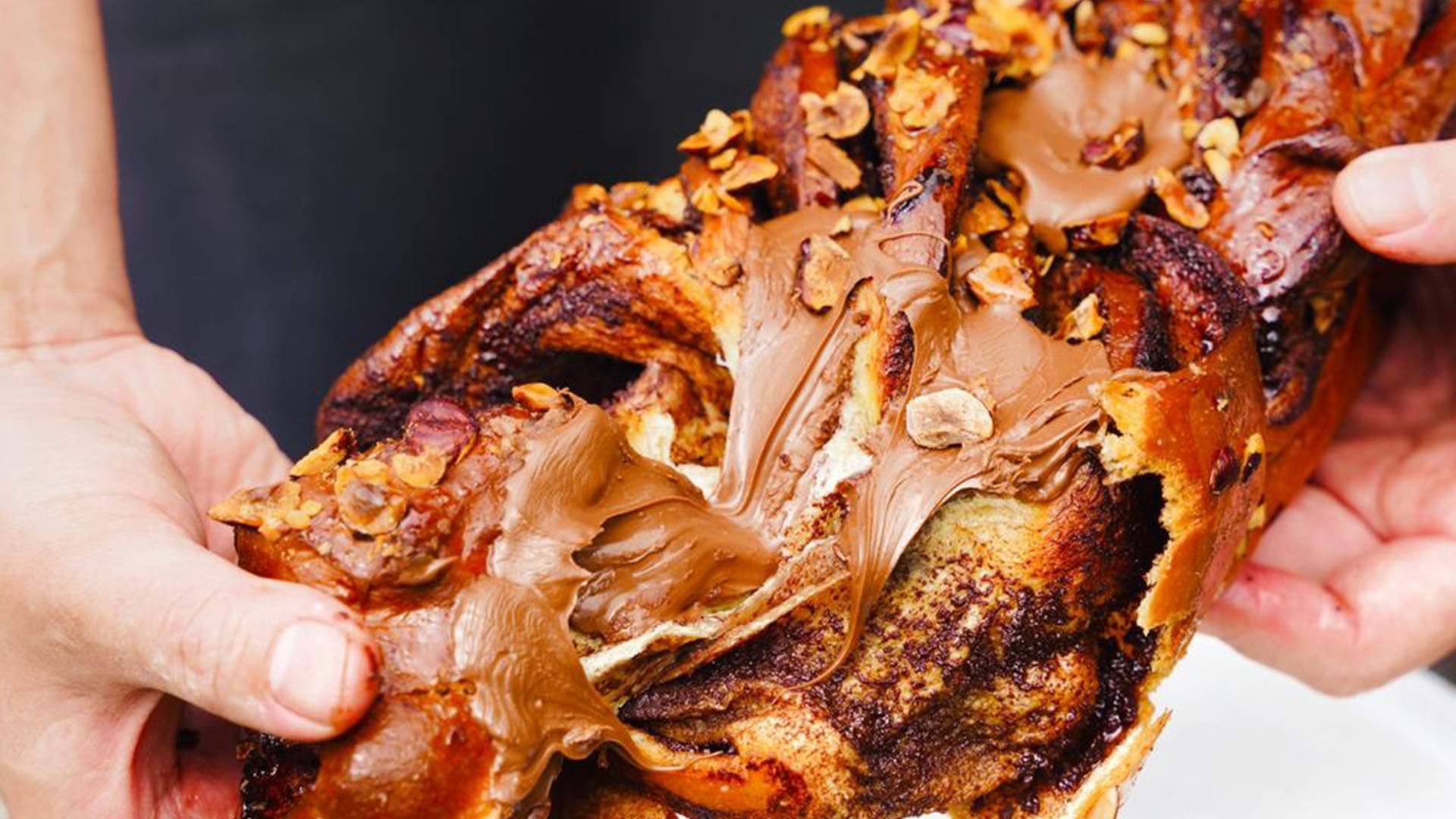 NUTELLA BABKA AND PORTUGESE EASTER TREATS FROM TUGA PASTRIES
Now boasting a newly revamped Clovelly home alongside its Alexandria outpost, Tuga Pastries has gone all out for Easter. While known for its Portuguese tarts, the beloved bakery has unveiled a stacked Easter menu of limited-time treats. To start, there's hot cross buns, made according to owner Diogo Ferreira's father's recipe — and available in original or chocolate.
There's also Nutella babka, made with sweet braised brioche coated in chocolate and hazelnuts, and piped full of plenty of Nutella. Rounding out the selection of must-try baked goods are the Portuguese special occasion Pão de Ló de Ovar cake and Folar de Páscia, a traditional Portuguese Easter bread that's topped with mini Easter eggs. All of these creations are available at both stores or via the Tuga website until Monday, April 10.
Known for its multi-layered cream-filled croissant cubes, Banksia Bakehouse has gotten in on the Easter spirit with a hot cross variety. These buttery blocks are made from the bakery's famous croissant cube pastry, then filled with a cinnamon créme patisserie centre, as well as Australian Sunmuscat sultanas.
They're available in-store all week up until Good Friday. If you want to make sure you get your hands on some for the Easter weekend, you can preorder a batch from the Banksia website for pick-up on the Friday.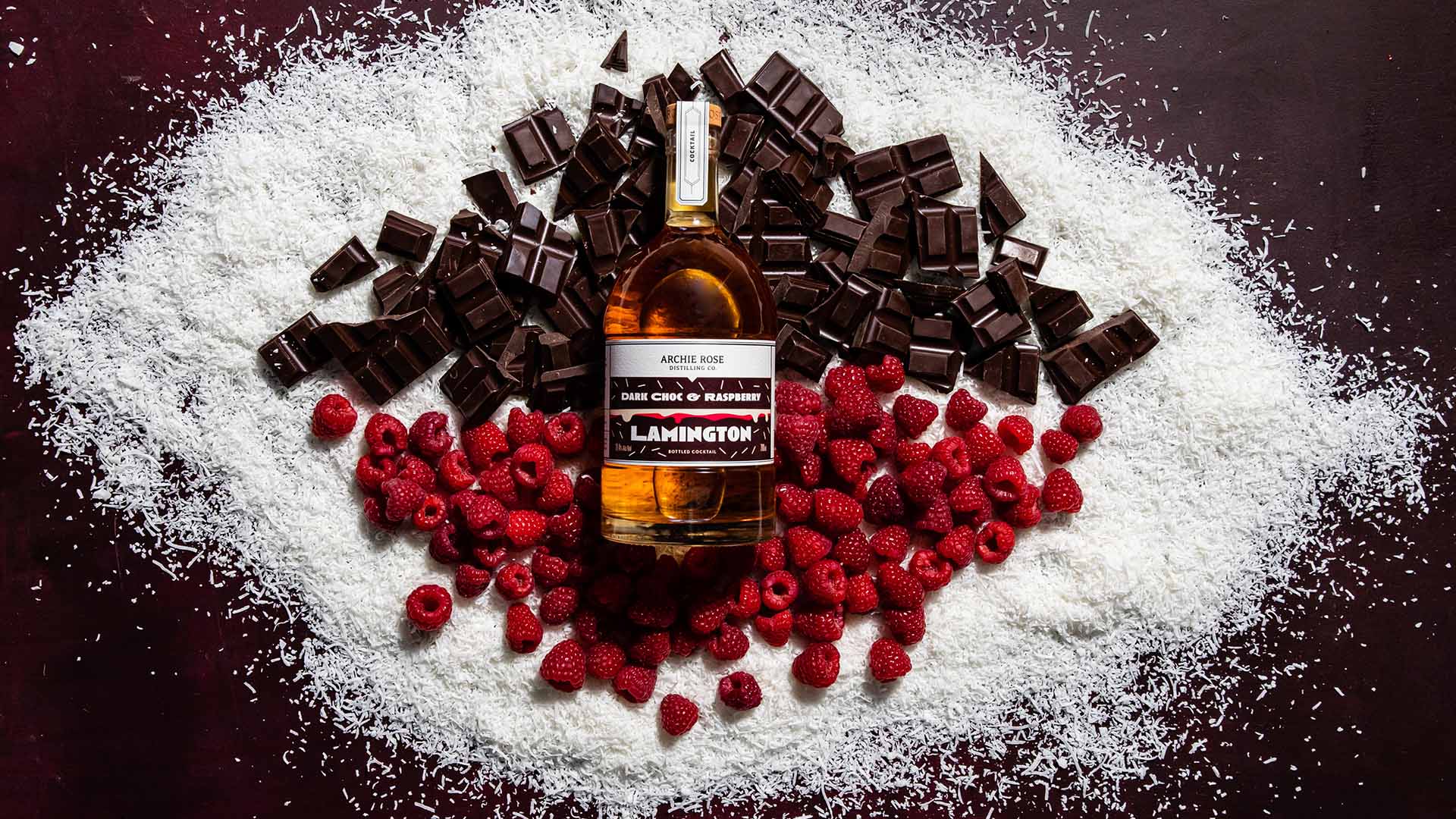 DARK CHOCOLATE AND RASPBERRY LAMINGTON BOTTLED COCKTAIL FROM ARCHIE ROSE
Archie Rose is taking a bit of a different approach to Easter, releasing a bottled cocktail inspired by the humble lamington. The limited-edition bottle is made using the distillery's signature dry gin combined with a mix of raspberry, chocolate, honeycomb, coconut and citrus.
The result is a ready-to-drink cocktail with all of the nostalgic flavours of a lamington mixed into one sip. You can enjoy it poured over ice or topped with soda and a berry garnish. If you want to order a bottle in time for Easter, head to the Archie Rose website where you can find them for $59.
Concrete Playground Trips
Book unique getaways and adventures dreamed up by our editors