FOOD & DRINK
Ezra Is the New Tel Aviv-Inspired Restaurant Opening in Kings Cross
Bistro Rex's Nick and Kirk Mathews-Bowden have teamed up with Moon Park Chef Ben Sears to bring Sydney a taste of the Levant.
Ezra Is the New Tel Aviv-Inspired Restaurant Opening in Kings Cross
Bistro Rex's Nick and Kirk Mathews-Bowden have teamed up with Moon Park Chef Ben Sears to bring Sydney a taste of the Levant.
Amidst all of this pandemic doom and gloom, three Sydney hospitality legends have joined forces to bring us a new restaurant to look forward to. Bistro Rex's Nick and Kirk Mathews-Bowden are teaming up with Chef Ben Sears (Paper Bird, Moon Park) to open Ezra — a love letter to Tel Aviv, a city on Israel's Mediterranean coast.
"Kirk and I used to live in London and there are amazing Middle Eastern and Mediterranean restaurants over there, which led us to visit Israel," Nick told Concrete Playground. "We were instantly swept up by Tel Aviv. It is one of the coolest cities on earth. It has this huge nightlife scene and an unstoppable sense of hospitality."
It's this unstoppable hospitality the trio hopes to bring to Kings Cross, where Ezra is set to open inside an old terrace house in early September. Its design takes cues from Tel Aviv's byzantine and bauhaus architecture, with many curves and lots of earthy tones.
The space boasts two plant-filled courtyards — one out back and one in the front — a long walnut bar and a large mosaic archway, made using handmade Lebanese tiles. Floral sculptor Tracy Deep will make dried native arrangements for the space, too, while local artist Amy Hunter will create original pieces for the walls.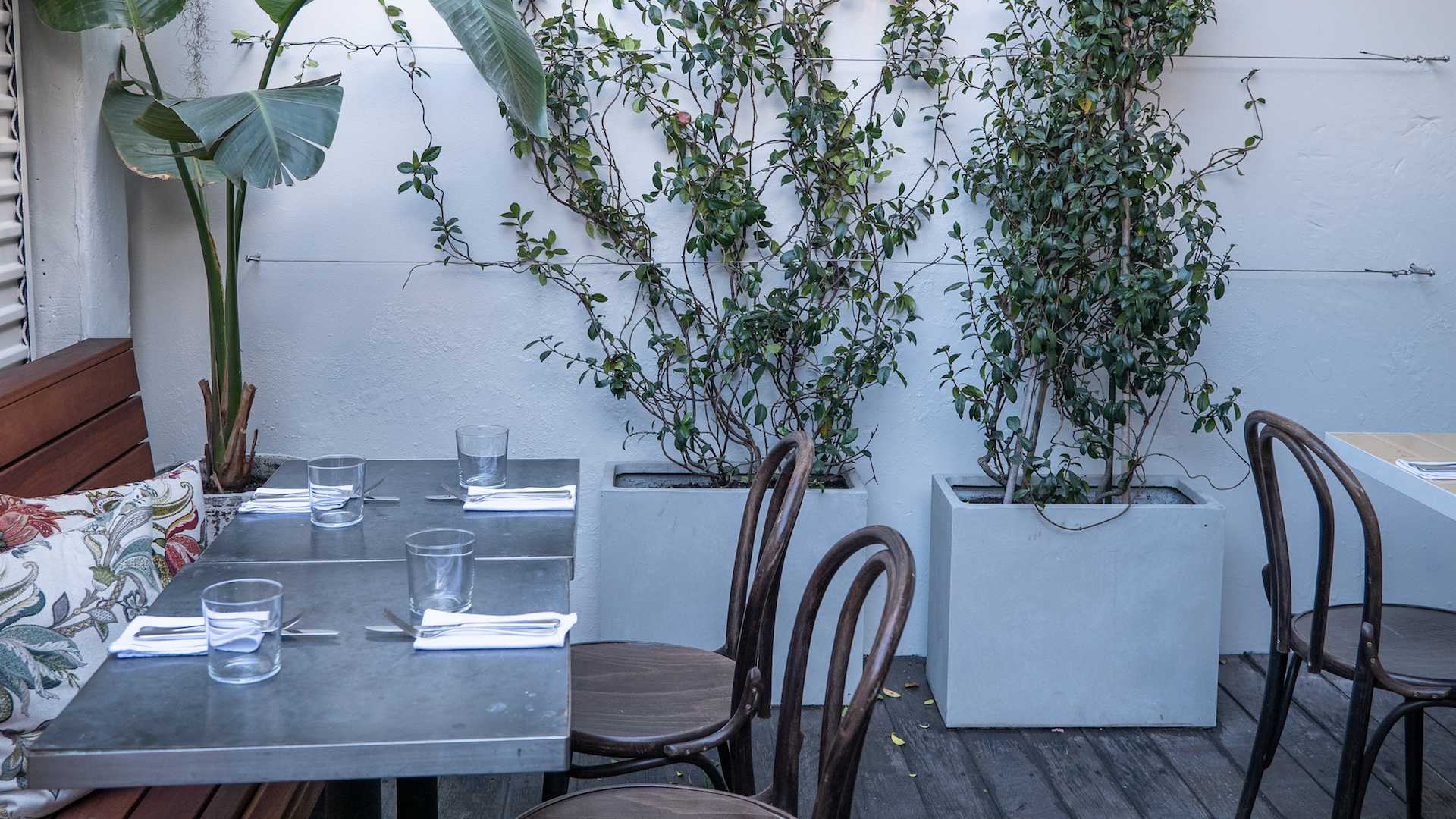 Apart from table seating, diners can pull up a stool at both the bar and in front of the open kitchen. Expect family-style dining here, with the menu split into small snacks, salads and larger charcoal-grilled dishes. It'll be veggie heavy, too.
While the menu is still being finalised, a few dishes that Sears is testing out include a falafel and tahini snack, baked cauliflower with haloumi and a chicken parfait with amba (a pickled mango condiment) that's a play on a classic Israeli liver and onions dish. For starters, expect mezze and flat breads made in house — and, for dessert, an ice cream baklava sandwich is in the works.
At Moon Park and Paper Bird, Sears was known for his riffs on Korean, Japanese and Chinese dishes, and he'll be incorporating some of those flavours into the dishes at Ezra, too. The whole grilled flathead, for example, will come dressed with a chickpea miso from Tasmania.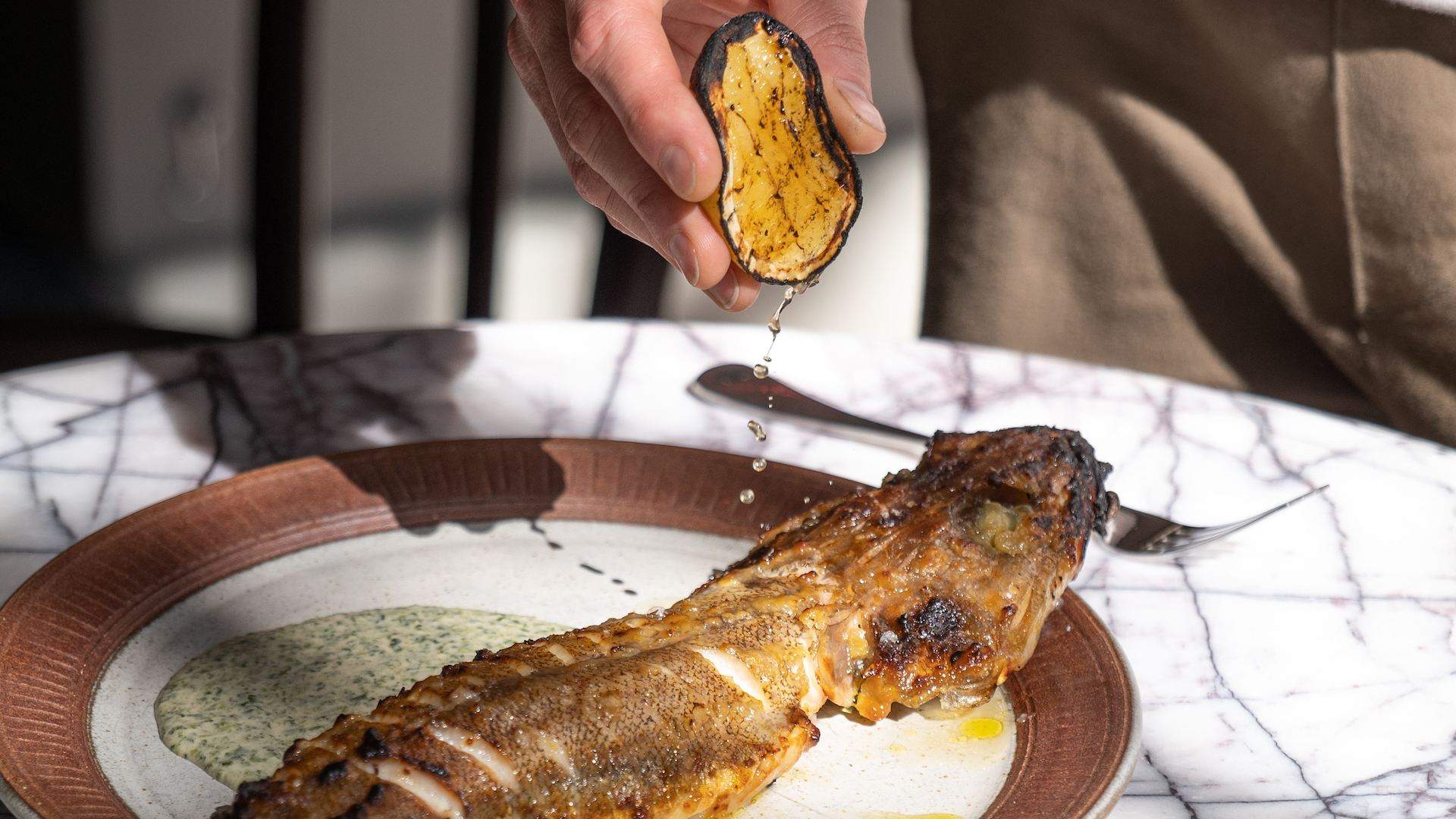 To accompany the food, a relatively succinct wine list will span both "natural" and "nostalgic", meaning you can get pét-nats, orange and minimal-intervention wines alongside a classic chablis. "Every day we'll be opening something different and seeing what the neighbourhood leans into," says Nick.
Apart from wine, there will be a short cocktail list, created by a friend from Melbourne's Black Pearl. On it will be a paloma, a limonana — a gin-spiked Israeli mint lemonade that's been shaken with lemon sorbet — and a play on a Brazilian batida de coco. That last one is a dark rum-based drink similar to a piña colada, but the Ezra version uses natural yoghurt instead of coconut milk.
If the trio's experience in Tel Aviv is anything to go by, expect them to be downing shots at the end of the meal with you, too. "Young people [in Tel Aviv] are being quite creative with cafes and restaurants," says Kirk "They'll bring you whisky at the end of a meal and ask if you want to do a shot together, that sort of thing. It's such a vibrant city full of rooftop bars and restaurants doing fresh, zingy takes on Middle Eastern and Mediterranean blended food."
The restaurant has room for 90 all up, but that number will be limited by NSW Government COVID-19 restrictions — so booking ahead is highly recommended. But, when the days of spontaneous walk-ins finally resume, you can bet a free seat at the bar will beckon you inside.
Ezra is set to open on Friday, September 4 at 3 Kellett Street, Potts Point. Keep an eye on this space for an official opening announcement.

UPDATE: WEDNESDAY, AUGUST 17, 2020 — Ezra was originally slated to open on Friday, August 28 but this has been delayed by a week until Friday, September 4.
Published on August 18, 2020 by Marissa Ciampi