FOOD & DRINK
Circular Quay's Huge New Dining Precinct Gateway Sydney Is Now Open
Your CBD lunch options just got a whole lot better.
If you've spent one too many nights wandering hungry around Circular Quay, dodging dodgy fish and chips and bad pizza, you'll welcome this news. The watery end of Sydney's CBD is finally sorting itself out, scoring a slew of decent eateries. It's part of a new $60 million development on Alfred Street called Gateway Sydney — and it opens at midday today, Thursday, September 1.
The new precinct has been transformed by Woods Bagot Architects from a very average walk-past-worthy food court into a slick new dining area. Today just the ground floor opens, which features Gelato Messina's first CBD store (sorry Gelatissimo), Four Frogs Creperie (ham and cheese galettes for brekkie, yes please) and a new outlet for Adriano Zumbo's pastries. Also opening today is Roll'd, Workshop Espresso, The Gozleme Co. and health food outlet Urban Orchard, among a slew of others.
You can enjoy it all sitting at banquette-esqe burnt orange seats, benches or out on the little park that's been created on the Loftus Street side. Some of the outlets even have their own cafe-like seating areas. The ground floor will be open from 7am until 5pm each day.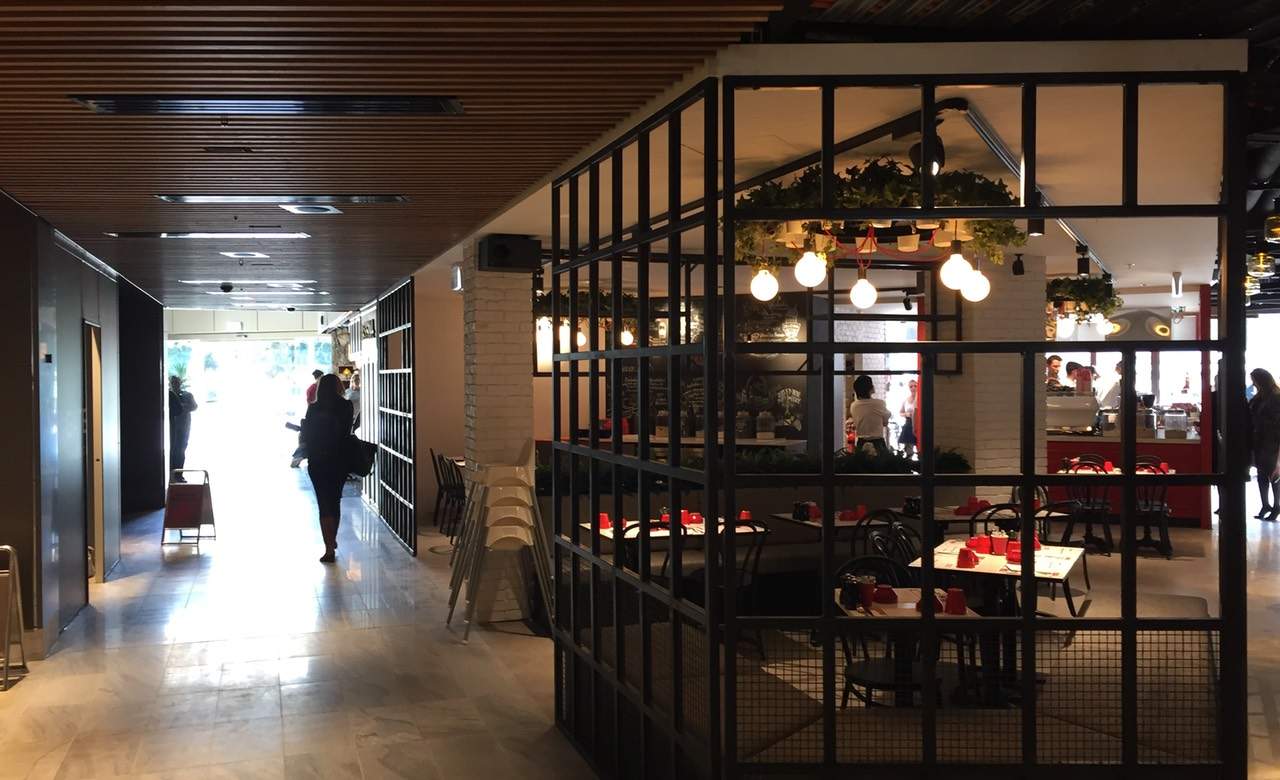 The other two levels are still in the works and have yet to open, but the second level — which will house Neil Perry's second incarnation of his Burger Project, Chat Thai, a 50-seater sushi train and 2015 World Barista champions, Canberra's Espresso Room, to name a few — will open next week. It's set to be more of a dining affair, and will open for dinner as well.
But that's not all. Remember that new rooftop venue that Salt Meats Cheese and Shuk last month announced they'll be opening later this year? That's slated to open in October.
The project is being developed by DEXUS Development Group, and the DEXUS Wholesale Property Fund own 100 percent of the new precinct. "The intent was to open up the Circular Quay end of the CBD, which we have done with great respect to the existing environment," said Liann Lim, development manager for city retail at DEXUS. "The surrounds set a spectacular stage for a dramatic dining experience to unfold, with each of our retailers serving their dishes with an element of theatre."
So is this the start of Circular Quay's renaissance? It could well be. Last week the Pullman opened Hacienda, an impressive new vista bar overlooking the harbour. Finally it looks like Bulletin Place will be getting some company.
The first round of Gateway Sydney venues are now open, with more to open next week and over the next few months. For more info on the development, visit gatewaysydney.com.au. 
Images: Mark Sherborne and Lauren Vadnjal. 
Published on September 01, 2016 by Lauren Vadnjal