FOOD & DRINK
The Newport Announces Official Opening Date
Expect a 'vintage gymnasium', pizzeria and a sprawling outdoor beer garden.
Merivale is expanding faster than our belts can handle. Justin Hemmes' heaving hospitality empire has announced the opening date and details of the newest member of the Merivale family: the Newport Arms Hotel. Or rather, The Newport.
A Northern move for the city-dominant group after opening J&M's whisky bar, the revamped Ivy Pool and The Paddington in the last months, alongside renovations for the Queen Vic Hotel, Merivale's acquisition of the Pittwater hotel is a bold decision for Hemmes — and one that explains why he didn't jump on the sale of the Manly Pavilion. A landmark property of the Northern Beaches since 1880, the Newport Arms will be officially reopened as The Newport by Merivale in on Good Friday, March 25 — and we actually can't wait to see what Merivale do with the place.
Good Friday will see the unveiling of the backyard wizardry and hectic landscaping that's been done on Australia's largest outdoor waterfront beer garden — all by landscaper Daniel Baffsky. According to Merivale, the grounds will be "a sprawling estate that evokes a sense of nostalgia" with flowering shrubs, jacarandas, wild cacti, succulents, Chinese elms, plane trees, crape myrtles and date palms.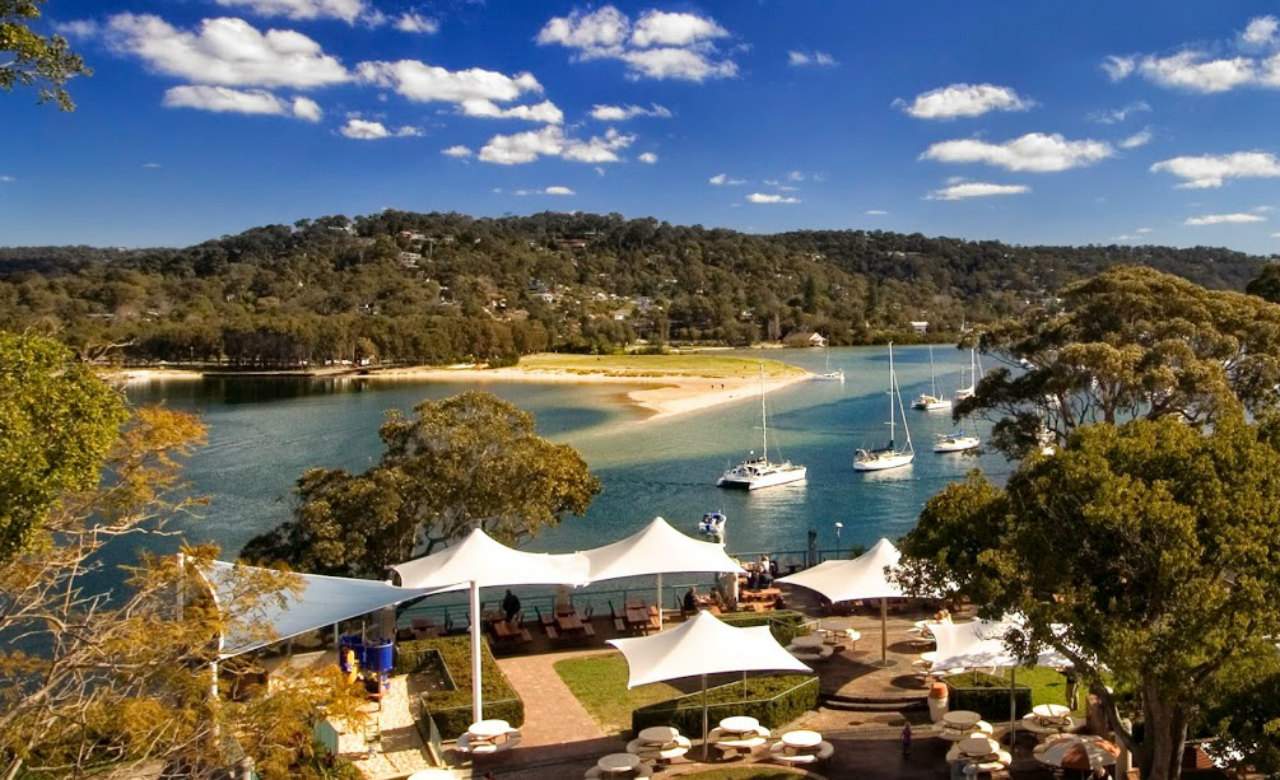 The actual Newport building will be the next to be revealed, drawing on influences from Montauk, The Hamptons and Mediterranean and designed by Kelvin Ho and Emilie Delalande (Akin Creative), stylist Amanda Talbot and Justin and Bettina Hemmes. In classic Merivale-style, there'll be multiple, eclectic, themed spaces to drink and dine in (and take in that view), with natural stone paving, locally-made furniture and plenty of marble. The Newport will also feature a 'vintage gymnasium' with badminton, exercise bikes that can charge mobile phones (!) ping pong tables, a giant magnetic scrabble board, outdoor petanque and concrete table tennis courts.
Food-wise, expect a range of different unique noshing experiences, with executive chef Sebastien Lutaud behind the wheel. There'll be 'The Burger Shack', serving up grass-fed beef burgers and classic fish and chips, alongside a cafe filled with Australian meats like smoked brisket, barbeque chicken and hot-smoked salmon, seasonal salads, smoothies, gelato and coffee by Merivale's favourite Sydney roasters, Will & Co. Best of all, Merivale pizza guru Vincenzo Biondini will be running Vinnie's Pizzeria, featuring those insane woodfired pizzas and a huge selection of wine, beer and Sydney-centric cocktails.
Live music is also a huge focus at The Newport, with an expansive alfresco deck custom built to showcase local talent, seven days a week. Sunday Sundown, Merivale's free live music series, will kick things off, with Melbourne's nine-piece soul outfit Saskwatch on Easter Sunday, followed by indie duo Gypsy & The Cat on April 3, Tasmanian singer songwriter Asta on April 10 and Sydney synth-pop trio Mansionair on April 17.
The Newport is a major steal for Merivale. Following the undeniable success of the Coogee Pavilion and its Rooftop, it's likely Merivale will capitalise on the beachbound nature of the site and find a new summery theme for the hotel, overlooking Bayview, Church Point, Scotland Island and Ku-ring-gai Chase National Park. Perhaps Hemmes will dive into the history of the place; the Arms saw boatloads of day-trippers in the 1890s (including drunken pushes — or gangs), was a tidal swimming pool in '32, had the largest beer quota of any hotel in Sydney in '54, had weekly jazz nights in the saloon bar in the '70s, was a regular shoot location forHome and Away in the '90s and has had its fair share of looting and fires over the years. There's something to be said for the Newport, it sure stands the test of time.
The Newport will open at 2 Kalinya Street, Newport on March 25, 2016.
Published on March 15, 2015 by Shannon Connellan