FOOD & DRINK
The Original Iron Chefs are Ready to Do Battle in Australia
Kitchen Stadium has come to Melbourne.
The Original Iron Chefs are Ready to Do Battle in Australia
Kitchen Stadium has come to Melbourne.
---
The Ironmen of Cooking are here. Here. Reppin' Australia's '90s love for the glorious, glorious competitive Japanese cooking show, two of the original Iron Chefs have landed in Melbourne for an epic cooking battle, one the public can eat for a cheeky $380 per person. Could be a publicity stunt for Iron Chef Australia, which was cancelled at the end of its first season in 2010. Could be (is) a KIRIN thing. Could just be a hair-brained jaunt from the Japanese TV crew. Either way, Kitchen Stadium has been left behind for Melbourne's RACV City Club this week.
Over two nights on February 14 and 15, the mighty Iron Chef Hiroyuki Sakai (reppin' all things French cuisine, winner of 70 ICs) and Iron Chef Masahiko Kobe (the Don of Italian Iron Chef cooking, but winner of only 16 ICs) will take the stage with the son of Iron Chef Kenichi Chen (the once-master of IC Chinese cooking and winner of 66 ICs), banding together to cook up one monster of an Iron Chef feast. The theme ingredient? Australian local produce. Yep, it's more vague than river eel, summer corn or Alaskan king crab, but they're keeping it geographically-themed.
Held over two sittings, the Iron Chefs will be chopping, mincing and frying up seven courses. According to Good Food, the menu's main focus will be pretty seafood heavy — spanner crab, ocean trout — alongside local duck. Paired with sake and Aussie wines by executive sommelier Masahiko Iga, the seven-course dinner is already well sold out — even with that $380pp price tag. It's not clear whether the legendary commentator Yukio Hattori (or his straight-up boss Canadian dub counterpart Scott Morris) will be in attendance to point out every last heroic detail, or whether the immortal, ever-dramatic host Takeshi Kaga will be there to kick off the proceedings.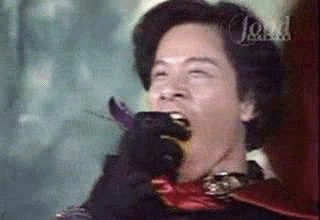 If you're wondering whether your face will end up on Japanese TV, it probably will — the Iron Chefs have brought an entire Japanese media entourage with them, as the battle will be televised.
While tickets for the event have indeed sold out, you can peruse this list of every last Iron Chef ingredient ever featured or watch this SEA CUCUMBER BATTLE:
Via Malay Mail and Good Food.
Published on February 10, 2015 by Shannon Connellan