FOOD & DRINK
The Ten Best Hot Chocolates in Sydney
Whether you like it plain or fancy, dark or white, there's a hot chocolate in Sydney with your name on it.
Ever since the Mayans had the bright idea to mix cocoa seeds with cornmeal, water and chilli to make a delicious drink, humankind has enjoyed the mood-enhancing qualities of hot chocolate. Indulgent and comforting, a steaming cup of cocoa is pretty much the most fun a drink can be without introducing alcohol into the equation.
If you're a true chocaholic you'll have already visited the major chocolate-themed cafes sprinkled across our fair city. But we've added in the chocolatey delights of less obvious places to make this list your ultimate winter treasure hunt.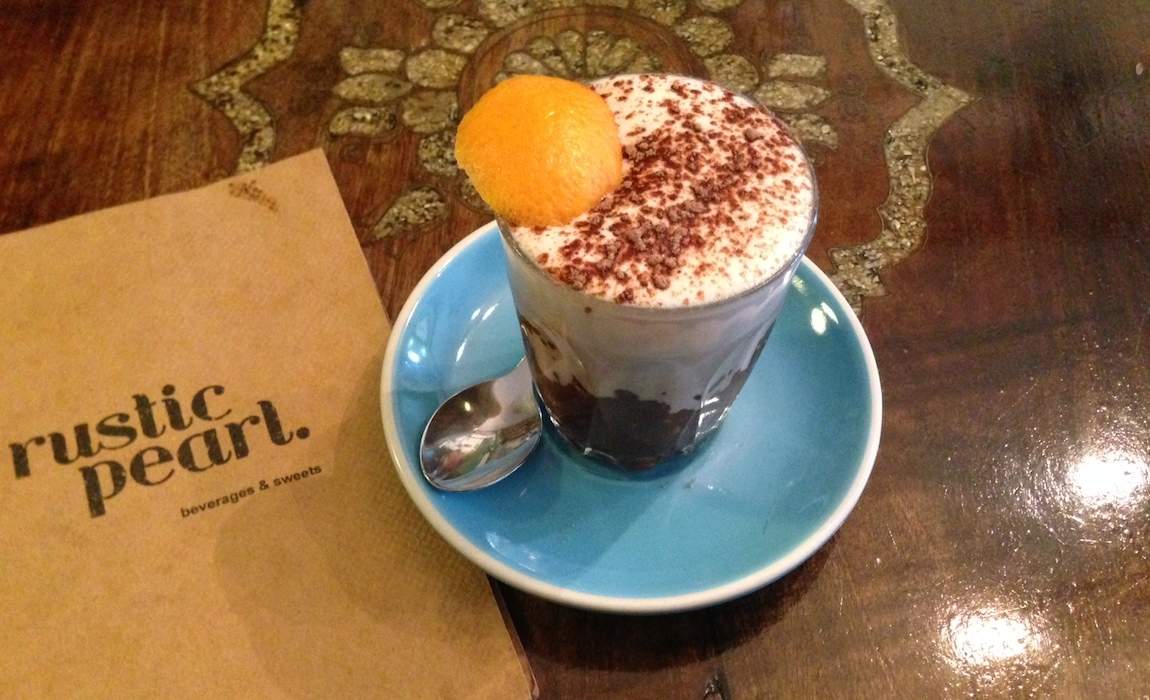 Beloved for their addictive savoury gozlemes, Rustic Pearl also make Callebaut hot chocolates worthy of a sonnet. Served in either a cup ($5) or a bowl ($6), their citrus and orange blossom creation is so deliciously fragrant it feels like you're gradually perfuming your insides with every sip of the floral-chocolate brew. Occasionally a tangy splash of citrus appears to liven things up a bit. Service is rather slow but the tables inside are so close together you're guaranteed to overhear at least one juicy conversation while you wait. The rosewater version is also well worth a try.
Rustic Pearl, 415 Crown Street, Surry Hills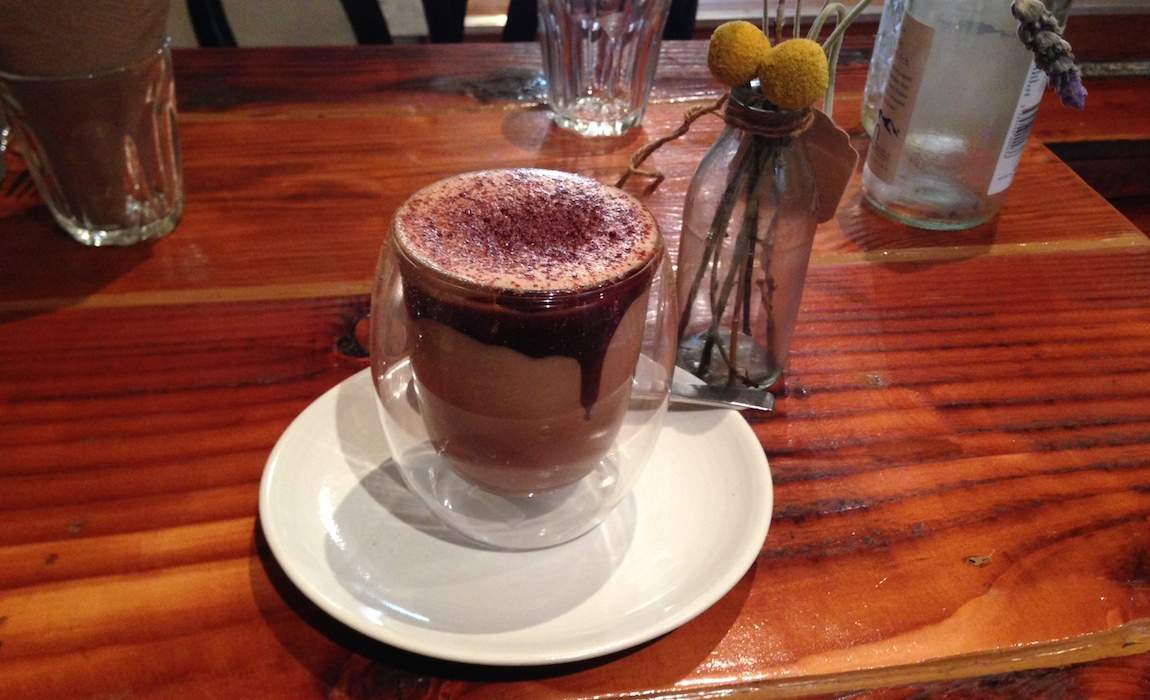 Bondi Junction's much-frequented raw food cafe boasts a hot chocolate ($4.70) guaranteed to please vegans and carnivores alike. Almond 'mylk' is combined with raw cacao, sweetening coconut nectar and a swirl of bitter chocolate sauce that's pleasingly reminiscent of Ice Magic (but obviously isn't Ice Magic). The overall flavour is slightly nutty, with a bite that can come only from high-quality cacao. It manages to be delicious whilst tasting suspiciously healthy, which upon reflection, it in fact is. Make it less so by accompanying it with one of their raw cheesecakes. Oh wait, they're healthy too.
Earth to Table, 85 Bronte Road, Bondi Junction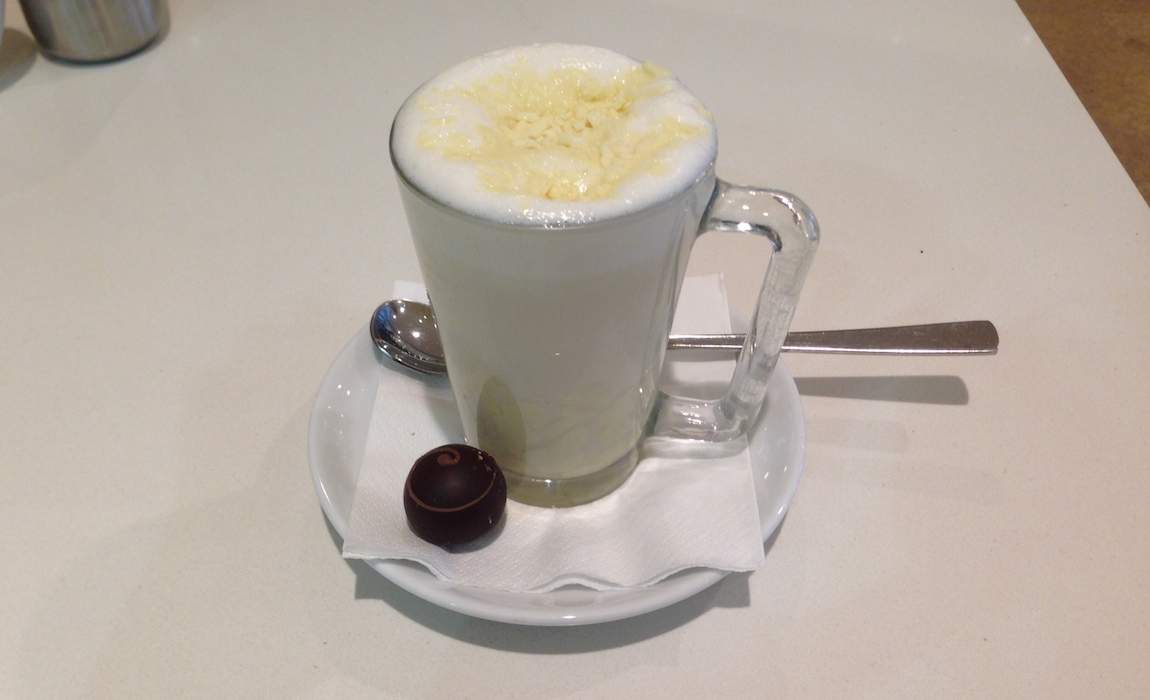 Hidden inside Wentworth Connection, this shop-cafe offers a welcome respite from the bustle of the CBD, judging by the number of suit-clad folk contentedly imbibing their hot chocolates, which come in white, milk or dark. Sip away your corporate cares with their white chocolate ($6), which is so good you'll take one sip and then have to sit quietly for a minute before continuing, so overwhelming is its perfection. Think frothy milk, gooey swirls of still-melting, impossibly mellow white chocolate and — it gets better — you get to choose a handmade chocolate to have with it.
Adora Handmade Chocolates, Shop P9, Wentworth Connection, 2A Bligh Street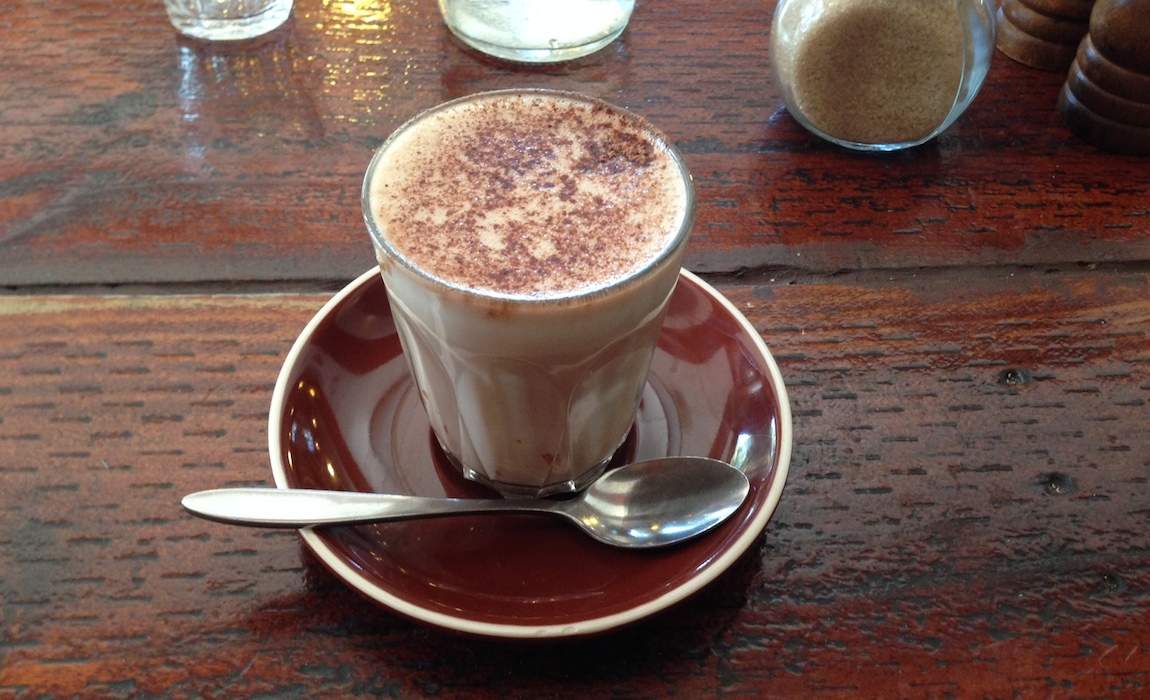 This popular Israeli-inspired eatery on Erskineville Road makes an utterly divine coconut hot chocolate ($4.50). Let's put it this way: if you like Bounty bars, you'll shed nostalgic tears when you drink this essentially Bounty-in-liquid-form hot chocolate. They use Belgian chocolate flakes and enough coconut to ensure the drink is sweet but never sickening. With an admirably light and frothy texture, it's served hot enough to encourage a slow savouring — slow enough to last through several book chapters.
Cafe Shenkin, 53a Erskineville Road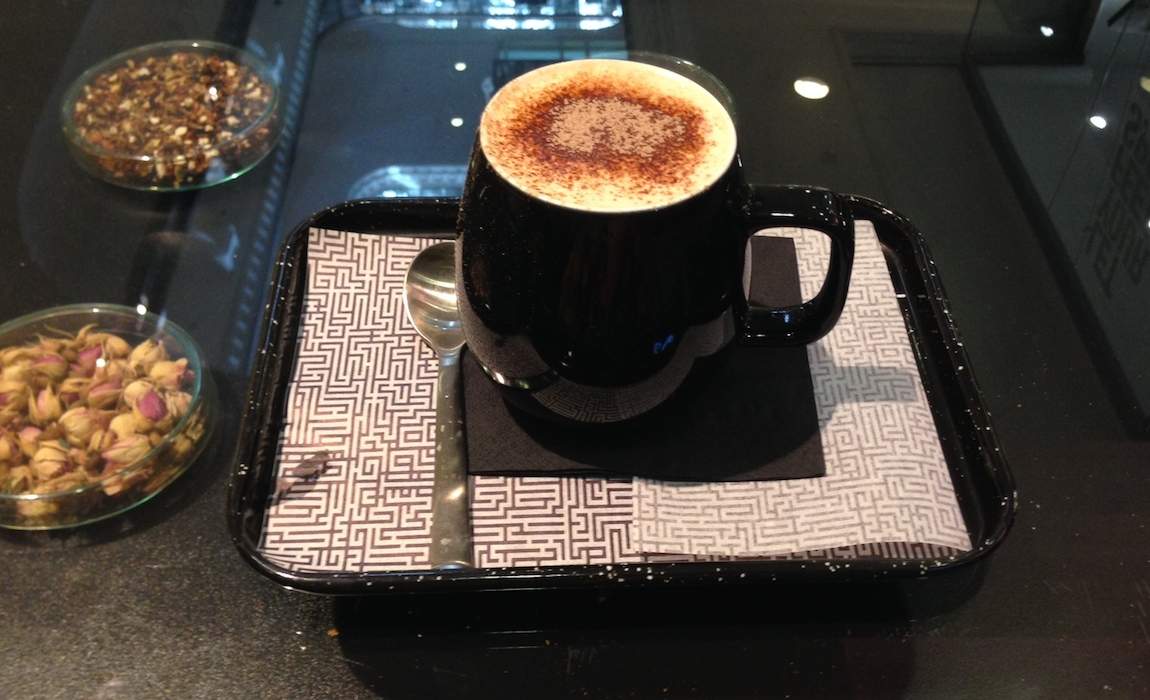 A lovely option for tea lovers who don't have a raging sweet tooth but want a chocolate fix, T2's Chilli Chocolate ($5) is an ingenious blend of black tea, sweet cocoa husks and a decent kick of chilli. Satisfying without being too filling and slightly bitter in flavour thanks to the rich depth of the black tea, there's an invigoratingly spicy aftertaste that warms the throat. In fact, after ten sips even your bones will feel warmer. Perfect for the cold winter months and a pleasant surprise for those who didn't associate the ubiquitous tea store with hot chocolate.
T2 Brew Bar, Queen Victoria Building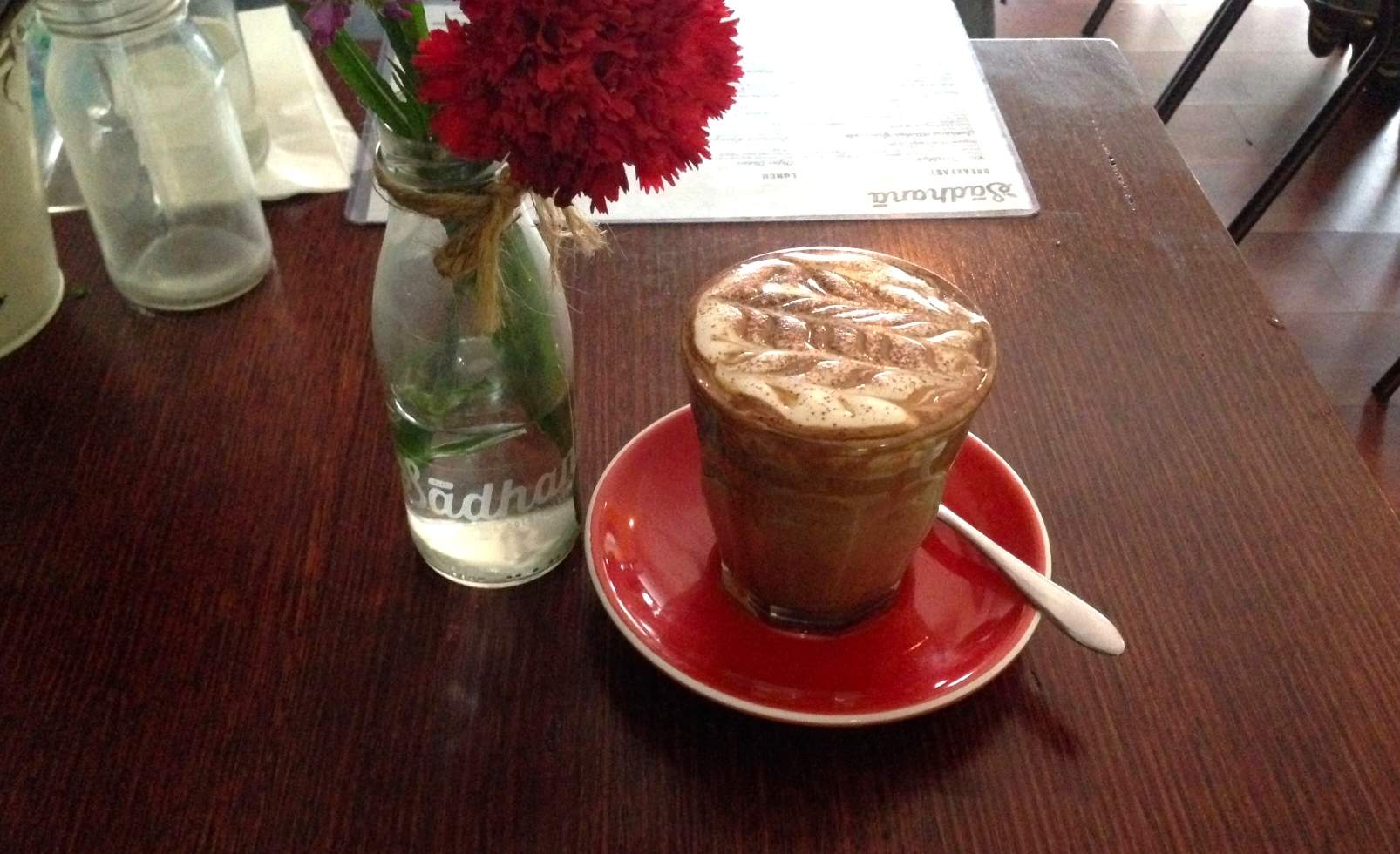 Pop into Sadhana, now happily established on Enmore Road, for the yummy salads, excellent smoothies and especially for their hot chocolate menu. You can have a base of soy, almond or coconut milk and there are currently three special flavours to choose from: After Dinner Mint, White Delight and — holy of holies — Salted Caramel ($4 for regular, $5.50 for large). Presented practically overflowing in forgivably messy chocolatey goodness, the cocoa is decorated with ribbons of a salty, tangy caramel that mellows once you swirl it through the glass. It tastes like the hot chocolate version of a salted caramel gelato. Boom.
Sadhana Kitchen, 147 Enmore Road, Enmore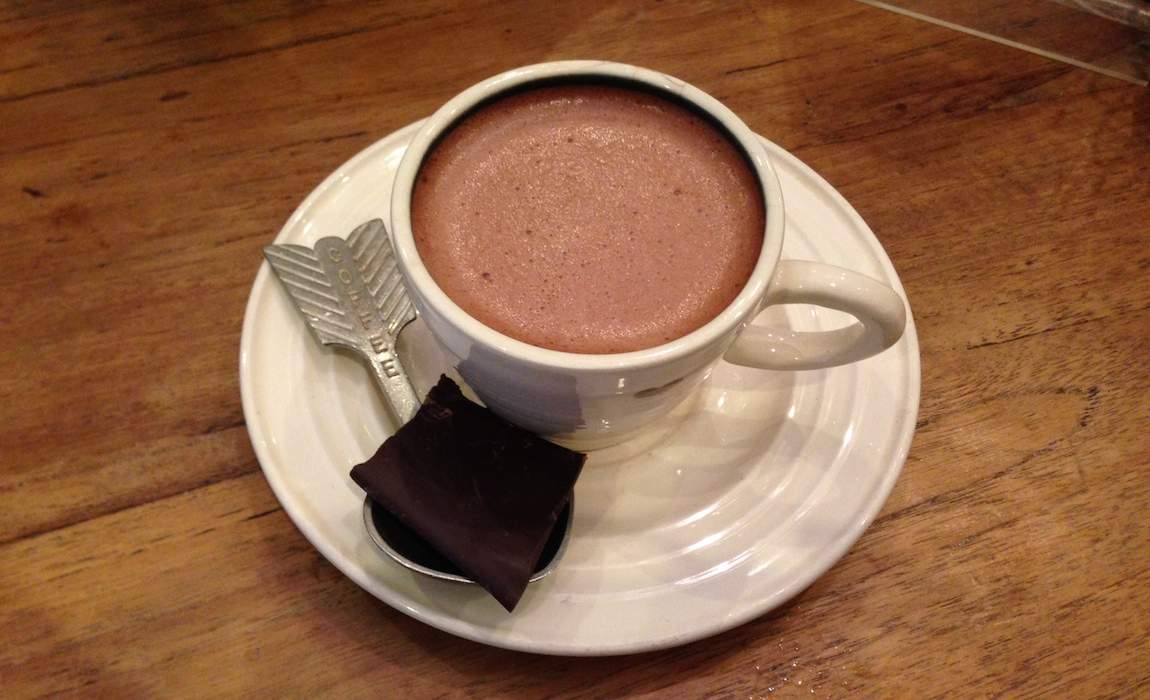 Walking into Coco Chocolate's cosy Kirribilli store feels a bit like walking onto the set of Lasse Hallström's Chocolat, sans Juliette Binoche. Using organically farmed cocoa and no palm oil, this place is an ethical treasure trove. There's an extensive hot chocolate menu, including their award-winning rose and black pepper organic dark hot chocolate ($5). With its powerful chocolate base (70 percent cocoa mass), lightly floral rose and warming black pepper, this drink is so uplifting it had this particular writer blithely skipping out the door despite the freezing cold, torrential rain. Ask to sample a piece of their dark chocolate with rosemary.
Coco Chocolate stores are in Mosman, Kirribilli and Willoughby.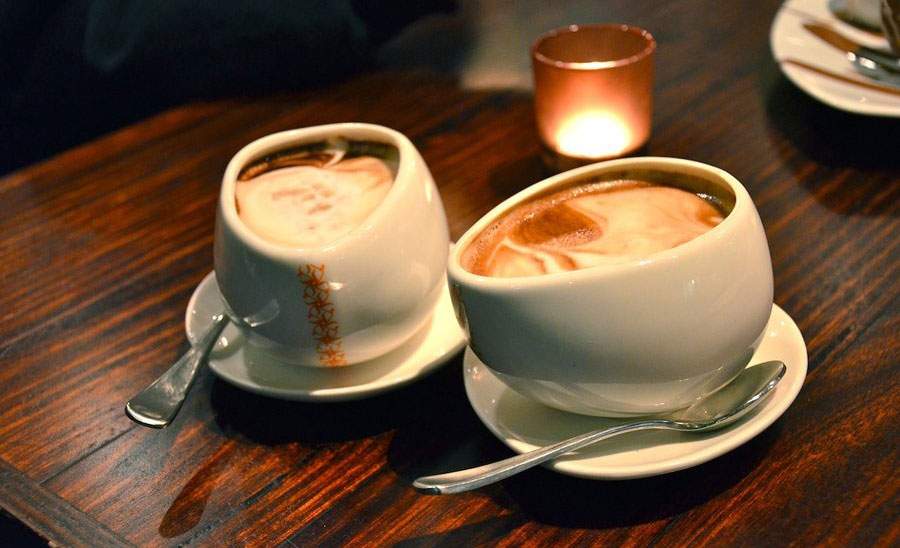 Supporting local cafes is the best thing, but the hot chocolates from Israeli/US chain Max Brenner are enough to make the most strident locavore weak at the knees. Their hot chocolate comes in nine styles, each available in three varieties (dark, milk and white). That's 27 hot chocolates to try all up. One handsome choice is the dark Italian — a go-to for Sydneysiders looking for a thick, European-style hot chocolate you can near stand a spoon up in. Other options include American Marshmallow chocolate, Mexican spicy chocolate and mint chocolate. At the risk of sounding really old person, choose the dark options to avoid sugar headache.
Locations listed here.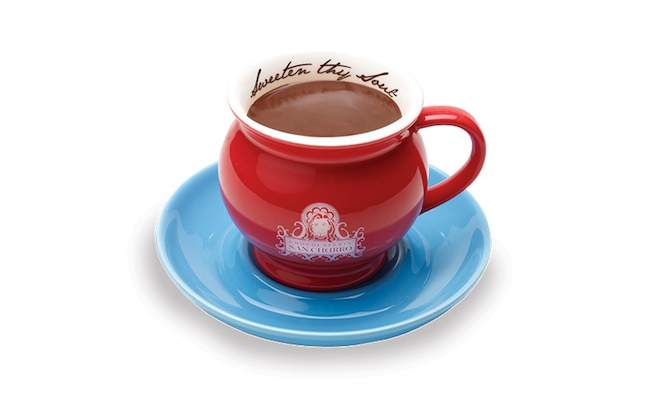 Named for the heroic 16th-century monk who allegedly nursed the gravely ill Queen of Spain back to health with a big ol' mug of hot chocolate, San Churro knows a thing or two about life-saving elixirs. Founded on Brunswick Street, Fitzroy back in 2006, the San Churro empire eventually found its way to nine Sydney spots. However chainy San Churro sounds, they crank a mean Spanish hot chocolate ($5.95). Best served with its namesake churros and dipping chocolate, San Churro's hot choccies come topped with all kinds of offensively delicious thingies — peanut butter spoons, giant marshmallows, house-made chocolate syrup, crumbled chocolate biscuit, crushed malt balls, even a scoop of white chocolate ice cream. But for the classically minded hot chocolate connoisseur, the Classic Spanish is hard to go past — thick as they come and guaranteed to satisfy the richest of palettes.
San Churro is in Glebe, Chatswood, Bondi, Penrith, Parramatta, Miranda, MacArthur Square, Harbourside and Eastgardens. Details here.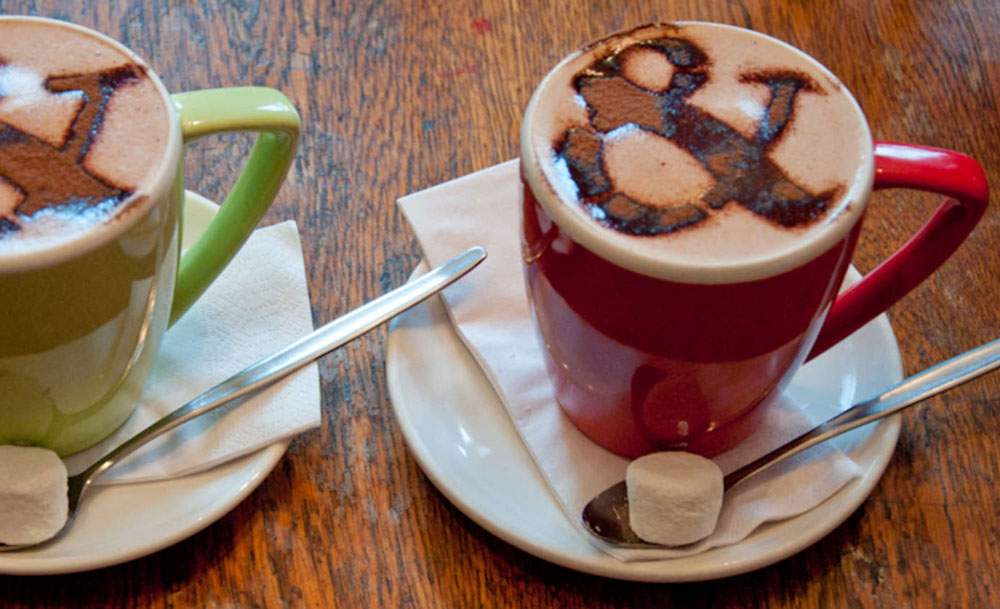 Reader's Digest: Ampersand Cafe
Ampersand's hot chocolates ($4 regular/$5 large) are a nifty little secret. They're your way to Lindt hot chocolate without having to go to the Lindt store, and they come with a tasty side of second-hand book browsing. There's a choice of milk or dark chocolate, frothed luxuriously with milk.

By Lucy McNabb with the Concrete Playground team.
Published on June 19, 2014 by Lucy McNabb