TRAVEL & LEISURE
The Eight Best Coastal Spots for Whale Watching Across Australia
Catch these majestic mammals frolicking along the coast on their annual migration.
The Eight Best Coastal Spots for Whale Watching Across Australia
Catch these majestic mammals frolicking along the coast on their annual migration.
If your world has been feeling a little small of late, what better antidote than to head outdoors and catch a few of the world's biggest creatures frolicking majestically in the sprawling blue ocean. Watching whales swim around, complete with tail-slapping, breathtaking acrobatics and clouds of water sprayed from blowholes, is sure to instil a sense of wonder and release.
When it comes to whale watching, us Aussies have it made. Not only are we surrounded entirely by water, but our east coast is a route favoured by many whales on their annual migration to and from Antarctica. And that means ample opportunity to spy these gentle giants in action — either from atop dry land, or right out there beside them on the water.
From the scenic lookouts of Eden, to a boat cruise around Wilsons Prom, we've rounded up eight of Australia's best spots for whale watching. Grab your binoculars and venture coastward for a whale spectacular.
While regional travel is allowed within Victoria, NSW and Queensland, there are some restrictions on interstate travel. Some of the places mentioned may have reduced capacity or require pre-booking due to COVID-19 restrictions. Please check websites before making any plans.

BASS COAST, VICTORIA
From April to November, the waters of Gippsland's Bass Coast come alive with migrating marine mammals — mostly humpback and southern right whales, but also the odd orca flashing its distinctive black and white markings. And you'll find plenty of opportunities to catch them all in action, by embarking on a jaunt along the Bass Coast Whale Discovery Trail. Running the perimeter of Phillip Island and around to Inverloch, this coastal stretch is peppered with primo whale viewing points, most decked out with informative signage so you can dabble in some history and knowledge along the way. Some of the most popular pit-stops include Cape Woolamai and the soaring cliffs of Pyramid Rock.

WARRNAMBOOL, VICTORIA
Located at the end of the Great Ocean Road, the coastal hub of Warrnambool is a renowned spot for scoping out these majestic creatures, as scores of female southern right whales descend on the waters of Logans Beach to calve between May and September. A dedicated platform located in the dunes often offers the best vantage point for views of this 'whale nursery' and you can call ahead to the Visitor Information Centre to check up on any recent activity before you visit. Got some time up your sleeve? Make a road-trip of it by following the Whale Trail west through more viewing spots near Port Fairy and Portland.

WILSONS PROMONTORY, VICTORIA
The secluded beaches and rugged wilderness of Wilsons Promontory have made it a favourite destination for hiking and camping, but the waters surrounding its scenic coastline also happen to pull their fair share of humpback whale visitors, stopping by on their southerly migration between September and November each year. For a shot at seeing a few of these majestic travellers up close, opt for a day on the water with the Wilsons Prom Whale Cruise, helmed by the team at Wildlife Coast Cruises. Departing from Port Welshpool Jetty, this informative six-hour boat trip takes you past stunning coastal hot-spots like Refuge Cove and Rabbit Island, promising a high chance of spying at least one or two new whale friends.

JERVIS BAY, NSW
Sitting halfway along whales' annual 5000-kilometre migration route, Jervis Bay on the NSW South Coast is known to be a favourite pit-stop for humpback and southern right whales. Between May and November, the region's calm, still waters are an aquatic playground of choice for many of these supersized creatures, as they take some time out from their lengthy journey to rest up and play with their babies. For some great whale spotting, with views across the Jervis Bay Marine Park, try the Cape St George Lighthouse or the Point Perpendicular Lighthouse — where a lookout towers 90 metres above sea level. Otherwise, you can opt for an on-water whale experience with a renowned operator like Jervis Bay Wild.

CAPE SOLANDER, KAMAY BOTANY BAY NATIONAL PARK, NSW
Promising striking sandstone clifftops, sweeping ocean views and an excellent vantage point for the passing pods of humpback whales each June and July, Cape Solander makes for a worthy winter day-trip destination. Located in the Kurnell area of Kamay Botany Bay National Park, this scenic coastal spot has been known to notch up over 100 whale sightings in one day, with the gentle giants frolicking as close as 200 metres from the shore. A dedicated viewing platform features plenty of whale-related information, and there's usually a couple of knowledgeable volunteers there sharing facts and tallying up the day's sighting count. Southern right whales also make an appearance here, along with the odd orca and minke whale.

EDEN, NSW
The Sapphire Coast town of Eden is a whale-watcher's paradise. After all, the surrounding waters of Twofold Bay are known as the 'Humpback Highway', so numbered are the humpback whales that swim through here en route home to Antarctica each year. You'll spy plenty of these mighty creatures between September and November, while pods of baleen and toothed whales make their own similar journeys in early spring. The town itself is chock full of great vantage points for shore-based whale spotting, not least of which is the Rotary Park lookout, set right out on the point. And for those braving the water, there's no shortage of charter boats offering a variety of whale-watching tours.

NORTH STRADBROKE ISLAND, QUEENSLAND
For some breathtaking whale-watching action just a quick ferry trip from Brisbane's bayside, lock in a trip to North Stradbroke Island. Between June and November, the region welcomes scores of its most majestic annual visitors, with up to 200 humpback whales passing through each day on their journey between Antarctica and the Great Barrier Reef. Perched at around 35 metres above sea level, the headland at Point Lookout offers a top-notch view of these creatures breaching and tail-slapping in the balmy waters. Or, you can amp up the experience and head out with Yalingbila Tours — a boat tour that's owned and operated by the local Quandamooka people, where you'll pick up a swag of knowledge, along with incredible views.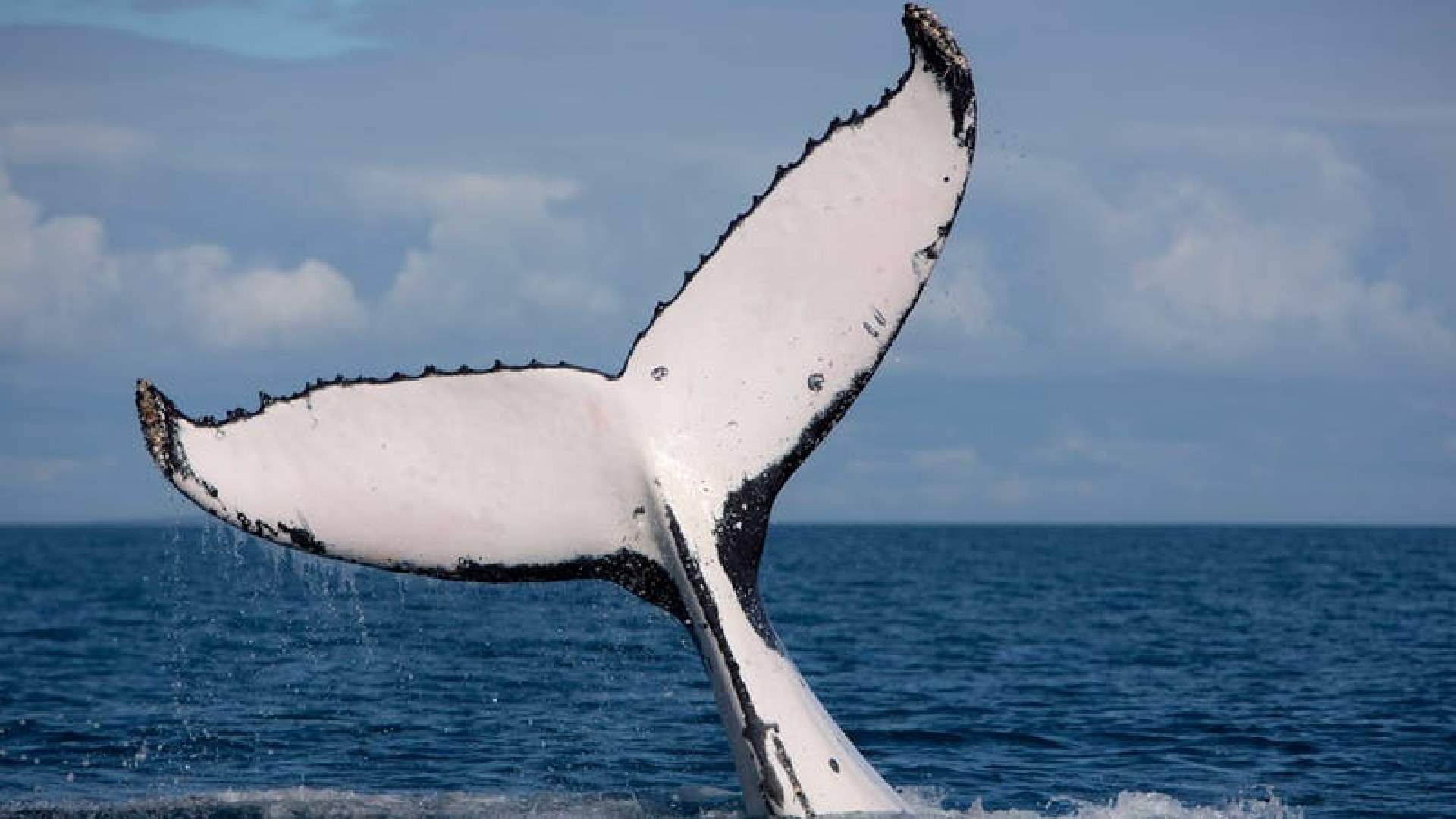 HERVEY BAY, QUEENSLAND
Located across from Fraser Island, the protected waters of Queensland's Hervey Bay entice thousands of humpback whales each year, so your chances of scoring a sighting are solid. It is the world's first Whale Heritage Site, after all. The ocean giants are usually spotted here between mid-July and November, frolicking and launching themselves spectacularly into the air as they teach their young the tricks of the trade. For the ultimate close-up, your best bet is to head out on the water yourself, joining one of the many local whale-watching tours. If you're feeling brave, the crew at Hervey Bay Whale Watch & Charters even offers the chance to jump in and swim right alongside these mega-sized mammals.

Top image: Whales at Hervey Bay by Visit Fraser Coast
Published on June 11, 2020 by Libby Curran