FOOD & DRINK
The Ten Best Outdoor Restaurants in Sydney
Combining two of our favourite things into one amazing adventure: the outdoors and delicious food.
The Ten Best Outdoor Restaurants in Sydney
Combining two of our favourite things into one amazing adventure: the outdoors and delicious food.
There's nothing better than combining two of our favourite things into one amazing adventure: the outdoors and drool-worthy food. Because let's face it, Sydney has to be one of the best places in the world for dining in the open air. Here are ten of the best places to do it.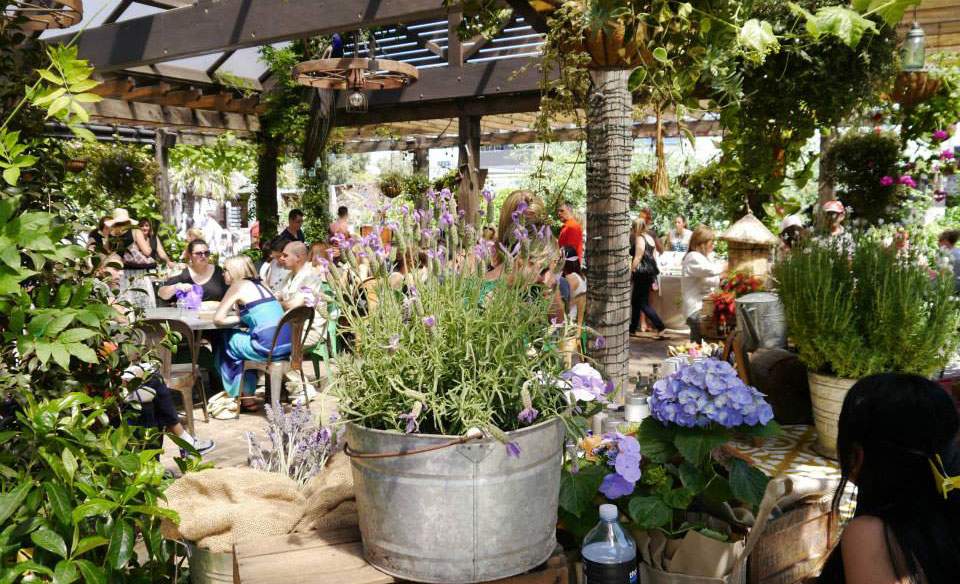 The Grounds of Alexandria is less outdoor restaurant than inner-city country fair. The garden grows produce for the kitchen and doubles as an outside eating area for takeaway meals, and there's also outdoor seating within the bar the Potting Shed. The only downside of this experimental paradise that we can see is the time you're likely to wait to get fed. Turn up early, plan a weekday visit, or pack your patience and wait for a table with the animals in the garden.
Building 7A 2 Huntley Street, Alexandria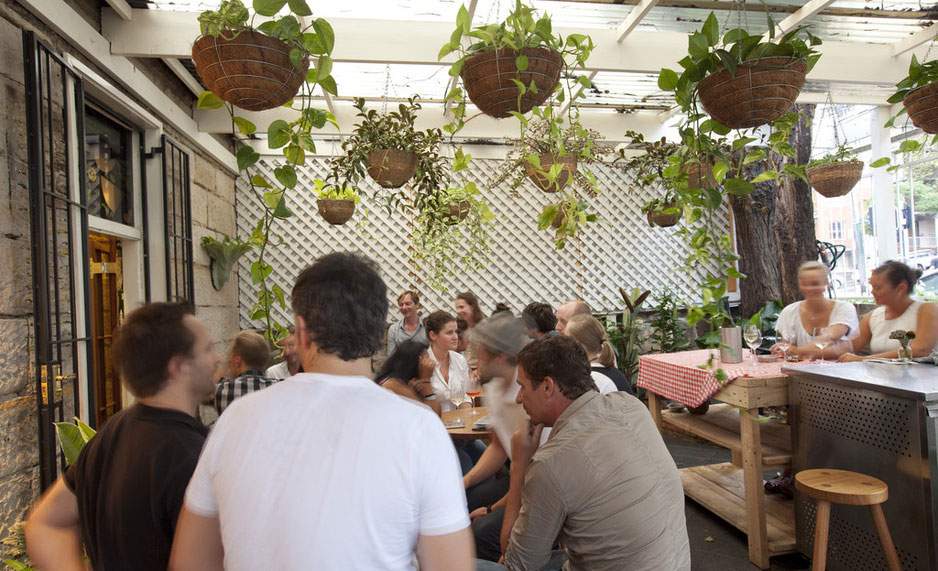 In the midst of Darlinghurst's shoulder-to-shoulder apartments, congested streets and endless noise, The Commons acts as the voice of reason. Relax. Slow down. Enjoy yourself. The heritage building has been kept intact, with sandstone lining the walls and exposed brickwork peeking through. Long, communal wooden tables line the main dining room, while a trot downstairs reveals a cosy little bar with magazines, books and, if you're lucky, a jazz trio plucking out the tunes. The whole place is dusted in an amber glow, candles and low lighting, but outside there's a relaxed airiness that never gets old.
32 Burton Street, Darlinghurst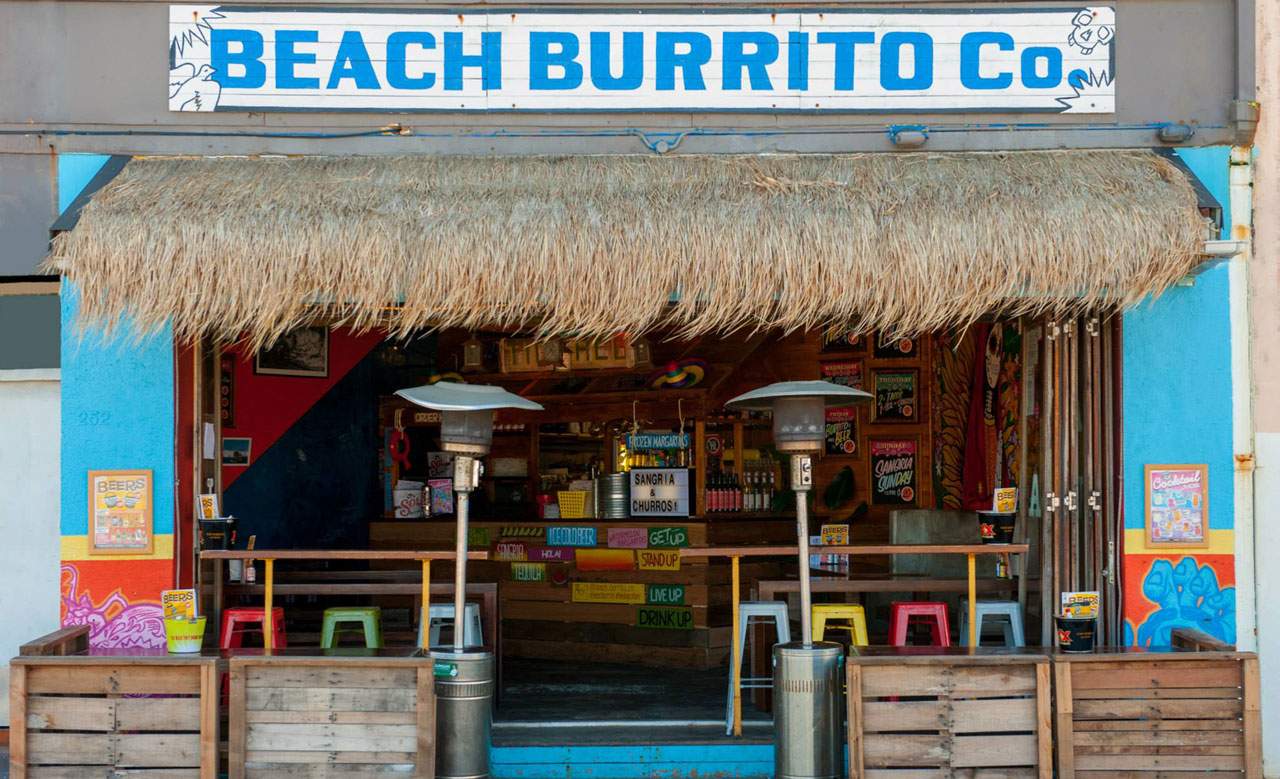 A bucketful of icy Coronas? $10 frozen margaritas? Beachside location? Consider my arm twisted. Indeed, it's pretty hard to fault the notoriously popular Bondi Beach Burrito. Suitably loud and colourful, the restaurant knows its market (bare-footed Bondi beach dwellers, backpackers and party-goers) and caters to it well with low-fuss, pay-as-you-go Mexican fare that rarely pushes the $15 mark.
252 Campbell Parade, Bondi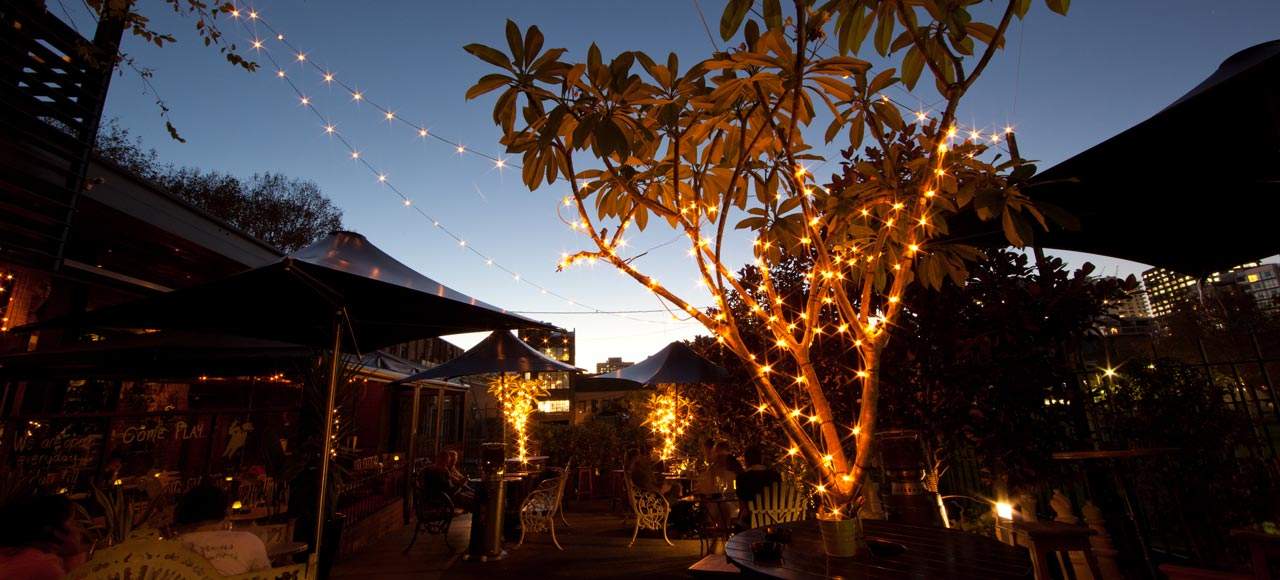 One of Surry Hills' quirkiest dining experiences, The Winery's whimsical outdoor setting matches their unexpected menu adventures and adorable staff aprons. Think wrought iron patio furniture, picket fences, umbrellas, fairy lights and mismatching garden ornaments. Paired with The Winery's formidable (and recently award-winning) wine list, show-stopper cheese offerings and genuinely excellent service, this is prime date material.
285A Crown Street, Surry Hills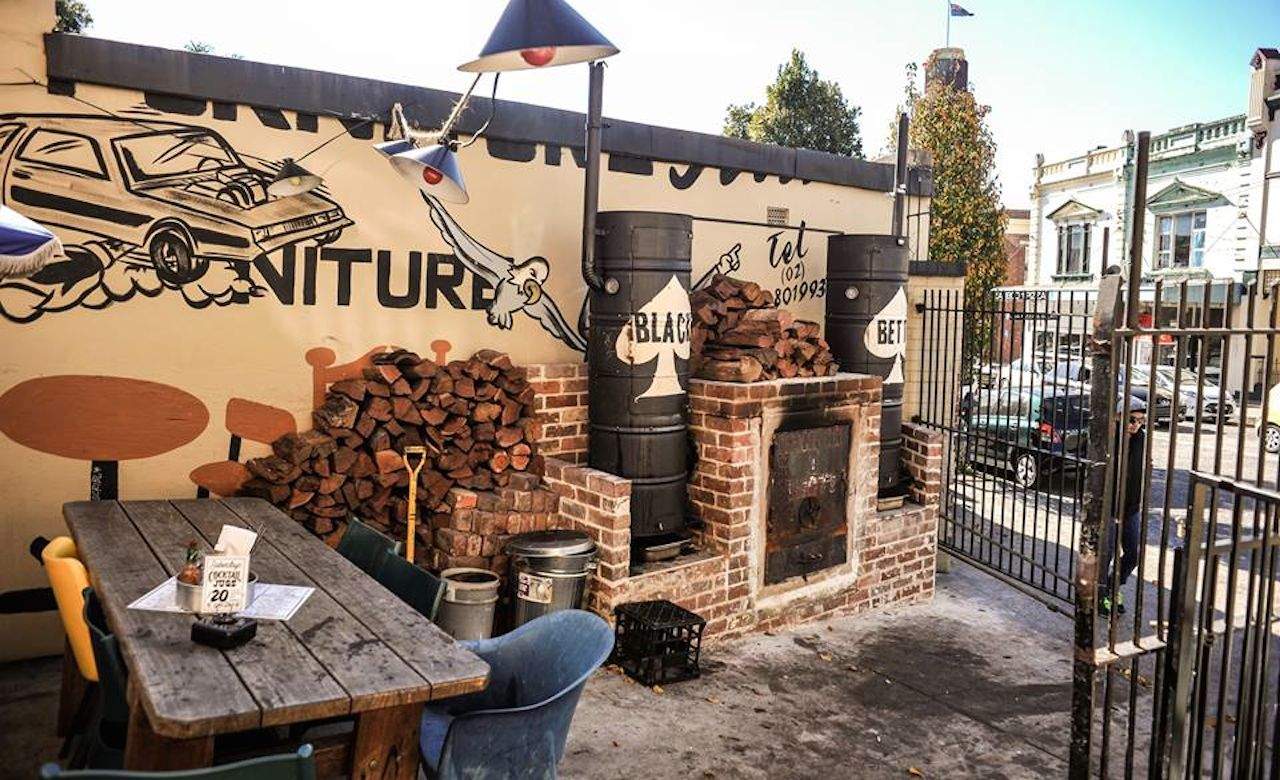 For those who like their inner-west pubs with character. Known originally for its topless barmaids, cheap booze and pokie machines, the Oxford Tavern is now an all-out American BBQ beer house, complete with sport, eats and beer garden out back. The place churns a healthy mix of Aussie pub classics and American-style BBQ feeds, courtesy of the beloved Black Betty smoker out the back. On offer are asado steak tacos (with house-made tortillas) and chook san choy bow, as well as pub staples like schnittys, steak and an absolutely monstrous, stadium-sized double dawg.
1 New Canterbury Road, Petersham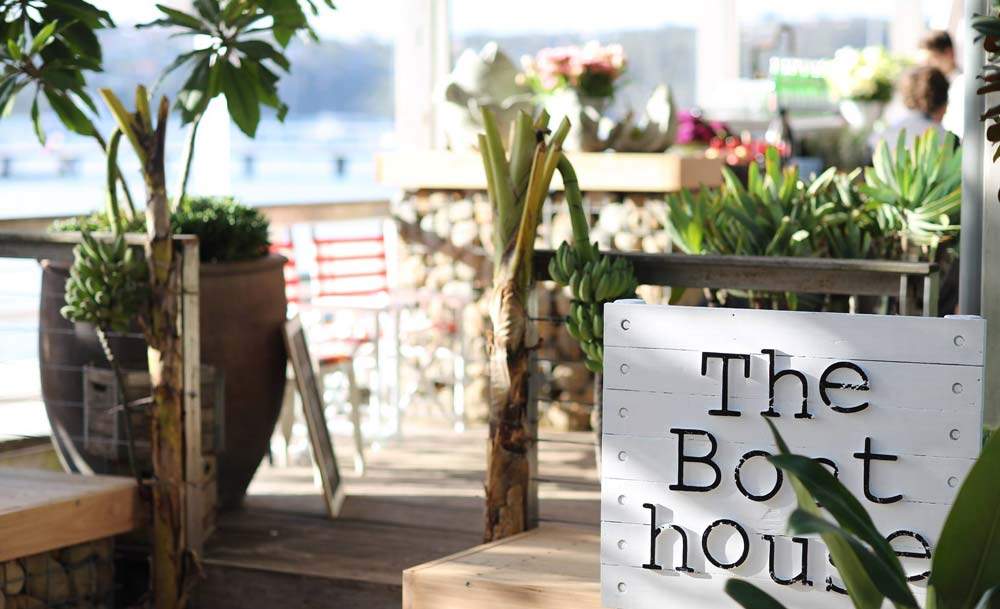 If you've ever wanted to know how a billionaire feels when they eat their lunch, you should probably check out the Boathouse at Balmoral. Because, let's face it, it's a hell of lot easier than making a billion dollars. For eats, it's hard to look past the seafood when you're sitting outside in the sunshine on a deck suspended over the ocean. Try the salt and pepper squid served in an adorable tin bucket ($24) or the battered flathead served atop a mountain of thick cut chips ($28).
2 The Esplanade, Balmoral Beach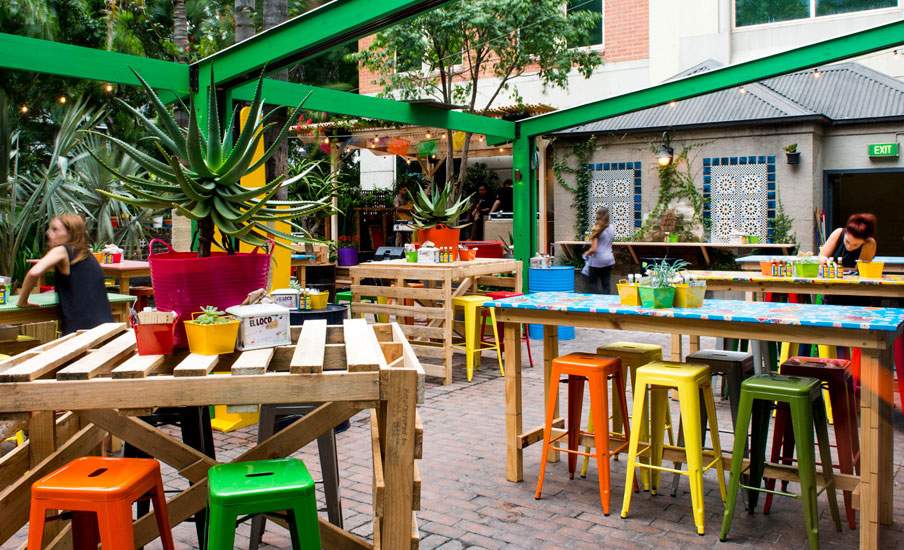 While this place can't hold a candle to the original in terms of atmosphere, the ample outdoor seating happening at Slip Inn's El Loco offshoot counts for a lot. It's the place to head if you're a fan of spicy tortilla, colourful flags, icy margaritas, floral oilcloth or general happiness. The killer snack menu features Dan Hong's infamous tacos and cheese-drowned hot dogs, as well as a "secret taco" that always tends to increase in appeal as the bucket of Coronas diminishes.
111 Sussex Street, Sydney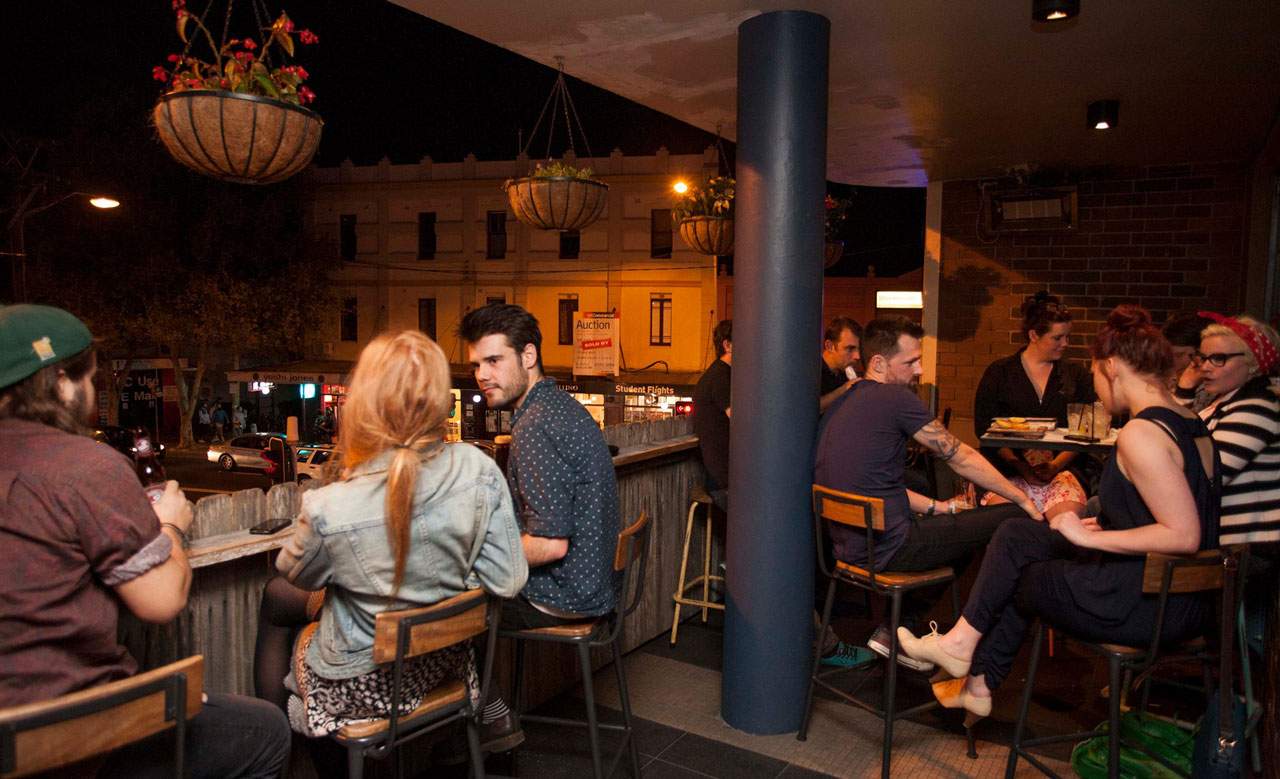 Welcome to a pseudo-Louisiana where Miss Peaches and her Soul Food Kitchen are waiting. The spacious brick bar has old-school Southern charm with plenty of comfy booths plus a blues-infused vinyl collection to get any feet dancing. But if you've managed to nab a seat on the balcony, overlooking the hustle and bustle of King Street, then you're having one of the best nights of anybody in Newtown. The menu is the antithesis of all diets and not for the faint of heart.
201 Missenden Road, Newtown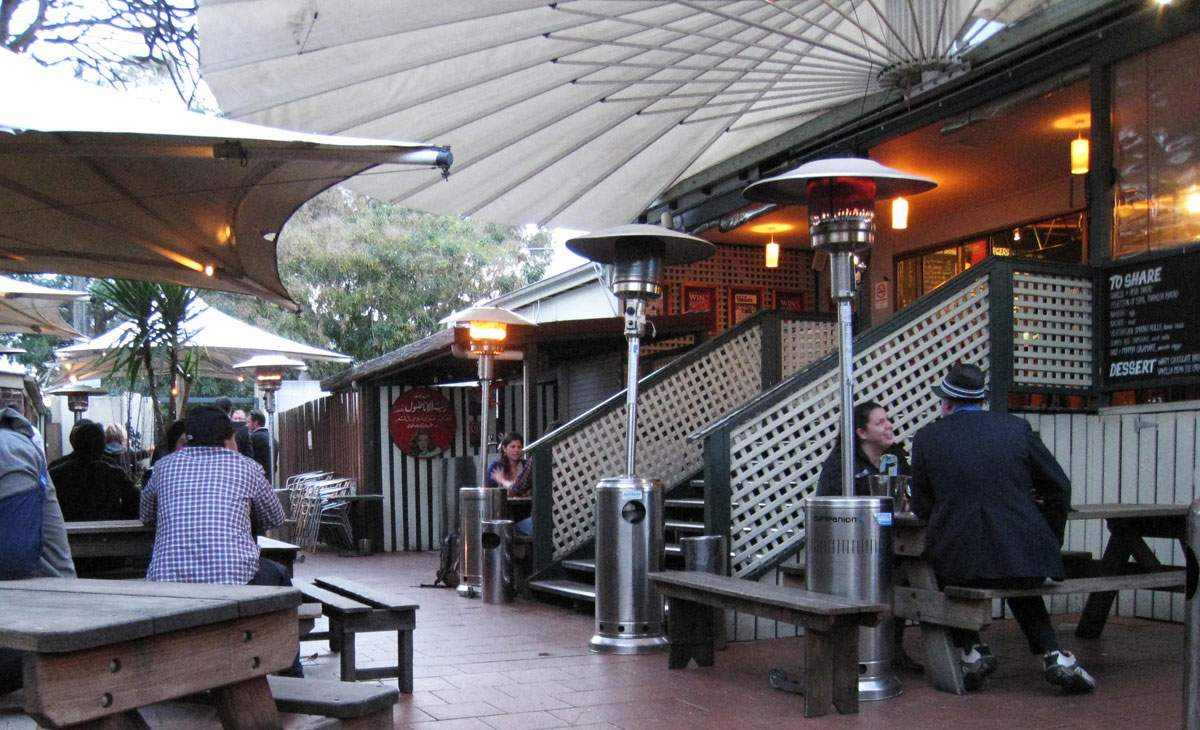 Grungy though it may be, this is one of Sydney's most loved courtyards, and the default of any inner westie wanting to eat outdoors. From the wooden veranda, you gaze down onto a maze of long wooden benches surrounded by frangipani trees and tropical plants which, bafflingly, still manage to grow amongst the spilled beer and cigarette butts. You need to get there early on in the night to get a table, particularly on a Friday or Saturday night, but because they're so big and packed together, you're more likely to make friends at The Courthouse than at most drinking establishments in Sydney. Food-wise, some of the gourmet options don't stack up, but a standard bowl of wedges or nachos to soak up the beer is really all you want at a place like this.
202 Australia Street, Newtown. Image: Newtown grafitti via photopin cc.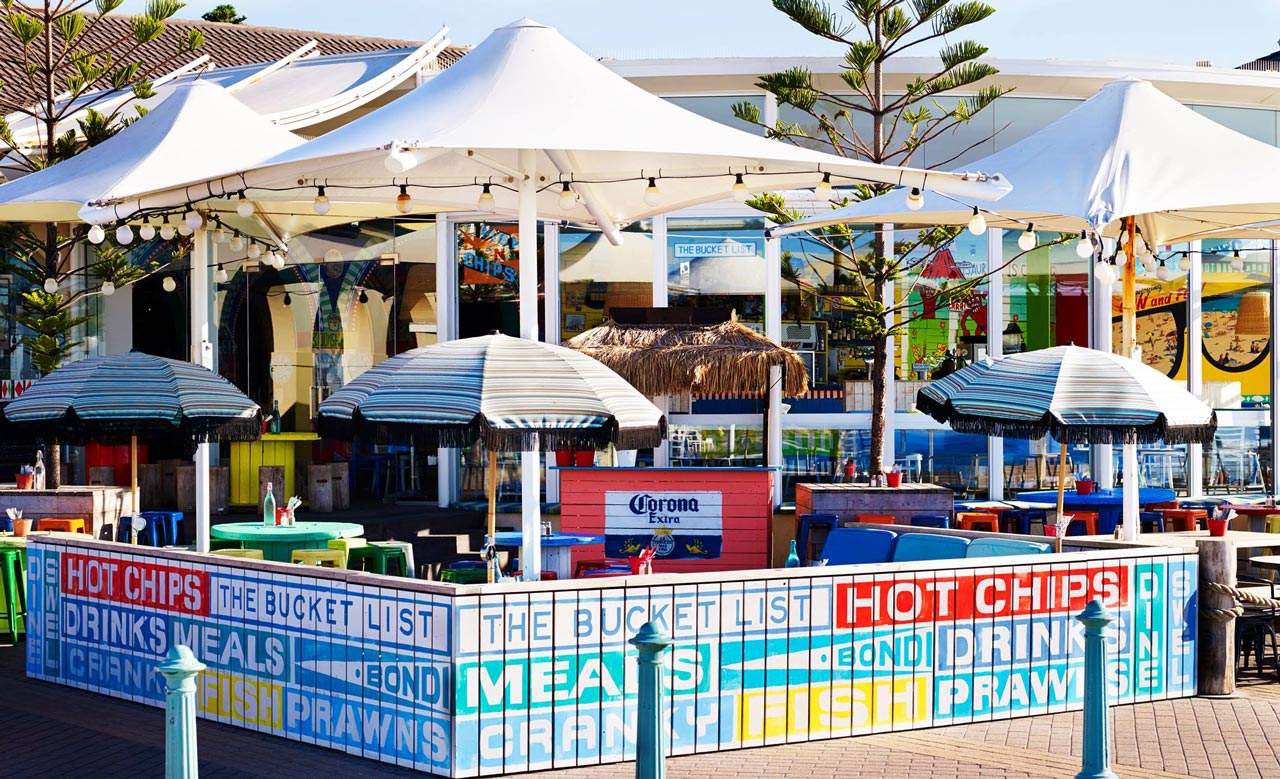 This Bondi-hipster haven by the sea has long been famous for buckets of beer and prawns (different buckets) in the sun on Sundays, or a chilled cocktail on Friday and Saturday nights. Gaze out over Bondi Beach while nomming on spaghetti with crab and zucchini flowers, chicken Cobb salad, or a bowl of comforting beer-battered pickles and onion rings. While outdoor space is ample here, the Bucket List actually works year round; in winter you can forget the oceanside squalls by the fireplace inside.
Shop 1, Bondi Pavilion, Queen Elizabeth Drive, Bondi Beach

By the Concrete Playground team.
Published on October 01, 2014 by Trish Roberts