Henrietta Is Surry Hills' New Lebanese Charcoal Chicken Shop from the Nour Crew
Expect the usual garlicky toum, zingy pickles and juicy chook, but also frozen cocktails, brisket tacos and miso-spiked baba ghanoush.
Lebanese-style charcoal chook in Sydney has long been synonymous with El Jannah. Yes, there's northern Sydney chain Chargrill Charlie's, but its sauces — Greek Island, Portuguese Piri Piri and Thai Fresh Herbs — are notably missing toum. Frango has firm Portuguese roots and Red Rooster is, well, Red Rooster.
Today, though, another player has flown into the proverbial coop. Henrietta is the new restaurant by Nour's Ibby Moubadder and Jorge Farah specialising in Middle Eastern charcoal chook — and it's not too dissimilar to its Crown Street sibling.
Both restaurants celebrate traditional Lebanese cooking techniques, but aren't afraid to stray from the straight and narrow. Nour's falafel comes in crumpet form and its halva is served alongside pumpkin cheesecake. Henrietta's baba ghanoush gets an umami hit from miso, its beef brisket is served atop tacos with zhug (a Yemeni hot sauce) and its chicken tawouk comes, not as a kebab, but inside spring rolls.
But the newcomer's focus is not the rule-breaking sides, it's the charcoal chook. Henrietta's take comes with a glistening layer of smoky, spicy sauce, the requisite char and juicy flesh. It comes with the requisite garlic toum, too, as well as zingy pickles and Lebanese bread.
It's suggested sumac chicken salt-covered chips are ordered, too, and rolled using that bread — together with the chicken, toum, chilli sauce and pickles — to create a DIY chicken sandwich. Just how you do this is illustrated in easy-to-follow steps on the menu. Sound like too much work? You can order one, pre-rolled, for $14.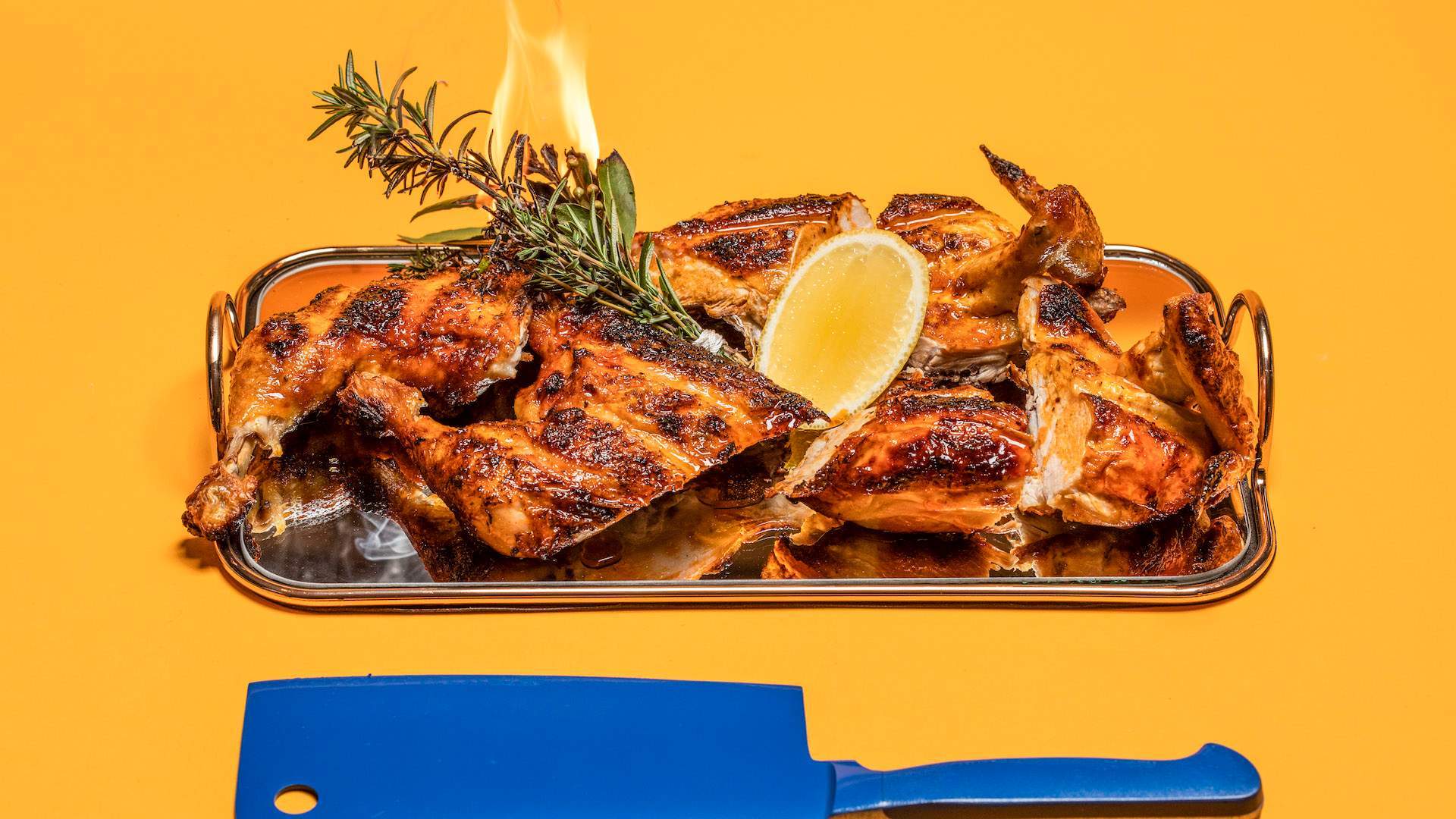 Alongside the charcoal chook, you'll find three Lebanese-ish desserts — chocolate mouse with rose, baklava sundaes and rice pudding with halva — as well as seven fun cocktails. A slushie machine is pumping out frozen takes on a Pornstar Martini, while a bartender shakes the likes of spicy passionfruit margaritas and hibiscus sours.
Walking a fine line between casual-night-out-with-the-crew and date-night, the 65-seater restaurant has been designed by creative agency DS17 and is filled with neon signs of 'Henrietta', concrete walls and terrazzo bars.
While dining out is allowed in NSW — and has been since mid-May — some Sydneysiders are still dining in. Henrietta is catering for both with its takeaway window selling its charcoal chooks for $18 a pop.
Henrietta is now open at Shop 1, 500 Crown Street, Surry Hills. It's open from 11.30am–late daily.
Concrete Playground Trips
Book unique getaways and adventures dreamed up by our editors