FOOD & DRINK
Five Things to Try at Sydney's 2019 Night Noodle Markets
With caramel doughnut burgers to one-hander cheesy beef-filled waffles, there are a lot of food decisions to be made at this year's market — we'll help you make them.
Five Things to Try at Sydney's 2019 Night Noodle Markets
With caramel doughnut burgers to one-hander cheesy beef-filled waffles, there are a lot of food decisions to be made at this year's market — we'll help you make them.
The mercury is slowly rising again as summer nudges closer, Daylight Savings has kicked into gear and people's moods are altogether cheerier. Which means it's almost time for Sydney to get its noodle on once again. Yep, the Night Noodle Markets are gearing up for another season, whipping Hyde Park into a frenzy of sounds, smells and street food from October 11 to 18.
The markets' 2019 edition is delivering a jam-packed culinary program that's as big as ever and with that comes an eye-watering array of choice. If you're feeling a bit daunted by all that decision-making and wondering how best to navigate the smorgasbord of eats, we've got your back. Avoid any bouts of indecisiveness and squeeze the best out of your Night Noodle Markets visit with our lineup of top food picks worth checking out.
Get excited for attention-grabbing noodle dishes, szechuan-inspired fried chicken and inventive dessert creations that'll require both hands and a whole stack of napkins.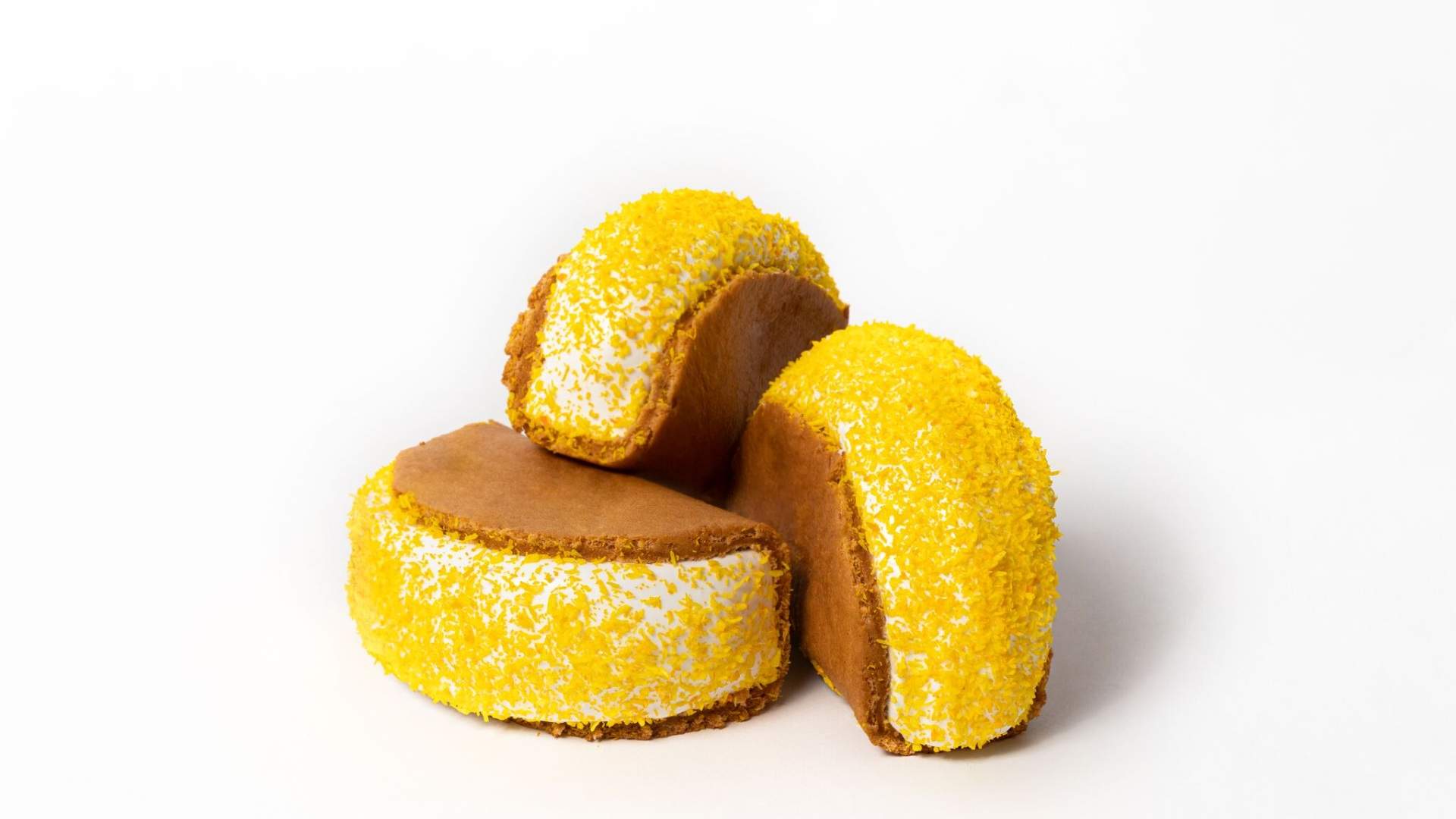 Seventeen years on and national sweetheart Gelato Messina continues to throw down inventive frozen treats left right and centre. The purveyors of weird and wonderful dessert concoctions will be showing off their latest designs at this year's Night Noodle Markets and each is a modern reworking of some classic Thai flavours. For a tasty frozen snack you can hold in one hand, try the Eye of the Thai-ger — which looks a bit like a fluffy dessert taco. It's a satisfyingly creamy fusion of Thai milk tea gelato and cheesecake mousse cradled in a layer of tea sponge. The dessert is then dunked in soft meringue and finished with a healthy dusting of coconut. We doubt you'll want to stop at just one.

LECHE FLAN DOUGHNUT BURGER, DONUT PAPI
Sydney's go-to for inventive, Asian-inspired doughnut creations, Donut Papi is returning to the Night Noodle Markets with a fresh haul of crafty desserts in tow. These guys sure aren't afraid to get a little creative, as you'll know from past ingenious doughnut iterations like peanut butter birthday cake, ube Oreo and even garlic bread. But the treat you need to sink your chompers into this month is the Leche Flan Donut Burger. A slab of lush, sticky Filipino-style crème caramel is stuffed between halves of a sugar-crusted doughnut bun, ready and waiting to ooze upon that first bite.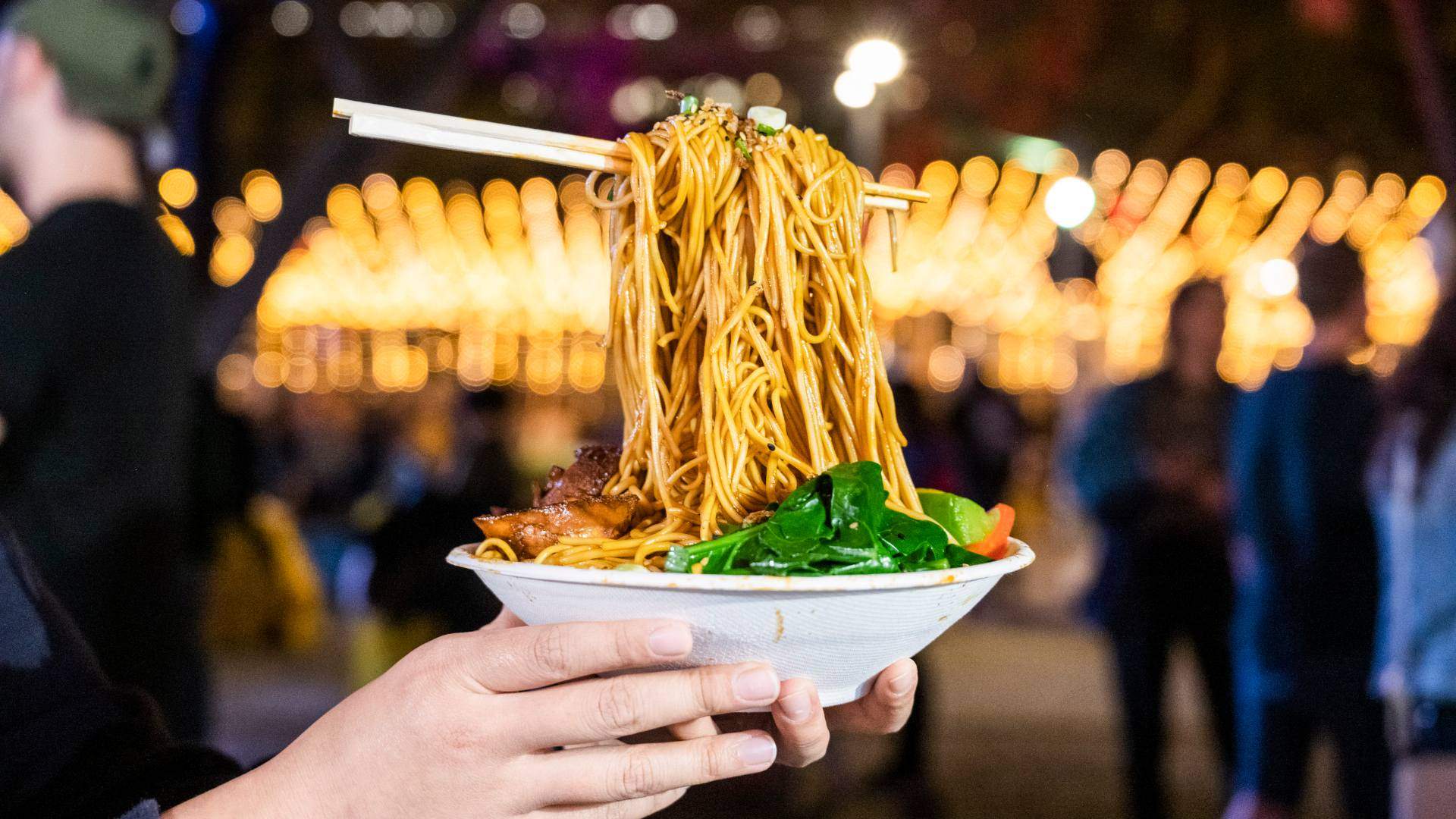 BIG BOSS FLYING NOODLES, THE FLYING NOODLE
Is it magic? Is it a feat of aerodynamics? No, it's simply the show-stopping signature dish from The Flying Noodle. Featuring a serve of chopsticked noodles suspended mysteriously in the air, this menu hit is designed to be devoured with your eyes, as well as your mouth. There are three gravity-defying variations on offer at this year's Night Noodle Markets, including The Big Boss, which teams those cascading egg noodles with seasonal veggies and marinated chicken in a rich red wine sauce. How do they do it? You'll just have to order one and find out.

Crows Nest's fried chicken maestro Johnny Bird is coming to the party, getting into the Night Noodle Market spirit with some Asian-inspired riffs on its usual chook-licious fare. Alongside menu favourites like chicken tenders and the classic Johnny Bird burger, you'll find the Sticky Ricky, available with or without the bun. This one features that OG crisp fried free-range chicken, teamed with lettuce, spring onion, sesame seeds and a gutsy lick of sticky szechuan sauce. Our tip? Best load up on napkins before going in for the kill.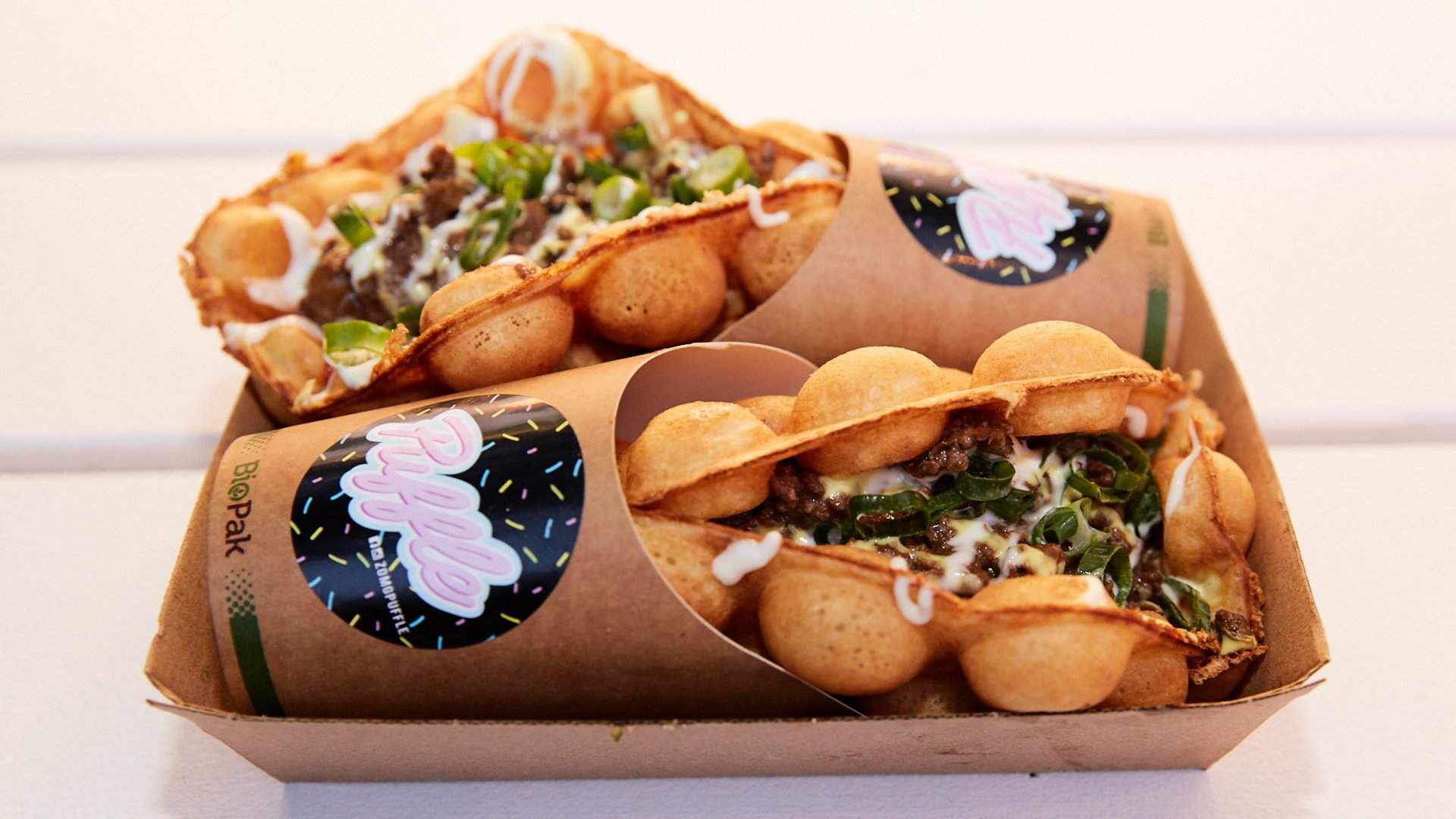 CHEESEBURGER PUFFLE, PUFFLE
Everyone loves a quirky, cheesy food creation and this one's as fun to say as it is to eat. A return favourite from last year's markets, and a riff on the egg waffles you'll find at street stalls in Hong Kong, Puffle is a kind of savoury waffle cone made out of cheese and filled with various flavour combinations. This month, Puffle is out to win you over with two different decadent versions of its dish, including the cheeseburger — an assembly of chopped bulgogi-style beef and extra melted cheese, finished with lashings of sweet and spicy ketchup, mustard and Japanese mayo — and a KFC option with spicy Korean-style fried chicken. But, whichever filling you opt for, you're in for a crunchy, oozy and delightfully messy ride.
Want more? The Sydney Night Noodle Markets are at Hyde Park from Friday, October 11, to Friday, October 18. Check out the full food lineup here.
Top image: Bec Taylor
Published on October 11, 2019 by Libby Curran