FOOD & DRINK
Where to Find Sydney's Best Banh Mi
Find everything from tried-and-true pork rolls to more left-field offerings at these Sydney sandwich experts.
A crusty white roll, lashings of smooth pâté, and a generous pile of fresh ingredients, pickled toppings and herbs — it's easy to see why Vietnam's gift to the sandwich world is well-appreciated here in Sydney. The humble banh mi is a lunchtime favourite that's both affordable enough and healthy enough to feel like you could scoff one — or two — every day of the week.
All across the city, Vietnamese bakeries and other eateries are serving up top-notch iterations of the classic sandwich, ranging from the tried-and-true to more contemporary reworkings. Everyone has their own favourite banh mi spot and, with so many great options tucked around the entire of Greater Sydney, its hard to pin down the best of the best — so we've put together a list of some of our favourites to get you started.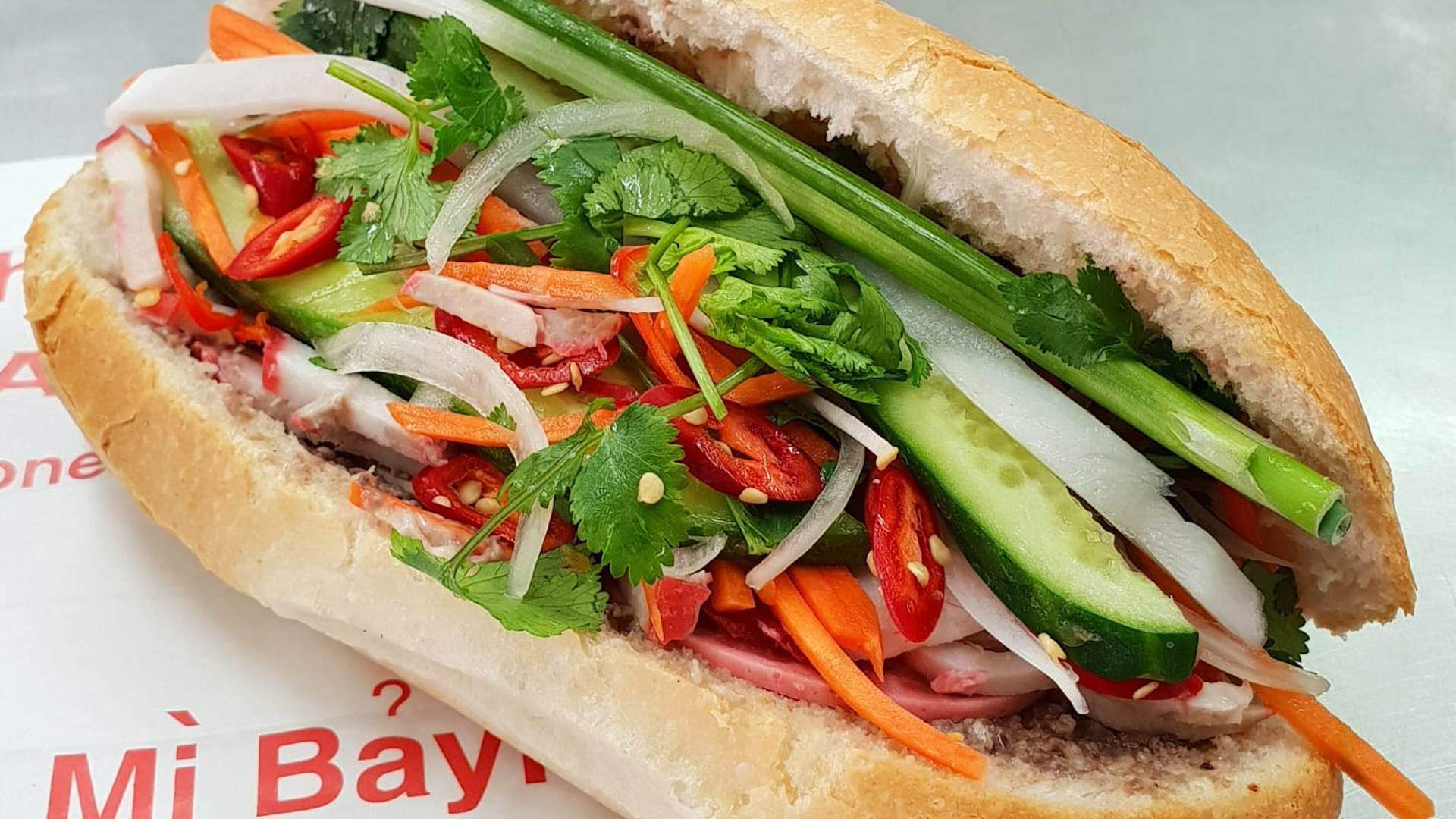 BANH MI BAY NGO, BANKSTOWN
Family-owned and operated, Bay Ngo has been serving up packed-full rolls of tender pork and crisp salad to the residents of Bankstown for over thirty years. Here, the traditional banh mi thit reigns supreme, layering multiple types of pork on top of a thick spread of pate for just $5. If you're not one for red meat, you're in luck, as the fried egg banh mi is a hit with local vegetarians and a perfect breakfast sandwich if you're swinging by before work. While it may be missing the layers of pork, the fried egg sandwich still comes overflowing with all the salads, coriander and chilli needed for a truly great banh mi. Or, you can add the fried egg to a pork roll for the best of both worlds for $6.50.


BOOTH STREET BAKERY, ANNANDALE
The lemongrass pork banh mi at Booth Street Bakery is one of the juiciest, most satisfying meals a sandwich lover can have for under a tenner. The unassuming Vietnamese bakery does a selection of cakes, flaky throw-back desserts (think Neenish tarts and day-glow green meringue frogs) and very decent pies, but the banh mi reigns supreme here. You can go for the classic pork sausage, lemongrass pork or chicken, or really push the boat out and do roast pork with a slab of crackling. Like all the best banh mi shops, Booth Street Bakery is a no-frills affair. But, it has spurned decor and detail for a focus on flavour. And when it comes to a meat-stuffed baguette, that's all you can really ask for.

MARRICKVILLE PORK ROLL, MARRICKVILLE
A true Sydney stalwart, Marrickville Pork Roll has long been considered one of the best banh mi shops in the city. It's well worth the wait in that inevitable queue, which often wraps around the block outside this hole-in-the-wall spot. Open daily from 6.45am, the shop bakes its baguettes fresh every morning. That fluffy-yet-crunchy baguette is smeared with pâté and mayo, then loaded with your choice of meat, fresh herbs, pickled veg, salad and chilli. While the traditional pork is the go-to, we rate the barbecue pork and crackling pork belly. Meatball, chicken, salad and veg varieties are also up for grabs — and all for just a few bucks ($6–8). For those closer to the CBD, Marrickville Pork Roll also has locations in Darling Square's Steam Mill Lane and along Pitt Street.

TOP RYDE BAKER'S HOUSE, RYDE
Make your way to Top Ryde City Shopping Centre and you'll find some of the best pork you can find stuffed into a soft white baguette in this city. Top Ryde Baker's House is known for its packed its banh mi full to the point of overflowing with an abundance of juicy pork and crispy pork crackling. Here, the banh mi is really taken to the next level, with the fresh mix of salad smothered by a mountain of meat. Despite the heaped serving sizes, the price of the banh mi remains low. The only catch? You may have to line up, as the bakery is known to get busy around lunchtime.

HONG HA, MASCOT
Hong Ha has managed to carve out a spot as one of Sydney's best banh mi joints, all thanks to the fresh and affordable rolls it's been serving up for over three decades. Situated on Botany Road in Mascot — so with multiple other Vietnamese bakeries close by — the pork roll specialist remains a go-to for locals and those travelling through the area. While a line snaking around the block isn't uncommon here, the wait is worth it for the barbecue pork variety which piles three types of pork into a crispy roll filled with plenty of fresh salad. The chicken and meatball rolls are both fan-favourites here as well but, whichever filling you end up going with, you're guaranteed a good time.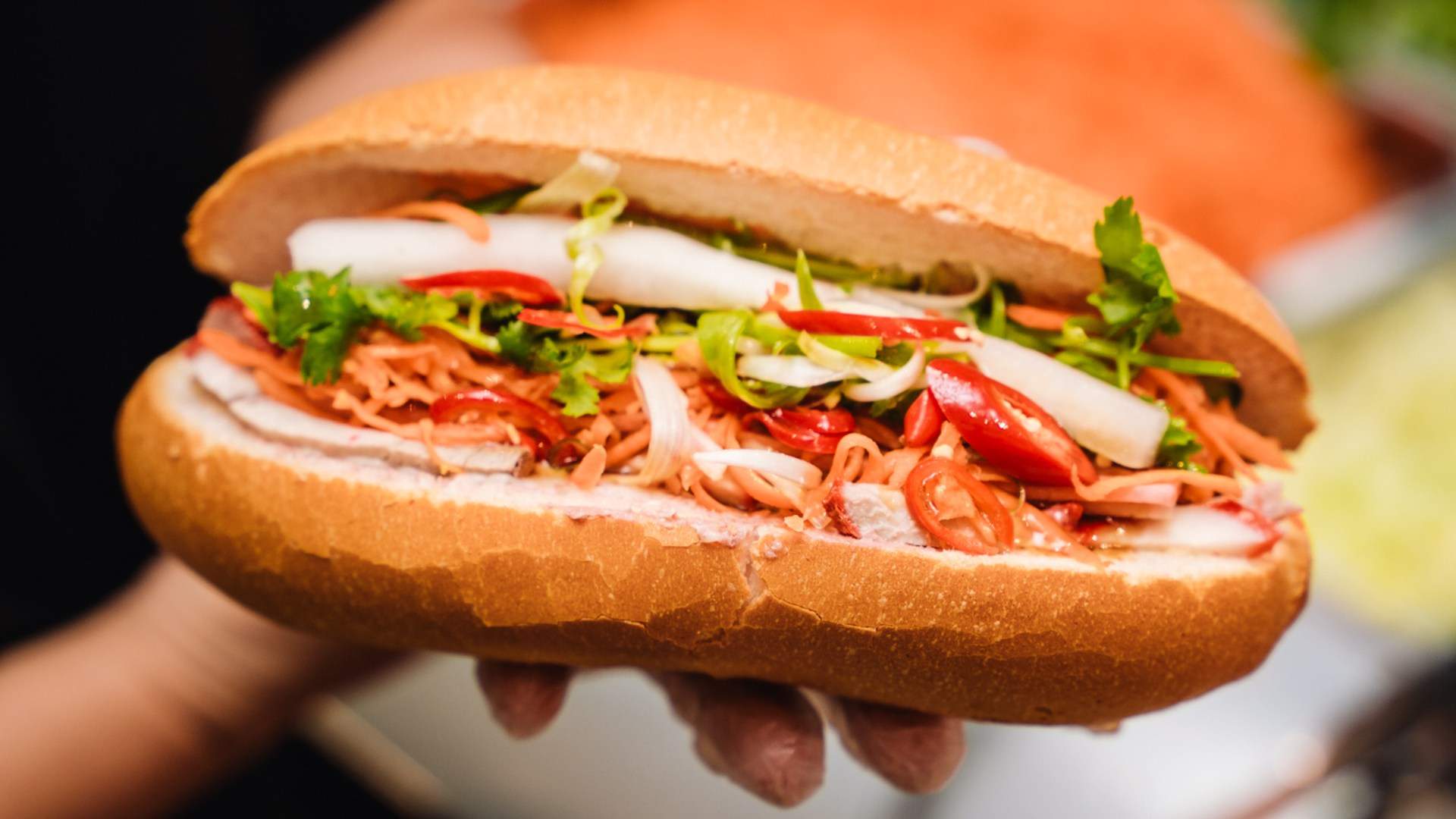 VINATA'S HOT BREAD, CABRAMATTA
Located in Cabramatta Plaza, Vinata's Hot Bread is one of southwest Sydney's most beloved banh mi spots. Here, you'll pay just $5 for your classic pork variety, which comes packed into fresh-baked white bread rolls, smothered in pork pâté, and covered in salad, coriander and chill. If you feel like venturing from the tried-and-tested path, you can also opt for meatball, chicken or salad rolls — all for under $7. Plus, there's a range of bakery classics on hand such as meat pies, sausage rolls, and cheese and bacon rolls. Despite the hot competition in Cabramatta for the best banh mi, Vinata's has cemented itself as one of the area's standouts.

ALEX 'N' ROLLS, MARRICKVILLE
Challenging Marrickville Pork Roll for best banh mi in the inner west is Alex 'N' Rolls. This is an unassuming hole-in-the-wall sandwich spot on Illawarra Road — it operates from inside an inner west townhouse — but the rolls here pack a punch. You can choose between barbecue, caramelised or traditional slow-cooked pulled pork, each packed into a bun with chicken pâté, mayonnaise, picked carrot, radish and a heaping of salad. The rolls have a good amount of crunch, and the pork is packed with flavour. If you're feeling more like chicken, Alex N Rolls has you covered as well. Plus, there are a heap of vegetarian banh mi on offer if you're tired of the tried-and-true salad roll.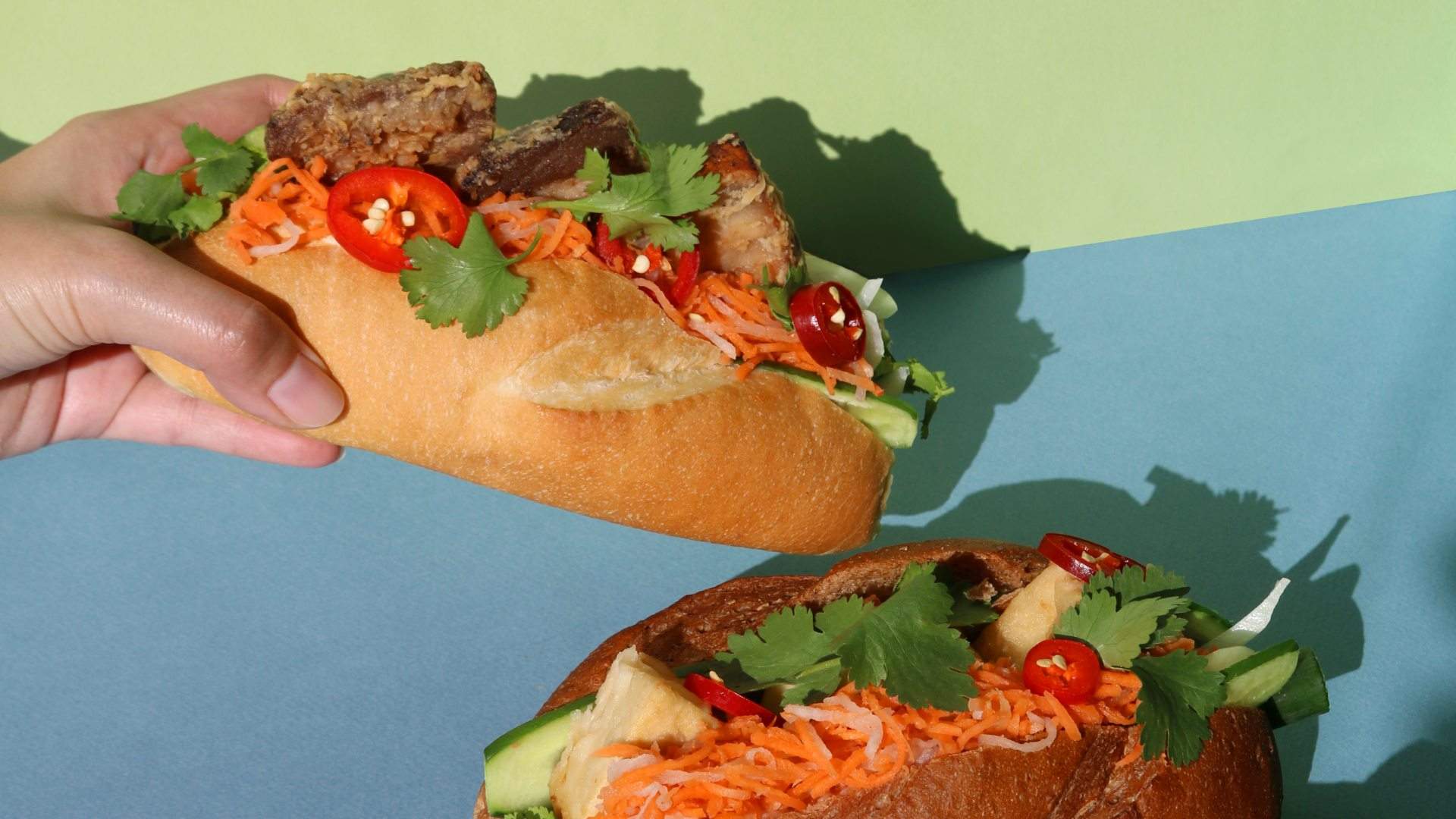 BOON TABLE, SYDNEY
Hidden in a food court in the lower floor of The Galleries, next-level takeaway outpost Boon Table opened in 2019. The majority of its menu is made up of tasty and health-conscious bowls — think: miso salmon, kale and broccoli, plus karaage chicken, red cabbage and spicy mayo. The real big hitters on the menu, however, are the 'Boon Mi', Boon Table's take on the classic Vietnamese roll. While they're slightly pricier than your local pork roll joint at between $10.90–12.90, these banh mi are packed into a soft and sweet brown roll, providing a unique experience. There are four options here, including the classic pork, plus crispy pork belly, grilled chicken and tofu. And, they all come equipped with all the fresh salads and pickled vegetables you'd expect as well as mayo, pâté and seasoning sauce.

KING'S HOT BREAD, HURTSVILLE
Open 6am–6pm daily, King's Hot Bread has been a Hurtsville mainstay since 1995. The Forrest Road spot specialises in banh mi, with a huge range of options to be found here. If you're in the mood for pork, you can choose between classic pork, pork crackling, roasted pork or sausage. Chicken, seafood and vegetarian rolls are all on offer too, with some of the more out-there options including stay prawn, chicken and dim sim, and egg salad rolls. All the banh mi sit between $7 and $10.50, price-wise, with crunchy chicken wings and spring rolls available if a heaped baguette isn't enough to satisfy your hunger. Swing by to pick up some lunch, or you can also order via UberEats, Deliveroo and Menulog.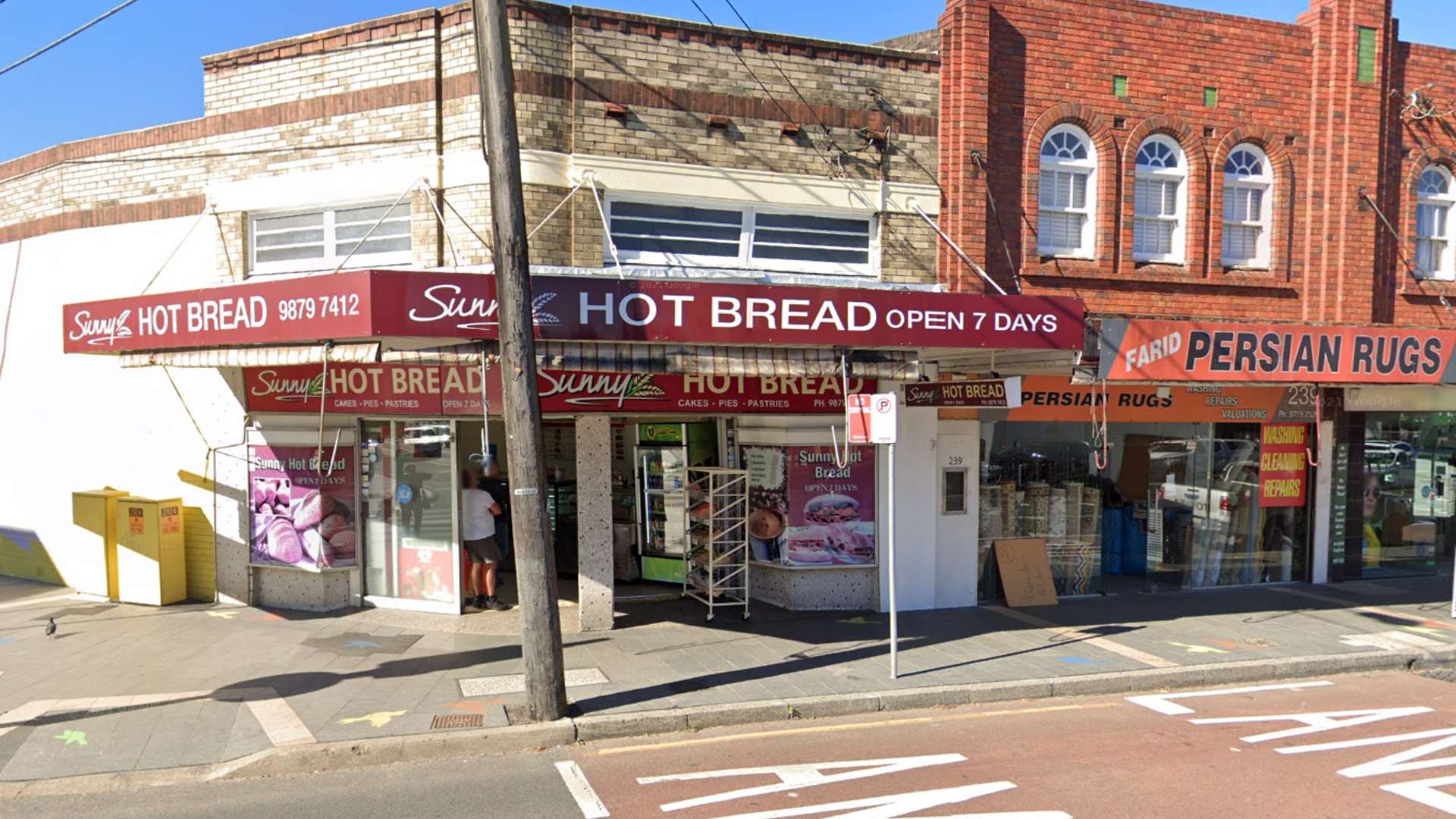 SUNNY VI HUONG HOT BREAD, GLADESVILLE
The unassuming Sunny Hot Bread sits next to a Persian rug store on Victoria Road, providing the perfect pit stop if you're driving between the west and inner city. It's easy to miss on the busy main road, but nab a park nearby and it'll be worth your while. The Gladesville bakery doesn't deviate too far from your classic selection of rolls, with the classic pork, chicken and salad rolls all on offer for between $4.50 and $7. The surprise highlight of the menu is the chicken schnitzel roll, which comes heaped with salad, crispy pieces of golden brown schnitzel and just the right amount of chilli. The typical range of bread, cakes and pastries are all on offer alongside the banh mi selection as well.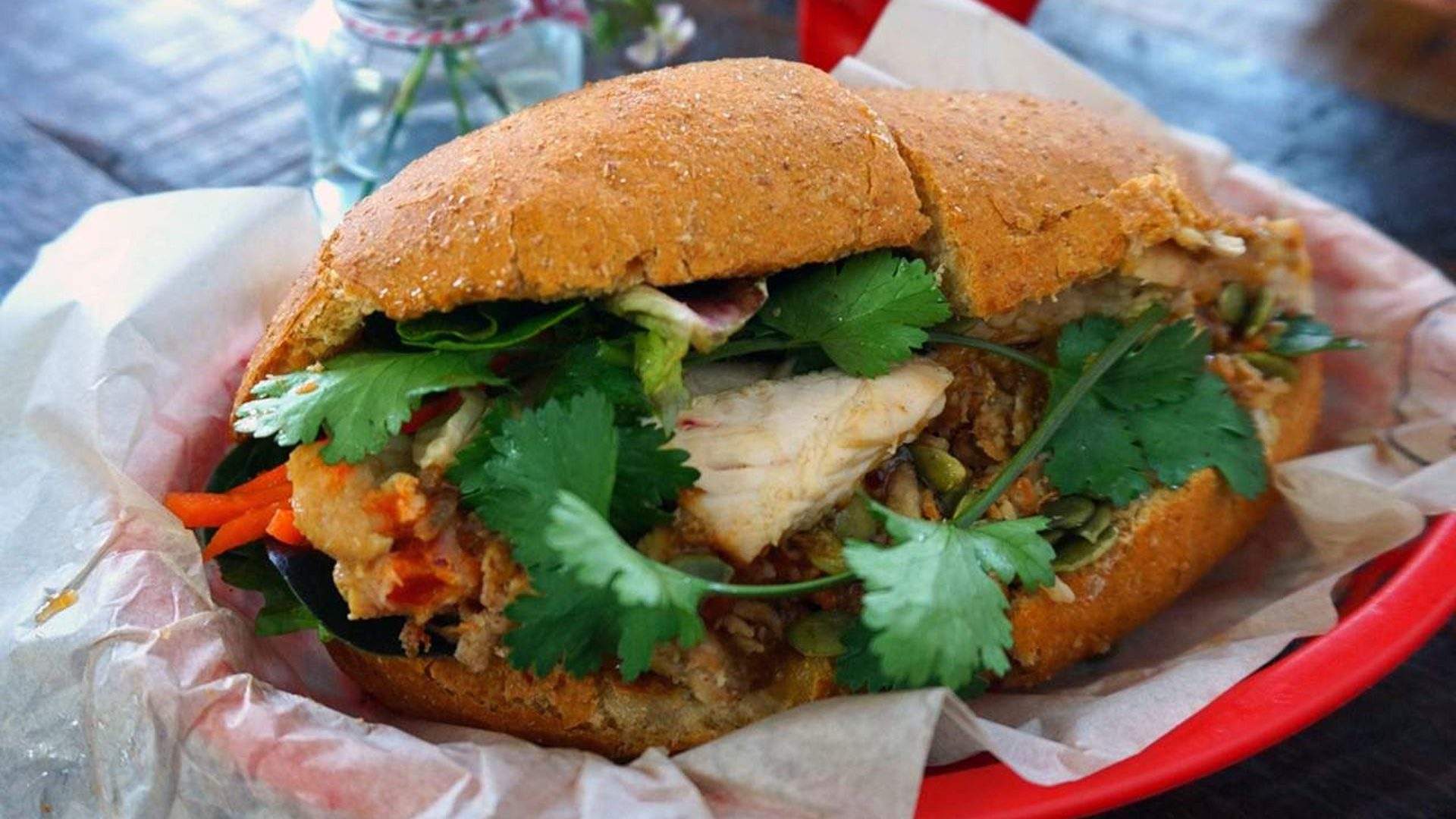 GREAT AUNTY THREE, ENMORE
When Michael Le was a child, his grandmother would often serve caramelised pork belly with rice on the family dinner table. Le now does a revised version of this dish in the form of a Vietnamese pork roll in his restaurant, Great Aunty Three. The caramelised pork roll captures the essence of what Le and his wife Mai are trying to achieve: fresh, authentic, quality Vietnamese street food. The pork, slow-cooked in coconut juice for up to five hours, is tender and juicy, combined with fresh vegetables in a crusty Vietnamese roll. The rolls are a bit different here, with apple pieces and big chucks of crunchy salty pork crackling stuffed inside. You can also venture into more adventurous territory with roast pork and duck rolls. Best of all, you don't even have to get up from your couch to order from Great Aunty Three, with the Enmore Road eatery available on UberEats, Deliveroo and Menulog — although the takeaway menu does vary.
Published on September 22, 2021 by Concrete Playground