FOOD & DRINK
Sydney's Fried Chicken and Rare Sneaker Shop Butter Is Launching an Outpost in Chatswood
The chain's third outpost will be have champagne, sneakers and (for the first time) charcoal chicken.
Sydney's Fried Chicken and Rare Sneaker Shop Butter Is Launching an Outpost in Chatswood
The chain's third outpost will be have champagne, sneakers and (for the first time) charcoal chicken.
Butter is expanding its streetwear and fried chicken empire and opening a third location on the lower north shore. Set to launch just days before Christmas, the Chatswood Chase location will have Butter's signature combo of fried chicken, sneakers and serious champagne. But, it'll also have something entirely new for the brand: charcoal chicken.
It's been a big year for charred chook already, with Henrietta opening in Surry Hills and both Frango and El Jannah launching their first-ever drive-thrus. Now, the lower north shore is getting in on the action.
Like Butter's existing Surry Hills and Parramatta stores, the Chatswood Chase shop will have a lineup of hard-to-find sneakers from brands such as Raised by Wolves, Hypebeast and Smile + Wave, as well as Butter's own branded merch. It'll have a full bar, too, with cocktails and huge range of champagne.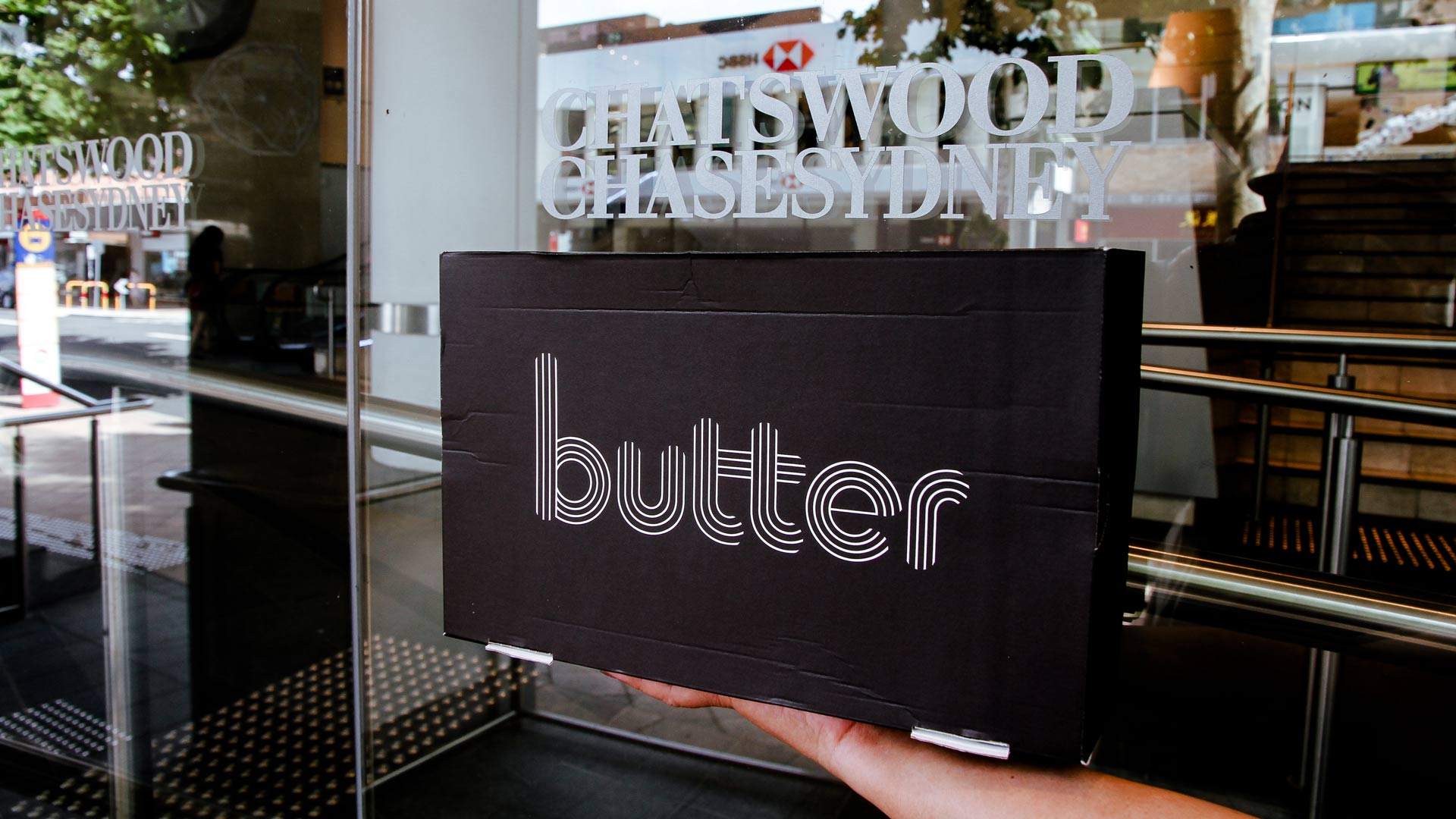 Executive Chef Julian Cincotta is bringing the original Butter food menu over to the lower north shore but with a few added extras — so you'll be able to order the same chicken sandwich with pickles and the '3 Pac' box of fried chicken and hot sauce. But there'll also be new menu items, such as a bigger range of beef burgers, salads and charcoal chook. The smoky chicken will be rubbed with Butter's signature red spiced pepper, marinated for 48 hours and cooked over fire.
Whether this new charred chook will be served with garlic sauce (like El Jannah), chilli sauce (like Frango) or something completely different is still unknown, but we're keen to find out. We're also keen to find out exactly how you order these new dishes. Supposedly, they won't be on the 'normal' menu and you'll need to "put in some work to find them".
To be the first to try, you can enter the draw to win an all-expenses-paid ticket to the invite-only launch party over at the Butter website.
Butter is opening inside Chatswood Chase sometime in the week beginning Monday, December 21. We'll let you know when an exact date it announced. 
Published on December 10, 2020 by Samantha Teague