FOOD & DRINK
Textbook Patisserie Has Released Two OTT Trifles So You Can Win Christmas Lunch
The two versions are loaded with fresh fruit, champagne, peach custard and whipped chocolate ganache.
Textbook Patisserie Has Released Two OTT Trifles So You Can Win Christmas Lunch
The two versions are loaded with fresh fruit, champagne, peach custard and whipped chocolate ganache.
If your idea of trifle is Aeroplane Jelly, Madeira cake from the nearest supermarket, tinned peaches and cheap rum, think again. Pastry chef and owner of Alexandria's Textbook Boulangerie Patisserie John Ralley — whose extravagant stuffed croissants have been creating waves on social media since the patisserie opened in 2015 — has reinvented the dessert, especially for Christmas.
In Ralley's words: "We wanted to try something new in addition to our usual Christmas range of cakes and baked treats, and what better way to celebrate the holiday season than with a flamboyant fruity and boozy trifle. These trifles combine the best of the Christmas traditions and our signature Textbook flair of putting a modern twist on traditional flavours."
If you've ever sampled his pastries, you'll take that as good tidings. Exceptionally good tidings. These trifles are not just cakes, but OTT masterpieces, loaded with all kinds of goodies, like Jack Daniel's, champagne, peach custard, whipped chocolate ganache and mirror glaze.
On Textbook's inaugural Christmas trifle menu this year are two options. First up, there's the champagne and strawberry trifle with champagne-soaked sponge, panna cotta and strawberry custard and jelly, topped with berries and intricate white chocolate decorations. It's a mouthful.
The second option is slightly less traditional, with chocolate sponges soaked in smoky Jack Daniel's syrup, smoked peach custard and chocolate mousse.
Feast your eyes on both of them right 'ere: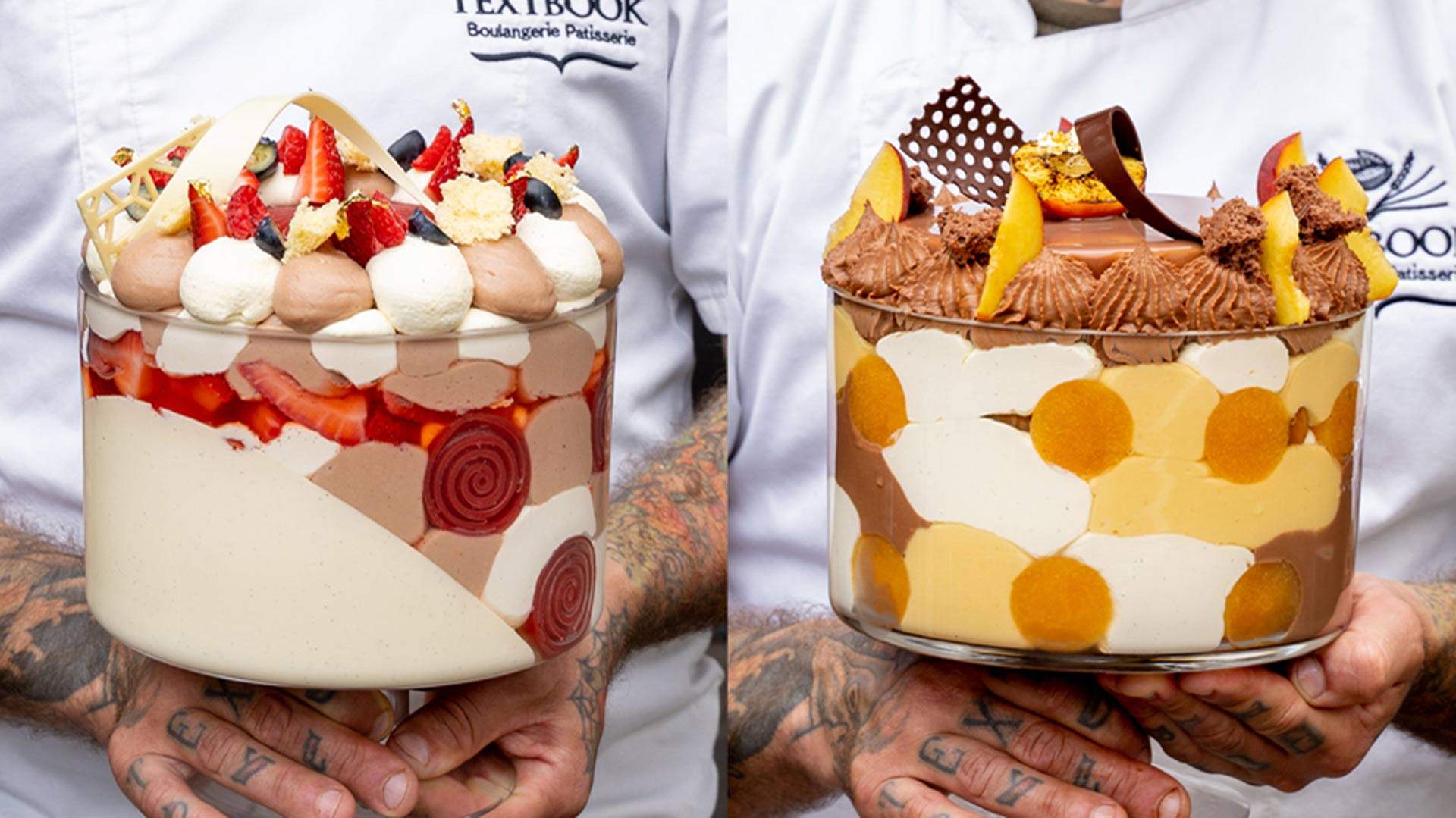 Each cake is $190, feeds 18–22 people, and comes in a lovely four-litre glass trifle bowl that is yours to keep, so you can endeavour to recreate the magic throughout the year.
Textbook's Christmas trifles can be ordered online now and collected from 274 Botany Road, Alexandria, from December 12–24.
Published on December 14, 2020 by Concrete Playground