FOOD & DRINK
Sydney Fine Diner Quay Is Reopening This Week with an All-New Menu and Design
We take a look inside the new-look renowned harbourside restaurant — and, no, there's no Snow Egg.
Sydney Fine Diner Quay Is Reopening This Week with an All-New Menu and Design
We take a look inside the new-look renowned harbourside restaurant — and, no, there's no Snow Egg.
---
For the past three and a half months, Sydney's fine dining scene has sported a Quay-shaped hole, as the legendary restaurant temporary closed up shop and underwent some pretty hefty renovations. But as of this Thursday, July 19, the harbourside restaurant is back in action, showing off a complete, head-to-toe transformation — of the design, food menu and drinks, no less.
This new incarnation sees Quay embracing a more interactive, individualised dining experience and dishing up plenty of surprises along the way. So what's different? Pretty much everything. Let's take a look inside.



THE DESIGN
While the dining room has lost 20 seats, the whole space has gained an impressive fitout by acclaimed architects Tonkin Zulaikha Greer, the team behind the design of some of the Fink Group's other establishments, Bennelong and OTTO Brisbane. The restaurant, now divided into smaller, more intimate dining spaces, has been rejigged to face both the Opera House and the Harbour Bridge.
Referencing Executive Chef Peter Gilmore's nature-driven cooking, the space embraces the organic, with elements including ocean-like blue carpets, tabletops crafted from sustainable solid spotted gum, and stone detailing that conjures images of cracked bark. Above, bespoke timber work complements the existing ceiling by original designer George Freedman.
Meanwhile, art-lovers will also find plenty to swoon over, including the inspiration behind Quay's logo, Bronwyn Oliver's Tide, which presides over the entrance.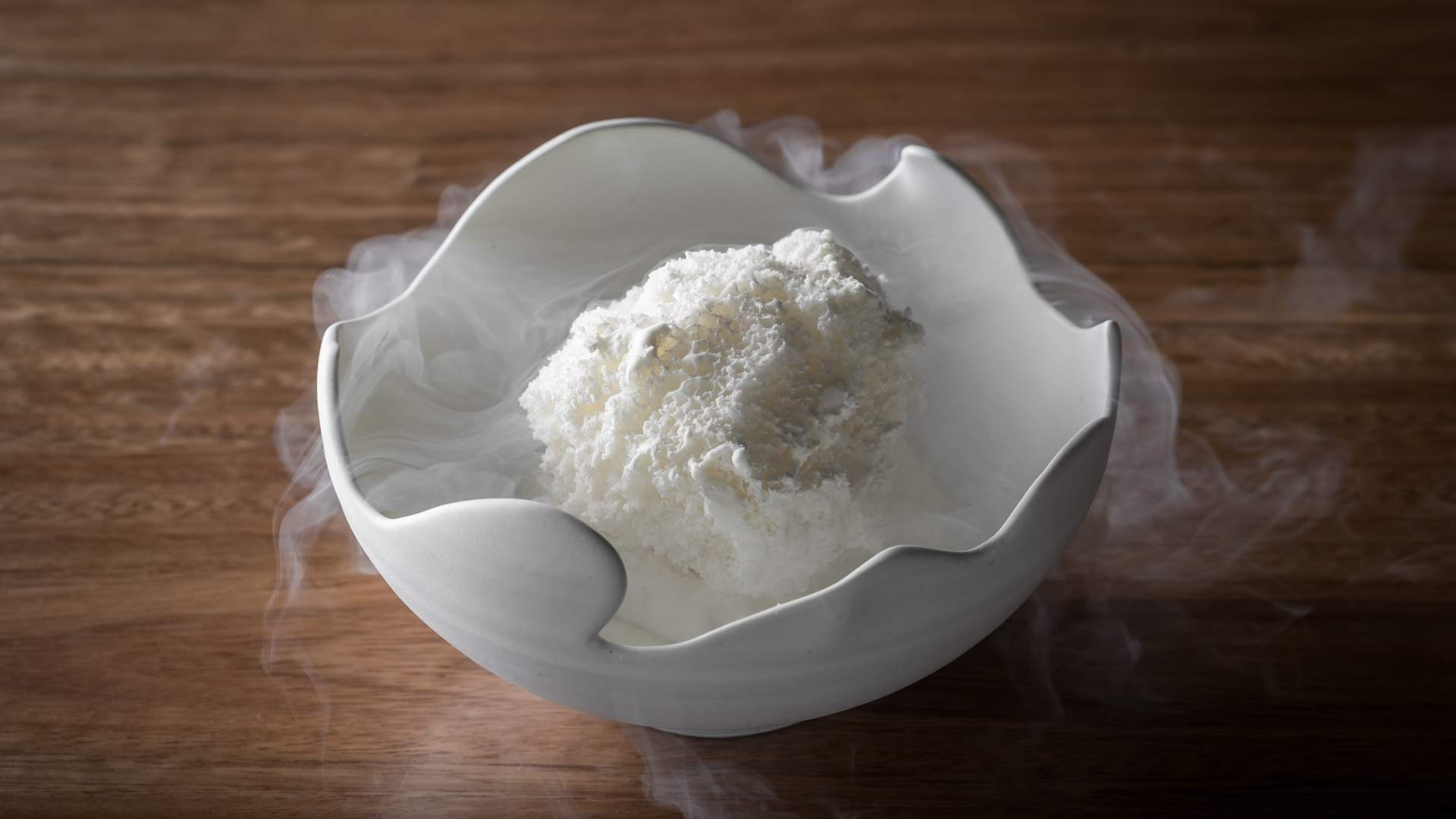 THE TABLEWARE
The white tablecloths of yesteryear have been given the boot, in favour of showing off those tabletops — and the custom-built 'Quay Chair', by Australian designer Adam Goodrum, whose design references the pattern on the Opera House shells.
As always, the Quay experience extends beyond the food to the design beneath. This time around, Gilmore has worked closely with ceramicists Paul Davies and Jacqueline Clayton (from Red Shed Studio Jam), Malcolm Greenwood and Ben Richardson on a stunning new range of bespoke tableware. Each piece has been carefully designed to best showcase a particular dish — like this stunning 'White Coral' dessert.


THE FOOD
While the menu is entirely new, it's grounded in Gilmore's passion for showcasing rare and beautiful ingredients. A ten-course tasting menu ($275) best captures the journey, though an abbreviated six-course menu ($210) will be on offer (from August 3) at lunch from Friday to Sunday, and at dinner from Sunday through Thursday.
As with the restaurant's previous menu, Gilmore has worked closely with farmers, fishermen and artisans to source ingredients — many of whom grow, forage and create items specifically for the acclaimed chef. Newcastle Greens, for example, grew red speckled peas for Gilmore, and you'll find them on the menu served alongside miso and anchovy.
Gilmore has continued to go above and beyond with his plating and creation of dishes — which is prevalent most clearly in his recreation of the humble oyster. It's an innovative dish of oyster cream, oyster frill crackling and Ossetra caviar, served in a hand-crafted ceramic shell and eaten with a mother of pearl spoon. This dish was particularly close to Gilmore's heart as he himself dislikes the texture of oyster, and wanted to recreate the mollusc with exactly the same flavours, but a significantly different bite.
As expected, the famed Snow Egg dessert has taken its final bow, though the feijoa and coconut White Coral creation — made with a super light white chocolate, aerated and then frozen with liquid nitrogen — replacing it has the makings of yet another cult favourite.


THE DRINKS
A revamped drinks offering is showcased through four different beverage matches: a booze-free lineup called the Temperance Pairing ($95); the Round of Drinks ($110), which features a collection of brewed, fermented, distilled and blended lesser-known heroes; the Contemporary Pairing, which will see local and international wines hit your table; and the signature Quay Pairing ($125), a wide-roaming wine pairing featuring local, modern, funky and old-fashioned drops.
The drinks list (if you can really call it that) was put together by a team of three sommeliers: Wine Director Amanda Yallop, Head Sommelier Shanteh Wong and Assistant Head Sommelier Seamus Brandt. If you decide to veer away from the pre-prescribed pairings, you'll have to navigate the 500-strong wine collection (backed up by 20 cocktails, nonetheless). But you won't be alone — one of the aforementioned wine aficionados will be on hand to (kindly and patiently) guide you through.

Quay will reopen for dinner on Thursday, July 19, and for lunch from Friday, August 3. Reservations are now open.
Images: Nikki To.
Published on July 17, 2018 by Libby Curran