Beckett's
This new Glebe Point Road venue is home to a velvet-heavy cocktail lounge and Chef Jeff Schroeter's vanilla lobster.
When Bayswater Brasserie closed back in 2010 (where has the time gone?), it left a vanilla lobster-shaped hole in the hearts of many. Well, good news everyone, Chef Jeff Schroeter (Bayswater Brasserie, Bistro Moncur) is serving the much-loved dish once again, along with a huge assortment of other adored classics and exciting new creations, at Beckett's, Glebe's new mid-century New York and Parisian inspired restaurant and cocktail lounge.
Schroeter has teamed up with Playwright-Director Wendy Beckett (Claudel) to create the new brasserie, located on the site of the former Darling Mills space on Glebe Point Road, adding to the inner western suburb's recent food revival. Schroeter brings three decades of experience with him to Beckett's kitchen, and while the menu is set to change seasonally, some current standouts include the charcoal-roasted wagyu rump ($38), served with pommes dauphinoise and field mushroom jus; and the aforementioned Queensland-caught fennel butter-poached vanilla lobster ($55). You'll also find Thievery's super-popular burnt butter hummus ($15) on the menu. Schroeter stole the recipe because "it's brilliant".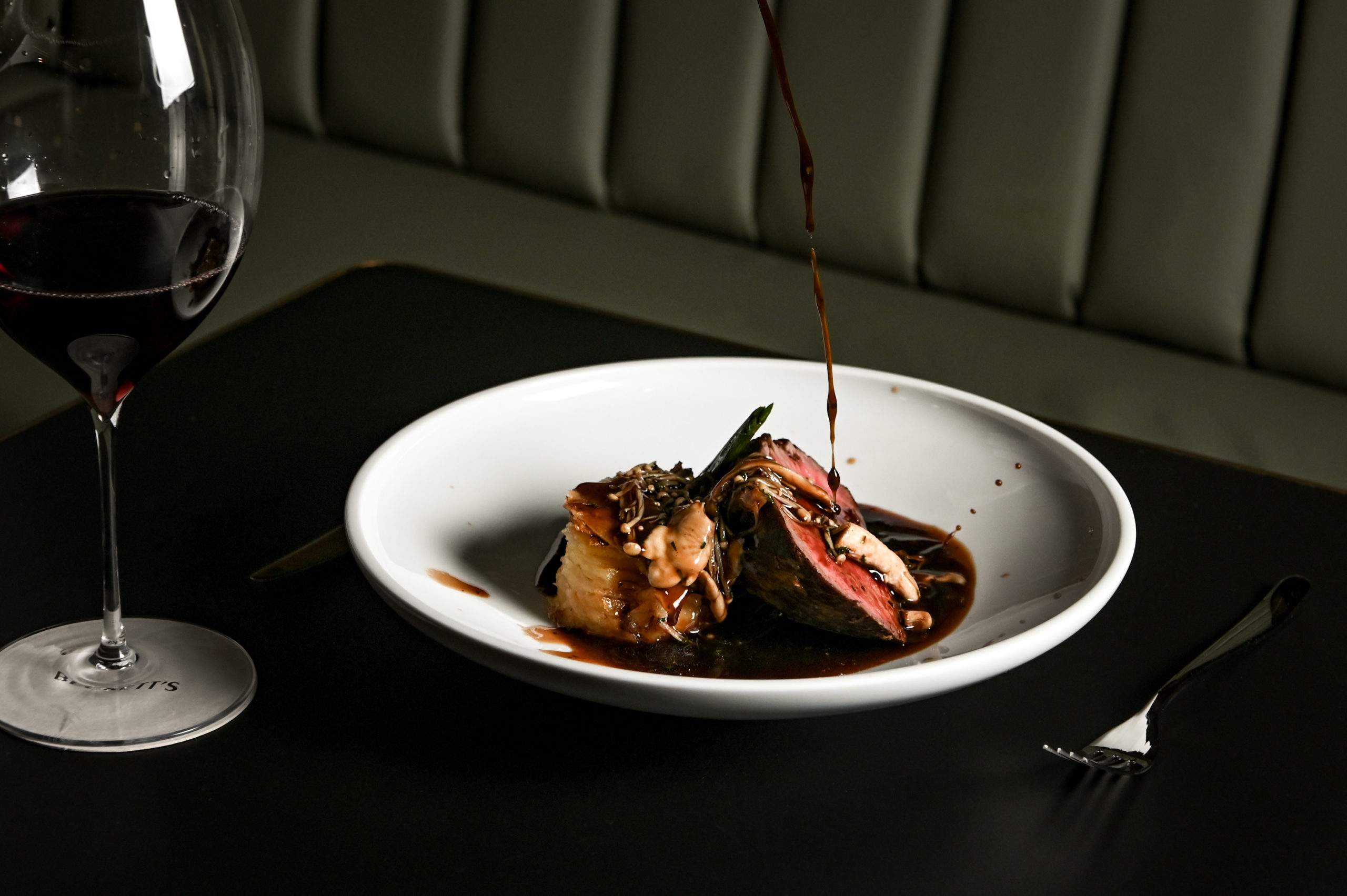 World-class bartender Charlie Ainsbury (This Must Be The Place, Proof & Company) and sommelier Sasha Siljanovic (NOMAD, Spice Temple, St Isidore) have also joined the team, creating a classics-driven cocktail menu featuring Ainsbury's new Beckett's Martini ($22) made with Widges Gin and Mancino Secco, and a wine list boasting an assortment of international and domestic wines.
As for the space itself, Beckett has recruited her set designer to channel mid-century New York and Europe's great wine bars of the past, creating a setting that's moody, yet elegant. The new space fits 90 people, curtained in half by an olive velvet-lined colonnade. Over at the front, you'll find the lounge bar; one side featuring the bar itself and a baby grand piano (played nightly), while the other side will be home to a mix of small bar tables, banquette seating, and plush cocktail chairs. Meanwhile, in the dining room, expect ochre-hued fabric seats tucked gracefully into clothed tables.
Images: David Li.