Chebbo's Burgers
This much-loved smashed burger joint, led by viral Tiktok food creator Chebbo, has cemented itself as a cornerstone in Sydney's Inner West.
If you've been searching for a semi-adventurous bite without compromising on flavour, Chebbo's Burgers is serving up a fresh take on the beloved classic. The burger joint is the locally loved smash burger-slinging outpost hidden in Sydney's Inner West.
Head over to Chapel Street, and you'll find the food truck's humble abode with its exteriors decked out in the instantly identifiable purple and yellow colours it's known for. Led by viral TikTok sensation and food content creator Chebbo, the burger joint serves up the much-loved dish with a twist. Each burger features a thinly smashed patty paired with the food truck's coveted special sauce — the combination of which has gained a cult following.
Initially, the burger joint started as a passion project inspired by an experimental burger trend from the US, dishing out a simple range of offerings from Chebbo's very own backyard. As Chebbo's TikTok career began to take off during the COVID lockdowns, so too did Chebbo's Burgers, which, with increasing popularity, went from a monthly pop-up to a local staple, and now is welcoming its first flagship venue in Marrickville — much like its local food truck counterpart, Duo Duo.
The joint has gained so much popularity that you'll even spot a Chebbo's Burgers pop-up at this year's Spilt Milk festival.
Tossing up between the five-burger selection? The classic burger has all the goodness you'd expect to find, with a juicy beef patty, crisp lettuce, tomato, onion and Chebbo's special sauce sandwiched between a toasted milk bun. Prefer something even simpler? Its cheeseburger is another reliable classic that ranks up there with some of the best in Sydney.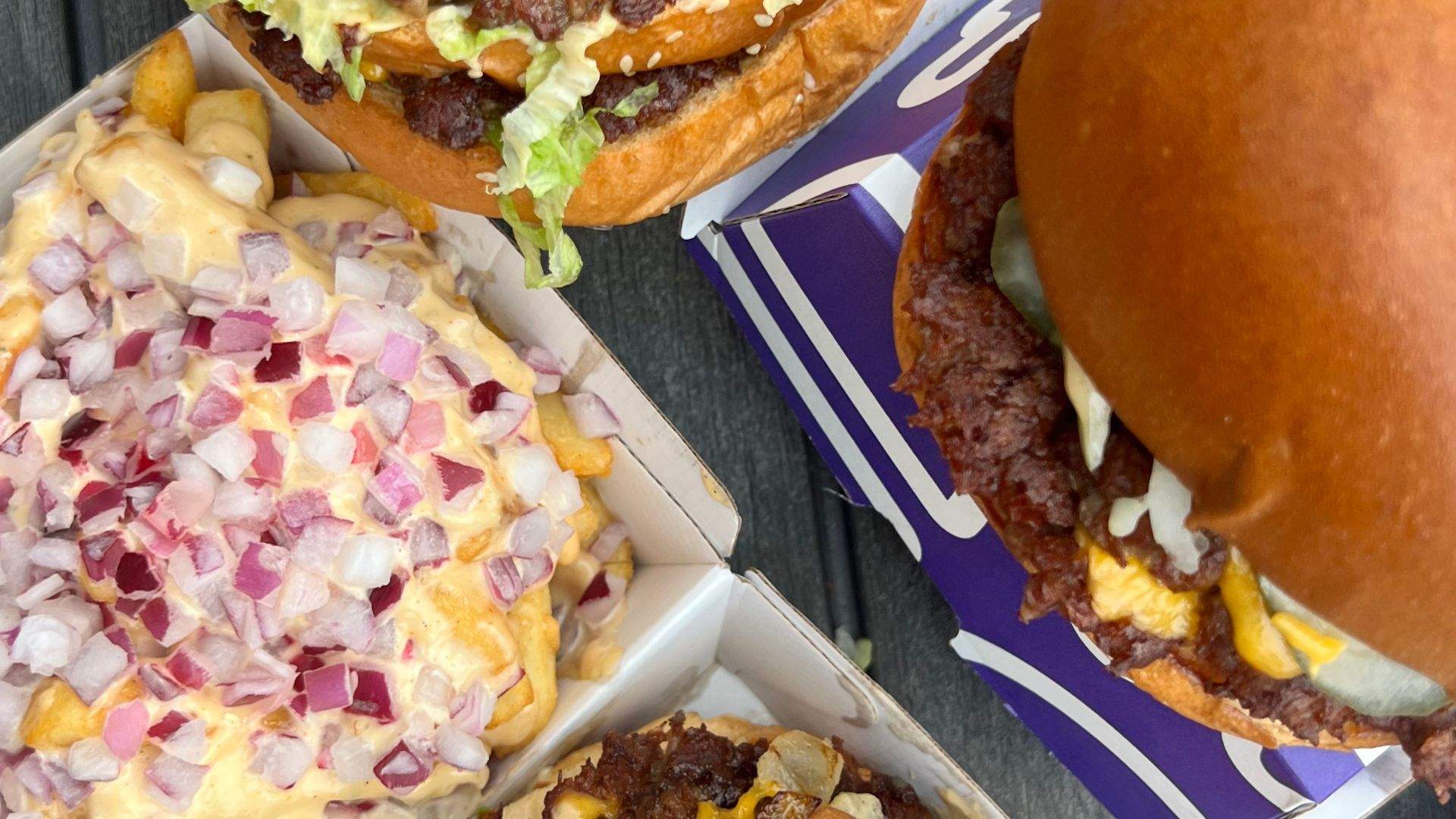 For the more adventurous, you can opt for the most experimental burger on the menu —the fried onion burger. It features the familiar smashed patties but is paired with creamy mustard, heaps of onions and the special sauce, all on a potato bun. Plus, every burger available can be upsized if you're in the mood for more, or you can customise your order to be gluten-free, vego-friendly, or however else you like it. This burger joint has ad-ons for days.
And there's no shortage of sides. For the ultimate pairing, pick up a side of the sauced-up loaded fries featuring crispy hot chips topped with a healthy dose of Chebbo's signature chicken salt, the special sauce and divinely crunchy red onions which are a must-try. Otherwise, you can opt for the standard freshly cooked hot chips without toppings.
To top it all off, you can hit up Chebbo's Burgers for a flavour-filled meal, then venture a little further down the road to the conveniently located Duo Duo Roselands outpost to round out your meal with a sweet treat.
Appears in:
Concrete Playground Trips
Book unique getaways and adventures dreamed up by our editors