Saint Peter
Josh Niland's nose-to-tail seafood restaurant is a must-visit.
Located on Oxford Street, Saint Peter is a sardine tin-sized venue, a former sushi train site that was completely gutted to reveal original bricks and sandstone walls. The seafood-focused restaurant originally seated just 34 guests, but with the new fit-out centering diners around a long omakase-style bench, it's even more intimate.
More than just a gimmick, Head Chef Josh Niland and wife Julie chose the fish-focussed theme to introduce Sydneysiders to the world of sustainable seafood and encourage them to cast their net a little wider than the usual Atlantic salmon and tiger prawns. Niland is also a passionate nose-to-tail cook and Saint Peter's menu makes use of the whole fish, from the liver to the scales, offal, bladder and roe — expanding this concept to a series of venues like Fish Butchery since Saint Peter took off.
Unfortunately, there's not much point drooling over the fabulous online menu and making a mental order two days in advance (that's normal, right?) as the selection changes daily — sometimes twice daily, our waitress informs us — depending on what's been trawled in that morning. On the night of our visit, there's everything from dry-aged red mullet and Nelson Bay broadbill to Clair de Lune oysters with scampi caviar.
I like to think it was providence that led us to try the Petuna ocean trout rillettes with radish and almonds. Perhaps Saint Peter himself, patron saint of fisherman, gave us the divine inspiration to order it; either way, it's heavenly. Made from the trim of trout bellies, cheeks and head stirred through mayonnaise with fresh herbs and almonds, the creamy mousse is then molded into the shape of a fish, and covered with finely-sliced radish scales. Spread it over the wafer-thin malt sourdough crisps from Brookvale's Berkelo bakery and holy mackerel! This is one impressive fish dish.
Following on from this, we sample a tartare of raw diced wild kingfish and Mooloolaba yellowfin tuna served with briny accouterments, including capers, diced onion, pickled radish and witlof leaves. Then, to put their versatility to the test, we order the fried fish and chips. Today it's the Wallis Lake dusky flathead coated in a shell of batter as light and crisp as spun sugar. It's served with fluffy hand-cut potato chips, house-made tartar sauce and pickled cucumbers and onions, which do an inspired job of cutting through the oil. I don't think there's a chippie in Sydney that can match it — and better still, there's no seagulls to contend with either.
What's seafood without a chilled glass of wine? Saint Peter's one-page drinks menu leans towards light and floral whites, including a marvelous orange-tinged skin contact Gewürztraminer from The Wine Farm in Victoria, which has the nose of a fine bottle of perfume. There are also a few plummy reds to choose from, as well as craft beers, boutique teas by The Berry Tea Shop and an elegantly refreshing rose geranium and lime soda.
Even the desserts often contain fish, with Niland utilising flavourless, often discarded elements of the carcass in place of ingredients like gelatin. We bypass the cheese options for the house specialty, the lemon tart with fresh passionfruit prepared by Julie Niland, an ex-pastry chef from Becasse, Rockpool and Marque. It's love at first bite. A crisp biscuit base is filled with satin-smooth custard and just the right amount of acidity. It's the perfect end to a flawless dining experience. I just pray to Saint Peter that you can also score a table.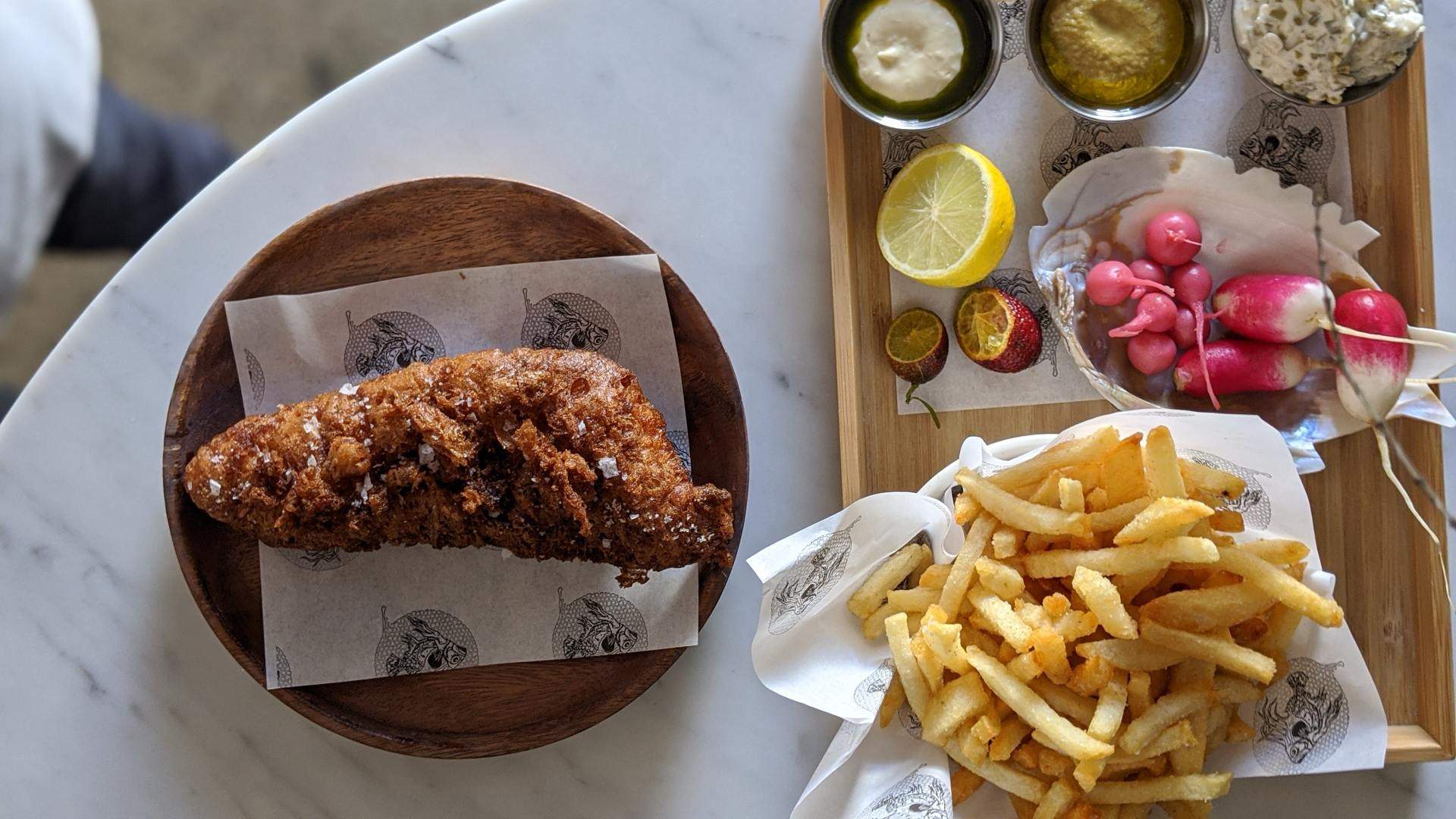 Saint Peter has been named in Concrete Playground's Best Restaurants in Sydney. Check out the full list for 15 Sydney spots that should be at the top of your must-try list.
Images: Nikki To.
Updated Tuesday, March 21, 2023.
Concrete Playground Trips
Book unique getaways and adventures dreamed up by our editors