TRAVEL & LEISURE
A Weekender's Guide to Bilpin and Surrounds
Now's the perfect time to take a drive along the Bells Line of Road for summer fruits, garden walks and cute cabins stays.
After a particularly devastating bushfire season, the Blue Mountains community is calling everyone to come #BacktoBilpin. The community and its local businesses have been hit by not only the fires, but also by a drop in tourism during what should have been one of the busiest times of the year. While, devastatingly, some 80 percent of the Blue Mountains World Heritage area has been burned, there's still plenty of areas to explore, wildlife to spot and fresh produce to devour.
So, put that esky in your boot, get out of Sydney and head to the land of the mountain apple. For this trip, you won't be going through Katoomba and Leura, but taking the historic Bells Line of Road. Here, you'll find tasty food, warm hospitality, cute cabins and many outdoor activities throughout Bilpin and its neighbours Kurrajong, Berambing and Mount Tomah. Here's our guide for what to check out while you're there.

EAT AND DRINK
Bilpin is all about them apples. There are probably more orchards here than people. Set out on a drive along the Bells Line of Road, stopping for fresh apples, juice, cider and pie along the way. Keep an eye out for the big Bilpin Fruit Bowl, where you can pick your own fruit or enjoy a hot-from-the-oven apple pie (or peach if you're really lucky) and a glass of fresh juice. Stop for a tipple at Hillbilly Cider and Bilpin Cider (both of which offer non-alcoholic options for the deso drivers), pick some more fruit at Pine Crest Orchard and have a burger for lunch at Maggie Lou's Bite. The Hive just up the road in Berambing is definitely worth a stop for some Bilpin bush honey and a good coffee.
For more substantial bites, there are plenty of options in the area, most of which come with spectacular views of the Blue Mountains and the foothills. In nearby Kurrajong, stop at The Village Kitchen for brekkie and a squiz at the on-site art gallery — this cute little spot also offers dinner on Fridays and Saturdays, and often has live music to set the tone.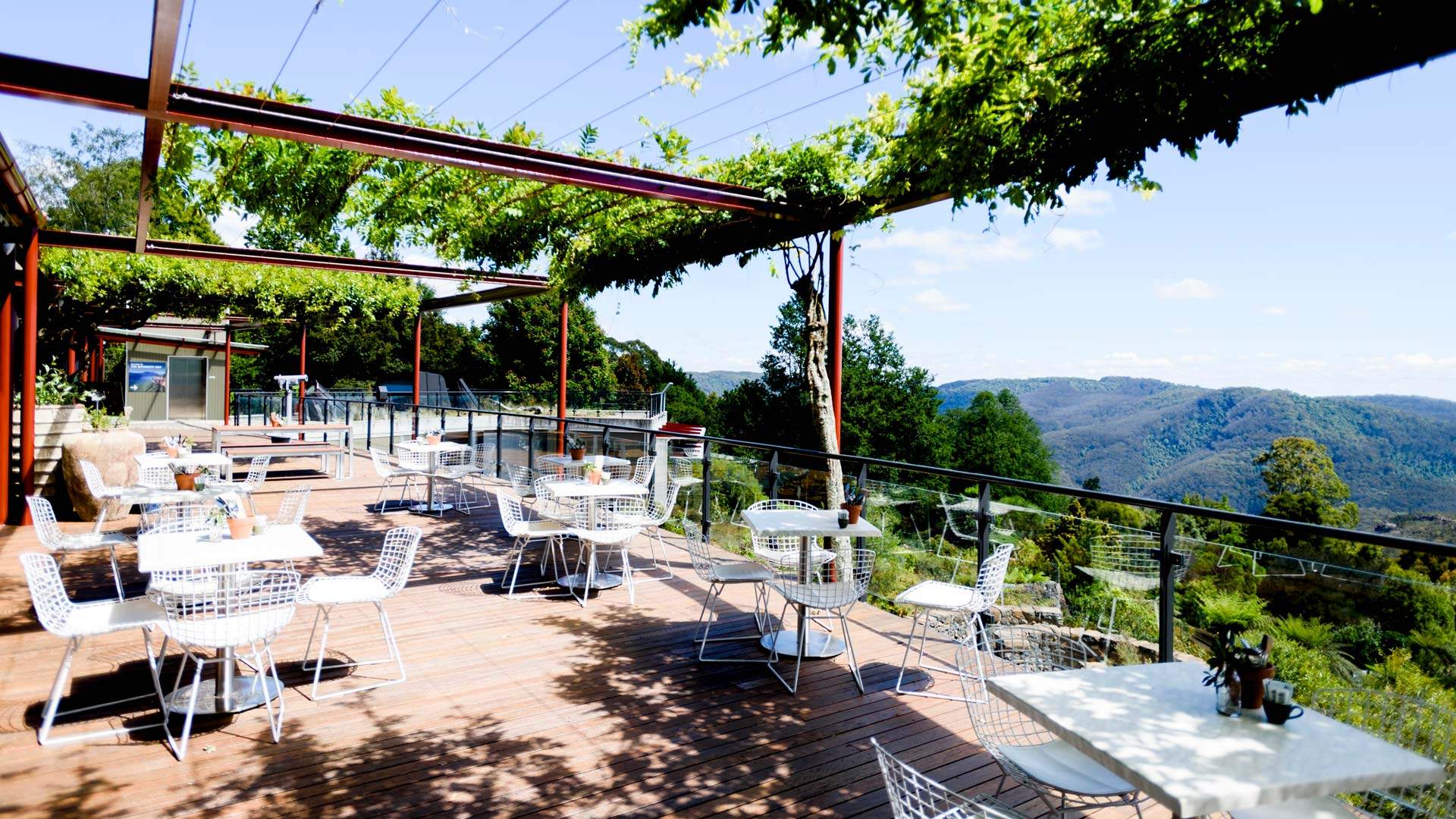 For dinner, Kurrajong Heights is home to Archibald Hotel — which serves up modern gastropub classics with a side of sweeping Sydney views — and Lochiel House, for something a little more refined. Try the pan-fried ricotta gnocchi with pickled mushroom, and the miso-glazed lamb rump with local apple kimchi.
The Potager Mount Tomah is right in the heart of the Blue Mountains Botanic Garden (which was thankfully saved from the fires) and a must-visit. The restaurant has an unrivalled aspect, from its terrace draped in wisteria vines — perfect for brekkie or lunch whilst out for a day exploring the gardens.

DO
While Bilpin is best-known for its produce, there's plenty more to explore. And while no one will judge you for spending the entire weekend ticking off every farm gate on this Hawkesbury Harvest Experience list, it would be a shame not to get out in nature.
We know you're already planning a trip to The Potager, so the Blue Mountains Botanic Garden in Mount Tomah should definitely be on your must-visit list. While much of the vegetation surrounding the garden was affected by the bushfires, much of the Living Collection was able to be saved, including some of the garden's rarest plant species. The garden has become a safe haven for much of the area's wildlife, so there are lots of birds around and new blooms to be seen.
A lot of the hikes around the Grose Valley and north of the Bells Line of Road are still closed due to safety reasons, but Walls Lookout is now open and has a must-see view. Take the turnoff for Pierces Pass Picnic Area just past Mount Tomah, park your car, and walk down to the lookout (it's an hour return) for breathtaking vistas over the Megalong Valley. If you don't mind the hour drive from Bilpin to the Blackheath area, we also recommend a visit to Govetts Leap Lookout, Evans Lookout and the Grand Canyon track.
Although the glow worm tunnel walking track in Wollemi National Park is currently closed, you can still see the magic little creatures with a Blue Mountains Glow Worm Tour on private property near Mount Tomah and Bilpin.
If you've got time to spare and want to do even more to help the local community, you can register to volunteer for bushfire recovery with NSW National Parks and Wildlife Service or spend a day helping rebuild the Zig Zag Railway, which was still being restored following the 2013 bushfires when it was again burned over Christmas and New Year.

STAY
One of the remarkable things about Bilpin is that it never feels like you're only 90 kilometres from the hustle and bustle of the city, it's a proper nature retreat. Escape to Rustic Spirit for a weekend in a secluded bushland cabin or treetop pavilion on the edge of the Wollemi National Park. You can also book a package with inclusions like couples massages, meals, picnic hampers and champagne. If you'd prefer a farmstay on a 90-acre property, Bilpin's Eden Farm Escape is offering 50 percent off its rates if you can get there in February 2020.
Make yourself at home on a lush five-acre hobby farm in Mount Tomah. Spend some time with the animals that have also found refuge at Tomah Retreat (like Flora the pig), taste some of the fruit, nuts and vegetables grown in the garden, and find peace in the living labyrinth. And, to live your best Instagram life, Wollemi Love Cabins are almost too beautiful to be believed. Spend a night under the stars in a luxury teepee that comes complete with a spa bath ensuite, or be right among the trees in a private cabin or studio with a bath right out in nature on the deck.

Top images: Destination NSW.
Published on February 07, 2020 by Leisha Kapor