From Clay Play to Gin Blending: the Ultimate Experiential Pressies for the Person That Has Everything
From forging their own knife to blending their own spirits, ensure your hard-to-buy-for loved one is looked after this festive season.
in partnership with

The festive season is officially upon us, which means it's time to think about what to gift your loved ones. We know present shopping can be quite the task, and having someone in your life who has practically everything is an even bigger challenge. If you're out of ideas or simply want to shake it up this year, we've got you covered.
Together with Archie Rose, we've compiled a far-reaching list of unique experiences that we confidently believe will make the ideal gift for that certain hard-to-buy-for someone. A mate who's passionate about liquor? Parent who loves cooking? Someone that could use a little of salsa's flair in their life? These are the experiences to gift them.
BOOZY MASTERCLASS AT ARCHIE ROSE
See your loved one become a bartender for the day by via one of Archie Rose's creative cocktail masterclasses. They'll learn how to shake, stir and pour the professional away, and end up with a new skill to impress with at the next gathering. The history of cocktail culture will be served alongside a lesson in how to make three timeless cocktails.
Alternatively, send them along to the Rosebery distillery to blend their own bottles of whisky or gin. They'll learn the ins and outs of how the liquids come to fruition, before using their nose and palate to blend their own bespoke drop.
Now, if you've got a special someone that really loves their booze, this pressie is for them: a bottle from Archie Rose's Tailored Spirits offering. Although less hands-on, it's no less involved. Choose the botanicals for a customised bottle of gin to gift them, or play creative director and design the label for a bottled cocktail (which will be lucky to make it to Boxing Day). And if you're going all out, pick a base malt, spirit style, cask type and strength, then lean back knowing a truly unique cask of whisky is being created by the resident experts. Word of warning: your bottles won't be on their way to you until two or three months down the track, but what a thing to look forward to in the new year.

CHEESE-MAKING WITH KRISTEN ALLAN
Kristen Allan is no stranger to the cheese business. After starting her own dairy-powered company in 2012, this pioneer has perfected the art of cheese making — and winning multiple awards over the course of her career thus far. So, if you've got a fromage fanatic in your circle, what better gift than getting them in the presence of a master? Even better, in a hands-on class where they'll craft halloumi or feta, ricotta or burrata.
Nabbing a gift voucher will see them pick a time that's right for them to come and witness the magic of Allan's techniques. Not only will your gift see them take their relationship with food to new heights, but they'll also be able to add their creations to meals at home (and even gift you a creamy serve of stracciatella in return). There's hands-on Melbourne classes and online courses too, for those you love out of the Harbour City.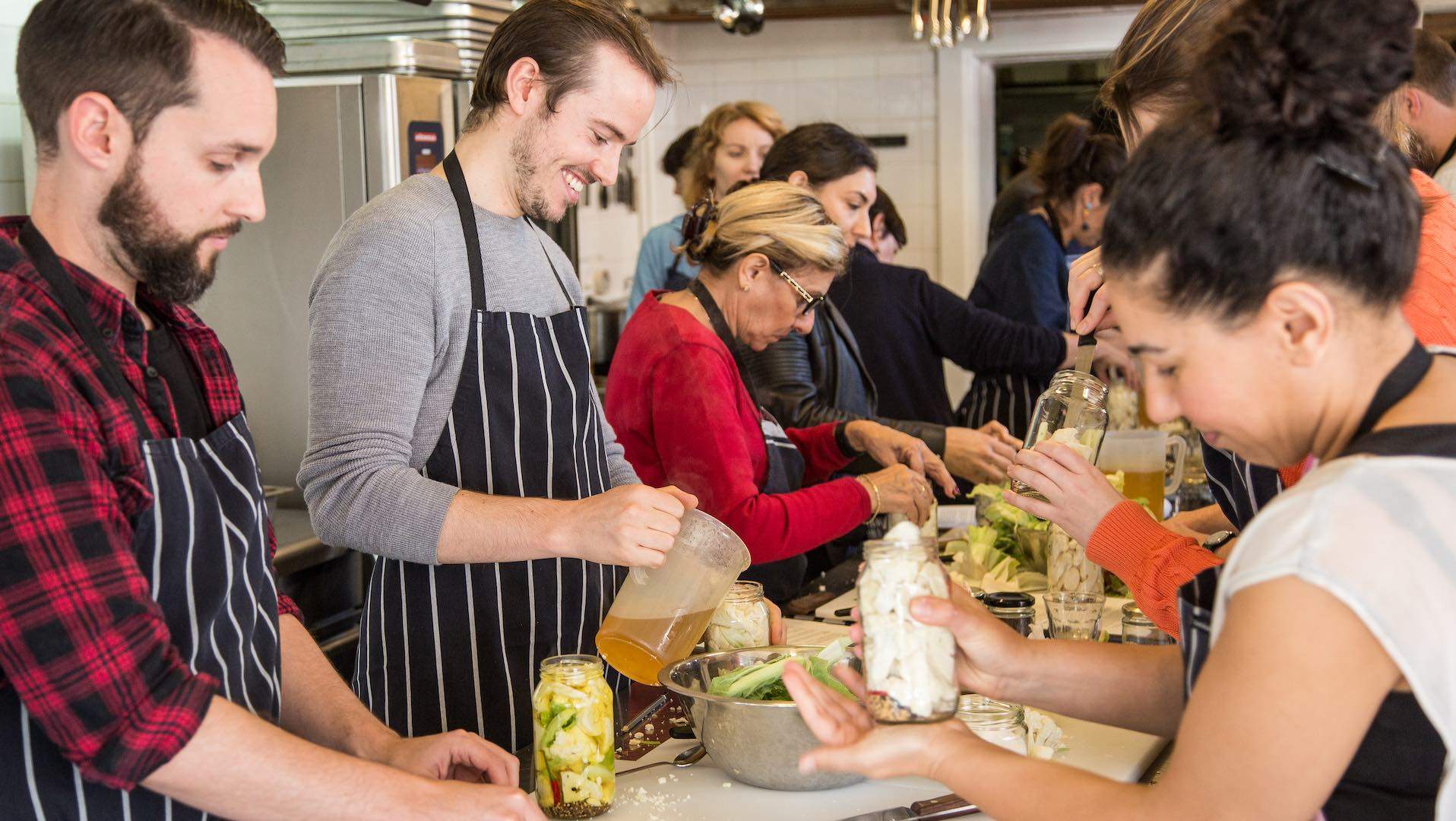 PICKLING WORKSHOP AT CORNERSMITH
On the hunt for an end-of-year festive activity to do with mates? Look to Cornersmith's range of lessons at its cooking school for a fun and fermented way to spend your day. Make chutney on Saturday, November 26, or preserve tomatoes on Saturday, December 3. You'll leave with some jars that could make the perfect preserved pressies, plus new-found knowledge and kitchen skills.
Or stick to the classics and get pickling on Saturday, December 10. During your session, you'll be taught how to make a seasonal vegetable pickle, the perfect pickled fruit to accompany a cheese plate, plus a quick and slow pickle. (And, you can use BYEBYE2022 at the checkout to get 25% off the last of this year's classes.)
If you're gifting, stick to a voucher. The classes cover fermentation, kombucha, dumplings, pasta, seasonal preserving, waste-free cooking and more.
SAUNA SESSION IN THE BLUE MOUNTAINS
European sauna culture officially landed in Australia this spring thanks to the passionate team at Blue Mountains Sauna. And a double pass to visit is the ideal present for that certain person who appreciates heat, health and endorphin-inducing activities. Co-founder Inga Sommerfeld grew up in northern Europe, where saunas are the norm. After moving to Australia and meeting her partner Nikita, the two realised that here down under, there was a shortage of establishments delivering an authentic sauna experience — with those delightful hazes of 'löyly'.
What awaits your lucky giftee in the mountains? A carefully crafted room that radiates 80–90°C dry heat, ice baths and a recovery session around a fire. For the full experience, if the weather permits, the snow outside is awaiting to deliver a cold shock to warm bodies between sessions.

SALSA CLASS AT LATIN JUNCTION
Know someone that needs a little extra flair in their life? Or have a rhythmically gifted friend? Hit them with a ten-class pass to Latin Junction.
There's everything from salsa to bachata, reggaeton to Latin fusion — and it's accessible for everyone (even those with two lefties). As well as gifting the skills of the New York Walk or the Enchufa, you'll be giving a gift that creates community through music and movement. They'll be burning up the dance floor in no time.
KNIFE-MAKING WORKSHOP AT NORDIC EDGE
Yes, crafting your own knife is certainly a thing — a thing that Bjorn and his team at Nordic Edge know well. Gifting an avid cook? A fond forager? Someone that just loves doing things with their hands? If so, this Brookvale joint has the perfect pressie for them.
Picture your pal at a one-day knife-making workshop. Being guided by master craftspeople, they'll set to work making their own hand-forged chef's knife. Over eight hours, they'll shape their own blade, quench it and grind it, then use a high-grit belt for a smooth, sharp finish. As well as taking home an original knife, they'll score knowledge about the forge, anvil, tools and techniques of blacksmithing, too.

GIFT VOUCHER FOR THE RITZ
Got a movie-lover in your life? Treat them to a one-of-a-kind cinematic experience at Ritz Cinemas. The heritage-listed building has stood in Randwick since 1937, and is one of only two original art deco cinemas left in Sydney.
Along with a rich history, the space delivers events aplenty for those who live and breathe film. From screenings of films on 35mm and a constant stream of cult classics, to the latest releases and special events, it's a cinephile's dream. How to let them pick their perfect prize? A gift card that's valid for three years (and valid for use across films, events and food and drink), or a Movie Club membership (which will gift them $15 tickets for themselves and a guest, cheapies on Tuesdays and a $1 ticket on sign up).
If you've got a loved one who has everything, look to experiences this holiday season. A top option? A boozy masterclass at Archie Rose in Rosebery. Head to the website for more information.
Top images: Nikki To (first, second, fourth); Veronica Eastell, Radical Wellbeing Studio (third)
Introducing Concrete Playground Trips
Book unique getaways and adventures dreamed up by our editors