TRAVEL & LEISURE
Six Alternative Vantage Points Where You Can View Vivid Sydney
Hide from the crowds and see the lights somewhere a little different.
Six Alternative Vantage Points Where You Can View Vivid Sydney
Hide from the crowds and see the lights somewhere a little different.
in partnership with

Vivid Sydney is returning for another year — the perfect opportunity to once again get out and discover how great Sydney can be in winter. This year, instead of fighting the crowds at obvious viewing spots like Circular Quay and Opera Bar, consider going on an adventure and seeing the lights from an alternative vantage point. Vivid's boundary-obliterating light shows are so vivid they can be seen from all over Sydney. In partnership with BridgeClimb, who have a sky-high Vivid Sydney experience running during the festival, we've rounded up some great, alternative places to see the lights. Within this list, there's a sky-high pub, a ferris wheel, a ferry deck, an island and a relatively far-flung reserve. Remember, the lights switch on at 6pm and off at 11pm each night — plan your viewing accordingly.
FROM THE TOP FLOOR OF THE HOTEL PALISADE
You'd be hard pressed to find a spot with better views, comfier couches and more alcohol than Henry Deane — a two-floor cocktail lounge that sprawls the top floor of Hotel Palisade at 35 Bettington Street, Millers Point. Wherever you're sitting, there are extraordinary panoramas of the city and Sydney Harbour, visible through floor-to-ceiling windows. Designer Sibella Court took care of the interior, bringing with her pink leather sofas, splashes of greenery and swirls of marble. Take your Vivid experience up a notch with a signature cocktail like the Sun-Kissed Spritz, made with Plymouth Gin, Regal Rogue White, Suze, honey, basil and soda, or delve into the "Food Between A Few" menu, which offers snacks and share plates like spicy blue swimmer crab rolls, sesame-crusted tataki and mussels with white wine, tomato, garlic and chilli.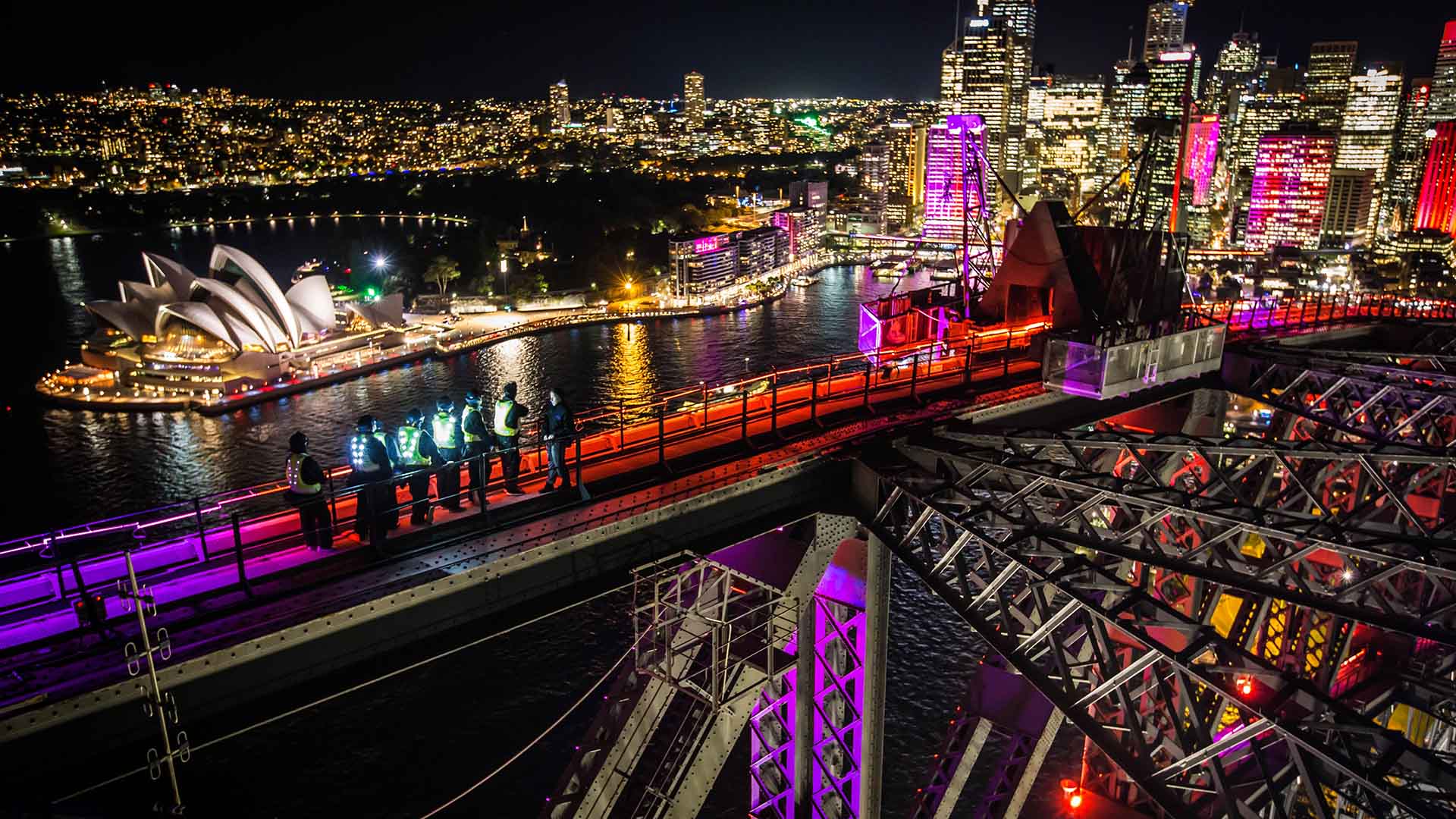 FROM THE TOP OF THE SYDNEY HARBOUR BRIDGE
A magical way to view the entirety of Vivid Sydney from one vantage point is to climb the Sydney Harbour Bridge. Get a group of friends together and spend three and a half hours climbing one of our most recognisable symbols, then throw a wicked, incandescent dance party at the summit. During the festival BridgeClimb are installing an illuminated dance floor which can welcome up to 14 people at a time. This rave that's literally on another level is happening exclusively during Vivid Sydney — from Friday, May 26 to Saturday, June 17. Head here to grab a ticket and get your glow sticks ready, because all of these climbs are happening at night.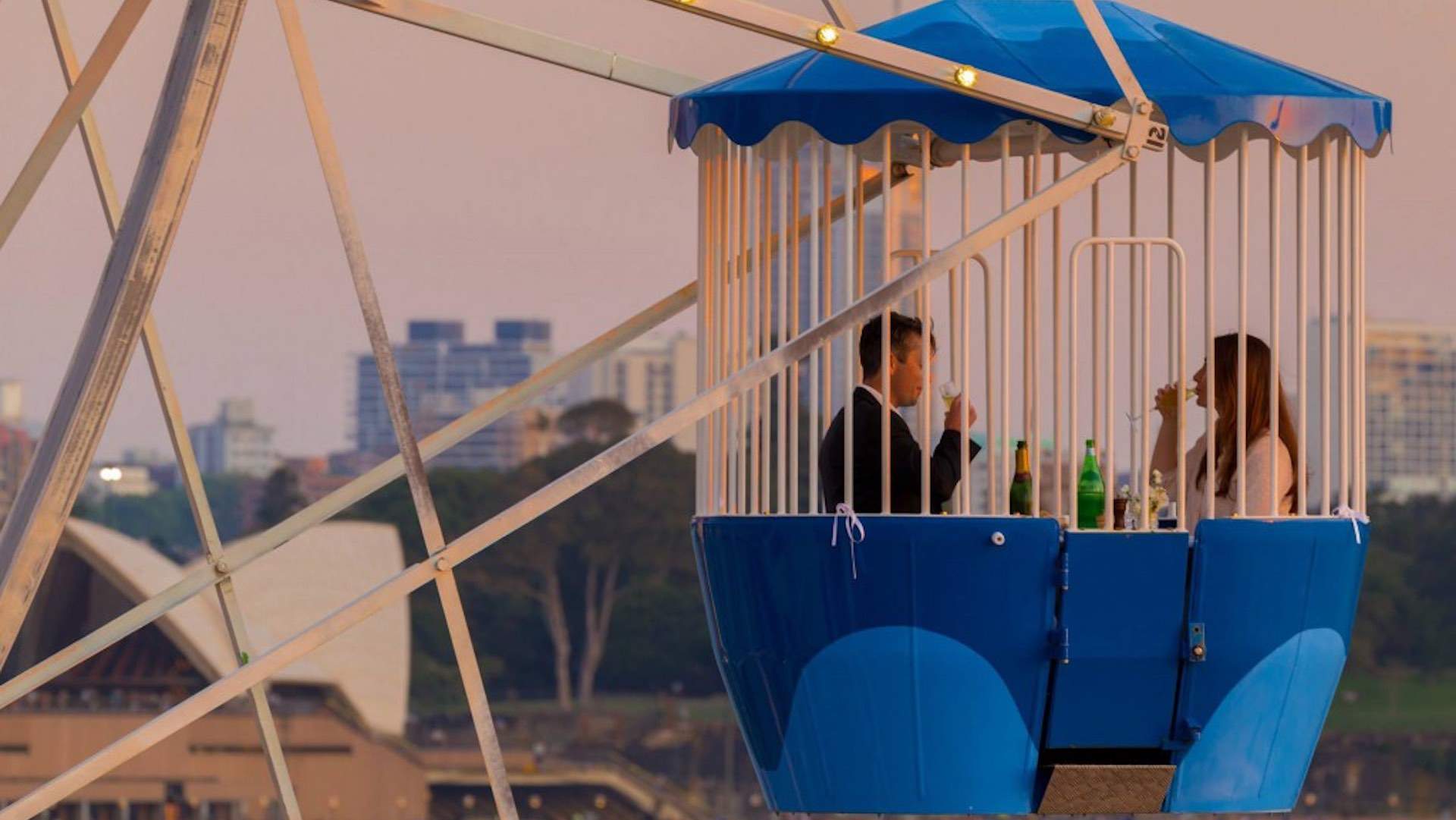 FROM THE FERRIS WHEEL AT LUNA PARK
An oldie, but definitely still a goodie, a spin on Luna Park's ferris wheel will take your Vivid Sydney experience to new heights. Entry to Luna Park is free, all you have to do is grab a ticket for the wheel itself. Hitting 40 metres at its peak, the ferris wheel will give you epic views of the Sydney Harbour Bridge and the city at a slow and dreamy pace. This year, the bridge will form part of Dreamscape, an interactive light display created by 32 Hundred Lighting in collaboration with Iain Reed. A one kilometre-long line of light will dazzle the Cahill Expressway, connecting it seamlessly with Circular Quay. Note: Luna Park's ferris wheel is closed for the first few days of Vivid, but after that it's more than open for business and great views.
FROM THE DECK OF A SYDNEY FERRY
Don't stay on the shoreline, stuck on land and removed from the action. Instead, get amongst Vivid properly and take a ferry ride. Hanging out on the deck, with the Harbour's inky mysteries passing beneath you (it's as deep as 45 metres in some parts), you'll see the festival from a continually changing angle. You'd struggle to find a better perspective of both the Sydney Opera House and Sydney Harbour Bridge, and the Harbour Lights, a display of light and movement created by the synchronised motion of vessels on the harbour. Your trusty Opal card is all you need for this up-close experience.
FROM THE QUIET SURROUNDS OF CREMORNE
If you like seeing Vivid, but you also like your personal space and your sanity, then get yourself to Cremorne Reserve. Located on the northern side of the harbour, at the end of Cremorne Point, this haven of greenery and tranquility gives you light-filled views without the chaos that tends to reign on the southern side. Pack yourself a good bottle of sparkling along with a picnic and claim your own patch of grass in time for sunset. Sure, you'll be seeing things from a distance, but you'll still get an excellent, uninterrupted view of the Sydney Opera House, the Sydney Harbour Bridge, the city skyline and the boats coming and going across the harbour. You can travel by ferry, as there's a wharf on the western side of the reserve. While you're in the area, think about checking out Lights for the Wild, Taronga Zoo's contribution to Vivid 2017.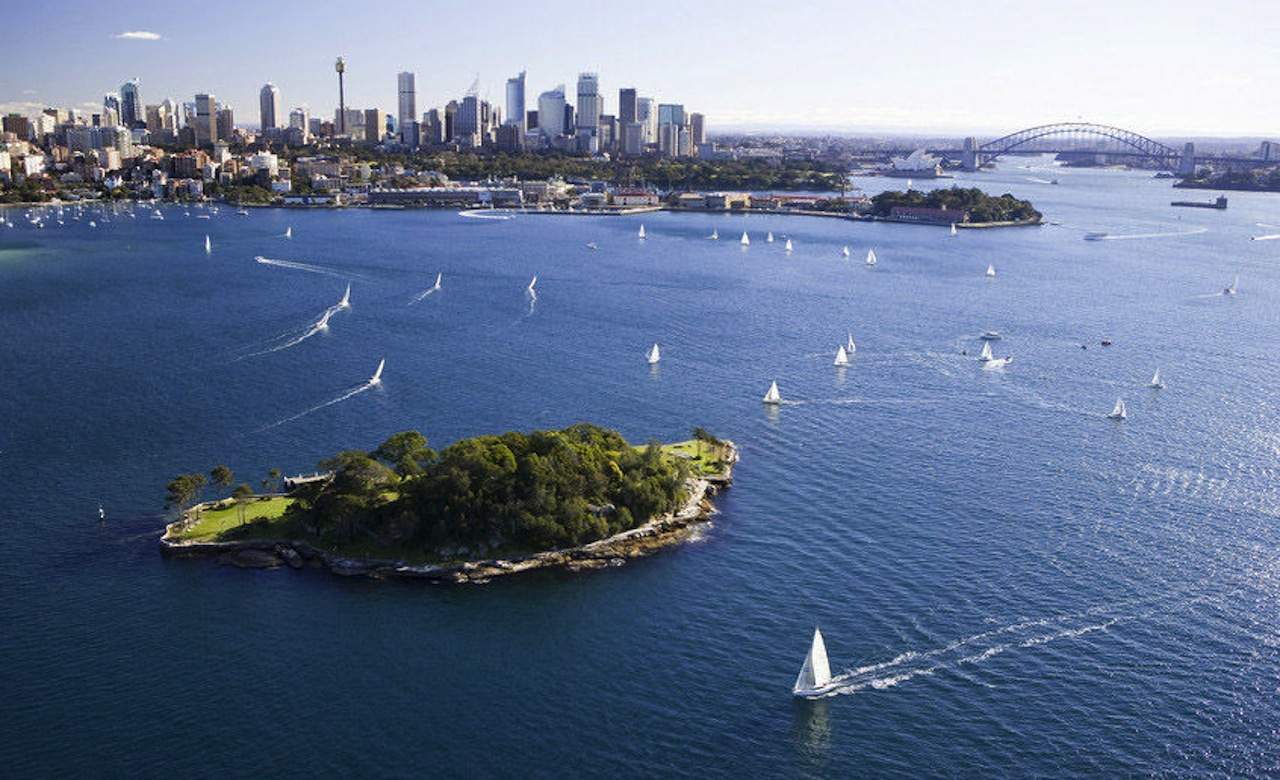 FROM AN ISOLATED HARBOUR ISLAND
A nocturnal visit to Shark Island means you can combine the festival with a quick island getaway. Lying one kilometre off Rose Bay, this tiny isle is just one-and-a-half hectares in size and dotted with sandy beaches and grassy picnic areas. Views from the western shoreline take in the skyline, the Sydney Opera House and the Sydney Harbour Bridge. As at Cremorne Reserve, you'll be watching from a distance, which means you get to see the big picture and escape the hordes. EORA - Bennelong, an installation created by Bangarra Dance Theatre, will be projected onto the bridge's southern pylon — it's likely to look pretty damn incredible. Getting to Shark Island isn't particularly easy as Sydney ferrys don't do the run, but there are private operators like Captain Cook Cruises and water taxis that will do the job. The view, and the serenity, will be worth it. Get a bunch of mates together and take a watery adventure.
Head over to BridgeClimb to book your tickets to climb the Sydney Harbour Bridge during Vivid Sydney.
By Jasmine Crittenden and James Whitton.
Published on May 02, 2017 by Jasmine Crittenden