TRAVEL & LEISURE
The Best Ways to Celebrate a Mate's Birthday During COVID-19
From virtual drag bingo nights to cakes from Australia's best chefs, here are the best ways to celebrate a birthday, isolation-style.
The Best Ways to Celebrate a Mate's Birthday During COVID-19
From virtual drag bingo nights to cakes from Australia's best chefs, here are the best ways to celebrate a birthday, isolation-style.
With social-distancing rules firmly in place, autumn babies have copped a raw deal this year. With venues are closed and group hangs are off-limits, the classic birthday party has been scrapped until further notice. But there's nothing like some forced isolation to stir up a bit of creativity and inspire fun new ways to celebrate another turn around the sun — even at a government-approved distance.
While the best birthday present would be a one-way ticket back to normal life — of course — we've found a few pandemic-friendly alternatives that should help cheer up the b-day boy or gal. From drag bingo nights to virtual drinking sessions with all the trimmings, here are the best ways to celebrate a mate's birthday, isolation-style.

THE HOME-DELIVERED BIRTHDAY CAKE
A birthday just ain't a birthday without a belly full of cake and luckily, that's one thing that's still on the menu, even in isolation. Spread some love by getting a decadent dessert delivered straight to your mate's door.
In Melbourne, even one of Australia's top restaurants is turning its talents to the cake game, promising to infuse any birthday do with fine-dining flair. Attica's Ben Shewry is whipping up a limited-edition, double-decker vanilla Celebration Cake, filled with white chocolate ganache and topped with a whipped yoghurt cream. There are just a handful being baked fresh each day — order via the website for delivery to a range of Melbourne suburbs.
When the mood calls for something a little bit flash, try Sydney's Koi Dessert Bar. The renowned sweets spot by MasterChef dessert king Reynold Poernomo is hand delivering a whole menu of crafty celebration cakes, from a green tea and rose number to the signature Nomtella — a fusion of espresso mousse, salted caramel and rich brownie.
And famed cake shop Passiontree Velvet has a lineup of special occasion cakes and mini cakes that simply ooze birthday cheer. Offering weekday delivery options for Brisbane, the Gold Coast and Sydney, it's serving festive creations ranging from a classic red velvet sponge to the Italian-inspired Tiramisu Bliss.

THE VIRTUAL ART CLASS
Feeling inspired? Why not gather the crew for a creativity jam session, in the form of a boozy virtual painting class? Plenty of Aussie studios have taken their drinks-matched art classes online, creating a primo birthday situation for any creative souls out there.
The long-running Cork & Canvas is one venue that's made the shift, now offering a calendar full of guided online painting classes. You can join in one of the upcoming live streams for $20 per person, or pay $25 to enjoy a session on-demand. They can even set you up with all your canvases, paints and brushes, with handy home-delivered Creativity Kits starting from $65.
Meanwhile, Cork & Chroma is live-streaming its Zoom painting sessions almost daily, which you can enjoy from the comfort of home for just $20. The class details list which materials you'll need, though the studio's also got a range of art supply kits it can send to your door. Just pick a date, grab tickets as a group and stock up on wine, and you're all set for a birthday art party.

THE AT-HOME BIRTHDAY DRINKS
Going out for 'birthday drinks' is off the cards for now, but that needn't mean going thirsty. Plenty of local bars and drinks slingers are now happily delivering celebratory libations straight to your door. In Melbourne, renowned dive bar Heartbreaker has reinvented itself as an online bottle shop and booze delivery service, running drinks along with food from on-site pizza kitchen Connie's. You'll find a range of combination party packs, as well as chilled, ready-to-quaff bottled cocktails from sibling The Everleigh.
Online drinks service Cocktail Porter is proving to be an isolation saviour, turning home bars across the country from drab to fab with its DIY cocktail kits. Each one comes stocked with all the ingredients you need to create multiple serves of a classic concoction, from the negroni to a cloudy apple spritz.
And Sydney's Prince of York is taking care of all the hard work, with its new Party @ Home packs. A selection of meal kits, one-litre cocktail batches and exclusive DJ mixes from Moonshine Music, sent straight to your house.
Place an order, round up the friends via video chat and you've got yourself a virtual group sipping session.

THE PLANT BABY DELIVERY
Nothing brightens up a birthday quite like a present that's lush, green and living — especially if it's housed in a pretty pot and dropped at your front door. And if you are looking to gift a new plant baby to a mate in isolation, there's a stack of Aussie companies that'll have you spoilt for choice.
The crew behind those much-loved roaming pop-up plant sales, Jungle Collective now has a nifty online space to sling its gorgeous greenery. The team's launched a series of virtual plant sales, available to various cities on select dates across the next few months. You'll find a sprawling selection of plants to browse and buy online, with delivery usually available within 25 kilometres of your local CBD.
Brisbane plant-lovers will find a huge edit of green gifts over at Pot Me Pretty's online store, ranging from cute terrariums, to indoor plants housed in charming ceramic pots. There's even a choice of add-ons, if you fancy a luxury candle or bottle of prosecco to round out your present. The company's doing weekday drop-offs to suburbs right across the city, with next-day delivery from $12.95.

THE VIRTUAL DRAG BINGO NIGHT
If anyone knows how to inject some colour and spirit into that lockdown celebration, it's the drag queens of Australia. And luckily for your birthday crew, a bunch of them are now hosting online appearances, streaming live and loud to your respective living rooms. Gather your mates virtually and dial up the mood with a drag bingo night, courtesy of Melbourne bar Pride of Our Footscray. The venue's new Self Bingolation series streams online from 7.30pm Wednesdays, hosted by the power duo of Aurora and Archie Arsenic. Tickets are $9, which gets you a front row seat to a hilarious night of comedy, drag and prizes.
Or, you can make a date with one of the new regular online drag bingo sessions helmed by Sydney starlet Prada Clutch. Sign up to play for $10 and they'll email you a printable bingo card, along with access to the video chat. Then, all you need to do is crack open a bottle of wine and don something fabulous — there's weekly prizes for the best dressed players.

THE AT-HOME DANCE PARTY
The clubs might be closed, but your living room dance floor is open and ready for business. Tee up a Zoom or House Party session with the gang, to enjoy an at-home, virtual dance party guided by some of your favourite DJs and venues. The legendary party masters behind Poof Doof have headed online to unleash a series of live-streamed Saturday night sets, guaranteed to get you moving. Time-travelling dance party Hot Dub Time Machine is also serving up some hard-hitting Saturday feels, taking audience requests for its weekly Facebook Live DJ sessions. Melbourne club OneSixOne is answering your cravings with a huge four-hour, DJ-fuelled live stream every Friday and Saturday night. And if you're after a bit of midweek d-floor action, No Lights No Lyrca's Aussie collectives are now heading up regular Zoom dance parties, in place of their usual IRL sessions. Turn up the speakers and bust out some carefree moves, every Monday, Wednesday and Thursday.

THE ONLINE KARAOKE PARTY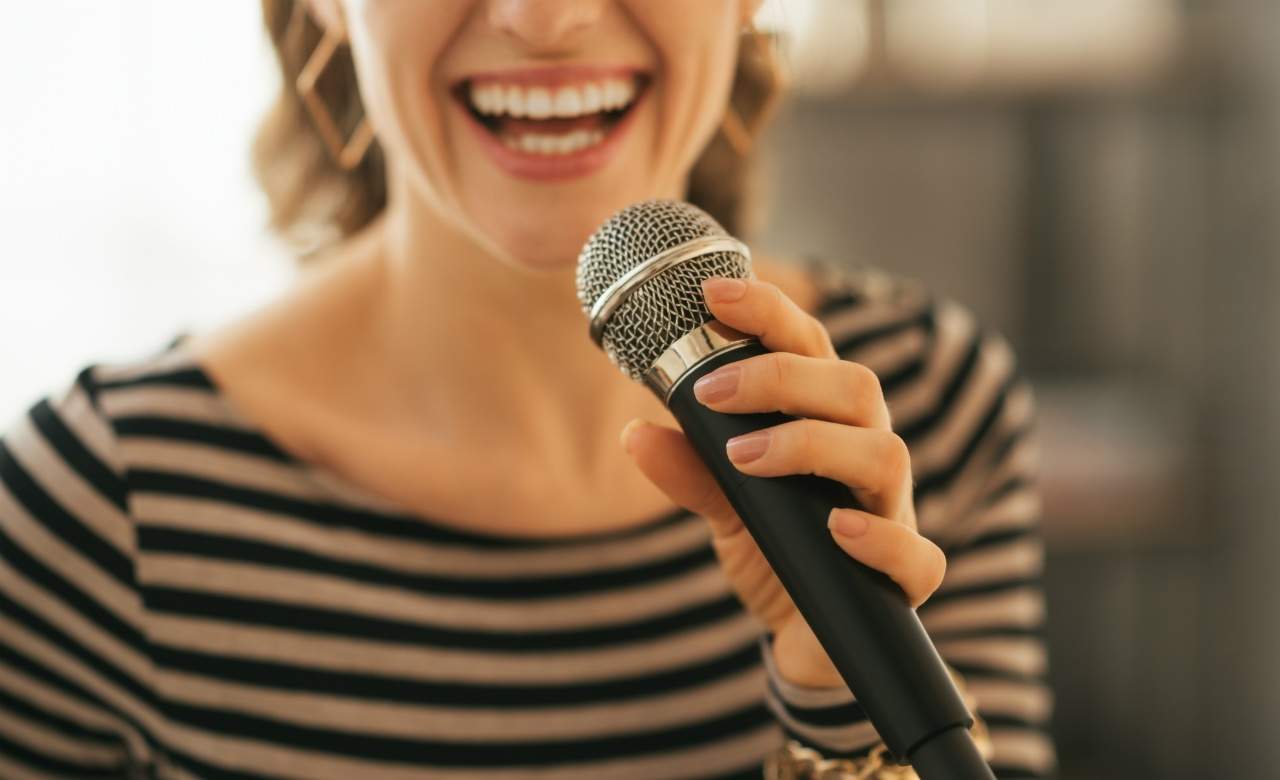 There's no room for birthday blues when you're belting out some bangers with your besties. Even if that sing-along session's happening over the internet, instead of in person. Video chat platforms like Zoom and House Party have become social go-tos in this strange age of isolation, but they also happen to be perfect for hosting rousing virtual karaoke parties. Set a date, invite the crew and start working on your best lung-busting material. Themes and dress-ups are definitely encouraged, and if you're stuck for ideas, you'll find plenty of online karaoke catalogues to browse and inspire.
Keen for something more large-scale? Some genius recently created a 24-hour online karaoke party dubbed Karaoke Camp, where you can belt out tunes with up to 100 random people simultaneously.
Published on April 21, 2020 by Libby Curran