The Best Caves for Camping Near Sydney
Here's a much better way to get in touch with your Paleolithic roots.
As summer starts slipping away, slowing down our beachy adventures, it's only natural that we start looking inward. And what better way to do that than by getting in touch with our inner troglodyte. Fortunately, Sydney and its surrounds offer just as many caves as they do unusual swimming holes and secluded beaches.
Whether you want to escape to a remote plateau where you'll be sleeping alongside ancient grinding grooves, share your cave with an entire party or get your wallet out and go glaving (that's the caver's version of glamping, d'uh), it's all right here.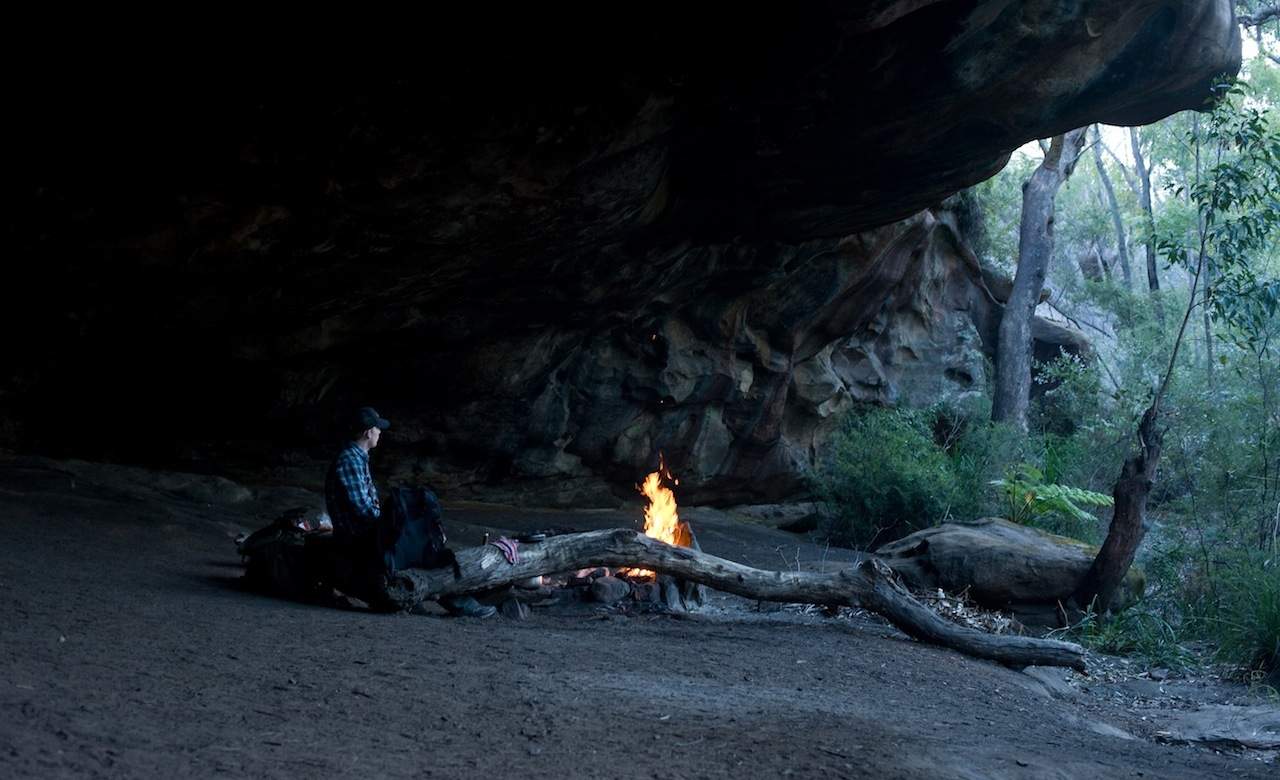 FOR SPACE (OR A PARTY): PINDAR CAVE, BRISBANE WATERS
If you're looking to mix up your stay with a party, Pindar might be your cave of choice. This massive sandstone overhang can shelter as many as 50 people at once. To reach it, catch a Central Coast — or Newcastle-bound train to Wondabyne Station, from where it's located three or four hours on foot. The track follows a ridge line, so the views are stunning, and right near Pindar, there's a swimming hole that's best for dipping after rain.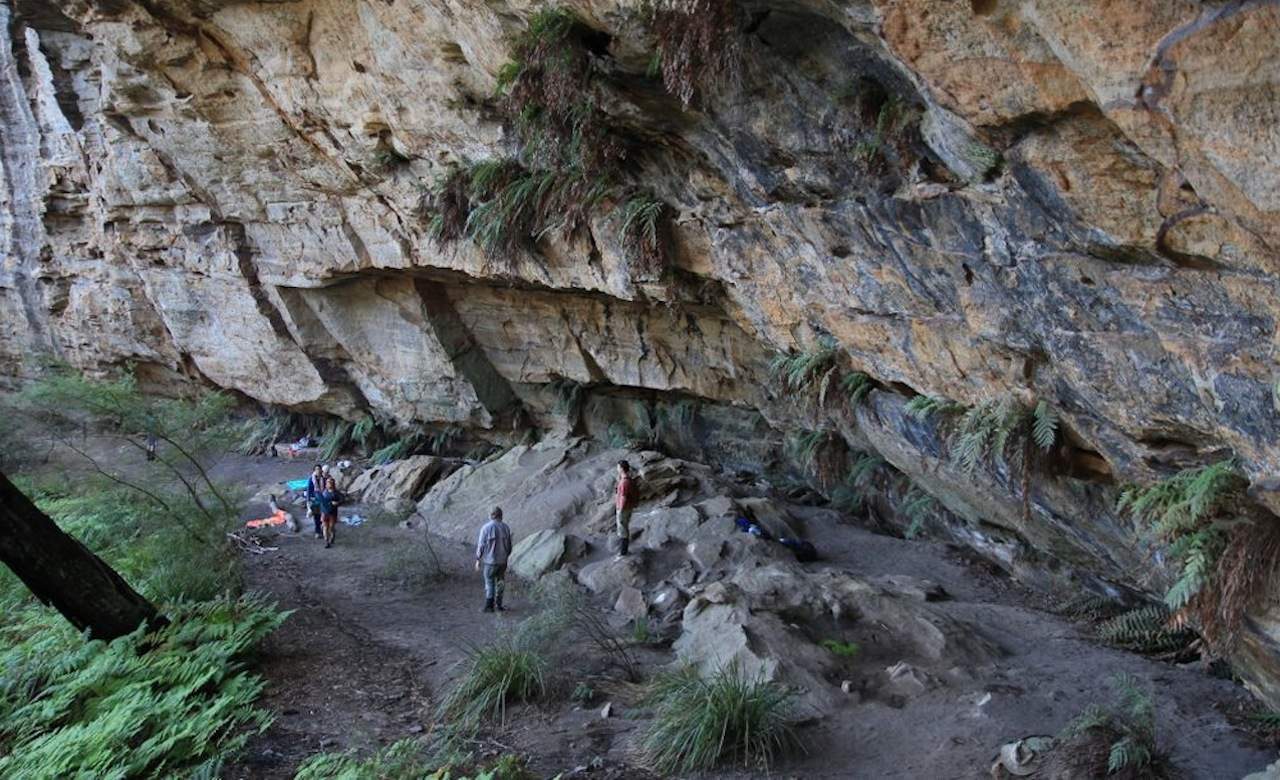 FOR WILDERNESS: GOOCHES CRATER, WOLLANGAMBE
Gooches Crater camp cave is found among spectacular scenery in the Wollangambe wilderness area. The half-day walk from Bell Station takes you along dizzying rocky outcrops, through secluded valleys, past Indigenous rock art and to the beautiful Gooches Crater. Be aware that the trail is hard to follow, so you'll need to be prepared for some bush bashing and have at least one experienced navigator in your team. Like Pindar, the cave is big enough to fit 50 sleepers comfortably.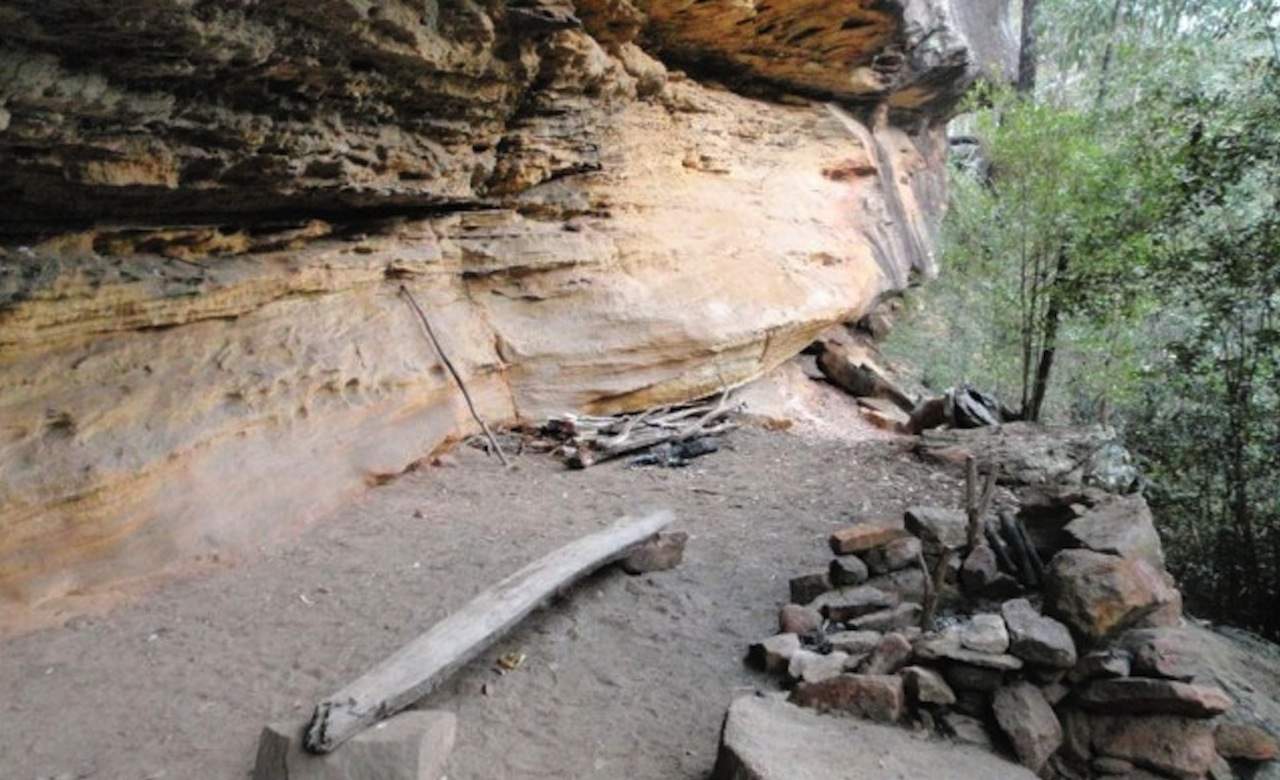 FOR RIVER VIEWS: DADDER CAVE, LOWER BLUE MOUNTAINS
Dadder is located on the banks of beautiful Erskine Creek and has space for about six people. Having been utilised by savvy hikers for decades, the cave has been treated to a few renovations here and there, and so offers more infrastructure than your average overhang. There's a decent stone fireplace, bench seating and, for entertainment, a logbook. The 6 kilometre walk in starts at the Pisgah Rock car park (2.2 kilometres from the Oaks Picnic Area, on the Nepean Lookout Fire Trail).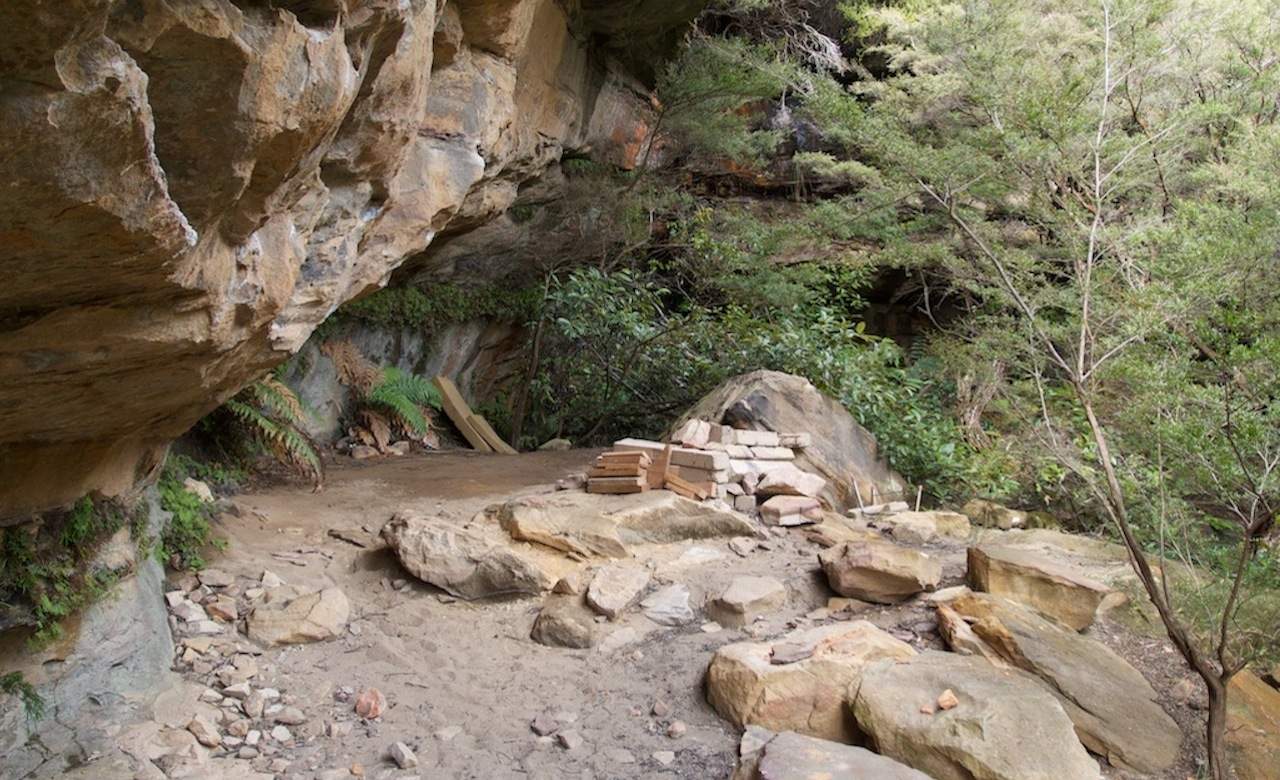 FOR CAR CAMPING: PSYN CAVE, NARROW NECK, NEAR KATOOMBA
Narrow Neck, a peninsula between the Jamison and Megalong Valleys, found just south of Katoomba, is home to a bunch of caves. This is one of the easiest to reach, being just a couple of hundred metres from the Glenraphael Road car park. Psyn is one of two caves on our list that enables car camping. It's a regular hang-out for bush walkers from Sydney Uni, can shelter ten people at once and features a little waterfall. Detailed directions are available right here.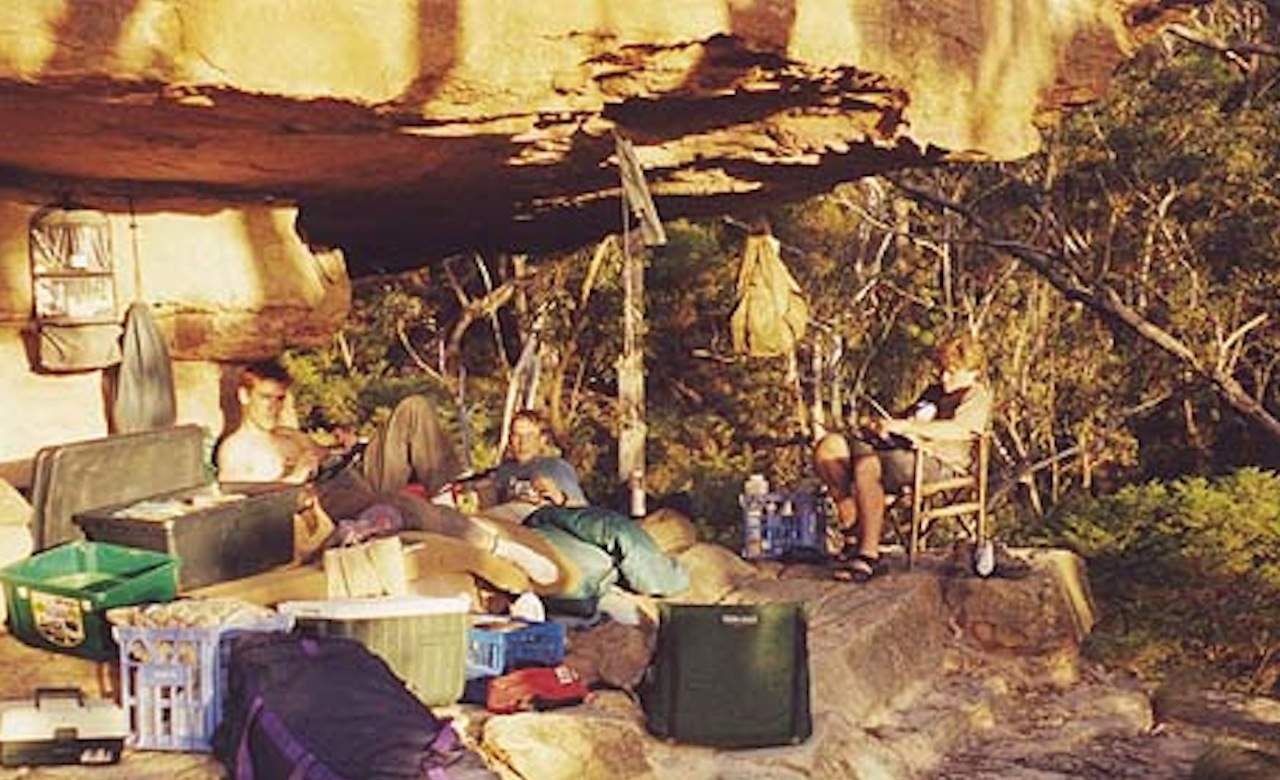 FOR PROXIMITY TO A PUB: SUNDECK CAVE, MOUNT PIDDINGTON
Sundeck is a popular accommodation choice for climbers and abseilers, who head to Mount Piddington to take on its sheer rock faces. Non-adrenaline junkies, however, will find plenty to interest them, including excellent sunset views and clifftop trails. What's more, it's only 300 metres from Mount Piddington Road, Mount Victoria, which means, firstly, that you can car-camp, and secondly, that the nearest pub is only 1.5 kilometres away. If you head out for a beverage, don't leave your torch behind.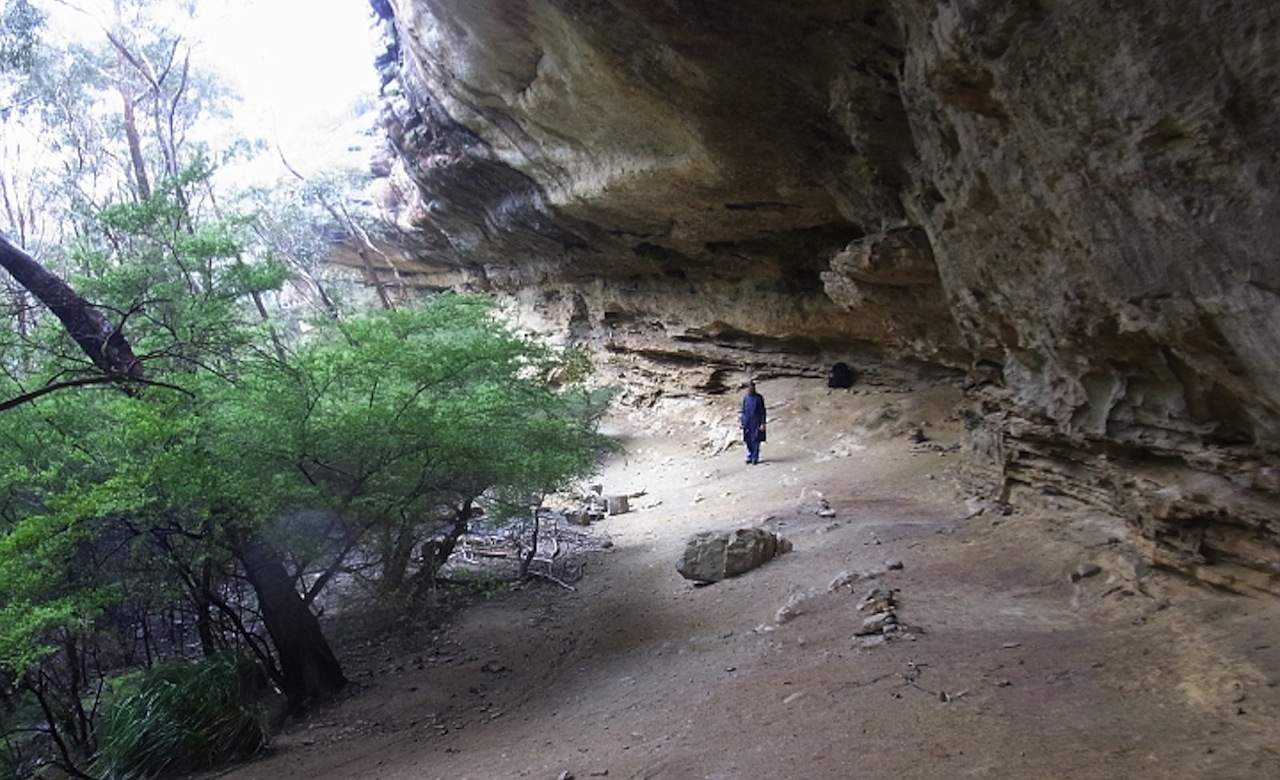 FOR ANCIENTNESS: 100 MAN CAVE, KANANGRA BOYD NATIONAL PARK
Grinding grooves visible in the 100 Man Cave indicate that it has been in use for thousands of years. This comes as no surprise — as far as caves go, this one is particularly cosy. There's a well-protected fireplace and, if you've been battling rain and wind on the way in, spots to hang wet clothing. Reaching 100 Man Cave does require commitment, though, as it's situated on the Ti Willa Plateau, which involves one or two days' walking from Kanangra Walls car park.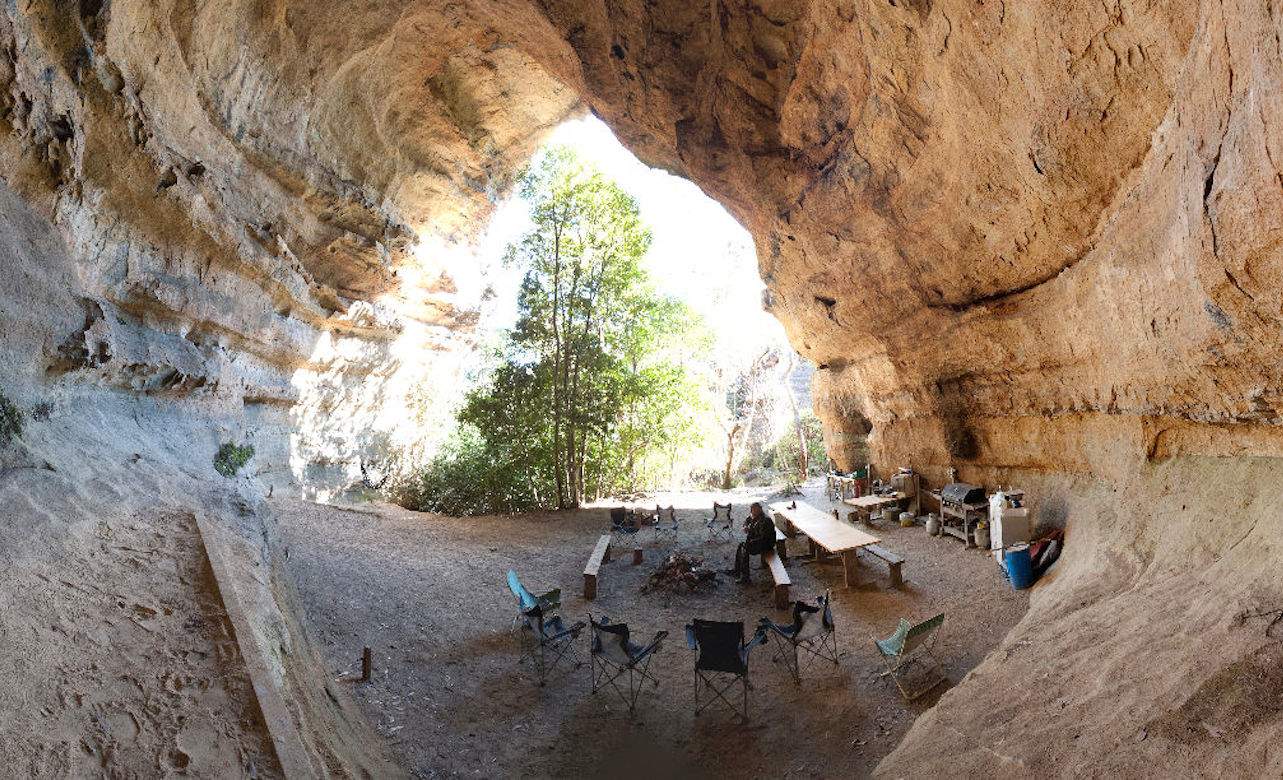 FOR LUXURY: HATTER'S HIDEOUT, BELL
This one is actual, bona fide rental accommodation, so it doesn't come free, but it does include luxury items that you won't find in the other caves. These include a gas barbecue, an esky, cooking utensils, real tables and chairs, solar powered lighting and rainwater. Take your ukulele — the acoustics are outstanding, with the owners describing the cave as a "similar size and shape to a small shell of the Sydney Opera house". Hatter's Hideout is situated in Bell, a two hours' drive from Sydney. Find out more about it over here.

FOR CITY VIEWS: LITTLE CAVE, NIELSEN PARK
Clear skies and an extra-special camping buddy are necessary to make this one work. Both room and protection from the elements are limited. If either is in doubt (or sleeping open so close to the city frightens you), stick to picnicking or use Little Cave as a spot for drying off after a night swim. However you experience it, enjoy incredible views of the harbour and city for free from your own private hidey-hole.

Introducing Concrete Playground Trips
Book unique getaways and adventures dreamed up by our editors