The Ten Best Kayaking Spots in Sydney
See Sydney sparkle.
You've seen Sydney and its surrounds from rooftop bars, strategically positioned restaurants and mountaintops. But jump in a kayak, where you can watch at human-powered pace, from sea level, and you'll discover a whole new perspective. While you're at it, stumble across secluded beaches, hidden coves and magical forests.
Here are ten of Sydney's best locations for sea kayaking — from tranquil, National Park-flanked rivers to secretive sections of the harbour. Make good use of daylight savings with a quick one-hour post-work paddle, set aside an entire day for exploration or pack your tent for a multi-day expedition. Every spot on this list has kayak hire nearby and most are accessible by public transport.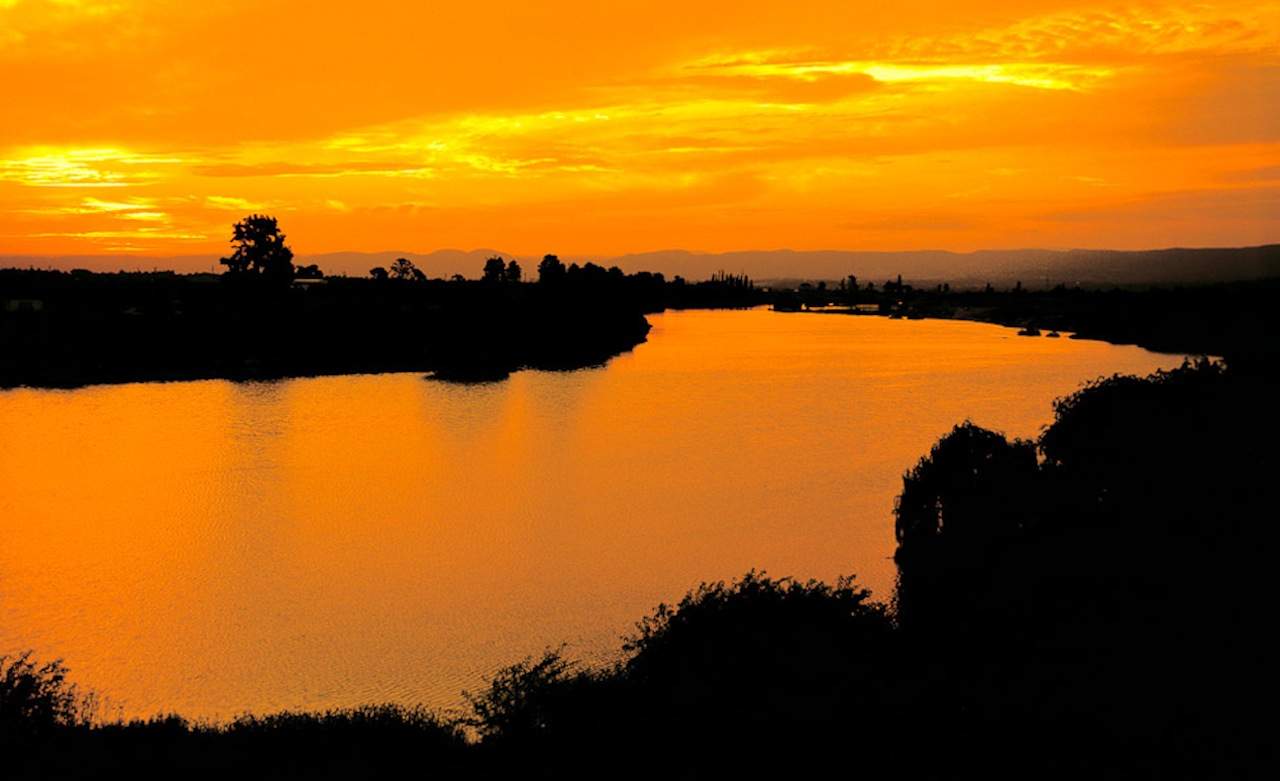 BROOKLYN, HAWKESBURY RIVER
Inspiration for Kate Grenville's The Secret River and muse to John Williamson, the mighty Hawkesbury flows for 120 kilometres, from its head at the confluence of Nepean and Grose Rivers to its mouth near Broken Bay. Grab a kayak at Brooklyn and set off to see as much — or as little — of it as your intrepid self desires. If you only have a few hours to spare, try circumnavigating Dangar Island. Or, if an entire weekend is in your pocket, paddle upstream and find yourself a deserted beach for camping. Hawkesbury River Kayaks can take care of gear needs, with half-day rates at $50/single and $70/double, all-day rates at $90/single or $130/double and weekend rates at $170/single and $220/double. They're usually open weekends only, but are happy to take bookings on weekdays.

PITTWATER
Pittwater has all the beauty of its more famous counterpart, Sydney Harbour, but a much smaller population. On the eastern side, the Northern Beaches peninsula limits development and, on the western, the Ku-Ring-Gai Chase National Park stops it altogether. In fact, several spots, like Coasters Retreat, are only accessible by water. So expect your secret beaches to feel even more clandestine than usual, and don't be surprised to find dolphins crossing your path. Paddlecraft in Bayview, in Pittwater's south, offers rental kayaks for anywhere between an hour or two and several days. Another option is Currawong Beach Cottages, with singles available from $10/hour and doubles for $15.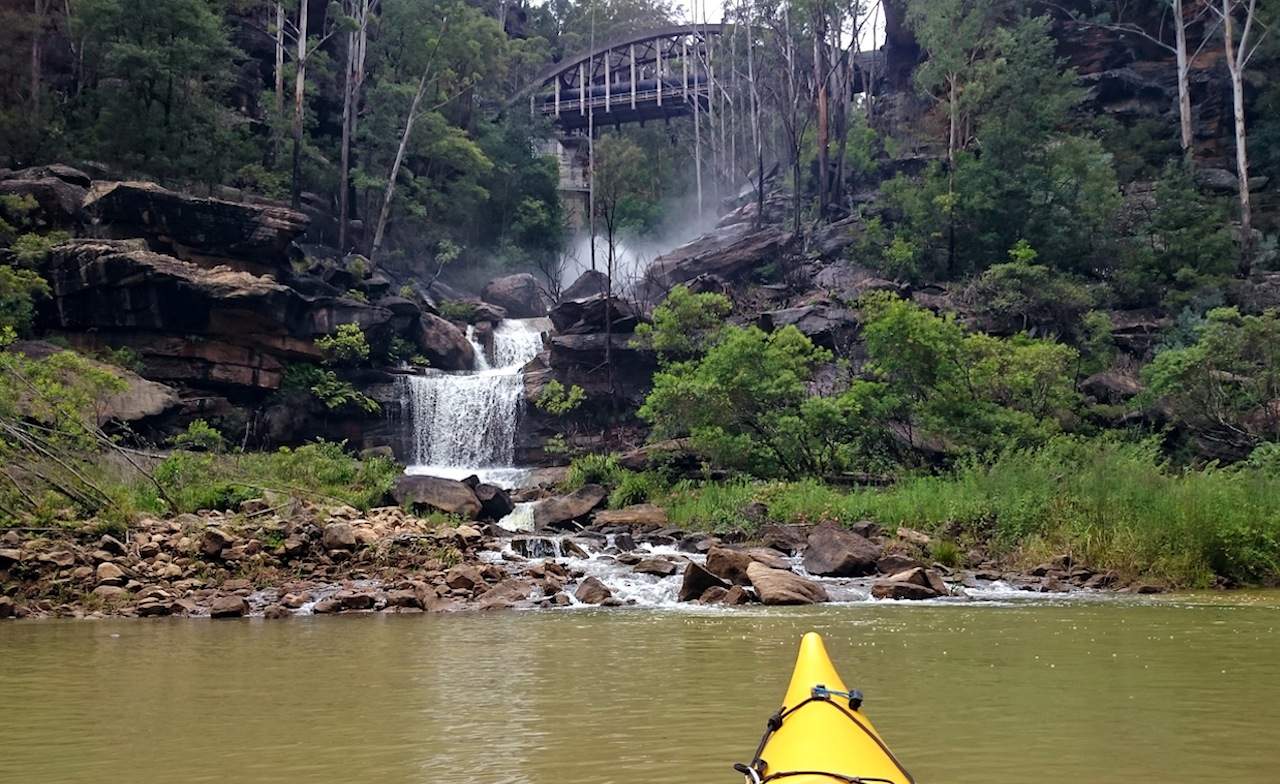 NEPEAN RIVER
Beginning at Robertson, in the Southern Highlands, and ending 100 kilometres later, where it combines with The Grose River to form The Hawkesbury, The Nepean stops 4.3 million Sydneysiders from going thirsty. Its most paddle-able bit is the 25-kilometre stretch between Penrith and the Junction Reserve, which is tide-free, allowing you to travel in any direction you like. You'll pass through the stunning Nepean Gorge, which towers as high as 150 metres at some points. Keep an eye out for wombats, wallabies, pelicans, kingfishers and eagles. Rental kayaks can be found at Horizon Line, from $15/hour for a single and $25/hour for a double.
Image: Waterways Guide.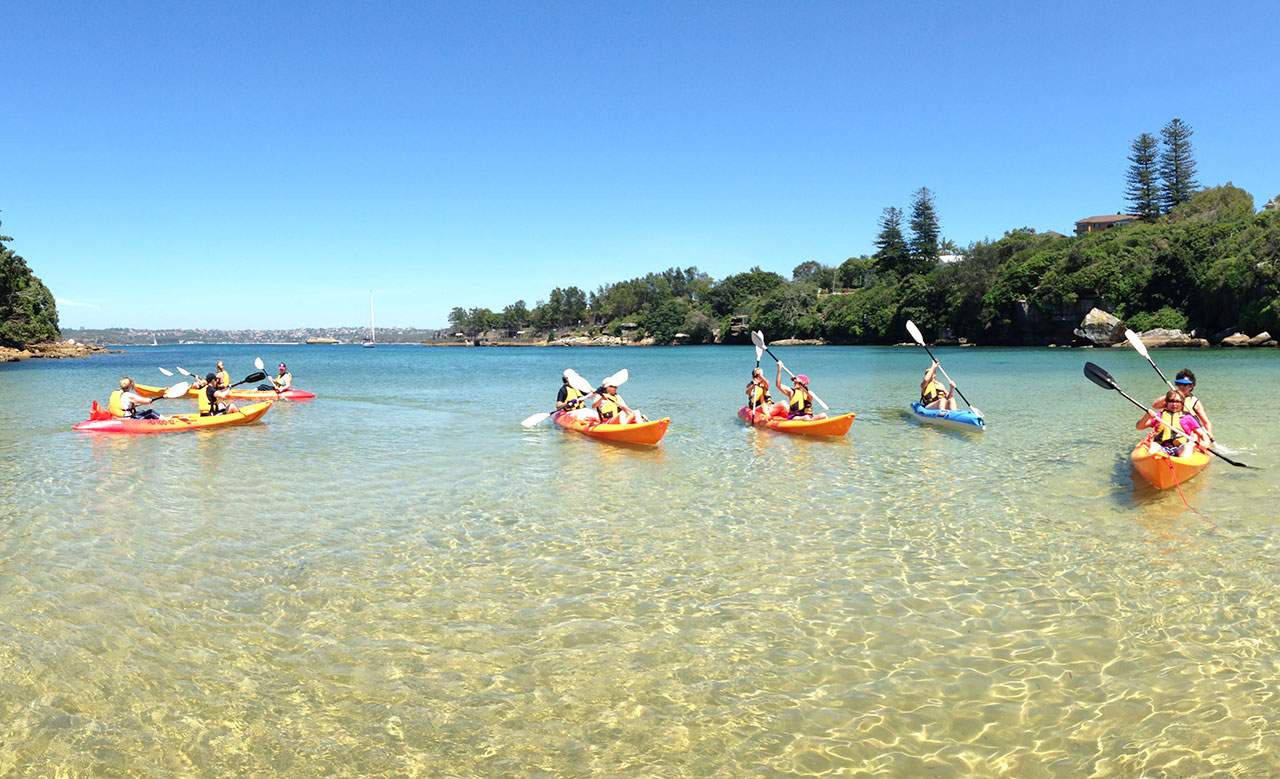 MANLY WHARF
Paddling around Manly means meeting fairy penguins, pulling up on secluded beaches, and, if you're in action shortly after a downpour, quite possibly standing under a waterfall. Take a picnic lunch with you, or reward your exertion with a touch of luxury by dining at The Boilerhouse Restaurant, right on Quarantine Beach. Manly Kayak Centre will hire you a single for $25/hour or $70/day and a double for $45/hour or $110/day.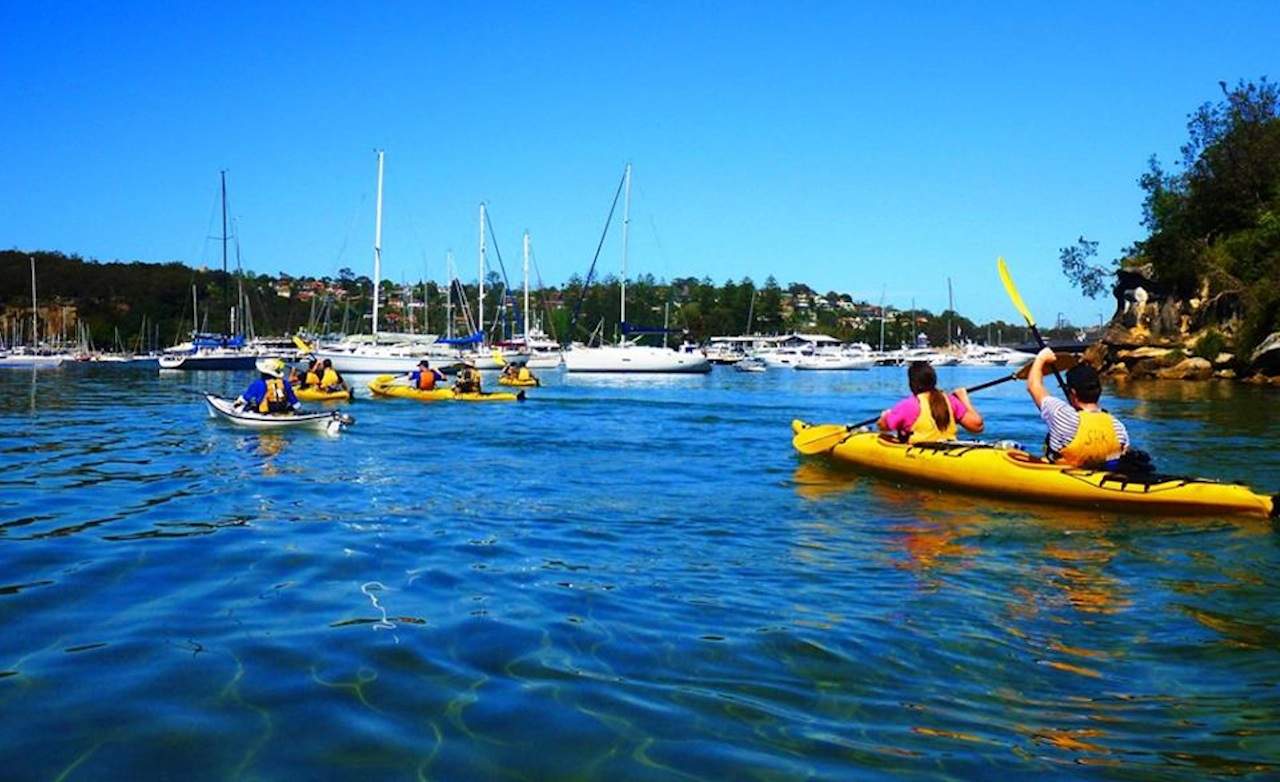 SPIT BRIDGE, MIDDLE HARBOUR
From Spit Bridge, Middle Harbour is your proverbial oyster. And you might well strike a literal one, too. Everywhere's a tiny sandy beach or waterfront park. Head westwards to explore beautifully protected bays like Willoughby and Sailors, or go further afield to Middle Cove. Meanwhile, eastside, you'll find Chinamans Beach, Clontarf and Balmoral. For a bigger challenge, take on Grotto Point and make your way to Manly. Sydney Harbour Kayaks can sort out kayak hire for you, starting from $20 an hour. Plus they offer free beginners' classes. While we're paddling on Sydney Harbour, want to head all the way up to the Opera House? Try Oz Paddle.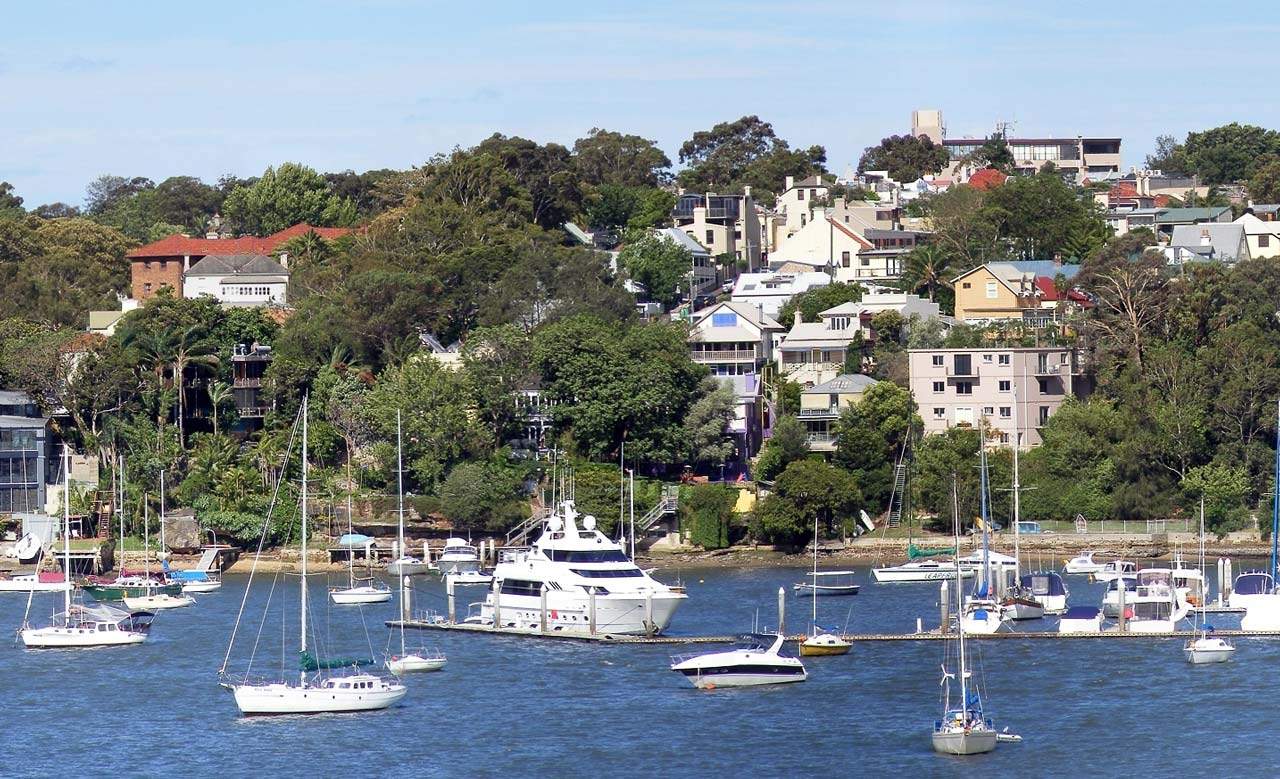 ROZELLE BAY AND BEYOND, INNER WEST
For an urban escapade, get started in Rozelle Bay. From there, the scope of your journey will depend on how much time — and strength — you have stored up. Newbies (or those feeling lazy) needn't go far — there's always the option of dropping into Blackwattle Bay for lunch at The Boathouse or a wander up Glebe Point Road. Meanwhile, keener paddlers can set about conquering Balmain peninsula — with stops at Cockatoo and Rodd Islands on the way. Annandale Boat Hire can organise you a kayak.
Image by Andrew JWC via CC licence.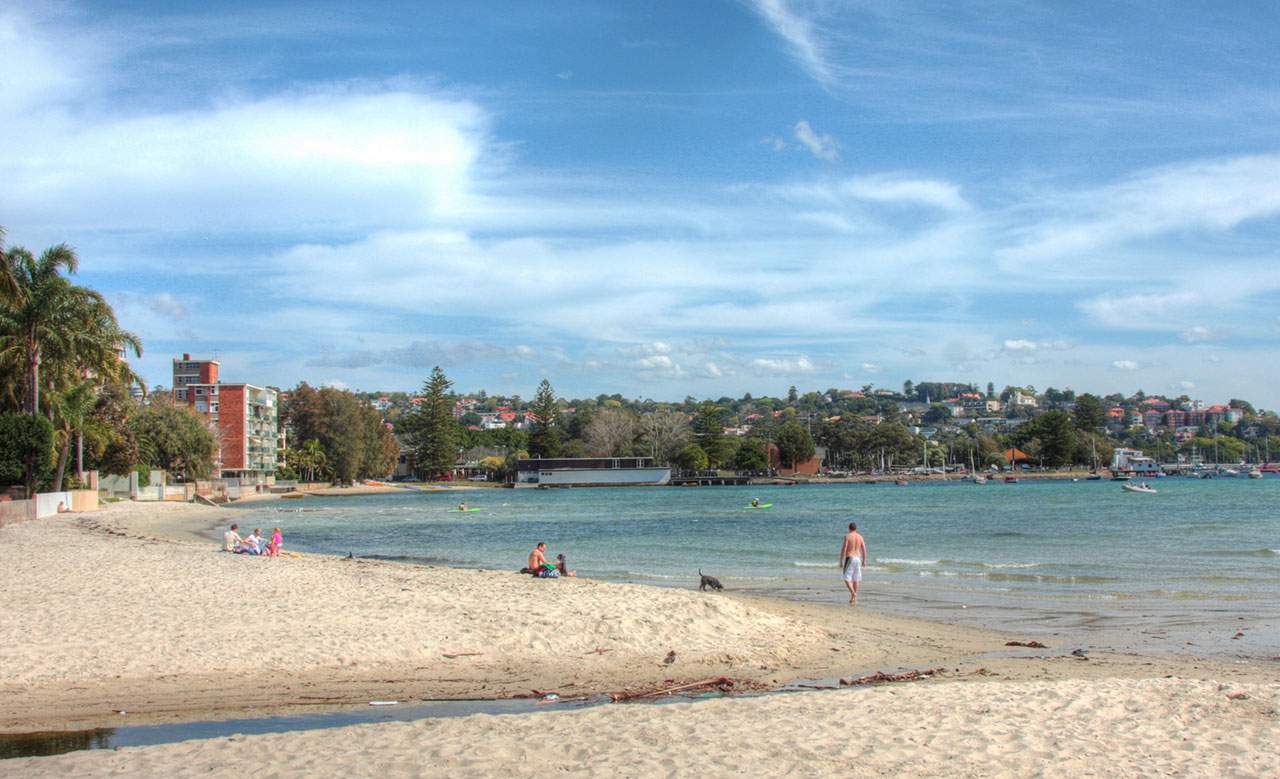 ROSE BAY, EASTERN SUBURBS
From Rose Bay, you have two options. On one hand, you can cling to the calm, shallow waters near the shore, travelling either northeast towards Vaucluse or west towards Point Piper. On the other, you can grit your teeth and make like Dr Hannes Lindemann across the deep blue for Shark Island. Go on a weekday and there's every chance you'll be rewarded with having the island all to yourself. You need a National Park entry ticket to land, which is doable for seven bucks by calling (02) 9253 0888. Kayaks are available at Rose Bay Aquatic Hire, at $25/hour for a single and $40/hour doubles. Opening hours are Wednesday-Friday, 9am-12pm, and weekends, 8am-4pm. Another option is Point Piper Kayak Centre.
Image by Andrew JWC via CC licence.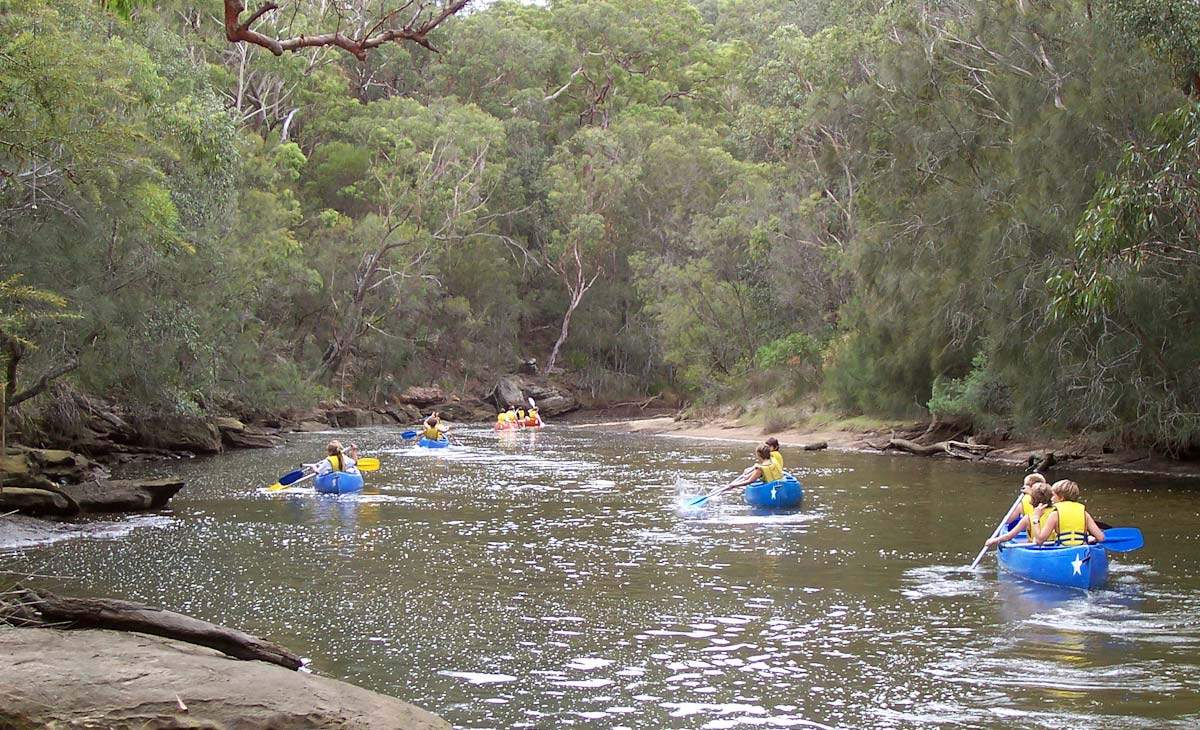 WORONORA RIVER, SUTHERLAND SHIRE
For a river that's, essentially, in the suburbs, the 36 kilometre-long Woronora transports you into a incredible variety of pristine natural beauty. That's because, thankfully, much of it is flanked by the Dharawal State Conservation Area, as well as the Heathcote and Royal National Parks. Expect beaches, rocky platforms, thick forest and, in the middle reaches, steep banks. Leave time to explore tributaries like Loftus Creek (when the tide's high) or venture as far as Georges River. Kayak hire is available at The Boatshed at Woronora. Singles are $11 for the first half-hour and $6 for every half-hour afterwards, while doubles are $21 for the first half-hour and $9 for every subsequent half-hour. The Boatshed is open Monday-Friday, 8.30am-5pm, and weekends, 8.30am-6pm.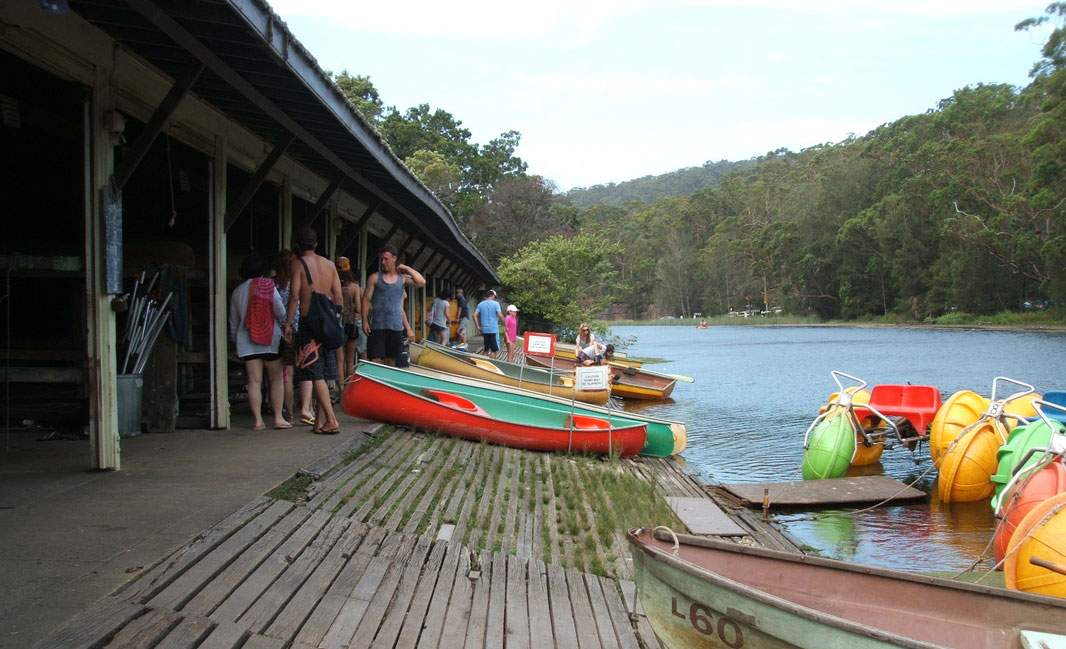 AUDLEY BOATSHED, ROYAL NATIONAL PARK
For a gloriously peaceful experience, Audley Boatshed is your starting point. Found in the northwest corner of the Royal National Park, it's perched on the confluence of two waterways. Here, you can choose your own adventure, be it a short paddle up Kangaroo Creek or a Livingstone-esque trip along the Hacking River, carrying you well away from crowds and into the wild woods. Kayak hire rates start at $20 per hour. The all-day rate, at $45, is a steal. Audley Boatshed is open from 9am–5pm, seven days week.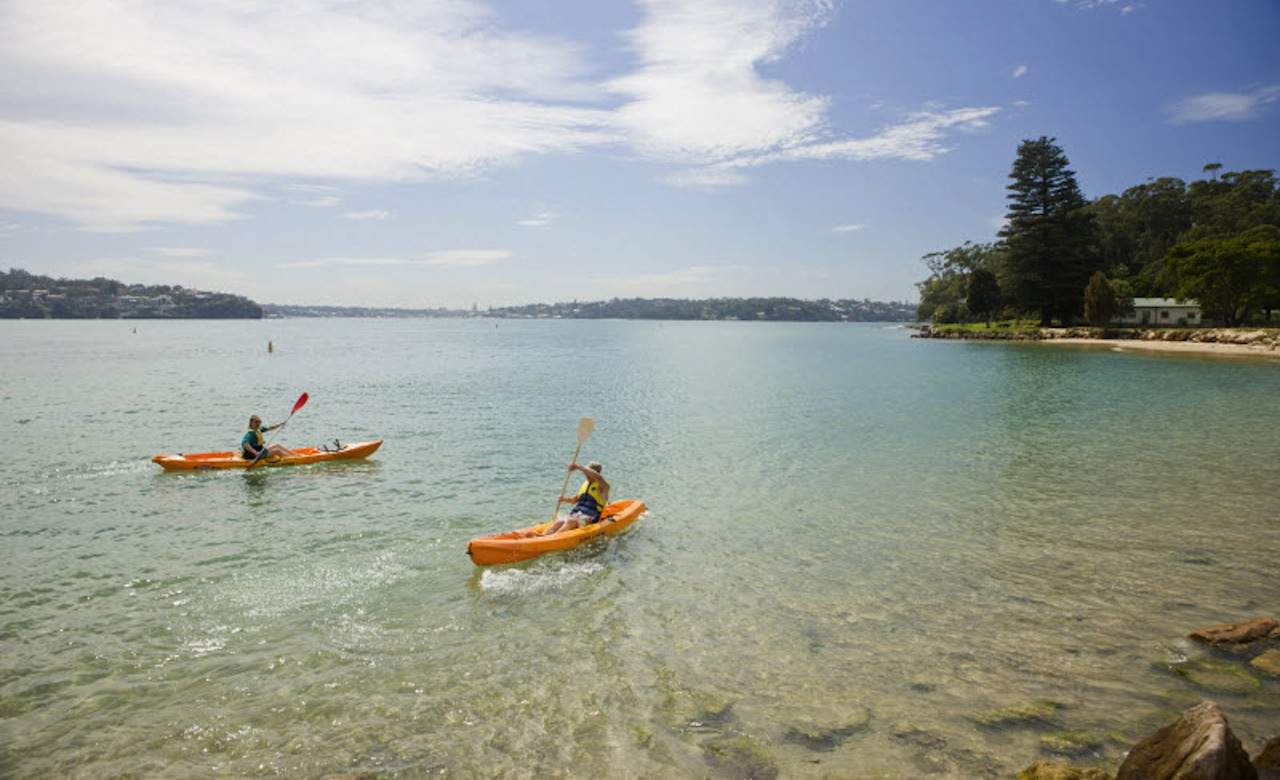 BUNDEENA, ROYAL NATIONAL PARK
It's at Bundeena, just south of Cronulla, that Sydney gives way to the Royal National Park. Spend all day gliding around Port Hacking's impossibly clear waters and lazing about on pretty beaches, or get more daring with a trip up South West Arm Creek or, further west, the 26 kilometre-long Hacking River. Kayak hire is available at Bundeena Outdoor Adventures. Singles are $20/hour or $70/day, while doubles are $40/hour or $130/day. Alternatively, disappear on an epic adventure, with weekly rental costing just $100/$180. This is one of few companies in Sydney offering overnight hire.

Top image: Oz Paddle.
Published on October 16, 2015 by Jasmine Crittenden