Ten Incredible Australian Islands for When You Want to Get Off the Mainland
You don't need to travel to Bali or Thailand to have an island holiday — these adventurous and relaxing spots are just off the coast of Australia.
There are 8222 islands within Australia's watery borders. You could spend your entire life hopping from one to another and never quite make them all (well, unless you're very, very quick). So, we thought we'd save you some time and handpick ten of the best. They should at least get you started.
Next time you start imagining yourself on a white-sanded beach with quokkas close by, sea lions in the distance and your desk a few hundred kilometres away, these are the spots to catch a boat/plane/ferry to. Remember: when you leave the mainland, you leave all your worries there, too.
From pristine beaches and bountiful wine regions to alpine hideaways and bustling country towns, Australia has a wealth of places to explore at any time of year. We've put together a list of some of our favourite island escapes — no passport or immense jet lag required.
NORTH STRADBROKE ISLAND, QLD
Located 25 minutes by ferry off the Queensland coast, Stradbroke Island is an easy day trip from Brisbane. It's the second biggest sand island in the world after Fraser Island (more on that later). For swimming in gentle waves, head to idyllic Cylinder Beach; for wilder surf, make your destination 38-kilometre-long Main Beach. Overnight stays include beach camping, as well as an array of cottages, hotels and B&Bs. Just north of Straddie is Moreton Island, a wonderland of long beaches, clear lakes and a national park. And, consider sleeping over at Tangalooma, an eco-friendly resort where you can hand-feed wild dolphins and swim around a shipwreck.
LORD HOWE ISLAND, NSW
Just 11 kilometres long and two kilometres wide, Lord Howe, a two-hour flight east of Sydney, is explorable within a few days. Whenever you travel, you won't have to fear tourist crowds: only 400 visitors are permitted at any one time and the population was just 382 at last count back in 2016. Prepare to have pretty beaches, spectacular diving sites and rugged terrain all to yourself. Among the best adventures are the Mount Gower Trail, a steep, eight-hour trek that carries you 875 metres above sea level, and Erscott's Hole, a natural wonder where you can snorkel among staghorn coral, bluefish and double-headed wrasse.
MAGNETIC ISLAND, QLD
There are hundreds of islands in the Great Barrier Reef area, offering everything from secluded campsites to five-star luxury resorts. But, for convenience, outdoor adventures and, most importantly, koala spotting, Magnetic Island is hard to go past. You'll find it just 20 minutes from Townsville. Get active with sea kayaking tours and yoga classes, get artsy at beachside markets and galleries or relax at stunning beaches like Horseshoe Bay. If you're keen to venture further, jump aboard a Great Barrier Reef snorkelling, diving or sightseeing tour.
KANGAROO ISLAND, SA
With a whopping 509 kilometres of coastline, Kangaroo Island could have you exploring for weeks. The island was pretty badly affected by bushfires back in 2020, but this guide will help you navigate — including which businesses to support. To get there, take a 45-minute ferry ride from Cape Jervis, on the Fleurieu Peninsula, around 100 kilometres south of Adelaide. Then gear up to share your holiday with sea lions, fur seals, little penguins, echidnas, koalas and, you guessed it, kangaroos. The island is a haven for creatures who've struggled to survive elsewhere, especially Australian sea lions, who were hunted to the brink of extinction in the 19th and 20th centuries. There are numerous national parks and conservation areas, and the over 4000-strong population is big on food and wine.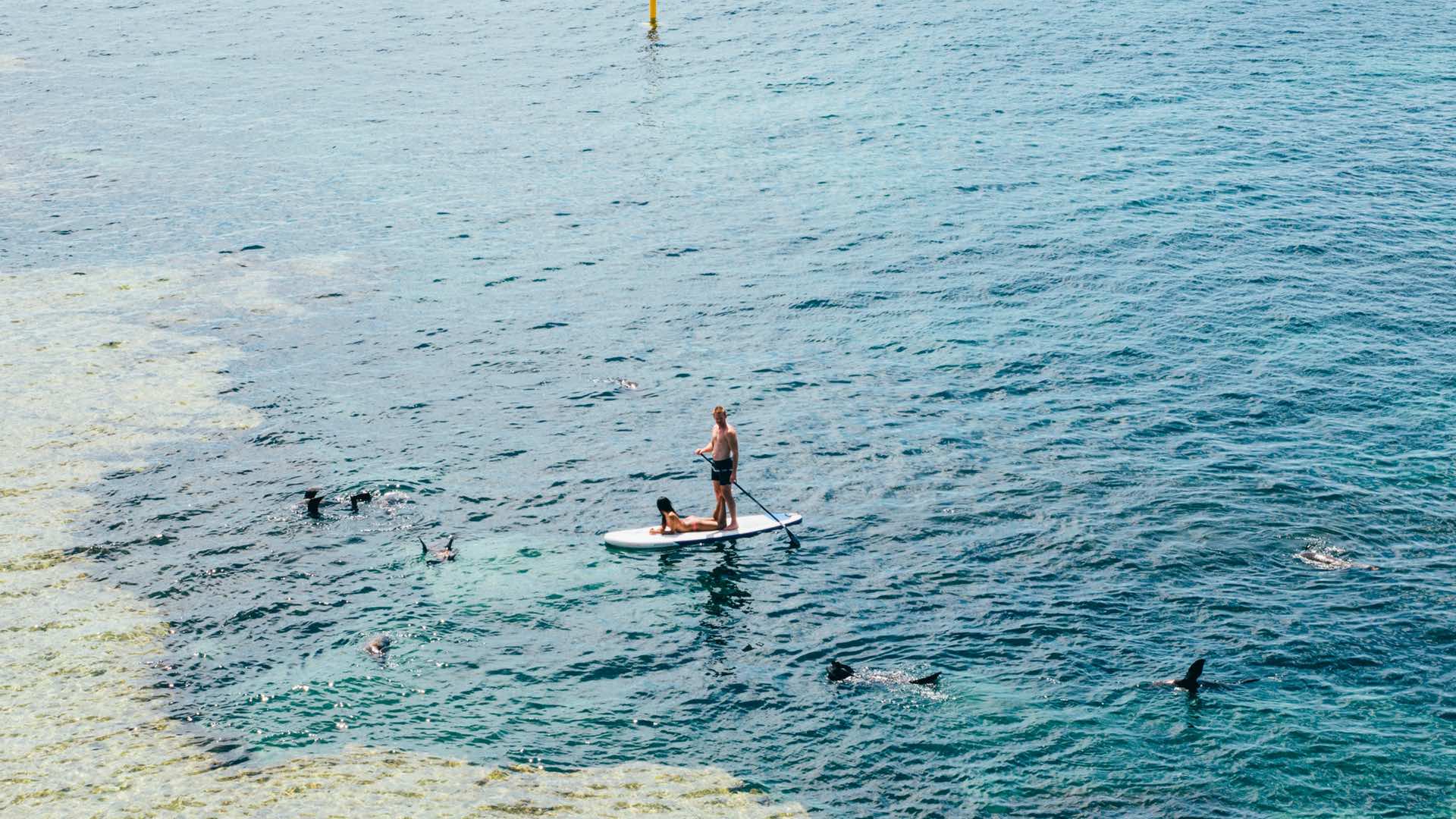 ROTTNEST ISLAND, WA
This island is a 90-minute ferry ride from Barrack Street Jetty, Perth, or 25 minutes from Fremantle. Like Kangaroo Island, Rottnest has given a big dose of much-needed love to our wild creatures, particularly quokkas, which now number 12,000 or so. Dedicate some time to spotting them (though please don't go touching, patting or feeding), before visiting pristine beaches — such as The Basin, where you'll find an underwater playground, and Little Parakeet Bay, backdropped by striking rock formations.
PHILLIP ISLAND, VIC
Phillip Island's biggest drawcard is its penguin parade. Every night, at sunset, the island's resident little penguins return to their terrestrial homes, having spent the day out and about fishing. Beyond wildlife watching, go wine and craft beer tasting, bliss out with a massage or spa treatment, or conquer a trail on foot — such as the Cape Woolamai Walk, which traverses dramatic clifftops along Phillip's southernmost point. Find suggestions on where to eat, drink and stay in our guide. Unlike all the other islands on this list, you can reach this one by road: it's around 90 minutes south of Melbourne.
BRUNY ISLAND, TAS
Bruny feels completely remote, yet it's just a 20-minute ferry ride from the coast and, with driving time added, 50 minutes from Hobart. The beauty of this proximity to the city is that, despite all the wilderness, you can find some top nosh: for fish and chips head to Jetty Cafe; for pub grub swing by Hotel Bruny; for cheese visit Bruny Island Cheese Company; and for a tipple, there's the Bruny Island House of Whisky. Meanwhile, nature lovers will find white wallabies at Inala Nature Reserve, windswept headlands at Cape Bruny Lighthouse and head-clearing watery views at Cloudy Bay.
K'GARI (FRASER ISLAND), QLD
World Heritage-listed K'gari (Fraser Island) is the biggest sand island in the world. There are 184,000 hectares of the stuff, comprising of 72 different colours and mostly in the form of magnificent dunes, many of which are covered in rainforest. If you've time on your hands, take on the Great Walk, an eight-day epic that visits many of Fraser's 100 freshwater lakes. If not, jump aboard a 4WD and cruise along 75 Mile Beach, take a dip at Champagne Pools along the way and pay a visit to awe-inspiring Boorangoora(Lake McKenzie), a perched lake made up of rainwater and soft silica sand.
KING ISLAND, TASMANIA
You might have no idea where this island is, but you've no doubt seen its cheese at your local supermarket. King Island Dairy's decadent triple cream brie is an Aussie gourmet staple. But it's far from the only treat you'll be sampling in this lush place, which lies in the Bass Strait, halfway between Victoria and Tassie. Count, too, on super-fresh seafood, flavourful beef and a cornucopia of produce from local growers. When you're finished feasting, stroll along the white sands of Disappointment Bay, visit a 7000-year-old calcified forest and go horse riding by the sea.
ABROLHOS ISLANDS, WA
The Houtman Abrolhos isn't just an island, it's an archipelago. There are 122 isles that make up the marvel, more or less clustered in three groups, across 100 kilometres. They lie around 60 kilometres off the Coral Coast, west of Geraldton, which is four hours' drive north of Perth. Lose yourself snorkelling or diving among colourful coral, spotting Australian sea lions and looking out for more than 90 species of seabirds, including majestic white-breasted sea eagles. For mind-blowing views, jump aboard a scenic flight.
Top image: Lord Howe Island, tom-archer.com via Destination NSW
Concrete Playground Trips
Book unique getaways and adventures dreamed up by our editors