The Gourmand's Guide to the Most Delicious Food and Drink Events Coming to Queensland
Calling all foodies, here are five stand-out festivals that celebrate the flavour, provenance and craft of the Sunshine State.
in partnership with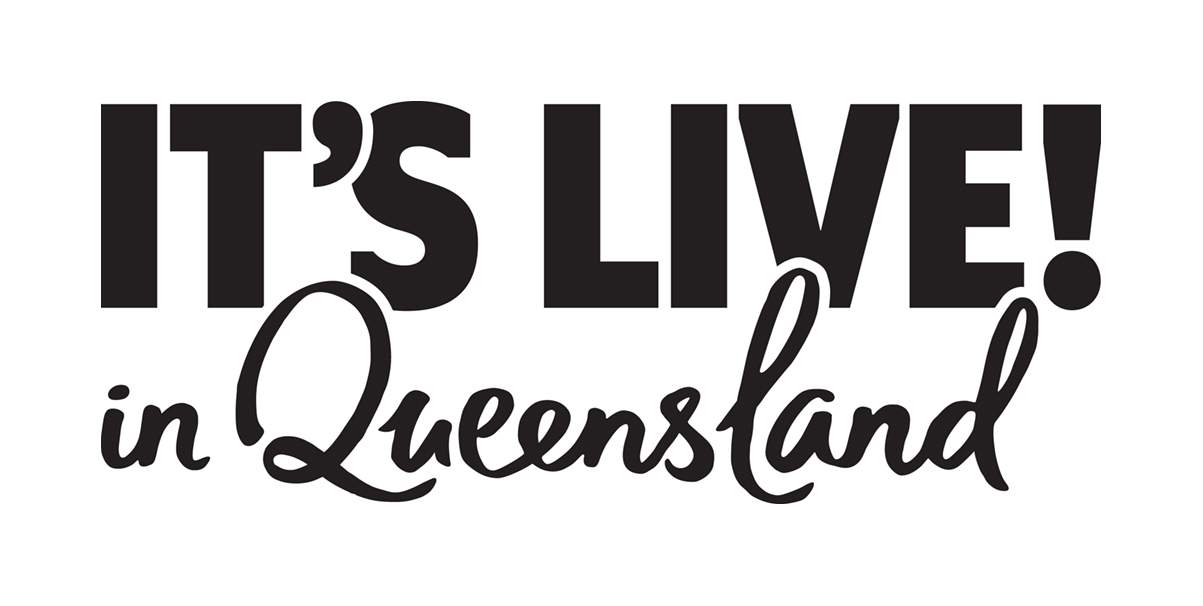 The best way to really explore a place? Taste it. We're all about food tourism and farmgate experiences in 2023, so it's delightful (and delicious) that our glorious Sunshine State is serving up a jam-packed season of delectable festivals. If you nab tickets to any of these stand-out events, you'll be well placed to eat and drink more fresh and local fare than you've done in your life.
Next year's lineup will have you encounter celebrity chefs, salt-of-the-earth farmers and artisan crafters of all things gourmet and gorgeous. It will have you spend sunny days (yes, even in winter — it's Queensland) at markets and masterclasses, tours and guided tastings, feasting on farmland and sampling frothy bevs by the salty sea. You'll see the source of every bite, discover the land, sea and people behind the flavours and, of course, just consume everything the Sunshine State has to offer.
Together with Queensland, we've found the intel on five fantastic foodie experiences that you'll want to get yourself to. So, pack your stretchy pants and loosen your belt, and head to Queensland for a gourmet adventure.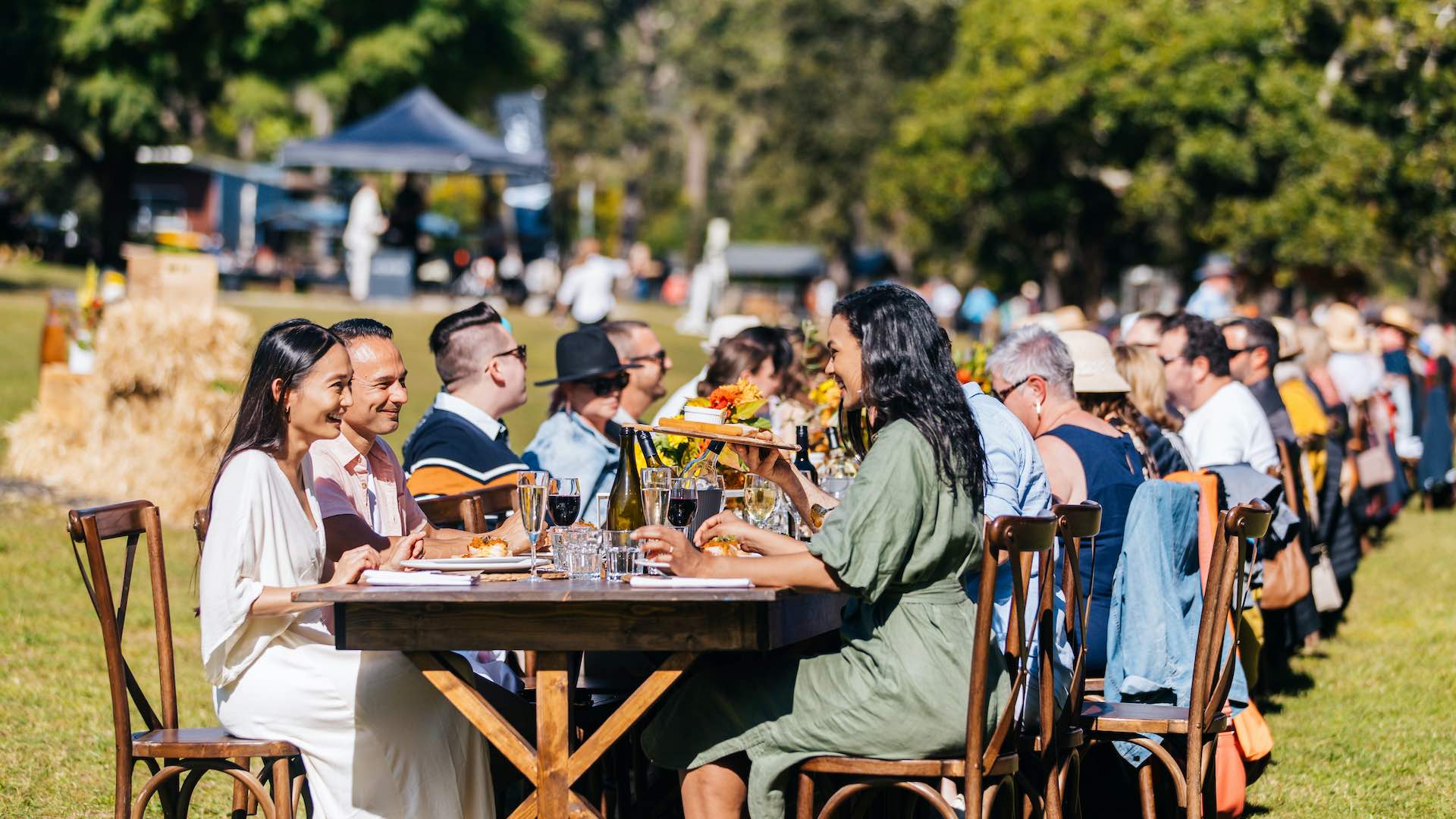 EAT LOCAL MONTH, SCENIC RIM BRISBANE
This festival is a guaranteed locavore's delight, placed in the aptly-named Scenic Rim, just a short drive from Brisbane or the Gold Coast. Running annually, Eat Local Month offers a slew of foodie and farming activities — including free and family-friendly events and the Winter Harvest Festival. The lush area is home to renowned cooks, distillers, growers, brewers, makers of all things delicious — such as award-winning camel milk gelato — and some pretty famous carrots (the region is actually known as Australia's Carrot Capital).
Eat Local Month is seven days of tastings, food trucks, tours, meet-the-maker events and the best chefs from Queensland and beyond coming to work their magic with the local abundance. Kids can learn about cheesemaking and gardening, all while you sip locally made liqueurs and spirits, wines from just over the hill and beers brewed just around the corner. If you're a foodie who cares about fresh produce, provenance and artisan makers, come feast on the Scenic Rim.
Eat Local Month, Saturday, June 2023

THE CURATED PLATE, SUNSHINE COAST
This delicious festival debuted in 2019 before being rudely interrupted by a certain pandemic. In 2022, it was offered in a smaller 'side-plate' format, but it's returning with a bang in 2023 with the full The Curated Plate festival from Friday, July 28 till Sunday, August 6. Over 10 days, you will have the chance to encounter the varied flavours of Queensland and immerse yourself in the region — this is as farm-to-table (and still-to-bottle) as it gets. You'll get the chance to meet the growers and artisans on their home turf — the Sunshine Coast — as they show off the best of the local food scene alongside guest chefs. Previous events have included fermentation and bush tucker classes, long lunches and degustations as well as boat trips and farm-gate experiences. Whatever the 2023 line-up holds, it's a food tourism extravaganza no gourmand can afford to miss.
The Curated Plate, Friday, July 28 till Sunday, August 6, 2023

TASTE BUNDABERG FESTIVAL, BUNDABERG
Go troppo for 10 days of pure Bundy flavour. This region is about way more than just its iconic brands (although you'll find those here, too). From Friday, August 4 until Sunday, August 13, discover the best of the locale at Taste Bundaberg with everything from farm tours and feasts to markets, masterclasses, music and maker-led events. In previous years, there's been in-orchard dining, sun-soaked long-table lunches, celebrity chef demonstrations, guided cheese-tasting, cocktail making and gourmet picnics where you can sample the produce from the land beneath your very feet. With glorious weather, there's a full program of indoor and outdoor activities for foodies and families to take advantage of.
Taste Bundaberg, Friday, August 4 till Sunday, August 13, 2023

CRAFTED BEER & CIDER FESTIVAL, BROADBEACH
Sprawling across Broadbeach's Kurrawa Park, the Crafted Beer & Cider Festival welcomes the best local breweries and bigger names from around the country. You're in for two expertly curated days of ice-cold frothies and foodie delights beside the beach. Last time, there was nearly 60 breweries and over 400 beers. Sound overwhelming? Don't worry, the full list and tap map are released ahead of time so you can plot your golden haze of a journey along the rows of beers, ciders, seltzers, ginger beers and more (there's vinos, spirits and cocktails too).
You can expect a few festival exclusives, specialty beers and non-alc options as well — plus live music to feed your ears and food trucks for your bellies. Vendors are still TBC, but you can expect all you need for a day of beer and sunshine. For tunes, a full spectrum of musicians will take to the stage, from established acts (2022 saw British India headlining) to emerging artists.
Crafted Beer & Cider Festival, Saturday, September 9 till Sunday, September 10, 2023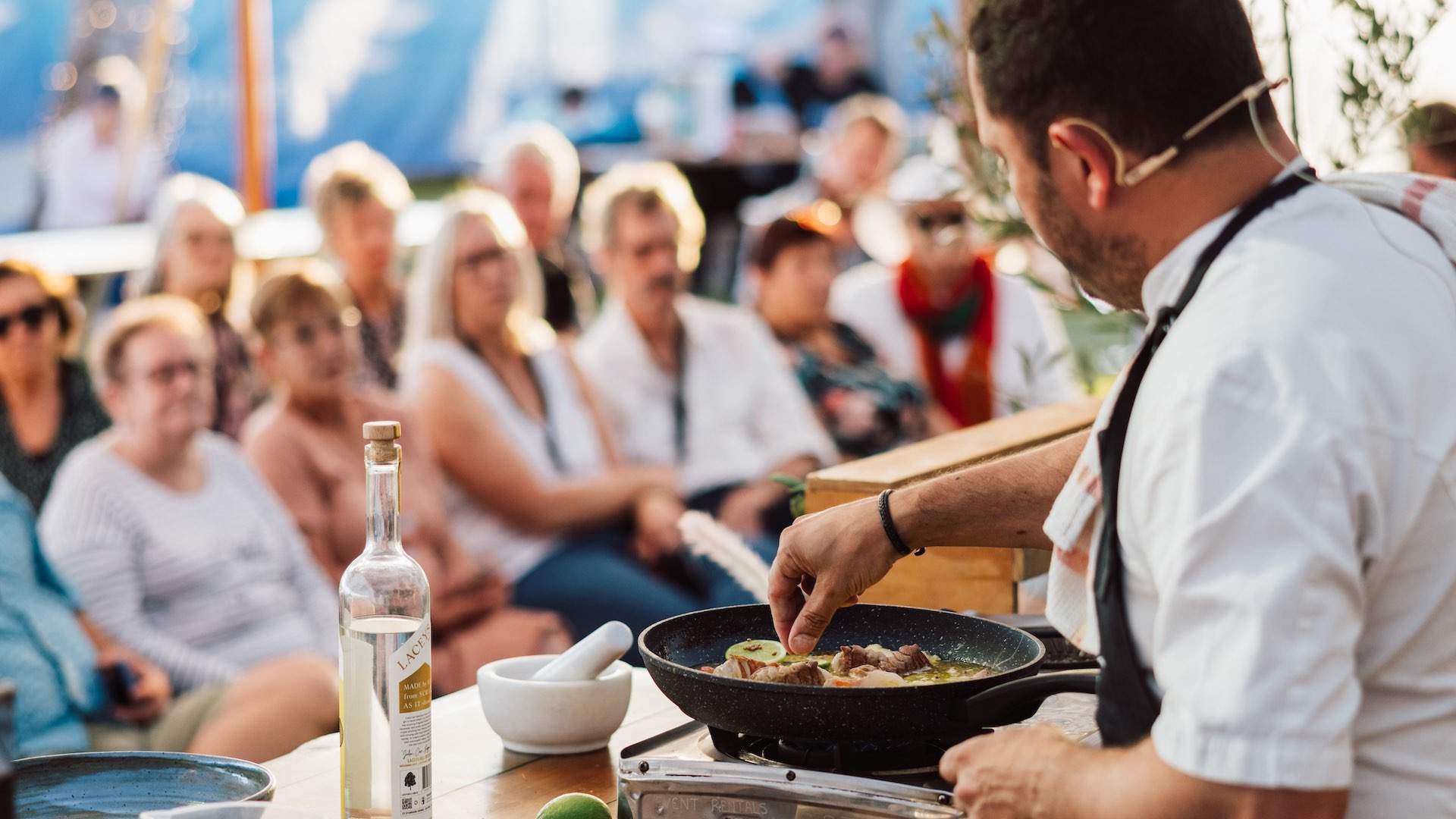 MORETON BAY FOOD AND WINE FESTIVAL, MORETON BAY BRISBANE
Showcasing the culinary delights and fine fresh foods of southeast Queensland, the Moreton Bay Food and Wine Festival is taking over Woody Point's Apex Park for the first weekend in August, 2023. The celebration is part of the epic six-week Tastes of Moreton Bay Festival. In 2022, more than 20,000 people rocked up for the weekend, and you can be sure that eager, hungry crowds will once again converge beside the glittering waters of Moreton Bay to savour fine foods. A smorgasbord of foodie experiences will roll out over one long weekend — everything from maker's markets, performances and masterclasses to classic games of beer pong and spectacular fireworks. Sip cocktails by the water or watch as celeb chefs take to the stage to demonstrate their recipes demonstrations that make the most of the fine foods from the land, sea and artisans in this prodigious pocket of the Sunshine State.
Moreton Bay Food and Wine Festival, Friday, August 4 till Sunday, August 6, 2023
To explore more of the food and wine events taking over Queensland in 2023, head to the website.
Concrete Playground Trips
Book unique getaways and adventures dreamed up by our editors