TRAVEL & LEISURE
A Weekender's Guide to Tamworth (During the Country Music Festival)
Where to stay, eat and explore, according to some of Australia's best alt-country names.
A Weekender's Guide to Tamworth (During the Country Music Festival)
Where to stay, eat and explore, according to some of Australia's best alt-country names.
---
If you thought country music was all Billy Ray Cyrus covers, line dancing and XXXX, Tamworth asks you to think again. That's not to say you can't get bootfuls of such things – XXXX especially. But they're just the tip of the whip.
Apparently the biggest music festival in Australia (Bluesfest might have something to say here) and the second biggest country music festival in the world — after Nashville – Toyota Country Music Festival in Tamworth offers tonnes of diversity. Whether honky tonk, bluegrass, blues, rock, Appalachian, folk or old-school cowboy music is your thing, you can get it. We went country for a weekend at the 45th festival, held January 20-29, 2017 — and what better way to get around town than asking for tips from the lineup of musicians?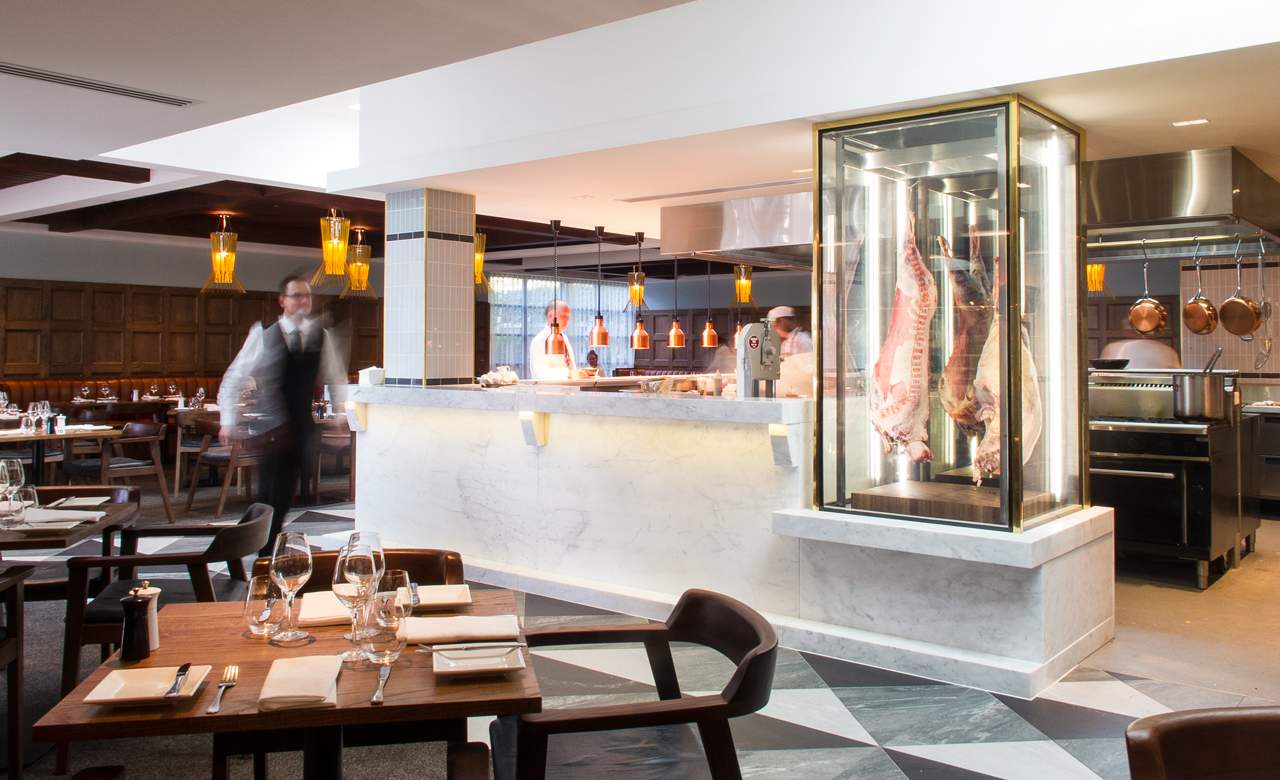 COUNTRY DRINKIN' AND DININ'
Festival favourite Lee Kernaghan, who was busy celebrating 25 years since hit single 'Boys from the Bush', had just one word for us: "Powerhouse." It's a swanky hotel, which recently scored a $7 million redevelopment. Among the oak and leather of Coal Bunker Bar, we started with a brew from New England Brewing Co. (made just 90 kilometres away in Uralla) and a signature 'Saffron & Burnt Orange' cocktail. Beneath the amber lights of the open-plan Workshop Restaurant, hearty cuts are given fancy treatments, one example being loin of kangaroo loin with peppered spinach, cous cous, smoked bacon oil and roquette.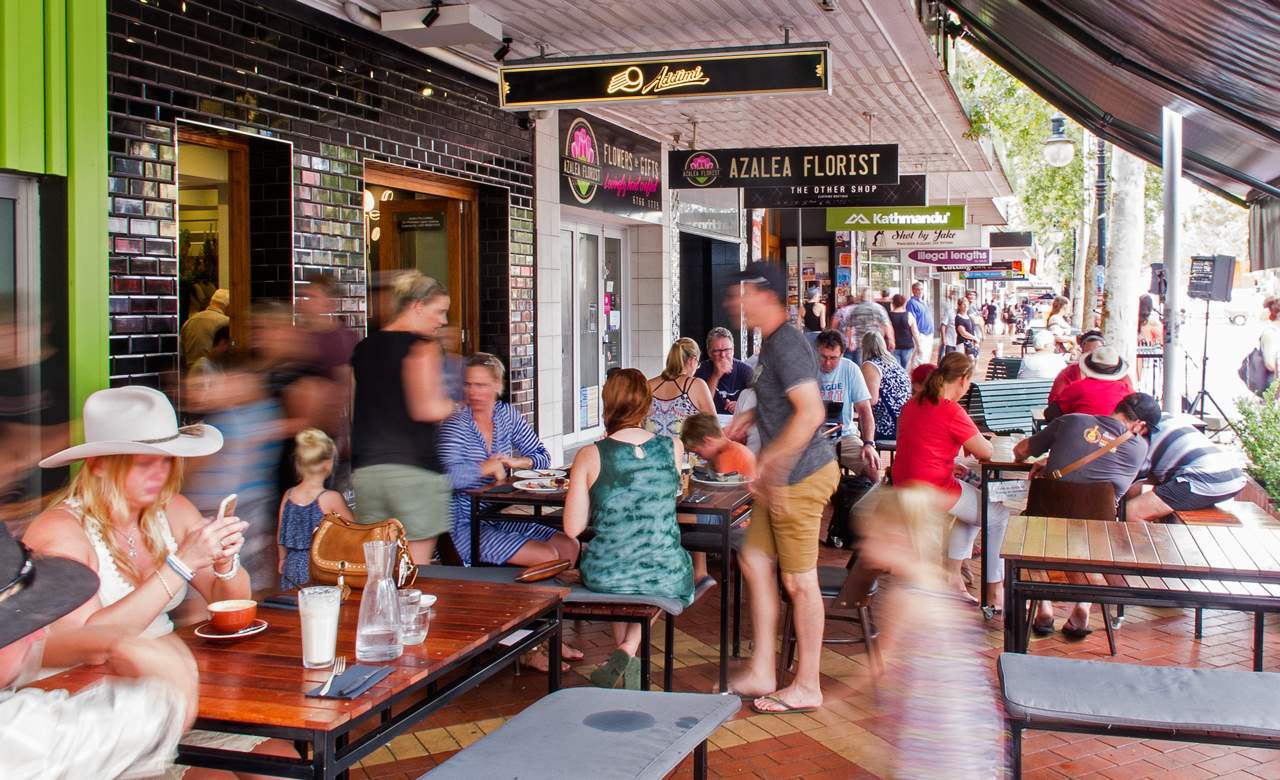 Next up, we asked Fanny Lumsden, an indie, alt-country artist who took out the 2017 Golden Guitar for New Talent and put on a cracking show at St Paul's Hall — FYI the Golden Guitars are Australian country music's equivalent of the ARIAs. "Addimi does great food and is really supportive of musicians," she told us. Dropping by, we found out the rest of Tamworth was on board. Crowds were pouring in and out of the place all day for properly-made Allpress and unusual takes on classics, including smoked salmon and ricotta bruschetta with pear, rocket and fresh lemon.
Another top spot is Deco Wine Bar and Restaurant at CH on Peel, a boutique hotel. It's a cool, black-and-white escape to 1920s France, where you can break from boot scootin' over fine wine and Mediterranean dishes. We also liked Hopscotch for Toby's Estate coffee on the park, Cafe 2340 for local produce, the Old Bell Tower for Campos coffee and Ruby's Cafe and Gift Store for tasty fare in Melbourne-inspired surroundings.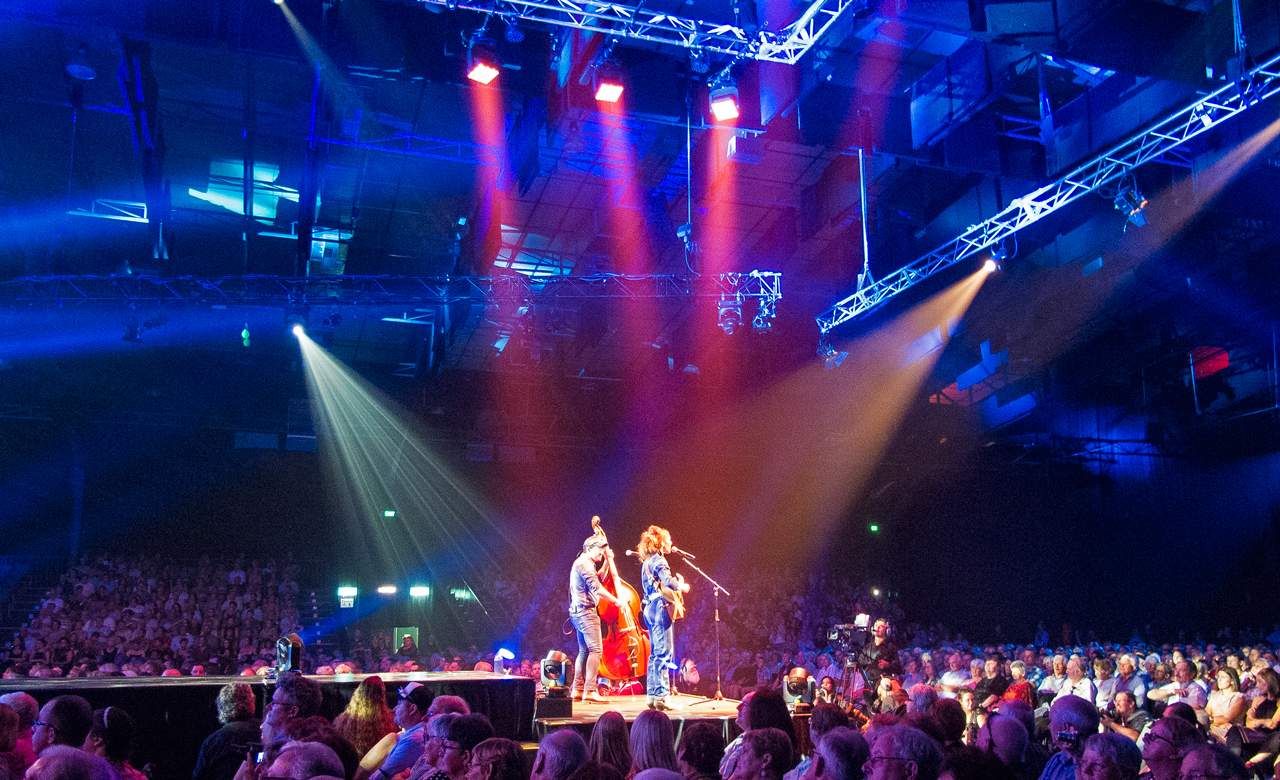 COUNTRY LISTENIN' AND DANCIN'
With more than 700 musicians and over 2800 gigs — mostly free — the music program can feel a tad overwhelming. If you're not sold on mainstream country, then alt-country — mixed with rock, folk or roots — is a good place to begin.
At The Tamworth, built in 1936, we came across a decent craft beer selection and, in the garden, ace Sydney act Green Mohair Suits, who launched new album Evans Street in October. "We like Tamworth because it's so different to what we do in Sydney," the Suits' Brian Campeau told us. "It's just a bunch of people who want to go out and drink and watch music — that diehard country thing we don't really experience in the Inner West." Also on The Tamworth stage was the Andy Golledge Band.
Meanwhile, the Cake & Cordial Sessions hosted indie singer-songwriters, including Brisbane's Megan Cooper and Ben Salter (The Giants of Science, The Gin Club, The Wilson Pickers). The alt community poured into the Services Club's downstairs bar for Late Nite Alt, where 'secret acts' play till 1.30am. 2017's program included Henry Wagons, Shane Nicholson, Harmony James and the Wilson Pickers. "Late Nite Alt's in its fourth year," MC and singer-songwriter Jen Mize told us. "Before, we were at the Tudor Hotel, but we outgrew the room upstairs ... It's a young crowd and the program's a mixed bag of up-and-comers and established musicians ... we tend to book touring and travelling musicians, with new material out."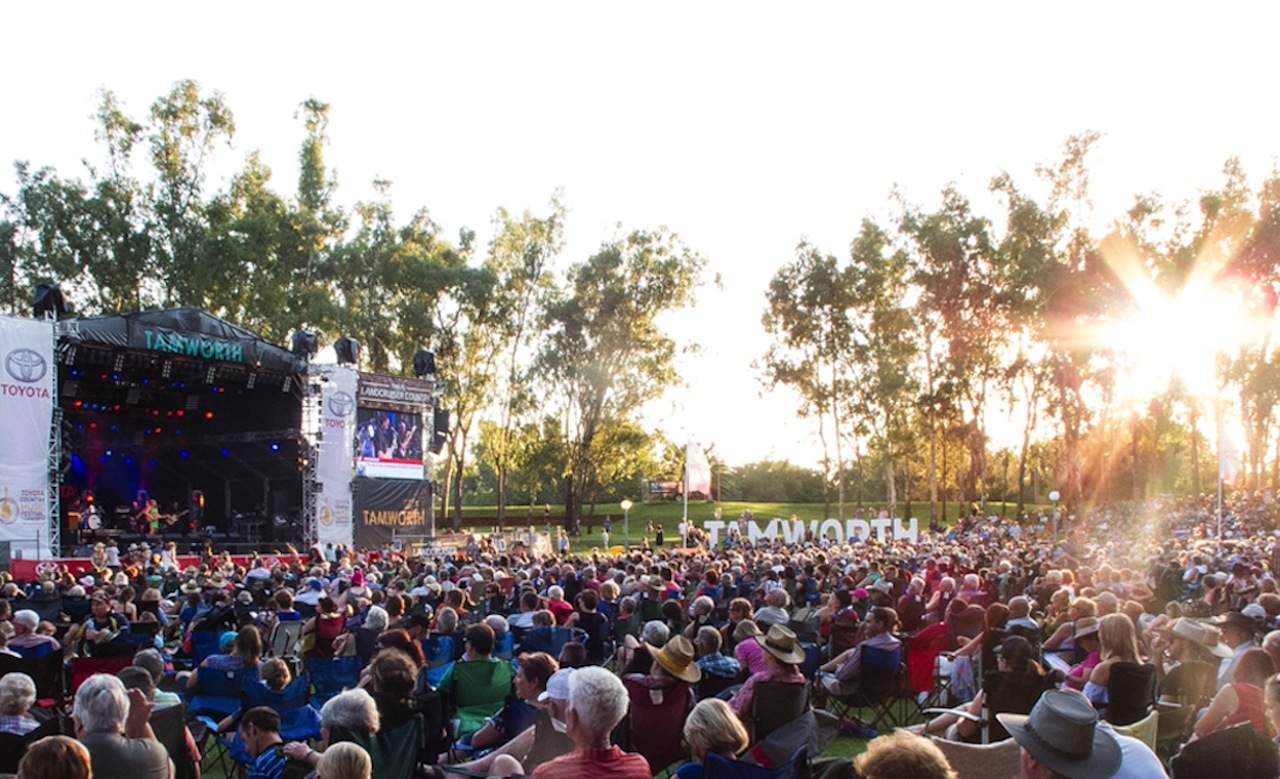 For big names, Toyota Park was the place to go, where free, outdoor concerts were held nightly. Among them were Stars Under the Stars, the Toyota Star Maker Grand Final, won by 21-year-old Sydneysider Rachael Fahim, and the Toyota Busking Championships, featuring ten buskers handpicked from the hundreds who filled the streets throughout the festival. This year's winner was Tim Scanlan, whose music mixes Celtic and Indigenous sounds. He first went to Tamworth in 1999, as a 19-year-old hitchhiker.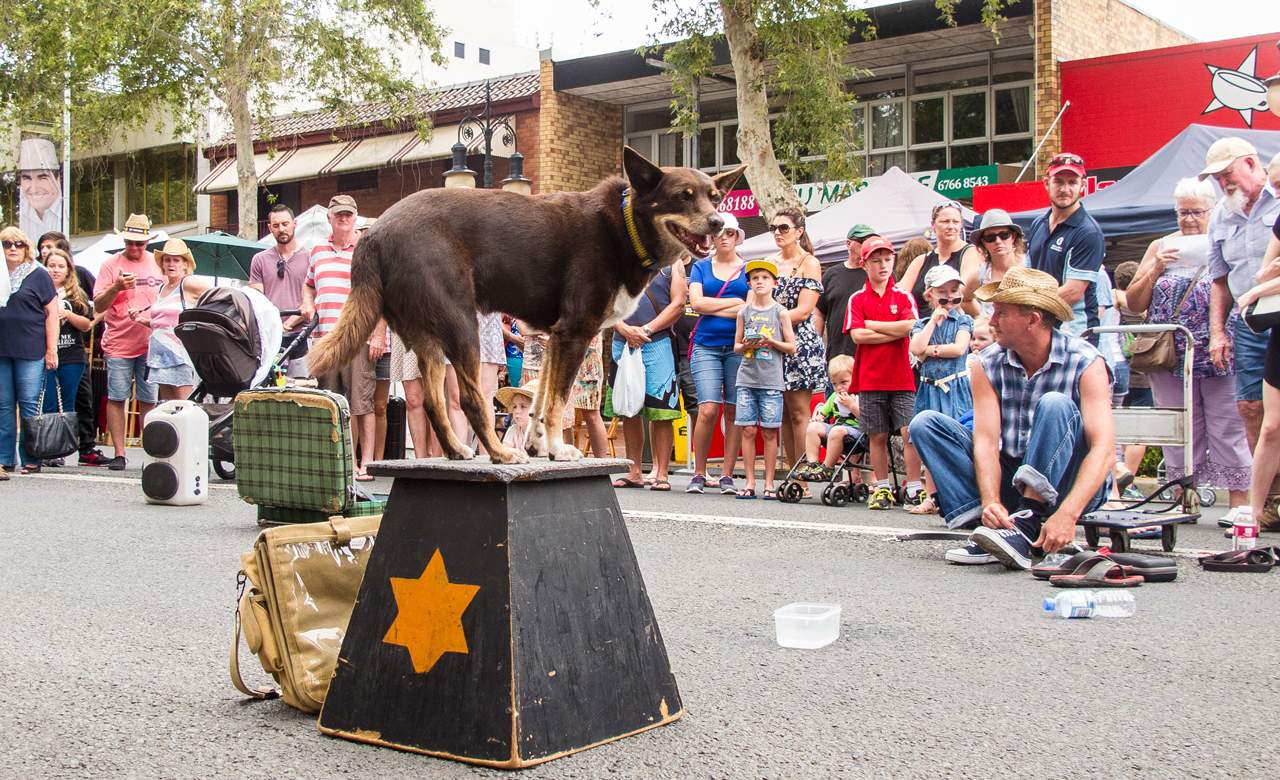 COUNTRY LIVIN'
It's popular knowledge that Australia's raised some of the world's fastest swimmers, but do you know we also have the planet's fastest whip cracker? WA boy Nathan 'Whippy' Griggs can generate 614 cracks per minute, with two whips in hand. And he was doing just that on Tamworth's streets. We also met hoop-jumping kelpies, mechanical bulls and strong people picking up big bits of concrete. Plus, we learned to drive a 4WD through mud, sand and rocks on the Toyota 4 x 4 track. 
COUNTRY SLEEPIN'
With so much action on the agenda, a quiet place to curl up at night was crucial to our survival. A suite at the aforementioned Powerhouse had us sorted with a comfy queen-sized bed, classic wooden furnishings and a private spa. Given that most days were 30 degrees plus, the pool and air-conditioning were serious bonuses.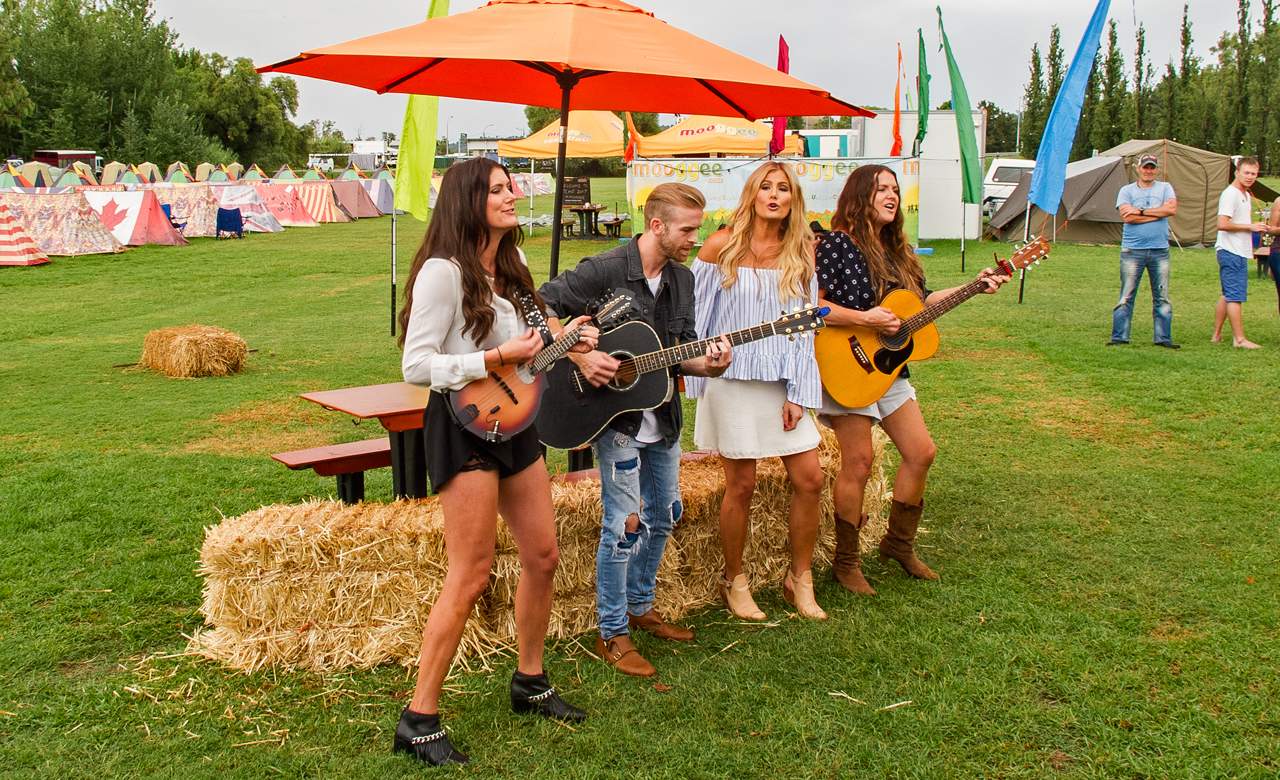 That said, hotel prices soared during festival week - as they tend to do every year. For wallet-watchers, camping offered a more friendly option. Those armed with a tent headed for Riverside Park, just a few minutes' walk from the town centre. Those without had Moogee, a temporary tent city that provided pre-pitched tents, sheltered areas, security, showers, toilets and, in 2017, a free, secret acoustic show featuring The McClymonts, Kaylee Bell, Jared Porter, Rachael Fahim, Andrew Swift and others.
Jasmine Crittenden travelled to Toyota Country Music Festival in Tamworth as a guest of Toyota.
All images Peter Saw unless otherwise specified.
Published on February 22, 2017 by Jasmine Crittenden