TRAVEL & LEISURE
A Weekender's Guide to the Hunter Valley
Go off the beaten vineyard track on your foray into Australia's favourite wine region.
The Hunter Valley is the oldest and busiest wine region in Australia. Some of the country's first vineyards were planted there back in the early 1800s, and now, more than 150 wineries are on the wagon. These vary from flashy, famous establishments to more intimate, off-the-typical-wine-trail cellar doors. Semillon is the area's classic variety, but you'll also come across some tip-top chardonnay and shiraz, among others. In between wine tasting, pop into traditional and contemporary art galleries, sample local produce in stellar restaurants and maybe set your alarm clock for a hot air balloon adventure.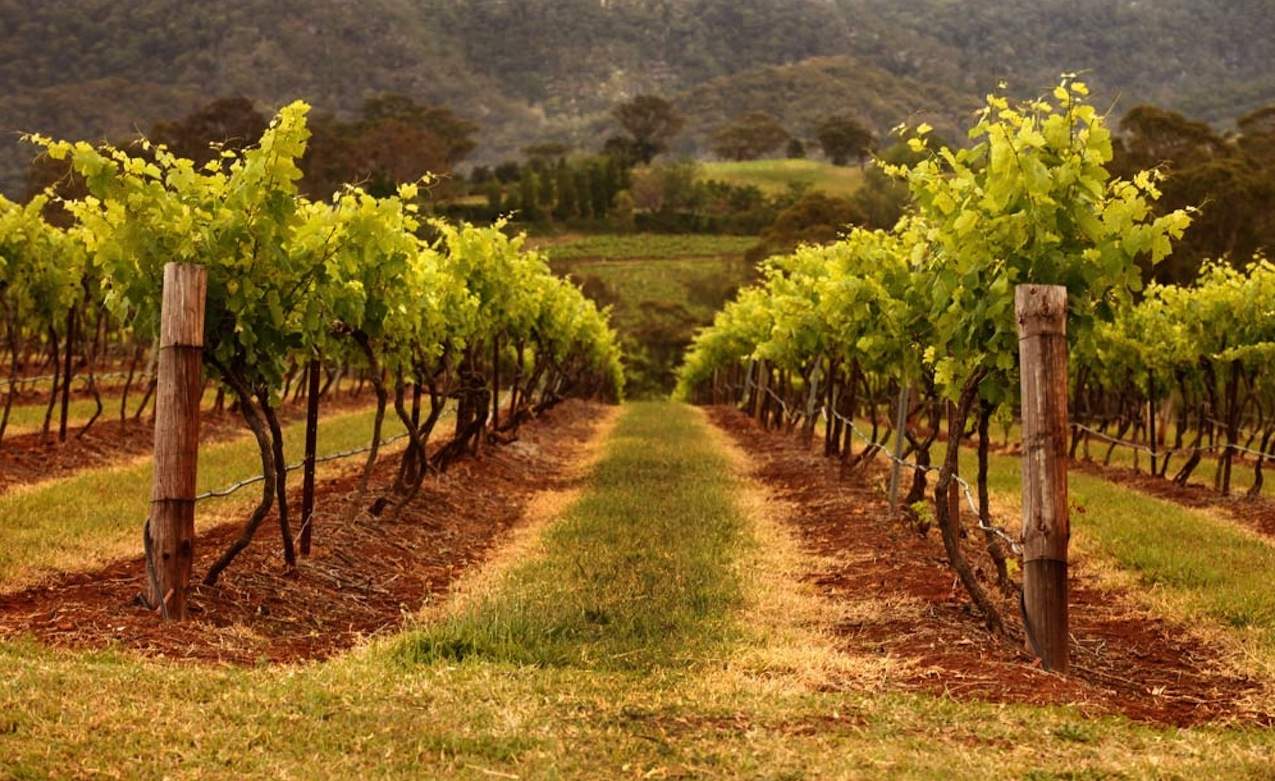 DRINK
With 150 wineries to visit, it's not easy to nut out an itinerary. At the big-name end, Tyrrell's in Pokolbin is the place to try your first drop. It's home to one of the oldest vineyards in the Hunter — the first grapes were planted in 1858 — and, despite its commercial success, remains family-owned, so it's friendly. Next, pop along to Tempus Two, not only for its legendary wines but also for its posh, architect-designed cellar door. The Hunter Valley Smelly Cheese Shop, Oishii Japanese restaurant and The Goldfish cocktail bar are all just a hazy stroll away.
To keep things unpredictable, and avoid constant crowds, visit at least a couple of boutique wineries. Krinklewood, located in the Broke-Fordwich subregion, is one of the most interesting, with its certified biodynamic, organic, sustainably run vineyards. It's also incredibly beautiful, backdropped by the Brokenback Range and immersed in Provencal-inspired gardens. Owners Rod and Suzanne Windrim say they're committed to a "hands-on" approach, governed by the philosophy that "what you put in is what you get back". Just down the road, you'll find Ascella Wines, the Hunter's biggest organic vineyard.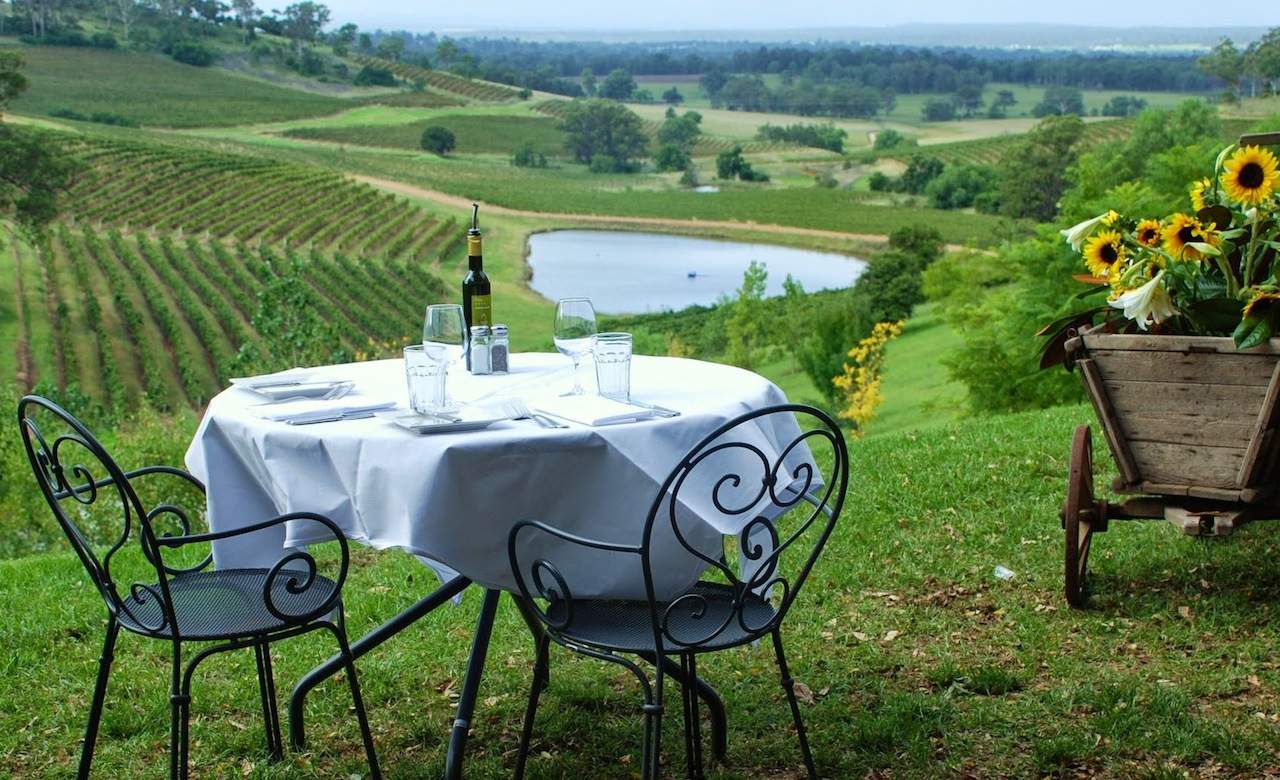 EAT
A premium fine dining experience is to be had at Muse Restaurant in Pokolbin, which is attached to Hungerford Wines. This year, it was awarded two chef's hats. Run by husband-and-wife team Troy and Megan Rhoades-Brown, the restaurant is housed inside a stunning, airy, architect-designed building, and the contemporary Australian menu prioritises fresh, seasonally available ingredients and simple yet innovative combinations.
If you're into creative dishes, book yourself a spot at Rothbury's Shakey Tables. Pretty much every plate is an art work, and the interior's designed to match, with bold, fun paintings on the walls and bright suede seating. Even if you're not interested in committing to a full meal, pop in for the desserts — they're extraordinary, in terms of both looks and taste.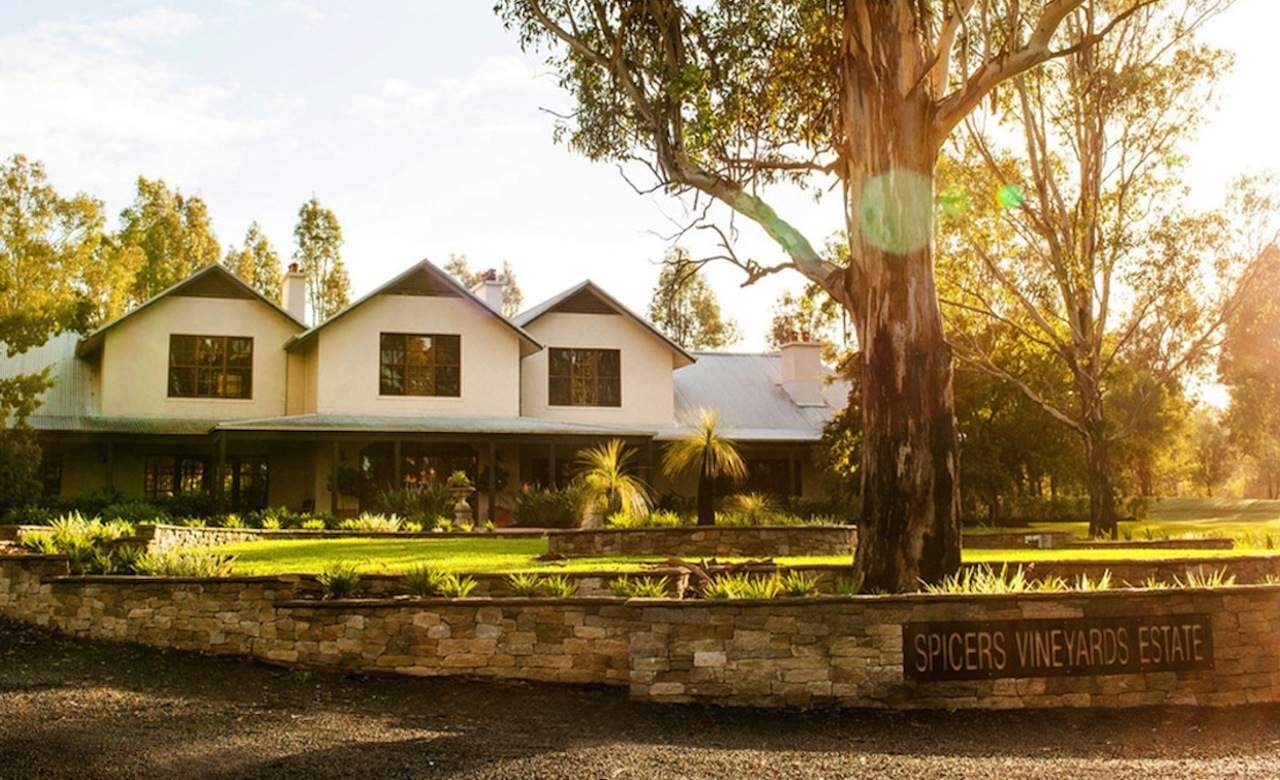 STAY
Accommodation options are incredibly varied - from classic country pubs in tiny villages to simple yet cute cottages on rolling acreages to lush suites. On a wino's weekender, though, it's only fitting that you should spend at least one night deep in the grapes. The fanciest way to do this is at Spicers Vineyard Estate in Pokolbin, a ridiculously luxurious guesthouse set in its own private vineyard, with amazing views of the Brokenback Mountains. Each suite comes with its own fireplace, king-size bed, en suite with spa and complimentary mini bar.
If you're envisioning yourself in a secluded cabin, consider the nearby Belford Cottages. A handful of private dwellings are scattered around 15 acres of beautiful, unspoilt bushland. Each has its own private balcony, for sundown wine sipping and kangaroo spotting. There's also a games room and, for hot days, a pool. The property is in a central location, with Pokolbin, Wollombi and Lovedale close by, and there's even a restaurant and a couple of wineries within walking distance. Take your torch.
For winos travelling on a tighter budget (or saving bucks for bottles), the Hill Top Country Guest House in Rothbury is good value. Situated on the Molly Morgan Range, affording brilliant views of the Hunter Valley, it's housed in a colonial-style building and dressed with touches of luxury, including king-size beds, spa baths, a sauna and a pool. But with nightly rates starting at $115, it's much more affordable than similar options.
DO
The Hunter is dotted with art galleries and museums. For traditional Australian landscapes, decorative work and investment opportunities, visit the Morpeth Gallery. While you're there, take a wander around Morpeth's historic buildings, relax on the riverfront and sample some famous Morpeth sourdough. Meanwhile, at the Maitland Regional Gallery, you'll find contemporary exhibitions, with temporary shows changing every six to eight weeks.
If you're banking on something more active, there's the Yango Walking Track, a 6 kilometre walk through untouched wilderness in Yengo National Park, which journeys past red cedars, giant stinging trees and spectacular vistas. Keep a lookout for the rare velvet wattle. Alternatively, get your adrenaline kicks with a hot air balloon ride. You'll have to wake up early, because the trip starts before sunrise, but the sun-kissed views are more than worth braving an early hangover for.
Top image: Kevin Rheese.
Published on April 09, 2015 by Jasmine Crittenden