'Daisy Jones & The Six' Is a Fleetwood Mac-Worshipping Rock 'n' Roll Drama with a Catchy Refrain
Riley Keough makes fantastic use of her rockstar genes in this 70s-set Prime Video series, which is based on the novel of the same name.
Before it was a ten-part Prime Video series, Daisy Jones & The Six was a book. And before Taylor Jenkins Reid's 2019 novel jumped back to the 70s rock scene, Fleetwood Mac lived through, stunned and shaped the era. No matter where or when an adaptation popped up, or who took to the microphone and guitar in it, bringing Daisy Jones & The Six to the screen was always going to involve leaning into Mick Fleetwood, Stevie Nicks, John McVie, Christine McVie and company's story. Reid has said that she took loose inspiration from the band; "it's a Fleetwood Mac vibe," she's also noted.
Those parallels are as obvious as a killer lyric in Daisy Jones & The Six. Creators Scott Neustadter and Michael H Weber have a recent history of riffing on true and classic tales, too — their last two projects were The Disaster Artist, which they co-scripted based on Greg Sestero's memoir about making Tommy Wiseau's The Room; and Rosaline, a retelling of William Shakespeare's Romeo and Juliet from the titular Romeo-spurned character's perspective. With directors James Ponsoldt (The End of the Tour), Nzingha Stewart (Inventing Anna) and Will Graham (A League of Their Own), the duo approach Daisy Jones & The Six exactly as that pedigree brings to mind: it's heightened, impressively cast, and well-versed in what it's tinkering with and recreating; it also isn't afraid of romance and tragedy, or of characters going all-in for what and who they're passionate about.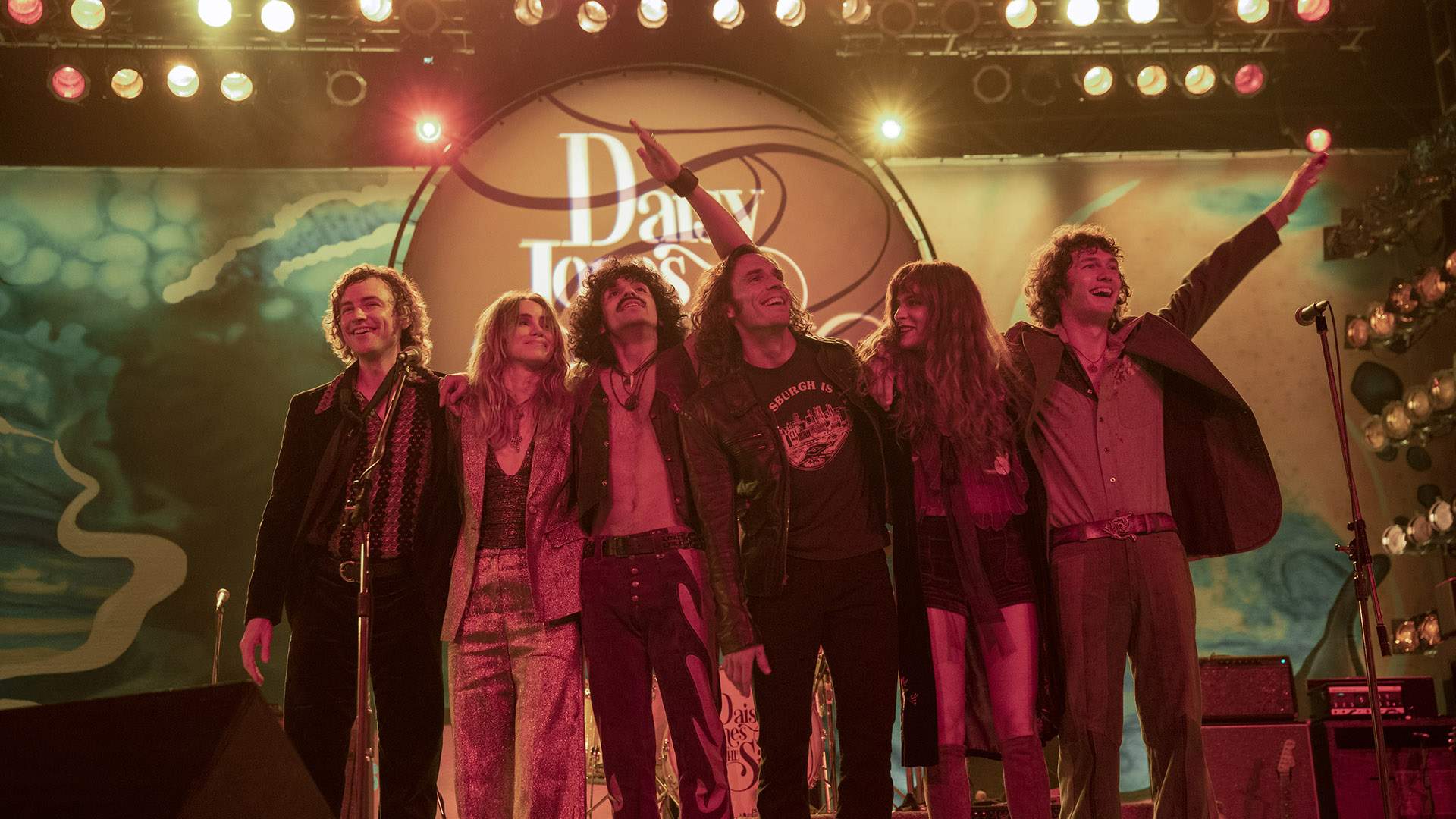 On the page, this melodramatic tale of sex, drugs and rock 'n' roll unspools as an oral history. On streaming, it's framed by two-decades-later documentary interviews where key figures — Daisy Jones (Riley Keough, Zola), members of The Six and other pivotal folks in their careers — share memories to-camera. The eponymous musicians burned bright but flamed out fast together, opening text on-screen informs the audience before anyone gets talking. A huge stadium gig at Chicago's Soldier Field late in 1977 was their last, coming at the height of their popularity after releasing hit Rumours-esque record Aurora. Viewers immediately know the ending, then, but not what leads to that fate.
Introduced in the show's flashbacks as the ignored child of wealthy parents, Daisy couldn't be more obsessed with music. A childhood spent internalising her mother's cruel comments that she doesn't have the voice or talent to follow her dreams holds her back in Daisy Jones & The Six's first episode, however, even as she couldn't spend more time hopping between Sunset Strip's venues. Cue another piece of IRL rock history, of course, thanks to Keough's pitch-perfect casting. She doesn't play her part like she's playing Elvis Presley's granddaughter — aka herself — but she makes fantastic use of her rockstar genes, including in her energy, swagger, stare, volatile temperament, and all the ferocious singing that the American Honey, The Girlfriend Experience and The Lodge star does herself.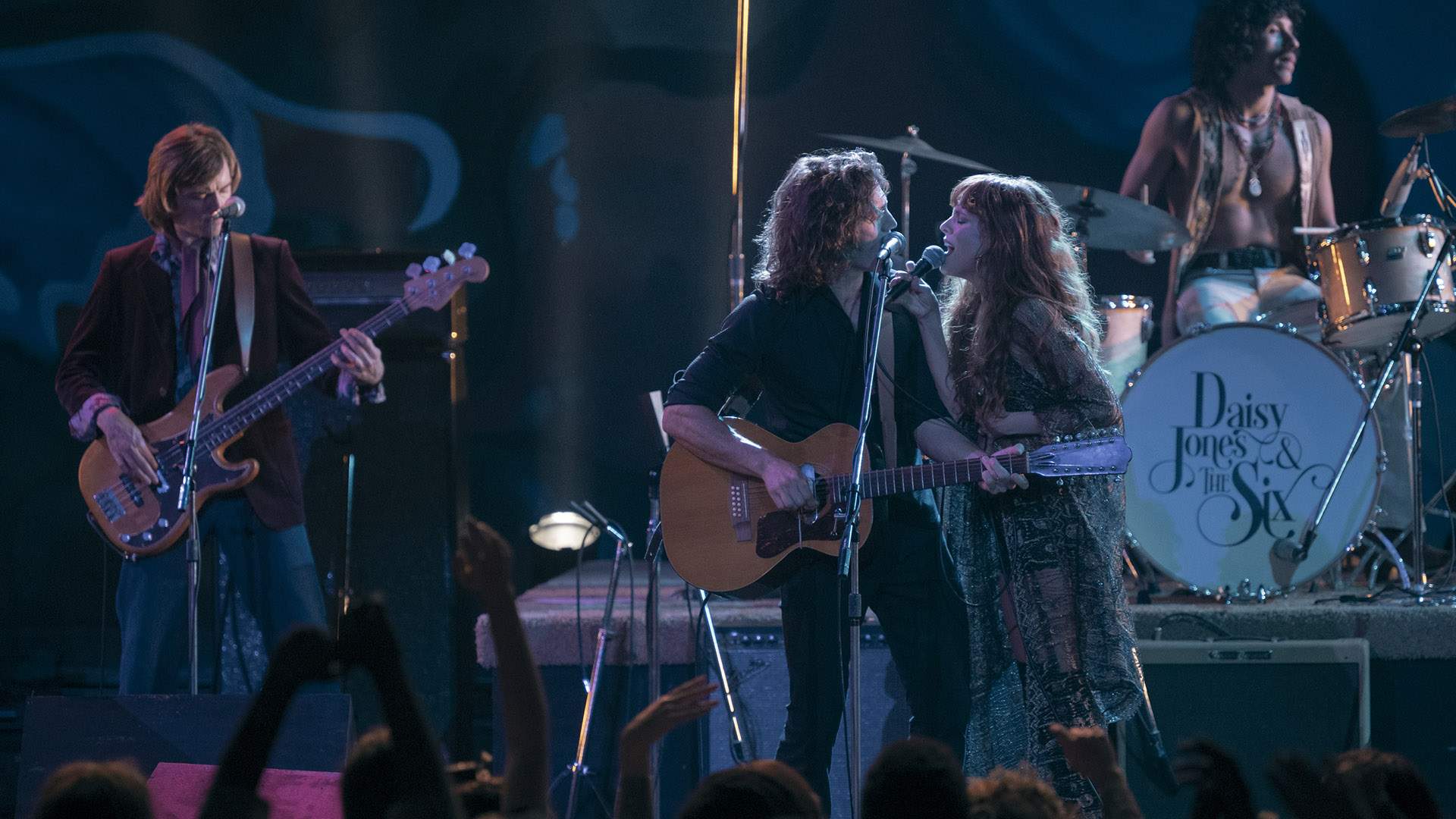 Daisy Jones & The Six takes its time putting the two parts of its moniker together, but follows The Six's origins from the outset as well, when Billy Dunne (Sam Claflin, Book of Love) agrees to front his younger brother Graham's (Will Harrison, Madam Secretary) high-school band. The full group initially spans guitarist Eddie Roundtree (Josh Whitehouse, Valley Girl), drummer Warren Rojas (Sebastian Chacon, Emergency) and bassist Chuck Loving (Jack Romano, Mank). But when dental school and the security it represents beckons the latter, and British keyboardist Karen Sirko (Suki Waterhouse, The Broken Hearts Gallery) joins their number, there's still just five band members moving from Pittsburgh to Los Angeles to make a proper go of it after tour manager Rod Reyes (Timothy Olyphant, Amsterdam) tells them that's where the serious action is at.
Aspiring photographer Camila (Camila Morrone, also a Valley Girl alum) is the sixth person with The Six; she's Eddie's crush but Billy's girlfriend, then his wife and the mother of his child. She's also one of the reasons that the love-hate pull he feels towards Daisy earns two oft-used words: it's complicated. As much as Daisy Jones & The Six is a portrait of a band and a snapshot of an era, it's firmly a love triangle, too. Does great art only spring from deep feelings? Does faking it till you make it apply to discovering your artistic groove with someone and selling a bond that'll sell albums? What's the difference between finding a soulmate and seeing your own reflection peering back in another's eyes, struggles and life? They're all queries the series ponders.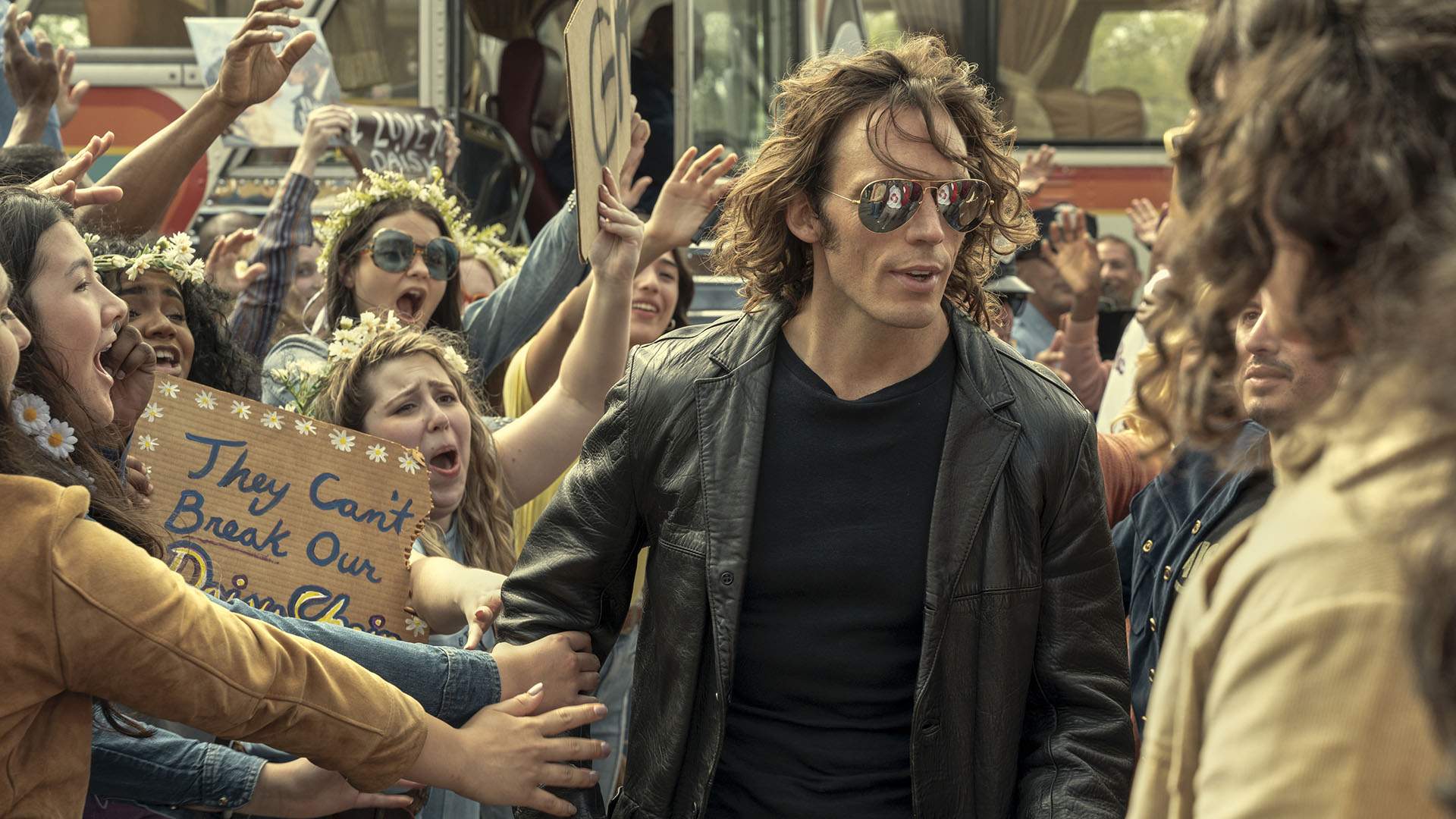 Fleetwood Mac's tumultuous relationships and breakups are a matter of history, which no one needs to know when sitting down to Daisy Jones & The Six. As Keough twirls onstage, adores shawls and lengthy sleeves, glares pure determination and fire, and self-medicates heavily, though, consider this a condensed fictionalisation. The Buckingham to her Nicks is Claflin, obviously, as duelling lead singer-songwriters Daisy and Billy keep circling around each other from the moment that ace record producer Teddy Price (Tom Wright, True Story) puts them together. She's desperate to make it big and not just be her lyric-stealing ex-boyfriend's, or anyone's, muse, but seeks solace all day with pills and booze. He's sober and trying to get his band another shot after a tussle with drink and drugs derails their first tour, almost ruins his marriage and sees him miss his daughter's birth.
No one needs to have seen Almost Famous, either, to know where Daisy Jones & The Six heads. Still, this quickly engrossing series engages in the moment like a catchy refrain. Spinning a familiar but nonetheless involving story of chasing dreams, fame's excesses and troubles, and learning whether someone is a mirror or a kindred spirit, it looks the part in every wardrobe choice — including the disco attire worn by Daisy's pal Simone Jackson (Nabiyah Be, Black Panther), who gets close to her own episode about trying to make it in an industry unwelcoming to Black and queer artists, and the embrace she finds in New York with DJ Bernie (Ayesha Harris, Abbott Elementary) instead. Daisy Jones & The Six's songs are earworms as well, whether the show is giving the suite of 70s-style tunes written by Phoebe Bridgers, Marcus Mumford, Jackson Browne and more a whirl, or dropping a soundtrack of other cuts that, yes, even features Fleetwood Mac. 
Check out the trailer for Daisy Jones & The Six below:
Daisy Jones & The Six streams via Prime Video.
Concrete Playground Trips
Book unique getaways and adventures dreamed up by our editors