Keep Believing: 'Ted Lasso' Scores Another Goal with the Apple TV+ Hit's Higher-Stakes Third Season
After an almost two-year gap, the Jason Sudeikis-starring soccer sitcom is finally back — and just as thoughtful and charming as ever.
It wasn't simply debuting during the pandemic's first year, in a life-changing period when everyone was doing it tough, that made Ted Lasso's first season a hit in 2020. It wasn't just the Apple TV+ sitcom's unshakeable warmth, giving its characters and viewers alike a big warm hug episode after episode, either. Both play a key part, however, because this Jason Sudeikis (Saturday Night Live)-starring soccer series is about everyone pitching in and playing a part. It's a team endeavour that champions team endeavours — hailing from a quartet of creators (Sudeikis, co-star Brendan Hunt, Detroiters' Joe Kelly and Scrubs' Bill Lawrence), boasting a killer cast in both major and supporting roles, and understanding how important it is to support one another on- and off-screen (plus in the fictional world that the show has created, and while making that realm so beloved with audiences).
Ted Lasso has always believed in the individual players as well as the team they're in, though. It is named after its eponymous American football coach-turned-inexperienced soccer manager, after all. But in building an entire sitcom around a character that started as a sketch in two popular US television ads for NBC's Premier League coverage — around two characters, because Hunt's (Bless This Mess) laconic Coach Beard began in those commercials as well — Ted Lasso has always understood that everyone is only a fraction of who they can be when they're alone. That's an idea that keeps gathering momentum in the show's long-awaited third season, which premieres the first of its 12 episodes on Wednesday, March 15, then keeps rolling out more week by week.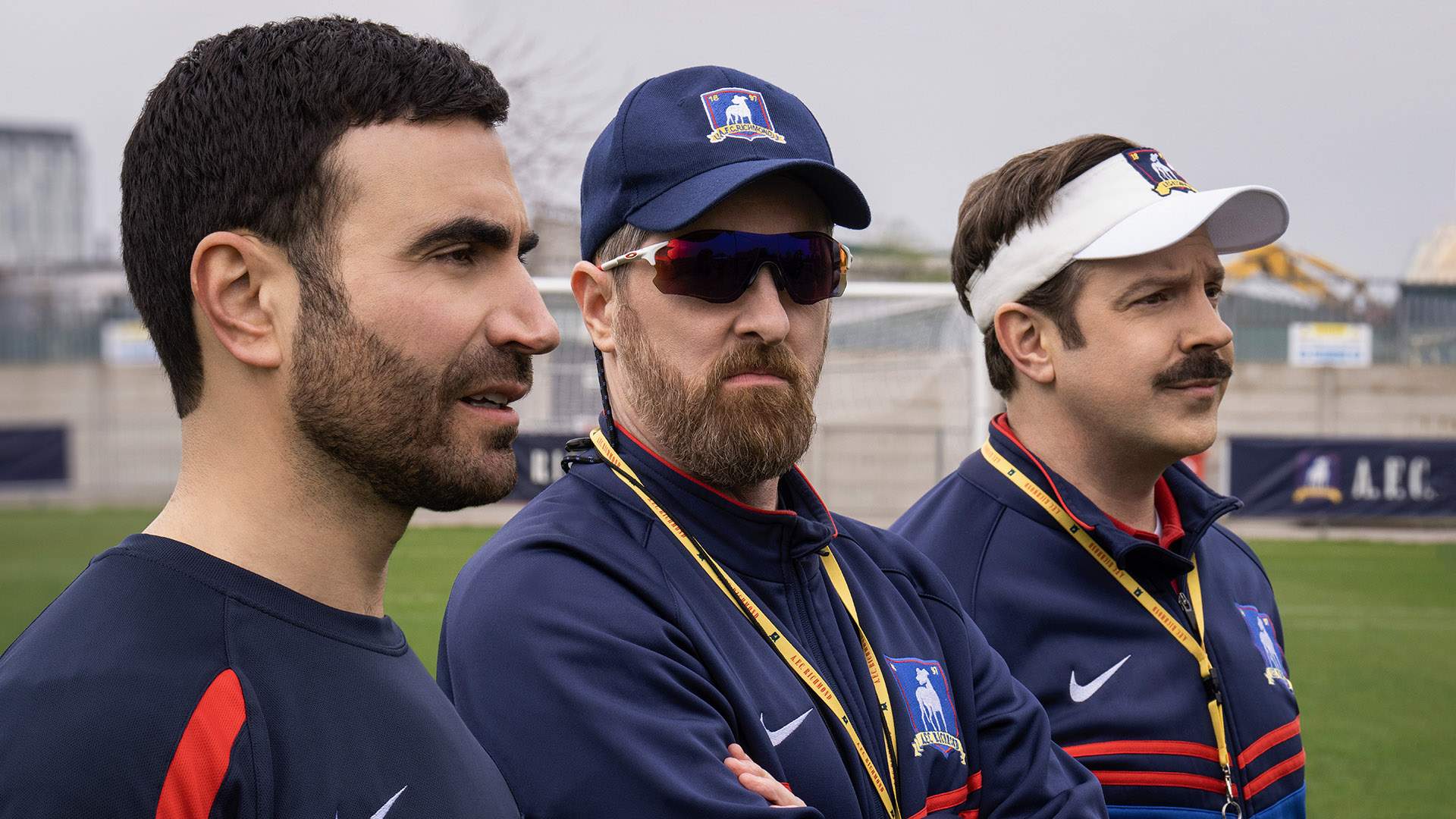 Season three starts with Ted left solo when he desperately doesn't want to be, in one of the rare situations that can cut through the Kansan-in-London's usually unflappable optimism. Season two helped unpack his perennially upbeat ways, and started to see fractures, so a less-than-chipper Ted is no longer a complete surprise. But Ted questioning why he's on the other side of the world, and alone away from his son Henry (Gus Turner, Life After Life) and now-former wife Michelle (Andrea Anders, That '90s Show)? That's how Ted Lasso's third season kicks off, and it scores a goal with that choice. The series has already established that its various figures — Ted, Beard and the AFC Richmond crew they joined when owner Rebecca Welton (Hannah Waddingham, Hocus Pocus 2) brought them to the UK initially to tank her ex-husband's beloved club — can work as a team. Now it's going deep on why they want to.
"I guess I do sometimes wonder what the heck I'm still doing here," says Ted. "I mean, I know why I came, but it's the sticking around I can't quite figure out," he continues. That's a new core thread, and a notion that echoes across other plots. After becoming West Ham United's manager under Rebecca's ex Rupert Mannion (Buffy the Vampire Slayer's Anthony Stewart Head), the Greyhounds' former assistant Nathan 'Nate' Shelley (Nick Mohammed, Intelligence) is thrilled and  overwhelmed — and happy to keep his nasty streak going publicly, while also grappling with it privately. He knows why he joined a different team, as everyone who has seen the past two seasons does. But, as showdowns with his old club and mentor keep bubbling up, that isn't the same as knowing why he should commit to being Rupert's version of himself to stay with that team.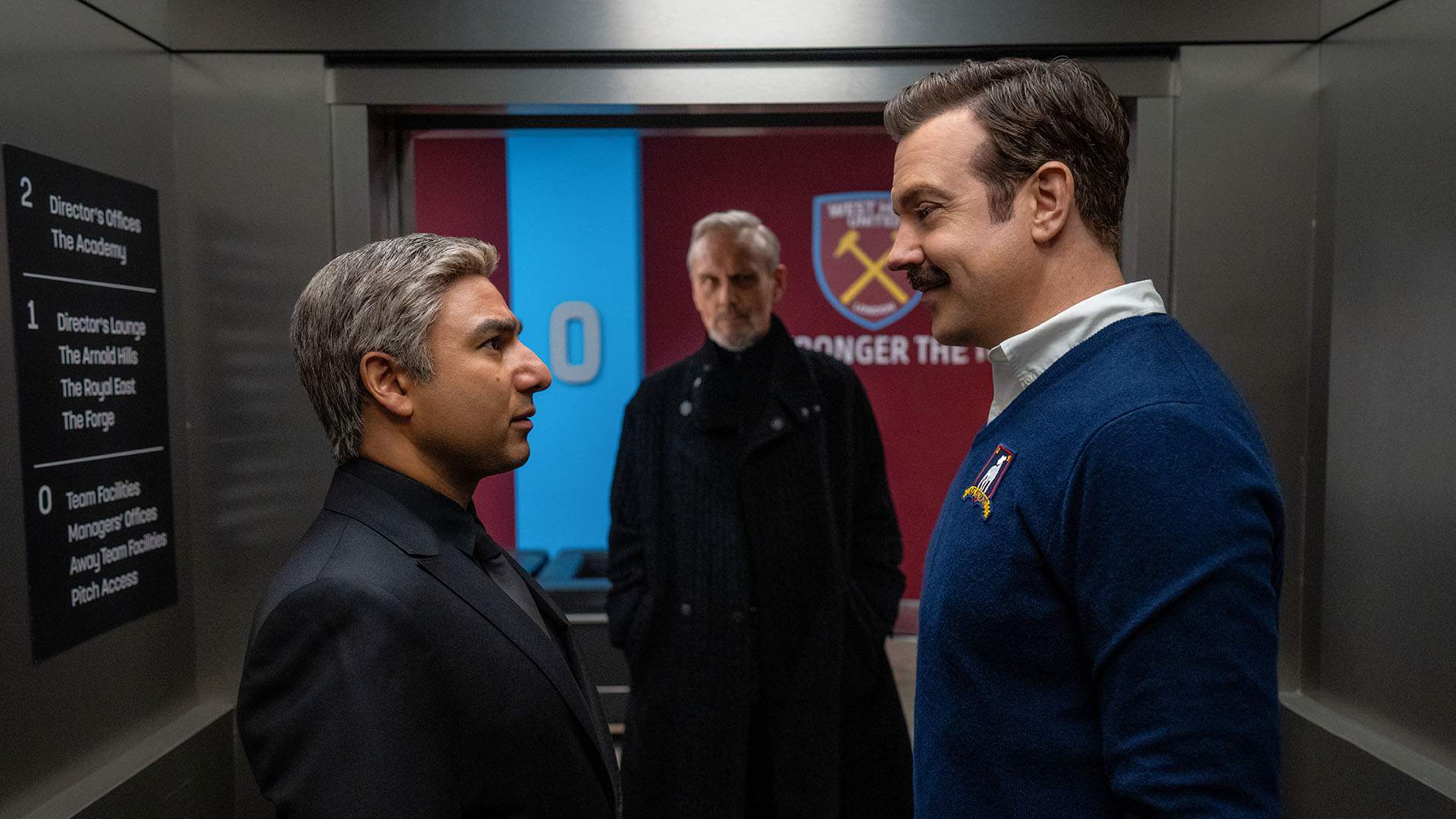 Season three also has delightfully grumpy retired player Roy Kent (Brett Goldstein, Uncle) leaning into his coaching role at Richmond in Nate's absence, and face why he's doing it, including pushing him closer towards star striker Jamie Tartt (Phil Dunster, The Devil's Hour). He has time, after his relationship with Keeley Jones (Juno Temple, The Offer) — now an ex to both Roy and Jamie — ended in season two, while she's exploring why she was so eager to start her own PR film. As for Jamie, his arc since episode one has been one of cockiness humbled by stark truths, then finding a sustainable status quo. When a new hotshot arrives, he also has to confront why he's part of the team and what he wants that to mean. As celebrated as Ted Lasso's entire cast is, with two acting Emmys for Sudeikis and Goldstein in two seasons, one for Waddingham, and nominations for Hunt, Temple, Mohammed, Jeremy Swift, Toheeb Jimoh, Sarah Niles and more, Dunster's performance deserves more notice.
What will all this questioning lead to in season three? Ideally, to happier, kinder people who understand themselves better — Ted's ultimate goal always, ranking high above winning. But with Richmond back in the Premier League, Britain's football media predicting it'll be relegated again when the season is out, Rupert securing West Ham's success however he can and Rebecca desperate not to lose to the man she's already lost plenty to, winning matters more than it ever has in Ted Lasso. So, whether everyone will benefit from that journey, why they're taking it, what it'll cost and what it'll mean for the show's various teams sits at the heart of the season.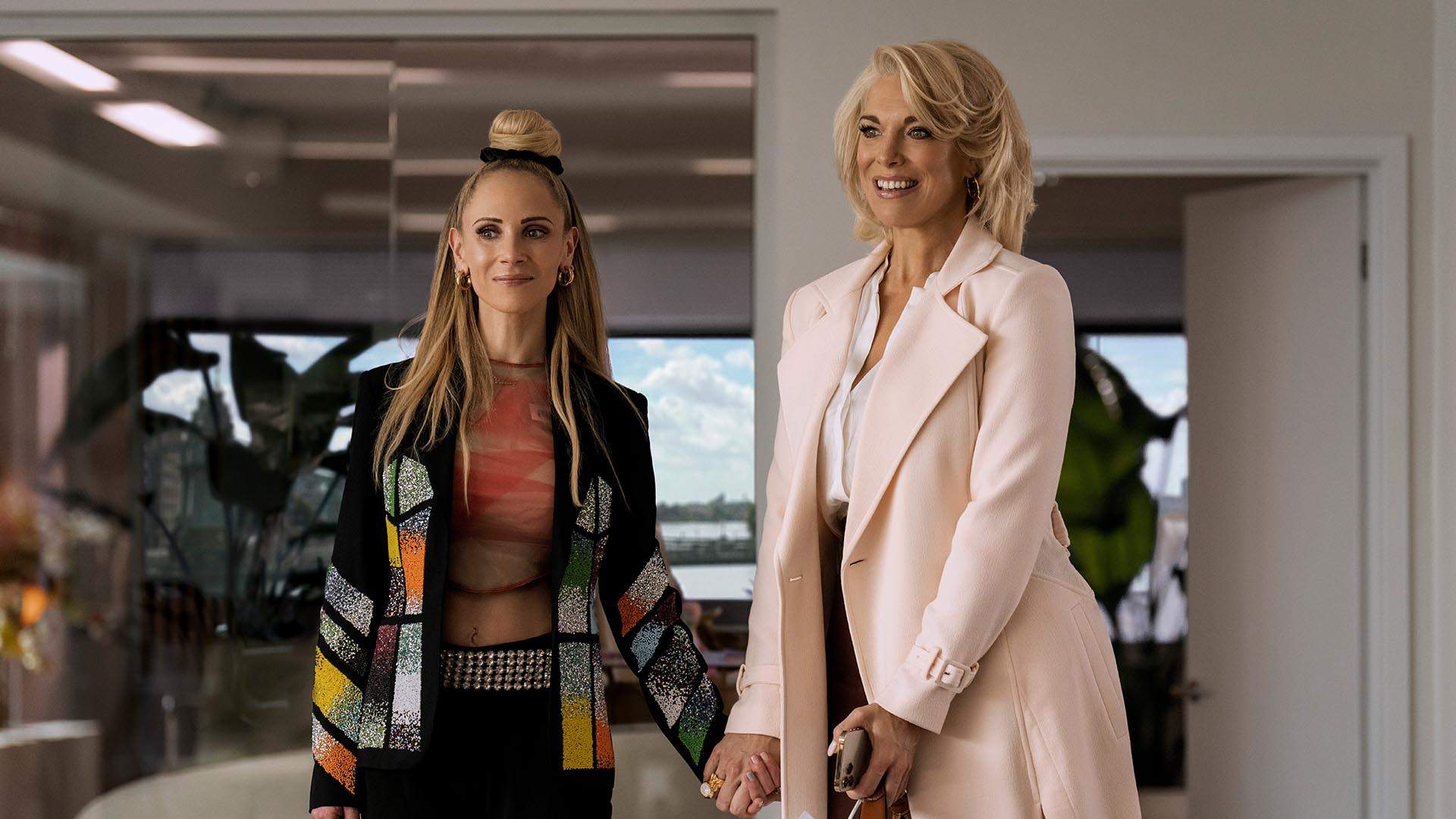 Of course, as every TV viewer knows, a lot can happen in a season. Every sports fan, and anyone who has ever just watched a sports-themed TV show or movie, is well-aware, too. Higher stakes, deeper emotional dives: that's the first four episodes of Ted Lasso season three, across longer episodes that clock in between 40–50 minutes apiece. As the second season did, this go-around also broadens who it spends time with, giving Richmond players Colin Hughes (Billy Harris, The Outlaws) and Thierry Zoreaux (Moe Jeudy-Lamour, Tom Clancy's Jack Ryan) a bigger spotlight as Sam Obisanya (Jimoh, The French Dispatch) and Dani Rojas (Cristo Fernandez, Spider-Man: No Way Home) gained before them. There's that team focus again, so much so that Ted Lasso can't stop filling the field. Beard and Higgins (Swift, Housebound), the club's Director of Football Operations, still have Ted's back, and Dr Sharon Fieldstone (Niles, The Sandman) remains a call away.
No Ted Lasso devotee wants to start thinking about its end game, but its creators have; a three-season arc has been discussed. Unlike Succession and Barry, a finish to the acclaimed hit hasn't been announced going into this new round of episodes — but as the series ponders why Ted and company have chosen their teams, what keeps them there, and what makes them better by being there, a feeling of change lingers in the air. Everything that's always made Ted Lasso a delight remains in season three, including its sincerity, warmth and care, determination to see both the joys and the struggles, and the pitch-perfect performances. Also, every season of the series has always started with new beginnings of a sort. If this one concludes the way it kicks off, though — whether or not there's a season four — then it looks set to embrace why teams achieve, fail, find success out of mess, are stronger together, but can only win when everyone does.
Check out the trailer for Ted Lasso's third season below:
Season three of Ted Lasso starts streaming via Apple TV+ from Wednesday, March 15.
Read our full review of season two.
Concrete Playground Trips
Book unique getaways and adventures dreamed up by our editors