Cult Catering Comedy 'Party Down' Is Finally Back and Just As Fantastic (and Funny) As Ever
You'll be having fun, and often, with this Adam Scott-starring gem's 13-years-later revival.
Sometimes, dreams do come true. More often than not, they don't. The bulk of life is what dwells in-between, as we all cope with the inescapable truth that we won't get everything that we've ever fantasised about, and we mightn't even score more than just a few things we want. This is the space that Party Down has always made its own, asking "are we having fun yet?" about life's disappointments while focusing on Los Angeles-based hopefuls played by Adam Scott (Severance), Ken Marino (The Other Two), Ryan Hansen (A Million Little Things), Martin Starr (Guillermo del Toro's Cabinet of Curiosities) and more. They'd all rather be doing something other than being cater waiters at an array of California functions, and most have stars in their eyes. In the cult comedy's first two seasons back in 2009–10, the majority of its characters have their sights set on show business, slinging hors d'oeuvres while trying to make acting, screenwriting or comedy happen.
By even existing, Party Down itself is the product of dreams that aren't fulfilled and the twists of fate that follow. If Veronica Mars hadn't initially been cancelled after three seasons, its creator Rob Thomas mightn't have moved onto a new collaboration with two of the show's fellow former staff — writer/producer John Enbom and producer Dan Etheridge — plus one-time guest star Paul Rudd (Ant-Man and the Wasp: Quantumania). And, if that hadn't have occurred, Party Down wouldn't have ever graced screens with its spectacular dark farce at all. It too was cancelled too soon but has found a way to make a comeback. In its 13-years-later revival, it smartly and hilariously grapples with what it means when dreams don't pan out, and when they seem like they will only to crash.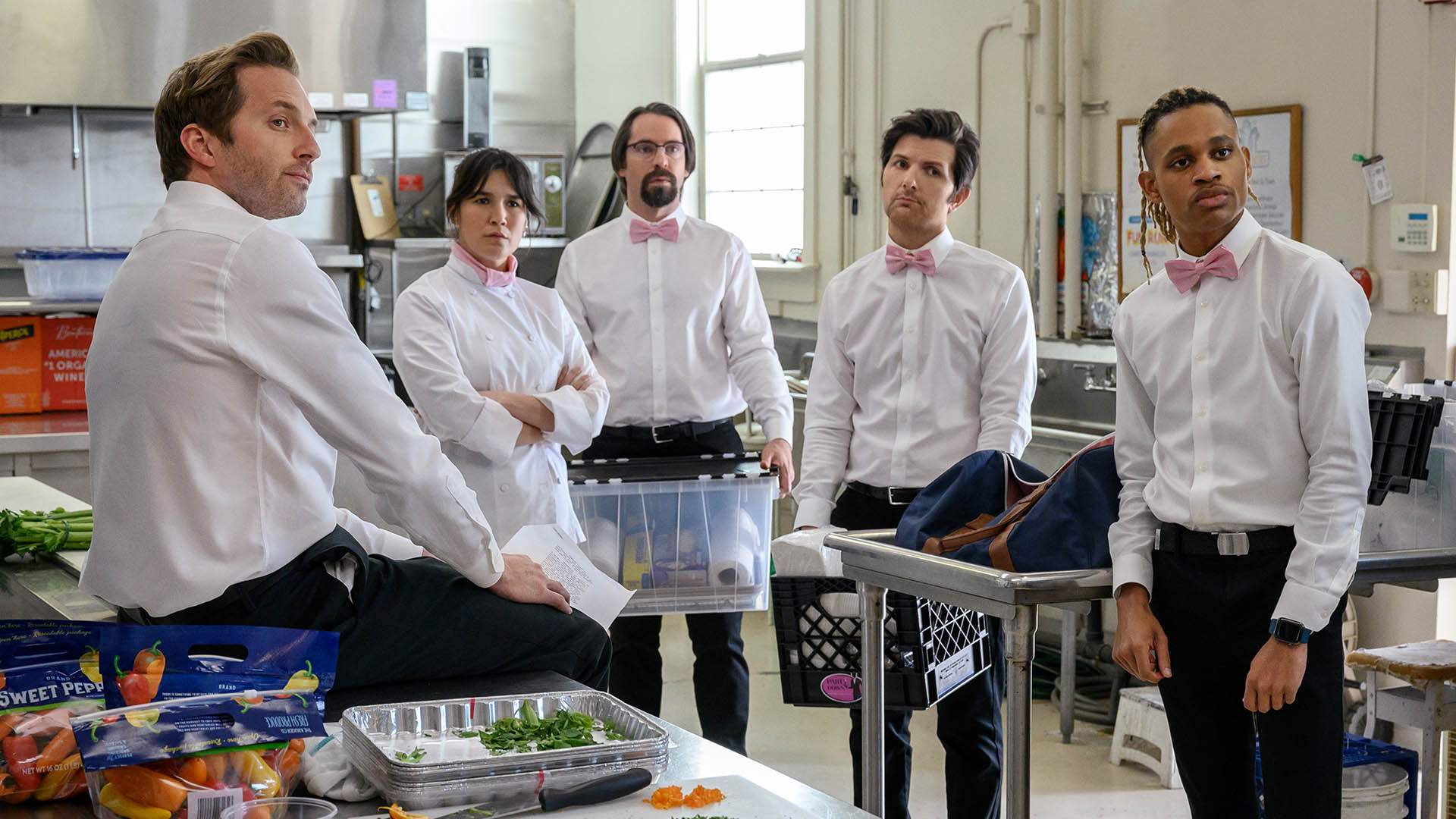 Bringing most of the original gang back together —  Lizzy Caplan had scheduling issues making the also-excellent Fleishman Is in Trouble, but Jane Lynch (Only Murders in the Building) and Megan Mullally (Reservation Dogs) return — Party Down keeps its shindig-by-shindig setup. Across its first 20 instalments as well as its new six, which drop weekly on Stan from Friday, February 24, each episode sends the titular crew to a different soirée. The opening get-together is thrown by one of their own, Kyle Bradway (Hansen), who has just scored the lead part in a massive superhero franchise. Ex-actor Henry Pollard (Scott) is among the attendees, as are now-heiress Constance Carmell (Lynch) and perennial stage mum Lydia Dunfree (Mullally), but comedian Casey Klein (Caplan) is too busy being Saturday Night Live-level famous. Hard sci-fi obsessive Roman DeBeers (Starr) and the eager-to-please Ron Donald (Marino) are present as well, in a catering capacity.
Having some of the team still sporting their black pants, crisp white shirts and pastel pink bow ties after such time has passed could've played as lazy or unbelievable. Party Down has always been as unflinchingly honest as it is sidesplittingly funny, however. It finds its main figures literally in reunion mode, and uses that entry point to explore everything that could've changed — and what mightn't have — for anyone getting their start working in hospitality in LA. Some achieved exactly what they said they would. Some are still just talking about it, and bitterly. As for Henry, he advises Kyle that he's a high-school English teacher. When his pal asks "on what show?" in response, Party Down remains as incisive as ever at tearing down the Hollywood mindset, its posturing and its centre-of-the-universe delusion. Henry genuinely is a high-school English teacher IRL, a fact that Kyle hasn't even entertained.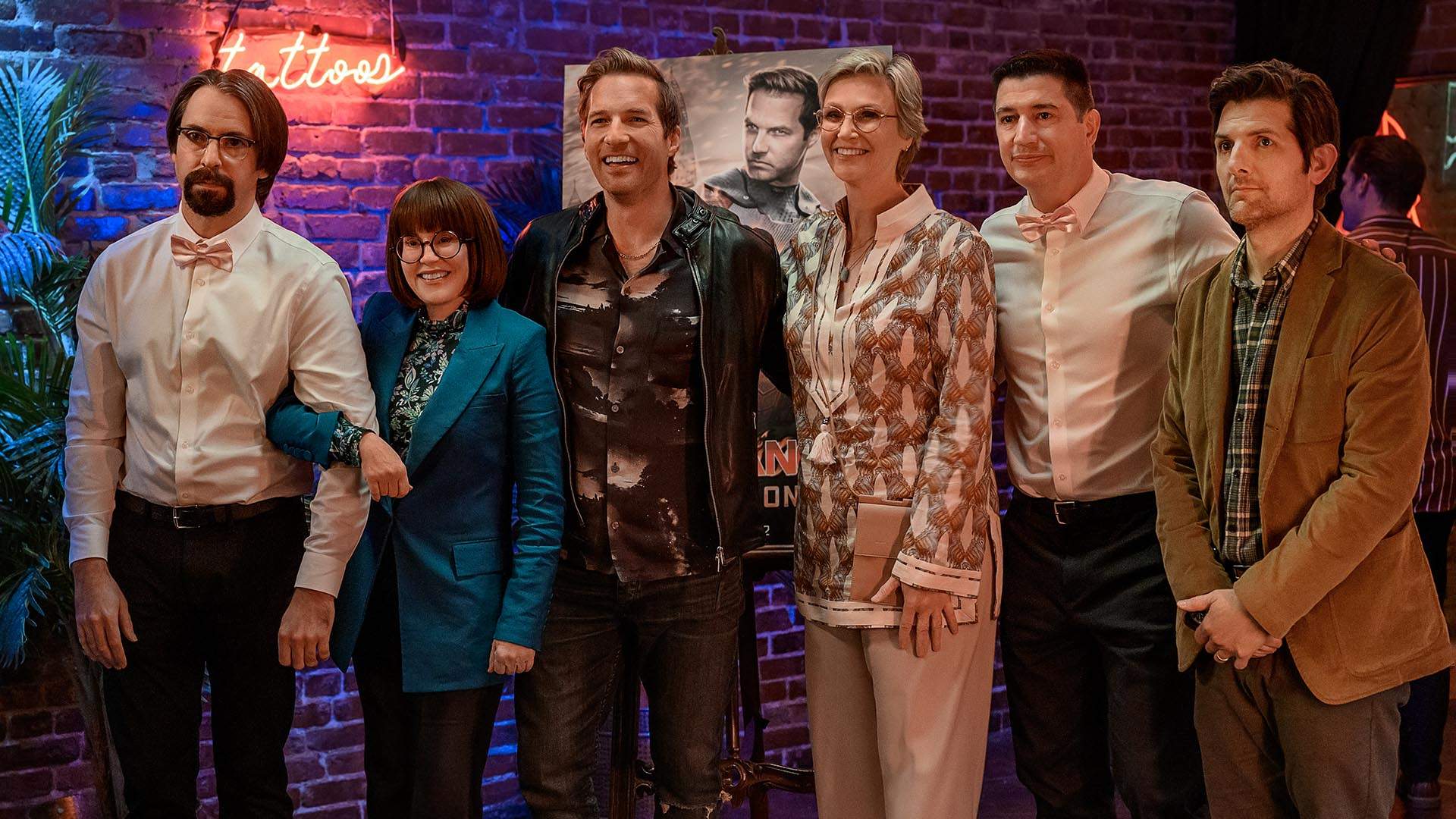 More of the Party Down OGs end up back in uniform, in turns of events that couldn't be more organic, believable and steeped in the series' constant confrontation with dreams failing, flailing and fading. Still, season three has fresh faces; hospitality is a turnover-heavy industry. Content creator Sackson (Tyrel Jackson Williams, Brockmire) would rather be filling his socials, and flouts the Ron Donald dos and Ron Donald don'ts as Henry, Kyle, Roman and the group always have. The Gen-Z influencer wannabe also acts as visible reminder of how the notion of stardom has changed. Chef Lucy Dang (Zoë Chao, The Afterparty) seeks fame through her cooking, which isn't your standard catering spread. Baking ripened camembert into birthday cake, for instance, she wants food to be art rather than mere fuel.
Also among the newcomers, but not holding trays for minimum wage, are Jennifer Garner (The Adam Project) as film executive Evie Adler and James Marsden (Dead to Me) as hotshot actor Jack Botty. The former hits it off with Henry — because with Caplan's Casey absent, Party Down still needs its emotional core and will-they-won't-they rom-com spark amid the Hollywood takedowns, ridiculous celebration ideas and slapstick absurdity it throws together skilfully, cleverly and hysterically. Unsurprisingly, season three is usually at its best when the show's old favourites bounce off each other, but Thomas and company have done well with their newcomers. That's another returning talent; before she was winning awards for The White Lotus, Jennifer Coolidge made a killer two-episode addition to the crew, and Mullally joined the cast when Lynch moved onto Glee.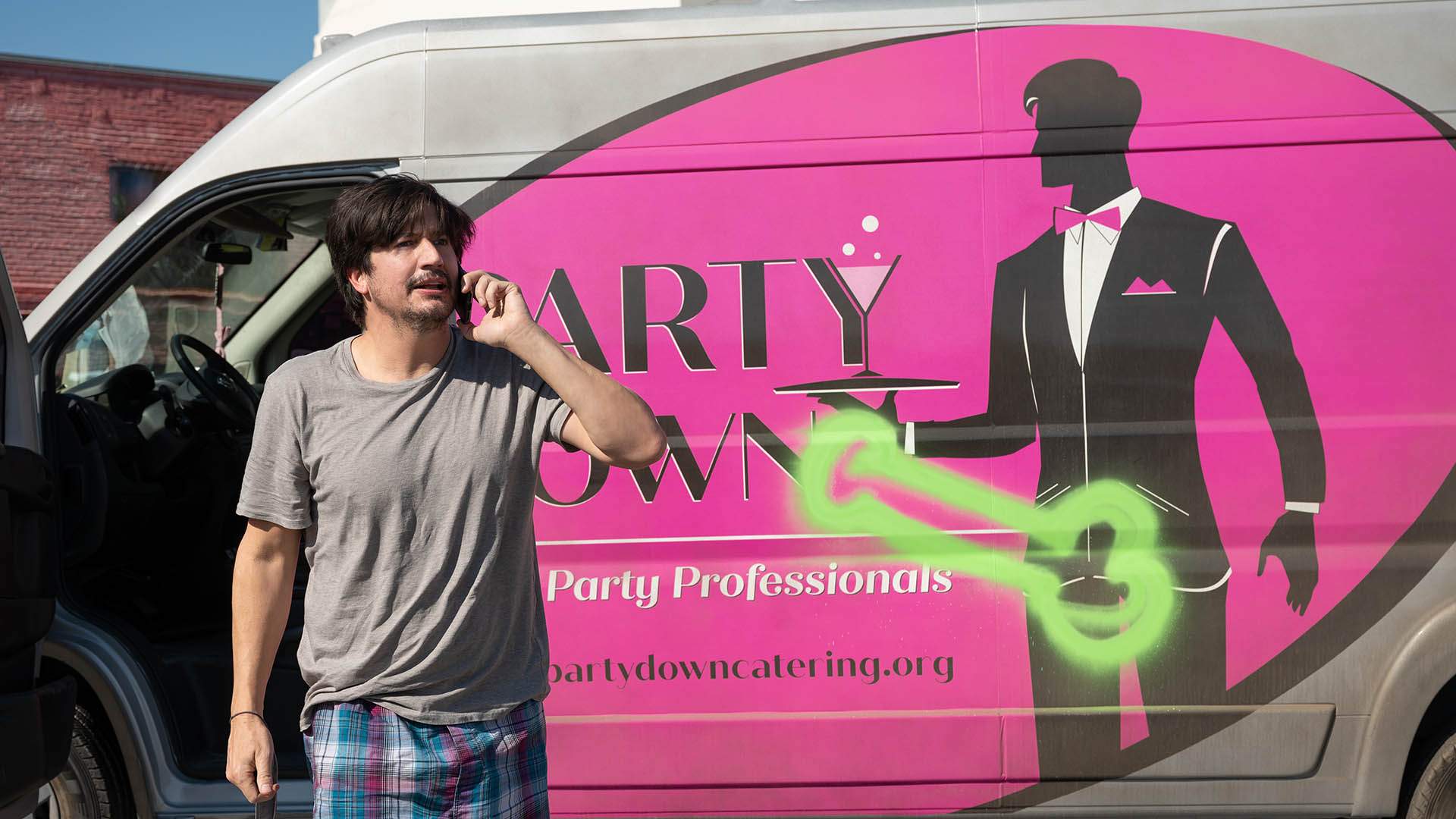 Are we having fun yet? Yes, always. While the catchphrase that's long haunted Henry — uttered in a beer commercial, and his biggest acting claim to fame — is rolled out again, Party Down season three is also supremely skilled at working in nods and callbacks without ever feeling like the person at the party that won't move on from the past. With Enbom showrunning, the writing is again intelligent and amusing, and the tone hasn't wavered a decade-plus on. And, once getting the gang back together has been established, Party Down's latest stint still ranks it among the all-time great workplace comedies. Scott does love pondering the daily grind, starring in Parks and Recreation and Severance before making his way back to pouring drinks.
There's exactly one issue with season three: it only runs for six episodes. Since 2009, the world has always needed more Party Down, and that remains the case now that it's finally back. No one needs Party Down, the company, like Ron still does, though. None of the show's characters have ever embodied the desperate extremes that someone can go to to make their dreams come true as he still does, either — or what happens when someone has pitched their whole identity on one thing and won't accept any alternatives no matter the humiliations that arise. Marino, like Hansen and Scott, made the jump over to Party Down from Veronica Mars to play the catering outfit's oh-so-keen (but always-bumbling) manager, and his performance continues to be a masterclass in bleak and physical comedy in a series that's outstanding at (and has fun with) both.
Check out the trailer for Party Down season three below:
Party Down's third season streams via Stan from Friday, February 24 — and via TVNZ+ as well.
Concrete Playground Trips
Book unique getaways and adventures dreamed up by our editors