Scathing in Sicily: Season Two of HBO's Stellar Satire 'The White Lotus' Is Well Worth a Return Trip
Fresh from stuffing a haul of Emmys into its suitcase, this Jennifer Coolidge-starring dramedy is back with another group of wealthy vacationers across another chaotic week.
Lives of extravagant luxury. Globe-hopping getaways. Whiling away cocktail-soaked days in gorgeous beachy locales. Throw in the level of wealth and comfort needed to make those three things an easy, breezy everyday reality, and the world's sweetest dreams are supposedly made of this. On TV since 2021, HBO's hit dramedy The White Lotus has been, too. Indeed, in its Emmy-winning first season, the series was a phenomenon of a biting satire, scorching the one percent, colonialism and class divides in a twisty, astute, savage and hilarious fashion. It struck such a chord, in fact, that what was meant to be a one-and-done limited season was renewed for a second go-around, sparking an anthology. That Sicily-set second effort arrives Down Under on Monday, October 31, airing week to week — via Binge in Australia and Neon in New Zealand — and the several suitcase loads of scathing chaos it brings with it are well worth unpacking again.
Sex, status, staring head-on at mortality and accepting the unshakeable fact that life is short for everyone but truly sweet for oh-so-few, regardless of bank balance: they're The White Lotus season two's concerns. All three played key parts in season one as well, but this sunnily shot seven-episode second run emphatically stresses that the bliss money is meant to bring is truly a mirage, as is the carefree air of a vacation. Accordingly, another group of well-off holidaymakers slip into another splashy, flashy White Lotus property — this time in Taormina in Italy, sat atop jagged cliffs and beneath the looming Mount Etna — and work through their jumbled existences over drinks by the pool, dinners at the bar, hefty room-service bills and sightseeing trips around town. Another death lingers over their trip, with The White Lotus again starting with an unnamed body — bodies, actually — then jumping back seven days to tell its tale from the beginning.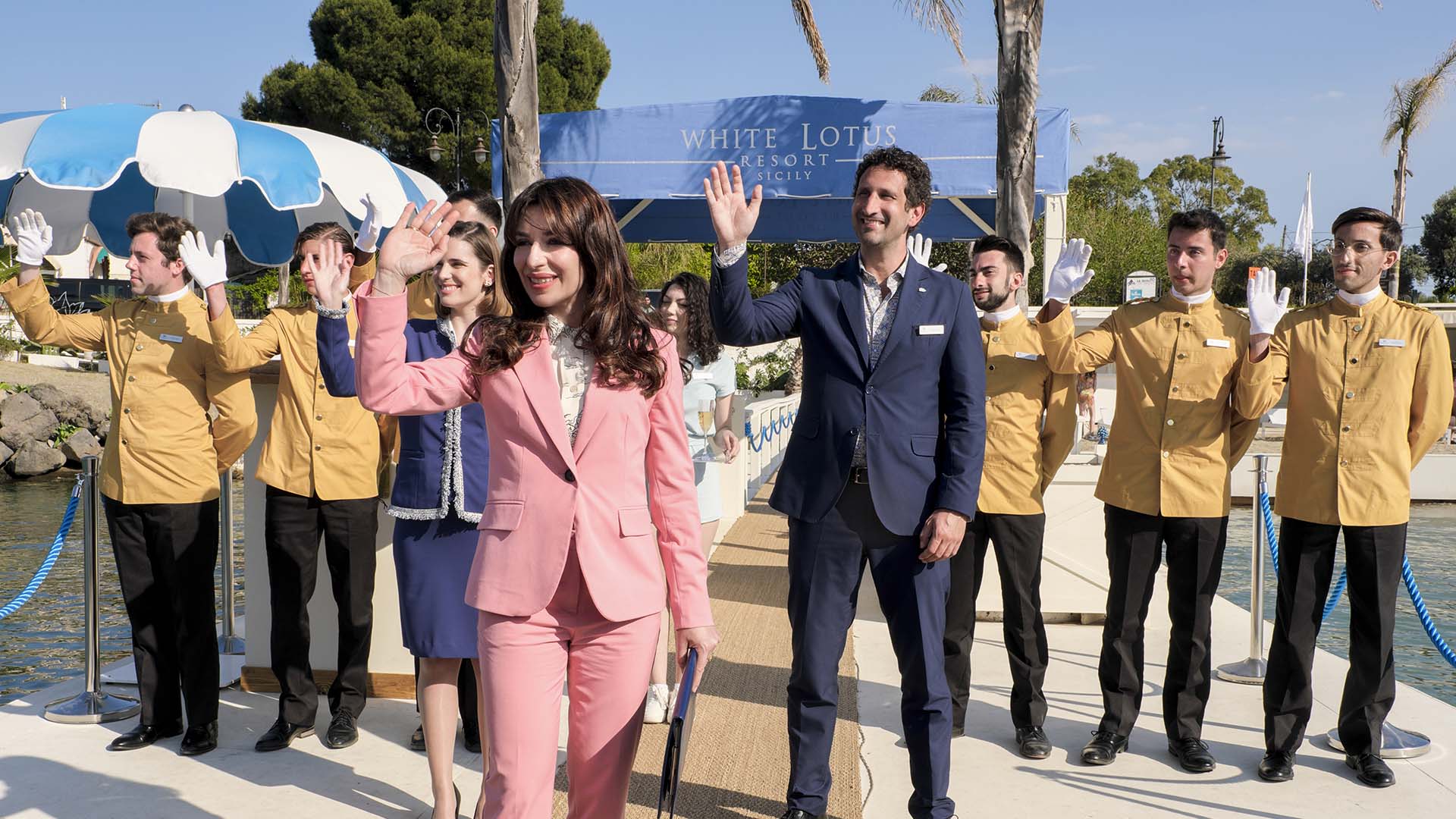 Running the Sicilian outpost of the high-end resort chain, White Lotus manager Valentina (Sabrina Impacciatore, Across the River and Into the Trees) is barely surprised by the corpse that kicks off season two. Non-plussed about the hotel's demanding guests, her staff and men in particular, she's barely surprised at much beforehand, either. Initially, viewers will share her lack of astonishment, with writer/director/creator Mike White (Brad's Status) setting up this return visit with similar elements as season one. New location, new hotel employees, a mostly new cohort of travellers, same malaise and mayhem: that's The White Lotus' second season at the outset and on the surface. As it proved the first time around with such potency, however, this series is exceptional at letting the supposedly straightforward and idyllic blister like a sunbather catching some rays — and at peeling away layer upon layer of ostensible ecstasy in a seeming utopia.
Now married to Greg (Jon Gries, Dream Corp LLC), who she met in Hawaii in season one, Tanya McQuoid-Hunt (Jennifer Coolidge, The Watcher) is among the resort's fresh arrivals — and, with her husband, the show's familiar faces. Everyone else around Sicily skips through the series for the first time, some with a heartier spring in their step than others. Tanya's assistant Portia (Haley Lu Richardson, After Yang) is hardly thrilled when she's dispatched to her room, for instance, after Greg gets furious that she's on their vacation with them. She wants this jaunt away to be an experience after spending years alone in her room doomscrolling through the pandemic, but her boss just wants an emotional lap dog. Actually, Portia wants her trip to become a lusty Italian sex comedy, which White gleefully plays up across his slate of season-two characters; when in the country, clearly.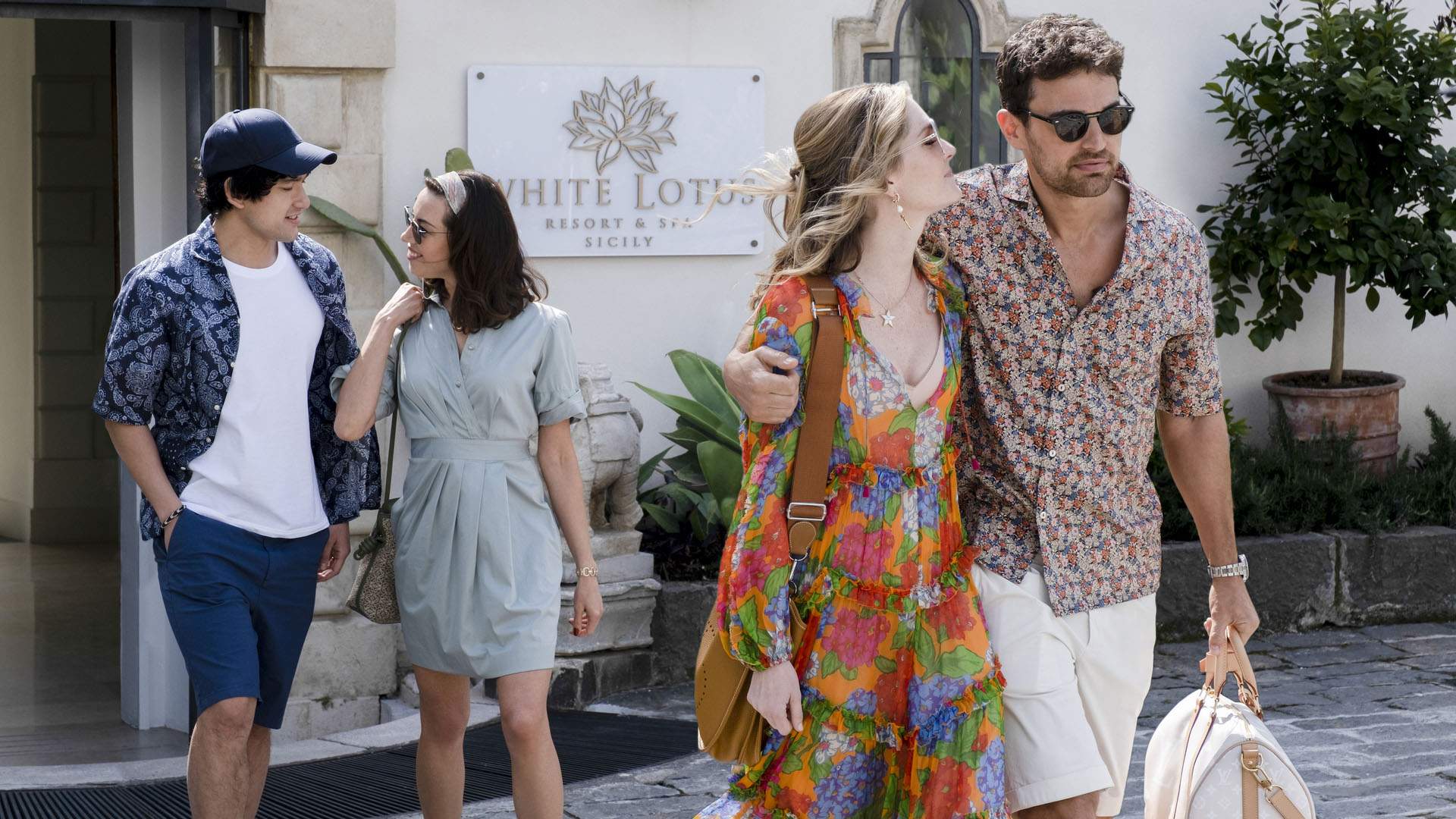 Also having a conflicted time are three generations of Di Grasso men: Bert (F Murray Abraham, Guillermo del Toro's Cabinet of Curiosities), who wants to visit his mother's village and flirts with every woman he sees; Dominic (Michael Imperioli, The Many Saints of Newark), a Hollywood hotshot navigating a marital breakdown due to his philandering; and the Stanford-educated Albie (Adam DiMarco, The Order), who's determined for his relationships with women to be everything his grandad's and dad's aren't. And, there's another far-from-content group in the Spillers and the Babcocks, with tech whiz Ethan (Will Sharpe, Defending the Guilty) and his employment-lawyer spouse Harper (Aubrey Plaza, Best Sellers) newly flush with cash after the former sold his company, but begrudgingly accepting a getaway invite from his finance-bro college roommate Cameron (Theo James, The Time Traveller's Wife) and his stay-at-home wife Daphne (Meghann Fahy, The Bold Type).
In the superbly written first five episodes of season two, White examines an array of familiar and relatable dynamics among Sicily's tourists, spanning new and long-standing couples, bosses and employees, and fathers and sons. When Portia and Albie cross paths early, it adds strangers potentially tumbling into a vacation romance to the itinerary a well. Delightfully, devilishly detailed characters are one of this show's strengths again, though, as aided by pitch-perfect performances all-round — especially from Coolidge once more, the endlessly cynical and expressive Plaza, and the tumultuous-and-loving-it Abraham. Another of The White Lotus' key drawcards, as paralleled in the new opening credits which play with Renaissance-style paintings: exposing how much emptiness, unhappiness and uncertainty sits behind such privileged lives, even in picturesque surroundings where opulence and relaxation are touted as the only aims.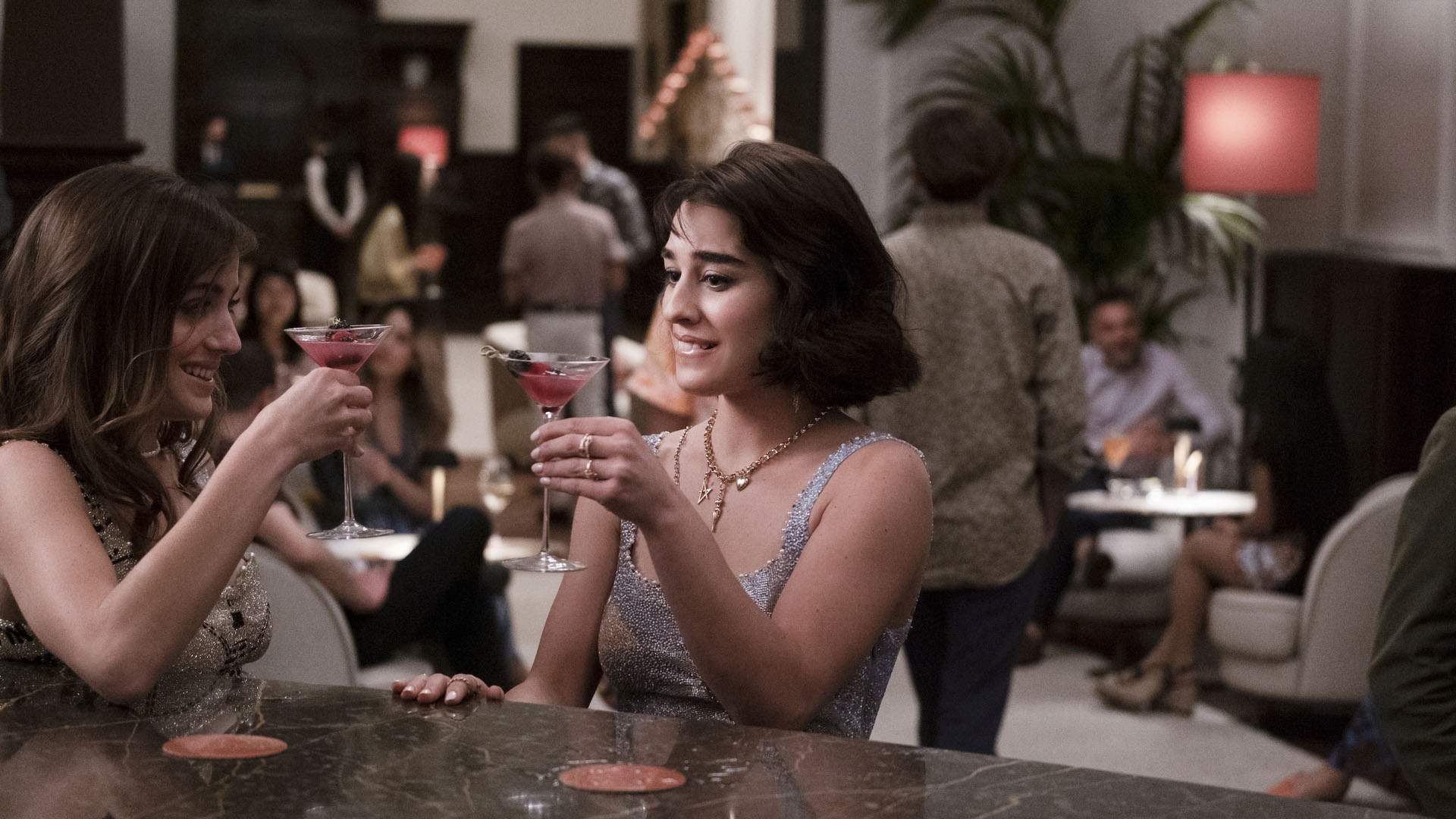 Eating the rich — and why they're eating themselves — is one of film and TV's favourite topics of late, whether Succession is spinning it into a similarly stellar satire across streaming queues, or Parasite and then Triangle of Sadness are winning the Cannes Film Festival's Palme d'Or. The White Lotus has always found extra bite in surveying the high-end holiday industry that relies upon well-to-do tourism, catering to such guests' every whim no matter how demanding or outlandish, too, by contrasting the vast difference between such vacationers and the staff at their beck and call, and acknowledging that true euphoria is never the end result. In season two, the remit broadens to Sicily locals who don't work at the titular resort — not officially, anyway. Sex worker Lucia (Simona Tabasco, The Ties) and aspiring singer Mia (Beatrice Grannò, Security) hang around the hotel to meet and chase both clients and dreams, and to covet the excess around them. All that glitters isn't gold for them, either.
All similarly isn't quite what it seems for Palermo-dwelling Brit Quentin (Tom Hollander, The King's Man), who decamped to Sicily decades back and, with his nephew Jack (Leo Woodall, Cherry), rounds out season two's key character list. Through them, The White Lotus' widened scope also encompasses the expat community, as well as the reality behind turning a holiday into your daily life. There's new shades to the show this time around, but its overall insights aren't surprising, of course. Still, White keeps pushing further, cutting both sharply and deep as he takes down and tears apart the fallacy of wealth and lavishness. What's always made The White Lotus so delicious — and such a potent, perceptive, snaky and amusing must-see — isn't just its moneyed misery and messiness, after all, but smartly stripping bare the idea that stacks of cash and scenic settings can buy perfection and satisfaction, even fleetingly, for anyone.
Check out the trailer for The White Lotus season two below:
The second season of The White Lotus starts streaming Down Under from Monday, October 31 via Binge in Australia and Neon in New Zealand. Read our review of season one.
Images: HBO.
Concrete Playground Trips
Book unique getaways and adventures dreamed up by our editors