TRAVEL & LEISURE
Three Natural Hot Springs in NSW to Visit This Winter
Brave the cold for a dip in one of these naturally occurring bush beauties.
in partnership with

Winter is finally upon us, but don't let the plunging temperatures confine you. One of the best ways to banish the winter blues is a leisurely soak in one of NSW's incredible hot springs. Scattered across the state, most of these natural pools are sourced from the Great Artesian Basin — a massive underground supply of freshwater — and are renowned for their many health benefits, like melting away that muscle tension. So grab your swimmers, a fluffy towel and a thermos, and get your body into one of these natural delights. You'll be loving winter in no time.
From pristine beaches and bountiful wine regions to alpine hideaways and bustling country towns, Australia has a wealth of places to explore at any time of year. We've partnered with Tourism Australia to help you plan your road trips, weekend detours and summer getaways so that when you're ready to hit the road you can Holiday Here This Year.
While regional holidays within NSW will be allowed from June 1, some of the places mentioned below may still be closed due to COVID-19 restrictions. Please check websites before making any plans.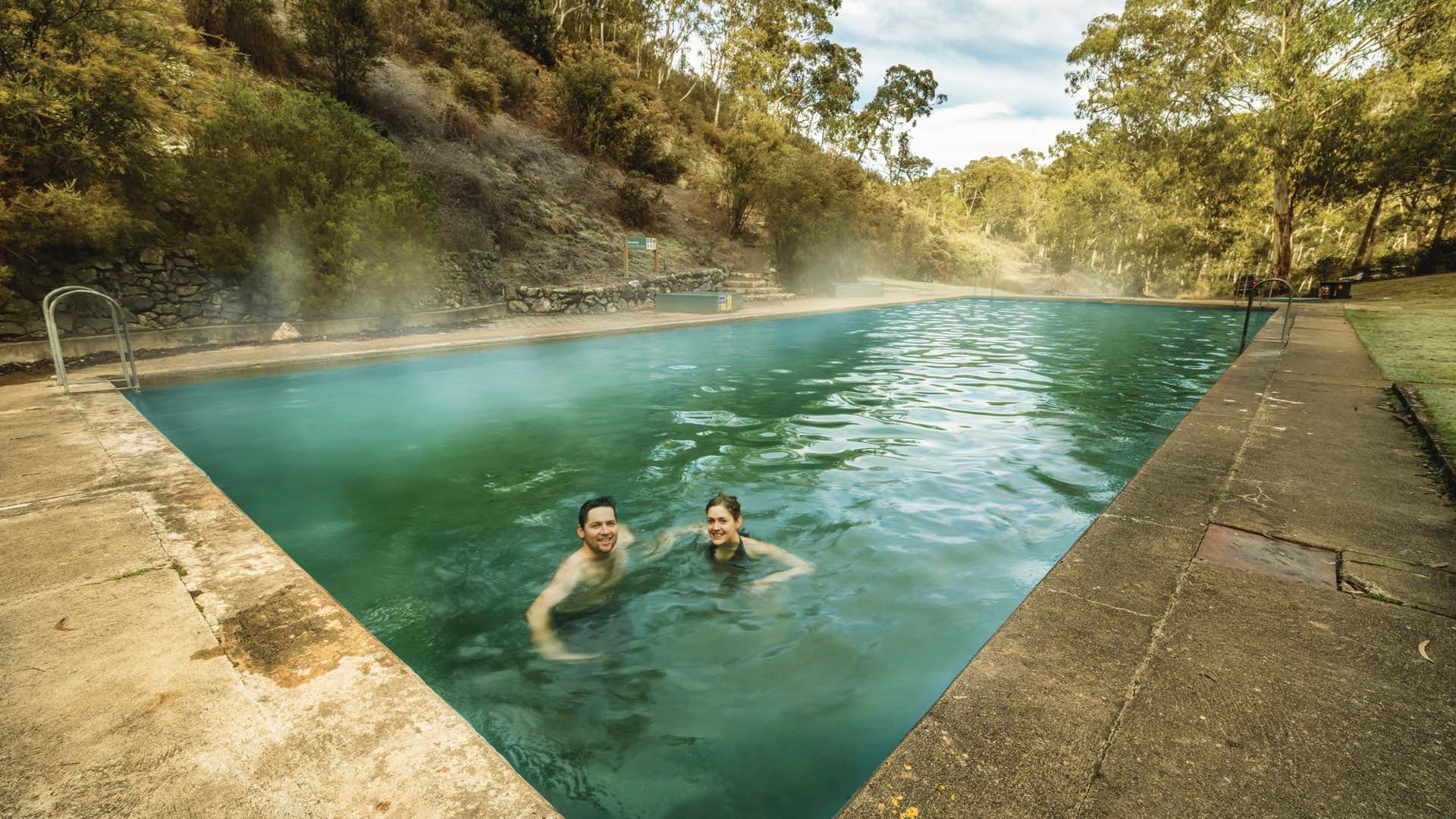 YARRANGOBILLY CAVES THERMAL POOL
It's not hard to see why this thermal pool in the Kosciuszko National Park is a local favourite. Quiet and secluded, with heaps to explore in the surroundings, it's the perfect destination for a crisp winter's day. Filled with water from a natural hot spring, the 20-metre pool remains at a perfect 27 degrees all year round. Get there via a short (but steep) 700-metre walk from the nearby car park, or wind your way along the three-kilometre River Walk. If the temps aren't too frosty, have a post-swim feed in the adjacent picnic area before exploring the surrounding caves.
Snowy Mountains Highway, Kosciuszko National Park, Tumut. 
LIGHTNING RIDGE HOT BORE BATHS
Located just outside the opal mining town of Lightning Ridge, these delightful baths are surrounded by remote bushland and are gloriously removed from all signs of civilisation — plus they're open 24 hours a day. You can soak in the hot waters at sunrise, sunset, or any other time your little heart desires. Night swims are particularly recommended as you can float in the 40-degree water while taking in the stunning expanse of the starry sky. A popular meeting place for Lightning Ridge residents, the baths are also a great place to get a feel for local life. Best of all? Entry is totally free.
Pandora Street, Lightning Ridge.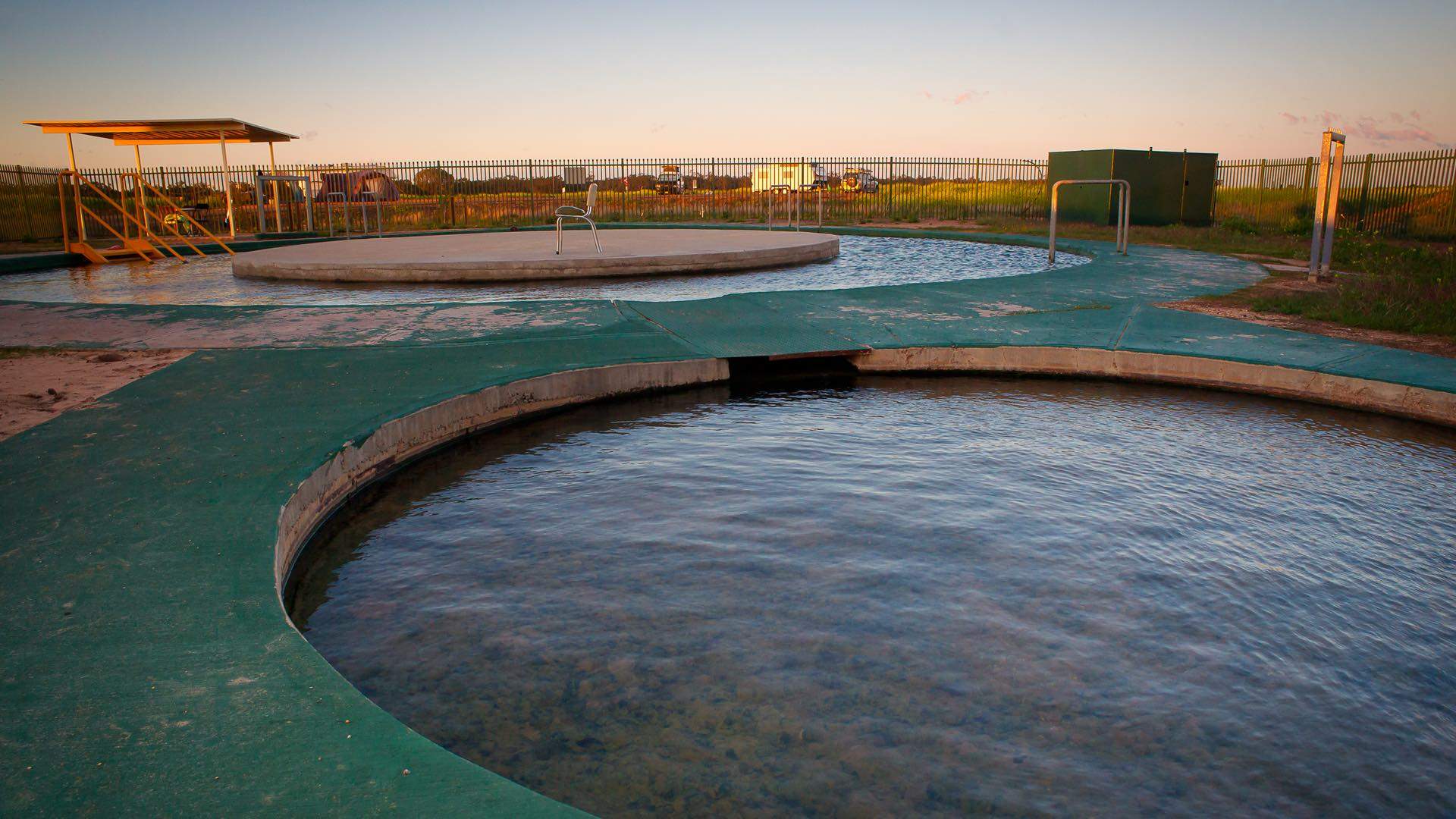 BURREN JUNCTION BORE BATHS
Want to extend your hot spring adventure into a relaxing weekend (or week) away? Pack a tent and head for the Burren Junction bore baths and campground. Camping is $5 per vehicle, and there are barbecue facilities, filtered water and electricity. Spend your days soaking in the circular pool's 41.5-degree waters and, once you've melted away the week's tensions, head into town for a beer and a meal at the bustling Junction City Hotel for a taste of country town life.
While you're in the area, you may as well visit another natural bore bath in Pilliga. It's a half-hour drive from Burren Junction, and you can pitch your tent in the camping ground for $5 a night and, although the facilities are very basic, it's well worth it for proximity to the lovely baths. Recent upgrades have added a roof over the pool area, lighting for night bathing and a barbecue and picnic area. Note: the baths are closed every Friday night for cleaning. If you'd rather rest your newly rejuvenated bod in a proper bed, book into the Pilliga Pub, three kilometres away from the baths.
Kamilaroi Highway, Burren Junction.
Whether you're planning to travel for a couple of nights or a couple of weeks, Holiday Here This Year and you'll be supporting Australian businesses while you explore the best of our country's diverse landscapes and attractions.
Top image: Yarrangobilly Caves Thermal Pool by Murray Vanderveer.
Published on May 14, 2020 by Yelena Bidé