'A Murder at the End of the World' Is the New Nordic Noir-Style Whodunnit That You Won't Want to Stop Watching
Emma Corrin turns Agatha Christie in this twisty and chilly murder-mystery from 'The OA' creators Brit Marling and Zal Batmanglij.
Whichever miniatures are stuffed inside a snow globe, a simple shake surrenders them all to the same fate: flakes falling in their tiny dome. Pop culture's enduring murder-mystery obsession can feel much the same way. When the pieces start raining down in Disney+'s seven-part miniseries A Murder at the End of the World, there's much that instantly feels familiar from a heavily populated field of recent and classics whodunnits. That checklist includes a confined single setting, potential victims cooped up with an unknown killer, rampant secrets and lies, fingers pointed everywhere, Nordic noir's frosty climes, an eerie butler, a wealthy host who might just have the most to lose and, of course, a gifted gumshoe sleuthing through the group.
A Murder at the End of the World radiates its own Gen Z Sherlock Holmes vibe, though. That's even how its sharp protagonist is described, and early. In the role of 24-year-old hacker-turned-author Darby Hart, Emma Corrin (Lady Chatterley's Lover) also turns Agatha Christie. The OA creators Brit Marling and Zal Batmanglij have put their own intriguing, involving, can't-stop-watching spin on their addition to the genre, as they make clear early. As the duo share writing duties and split time in the director's chair — with Marling also co-starring — they take cues from The Girl with the Dragon Tattoo and Stieg Larsson's sequels as well, all while also sliding their series in alongside Glass Onion: A Knives Out Mystery; however, the mood, ambition, pursuit of weighty themes, shadowy conspiracies, earnestness and love of telling puzzle-box tales match perfectly with their last show, plus their film collaborations Sound of My Voice and The East.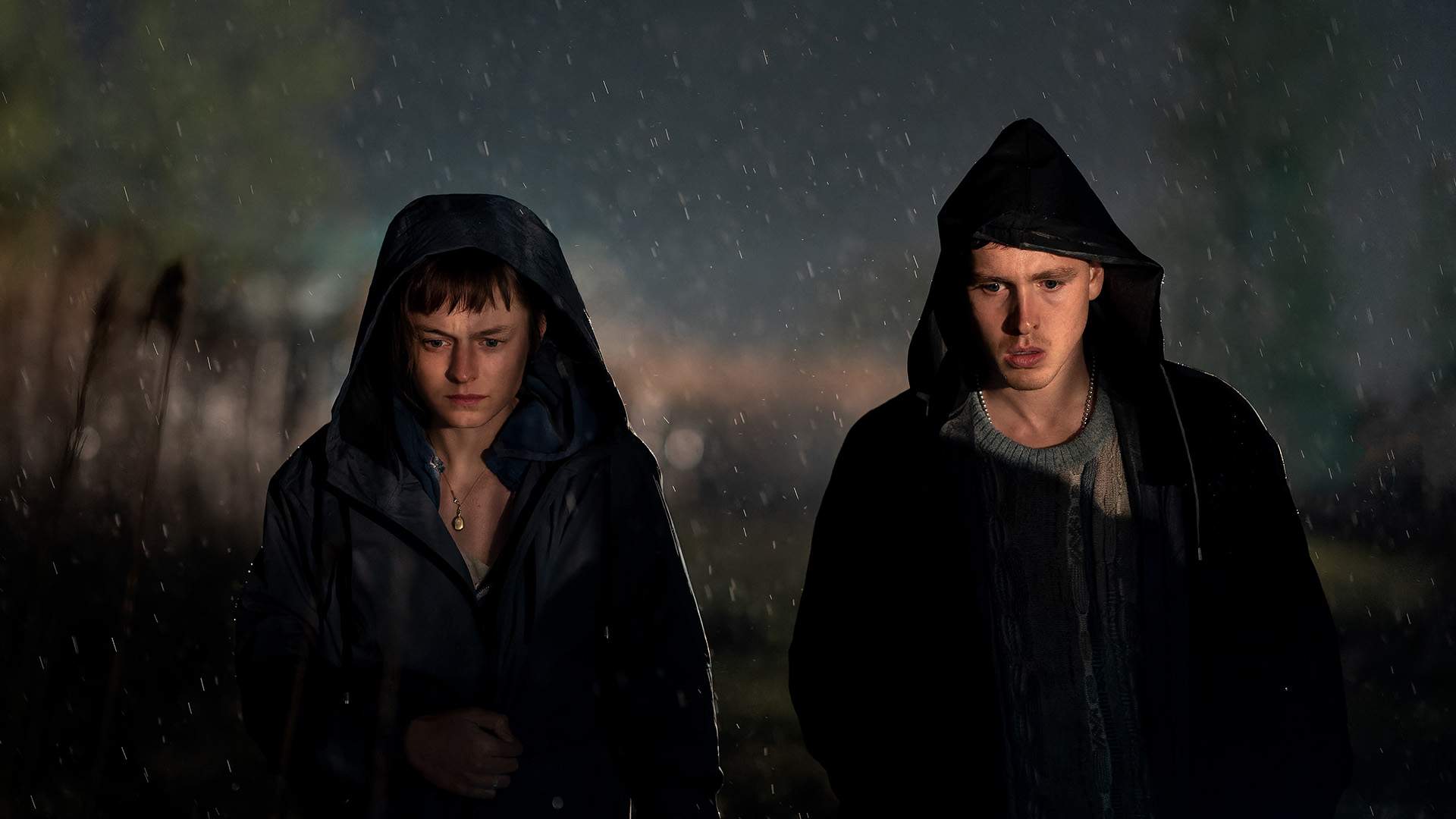 A Murder at the End of the World is a murder-mystery that's as much as twisty, chilly game as it is a musing. Its name nods to its remote Iceland setting, where untimely death does indeed stalk, and also to humanity's possible demise if the warming earth becomes uninhabitable. Among the assembled guests beckoned to a yet-to-open Scandi minimalist-style hotel, topics of conversation include the climate apocalypse, technological possibilities, space's potential, robotics, ever-present surveillance and AI — which the handpicked group's billionaire recluse host Andy Ronson (Clive Owen, American Crime Story) prefers to call "alternative intelligence". Whether the money and power that's splashed around by rich innovators is a lifeline or catastrophic also lingers, even when it isn't specifically addressed. (Yes, A Murder at the End of the World slips into the affluence-savaging terrain that everything from Succession to The Fall of the House of Usher has trodden upon of late.)
Introduced walking to a bookstore listening to 'The End' by The Doors and therefore bringing Apocalypse Now to mind, then reading aloud from her true-crime tome The Silver Doe, Darby's existence has been entwined with death since her childhood. The daughter of a coroner, she grew up around crime scenes and in the morgue, and can recite crime statistics about unidentified murder victims. When she was a teenager, she also started investigating a Jane Doe who was found in her town, putting her own detective skills to the test after apathetic law enforcement decided there wasn't enough information to go on. Darby's debut novel steps into that case, particularly the road trip she took with fellow Reddit-aided citizen detective Bill Farrah (Harris Dickinson, Scrapper) to solve it. Flashbacks to the journey flicker through A Murder at the End of the World, twinning the show's two quests to find killers.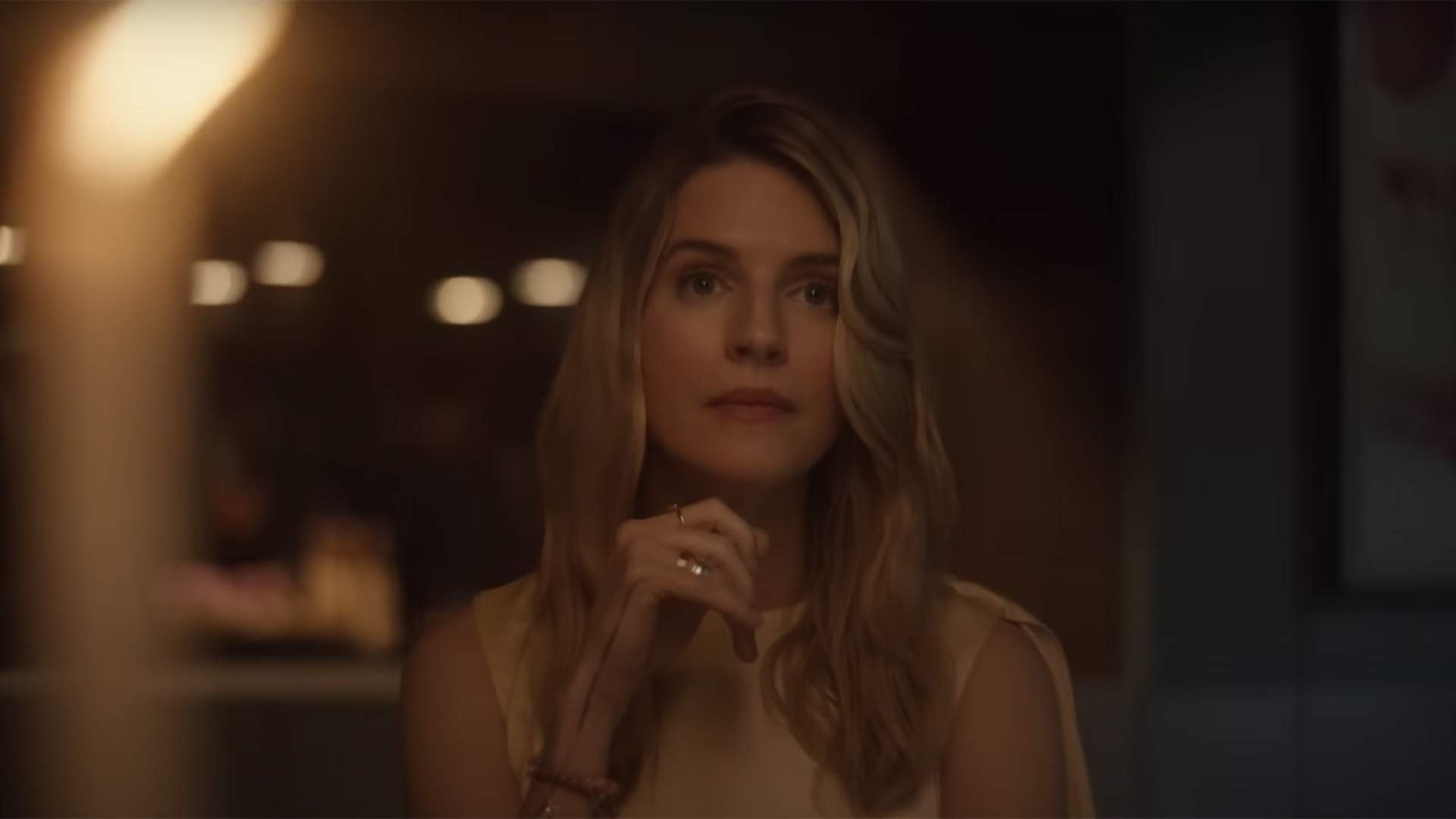 In the present-day storyline, an unexpected invite follows Darby's reading, with Ronson selecting her to attend an exclusive ideas salon where the future fuels the discourse. From the moment that she steps onto a private jet that looks like a library, she stands out — and long before freshening up the pink in her cropped hair, too. Also en route to the Iceland chatfest: smart-city designer Lu Mei (Joan Chen, The Heart), astronaut Sian (Alice Braga, Hypnotic), filmmaker Martin (Jermaine Fowler, The Drop) and businessman David (Raúl Esparzam, Law & Order: Special Victims Unit). Upon arrival, not only Ronson, his famed coder wife (and Darby's idol) Lee (Marling) and their five-year-old son Zoomer (Kellan Tetlow, This Is Us) await, but also climatologist Rohan (Javed Khan, Blind), activist Ziba (Pegah Ferydoni, Almania) and robotics whiz Oliver (Ryan J Haddad, The Politician) — plus security head Todd (Louis Cancelmi, Killers of the Flower Moon) and his doctor partner Eva (Britian Seibert, The Knick), all-knowing AI butler Ray (Edoardo Ballerini, Quarry) and Bill, who is now a Banksy-esque artist known as Fangs, and that she hasn't seen for six years.
For the innately cautious Darby and for A Murder at the End of the World's viewers alike, there's zero doubting that everything at this symposium isn't what it seems — and everyone for that matter. Then there's a body in the hotel's frozen midst, with more questions showering down, Darby the chief person doing the asking and the reception mostly biting. Interpretative dance doesn't play a part, but The OA's commitment to fleshing out its own engrossing realm and reverberating on its own frequency remains alive and well in Marling and Batmanglij's latest project. They're masters of atmosphere. They adore dwelling in complexity. They know how to make compulsive viewing, too, and to think and feel big while doing so. (Another function of the parallel timelines: swelling, sweltering emotions, as a new couple on the road chasing a serial killer are bound to feel, then carry with them for life.)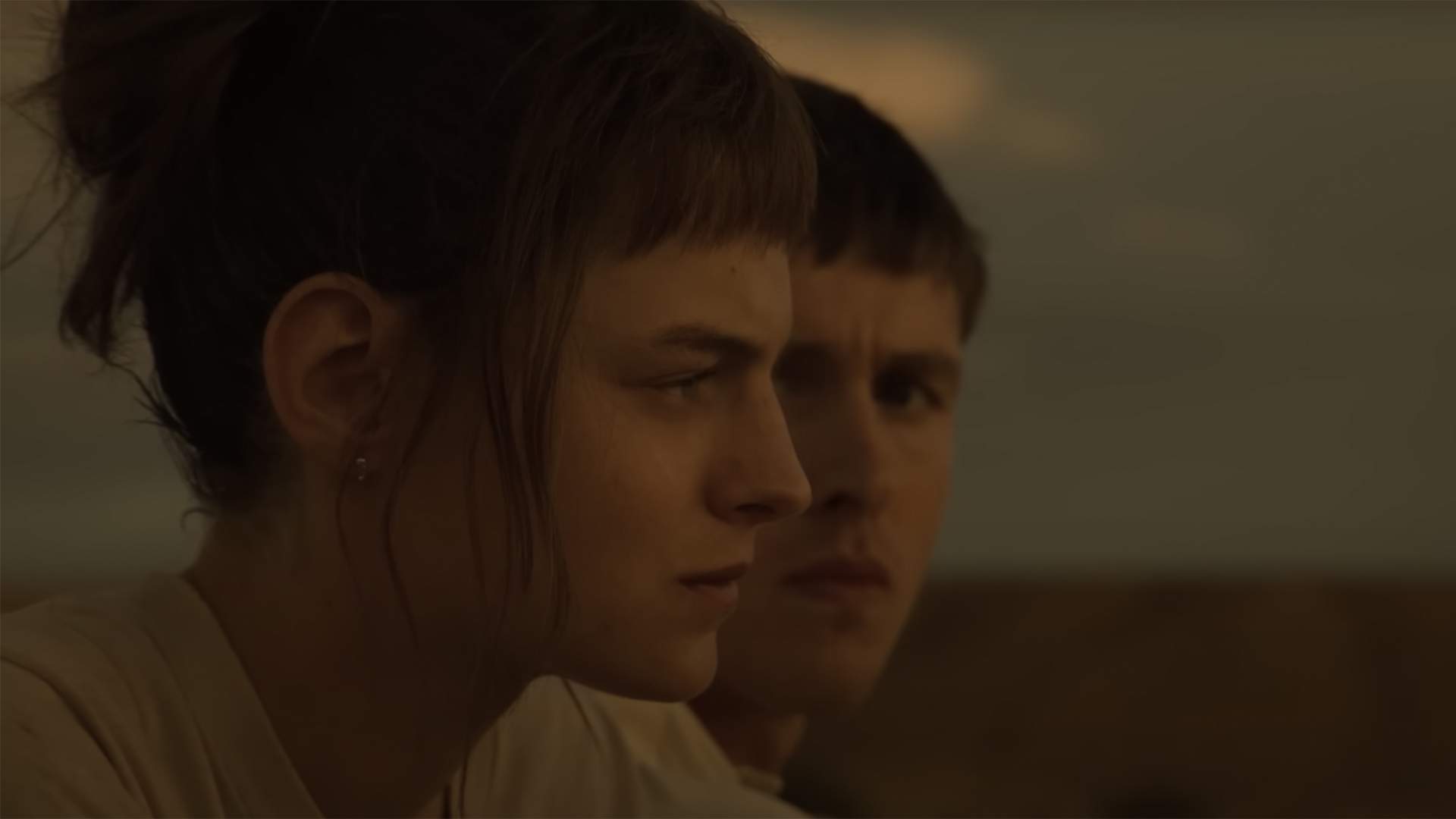 Marling and Batmanglii also push Corrin to the fore, as well as far away from stepping into Princess Diana's shoes in The Crown's fourth season. The resulting performance is magnificent. Casting is as crucial to any whodunnit as a case to solve — or two here — with A Murder at the End of the World's lead proving an impeccable choice. Their task is considerable, both as their Nancy Drew surrogate embarks upon a chase with American Honey's warm aesthetic and as the character gets so immersed in iciness that they could use The Killing's jumpers. While flitting between those sultry and glacial surroundings, and from the eagerness of a shy but razor-smart teen pursuing a passion and discovering more of the world to a warier twentysomething grappling with loss and survival, their face conveys a blizzard of thoughts and feelings. Cinematographer Charlotte Bruus Christensen (Sharper) patiently and probingly stays close, usually.
A Murder at the End of the World's penetrating frames also revel in Corrin's chemistry with Dickinson, a pair to run away to the end of the world with. This is a stylishly shot and seductive series, but it's all the more alluring when Corrin and Dickinson are together at its centre; empathy beats at the core of Darby and Bill's approach to righting the world's wrongs and finding justice for victims that time has forgotten, as it does in the portrayals behind them, plus the series around that. Owen and Marling make another entrancing pair, embodying the trait that Marling and Batmanglii love as much as sincerity: slipperiness. Craftiness abounds in the plot, in its hack-or-be-killed tech-driven sleuthing and in weaving together the show's many potent fixations — misogyny, capitalism and economic inequality among them. Shake this snow globe for more and you won't want to stop.
Check out the trailer for A Murder at the End of the World below:
A Murder at the End of the World streams via Disney+ from Tuesday, November 14.
Concrete Playground Trips
Book unique getaways and adventures dreamed up by our editors