'Mad Men' Meets 'The Jetsons' in Apple TV+'s Stylish New Lunar Salesman Dramedy 'Hello Tomorrow!'
What happens when selling the American dream means literally shooting for the moon? That's this retro-futuristic sci-fi series' premise.
In 2022, scam culture was here to stay, as drawn-from-reality hits such as Inventing Anna and The Dropout repeatedly promised. In 2023, playing fast and loose with the truth sits at the heart of Apple TV+'s new Hello Tomorrow!, too, which tells a fictional tale about the deceptions people spin to chase their dreams. The show's beaming face: travelling salesman Jack Billings (Billy Crudup, The Morning Show), the regional manager for BrightSide Lunar Residences, and a passionate pusher of timeshares on the moon. He's this intriguing dramedy's version of Don Draper, but with Mad Men's 60s surroundings swapped for The Jetsons-style robot help and hovering vehicles.
Streaming from Friday, February 17, the look of Hello Tomorrow! is retro-futuristic, steeped in 50s-era visions of what might come. The time and place is an alternative version of that decade, in a suburban enclave called Vistaville, where one of Jack's biggest fibs has its origins. He's summoned back with his crew of hawkers — the gambling-addicted Eddie (Hank Azaria, The Simpsons), promotion-coveting Herb (Dewshane Williams, In the Dark) and resident righthand-woman Shirley (Haneefah Wood, Truth Be Told) — by his mother Barbara (Jacki Weaver, Penguin Bloom) after his wife Marie (Annie McNamara, Severance) is injured by a self-driving delivery van. His son Joey (Nicholas Podany, Archive 81) is struggling to cope, a task made all the more difficult by Jack's absence from his family's lives for decades. He's skilled at sharing stories about his domestic bliss on the moon to customers, but being a happy head of a lunar household is merely one of his go-to falsehoods.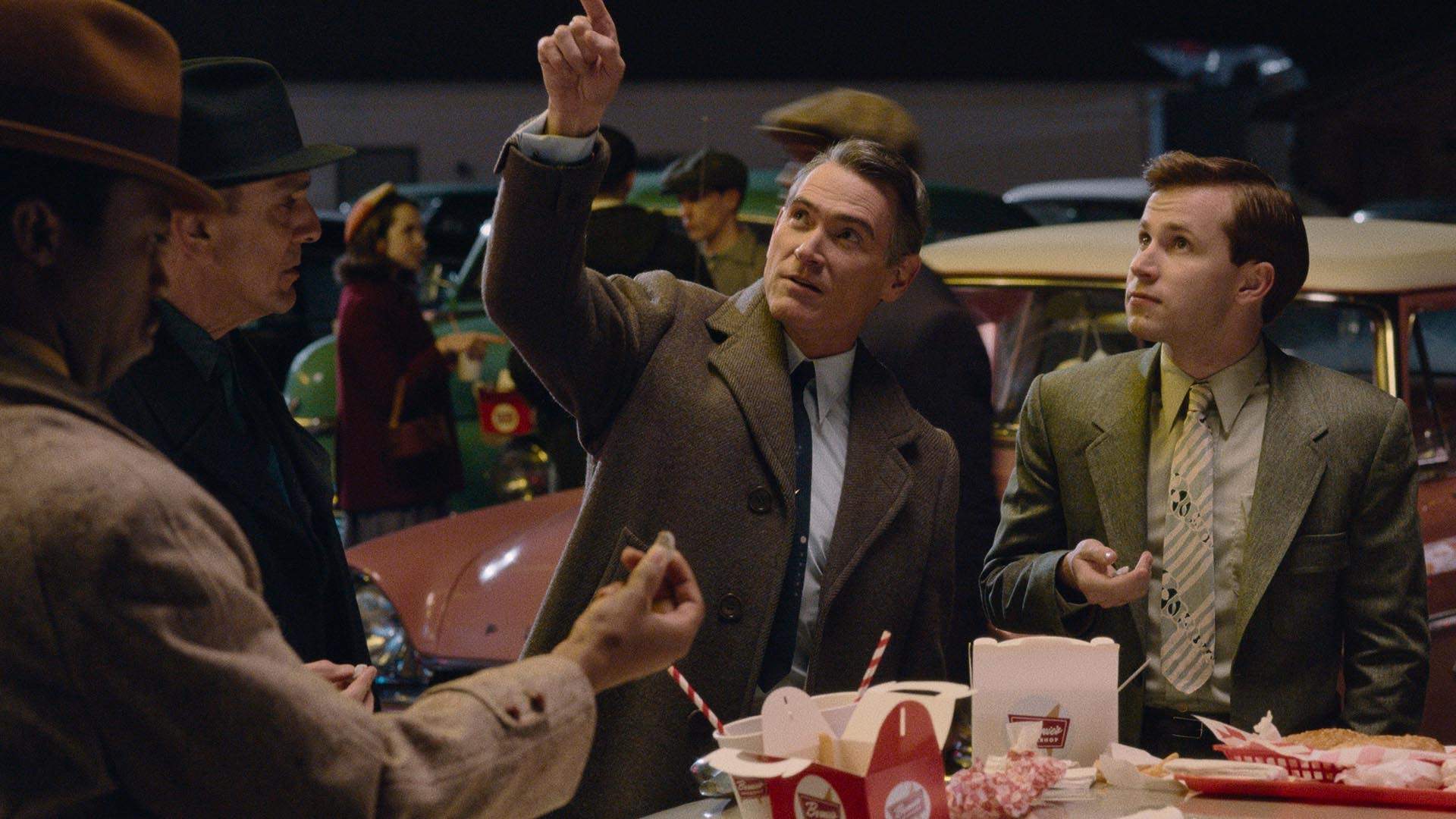 One such spiel opens Hello Tomorrow's ten-part first season — an attention-grabber of a launchpad with a universe's worth of details about Jack, BrightSide, how both operate and what each trades in from the get-go. In a diner that's the picture of nostalgic Americana except for the android server behind the counter, Jack gets comfortable beside a fellow patron, then gets selling, selling, selling. In his line of work, Jack can pinpoint people's wishes. There's no preternatural talent involved — this isn't Poker Face, another 2023 newcomer — but he knows how to lock in what his potential customers yearn for. So, he packages up an underdome home on the earth's only natural satellite as a way of repairing a fractured father-daughter relationship. Throwing in faux tidbits about his own wife and kids to close the deal, a sale swiftly follows.
When Jack is seen spruiking back in Vistaville, after decamping with his team to the Vista Motor Lodge, his inspirational rhetoric wavers. Rather, amid a mass presentation that features celebrity spokesman Buck Manzell (Frankie Faison, Till), TV's Space Sheriff, calling in from up above, his talk turns dark and the room's excitement plateaus. Joey is in the audience, however, and the earnest twenty-something is quickly sold. He also can't remember anything about his father, so doesn't spot the connection. Jack's solution: stopping his boy's purchase and giving him a job instead, still without revealing the bonds of blood. Of course, Joey joins the BrightSide fold just as aggrieved customer Myrtle Mayburn (Alison Pill, Star Trek: Picard) starts kicking up a fuss, her complaints falling on rule-touting bureaucrat Lester Costopoulos' (Matthew Maher, Our Flag Means Death) listening ears.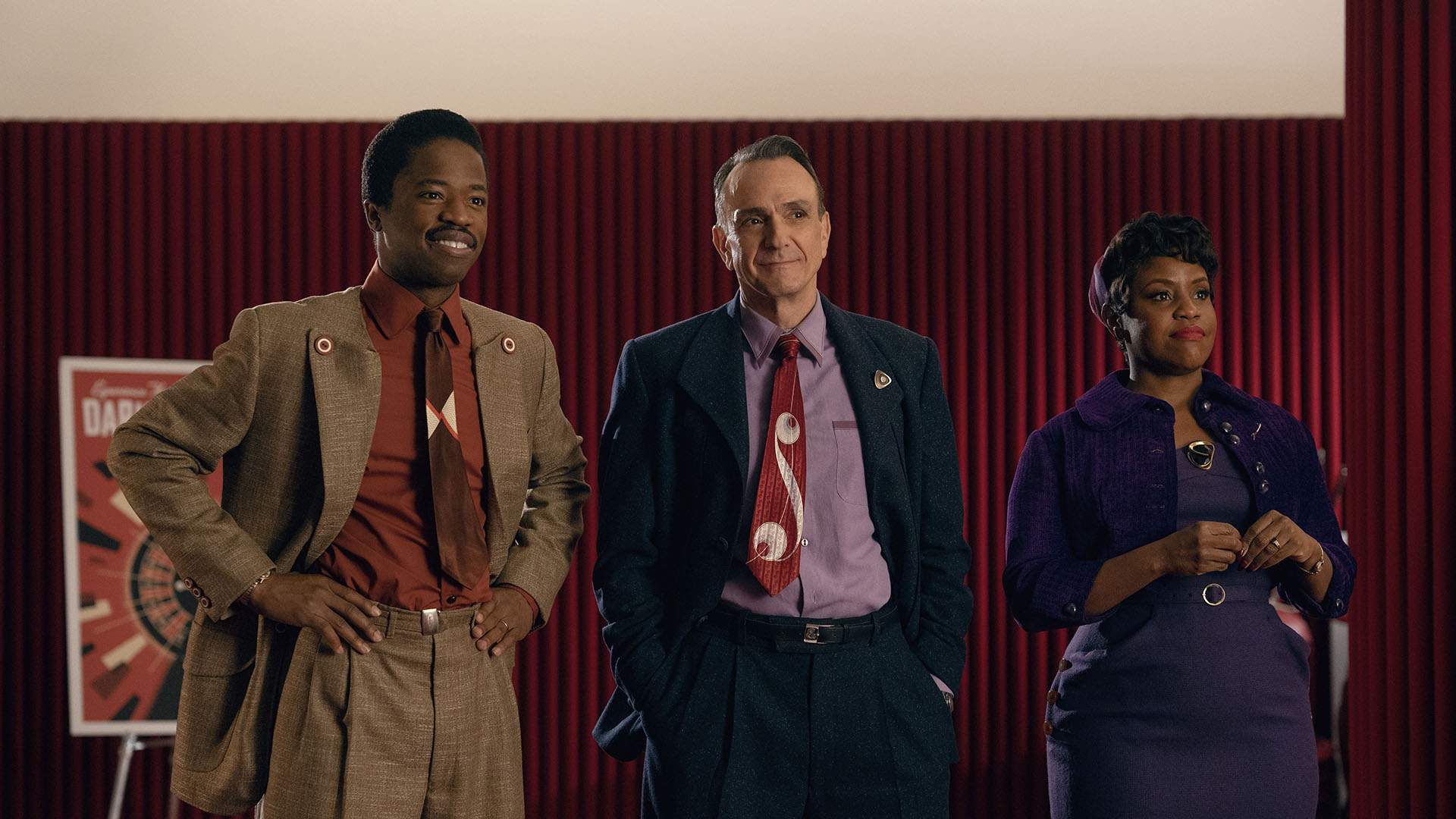 There's a The Twilight Zone-meets-Leave It to Beaver feel to Hello Tomorrow! as its characters seek the same thing we all do: a better life. Creators Amit Bhalla and Lucas Jansen (both Bloodline alumni), also co-writers and showrunners with You're the Worst's Stephen Falk, zoom in further, focusing on the reasons anyone holds onto to hope their lot will improve. Jack hit the road to discover something more when he farewelled Marie and Joey all those years ago, but it's clear amid the poise, polish and patter that he hasn't found it. Still, he hasn't stopped striving, either. Eddie needs a big payday because he's bought into the BrightSide promise, aiming to turn his romance with the married Shirley into a new lunar existence — and escape his mounting gambling debts. And Herb's wife Betty (Susan Heyward, Orange Is the New Black) is expecting twins, hence his persistent push for advancement.
Amid constantly whirling dialogue and a playful score by Mark Mothersbaugh (What We Do in the Shadows), selling the American dream — and buying into it — literally means shooting for the moon. As Hello Tomorrow! speedily establishes, both are frequently out of reach. Questing after something that never eventuates is one of the oldest stories under the sun, after all, and imagining a brighter future to make today's doldrums go down smoother is an ancient fact of life on this very earth. None of these notions are revelations in Hello Tomorrow!, but they are thoughtfully and stylishly unpacked. Take the show's pitch-perfect aesthetics, for instance; they're as shiny as can be, for the series' characters to interact with and its viewers to watch, but that gloss is never the be all and end all.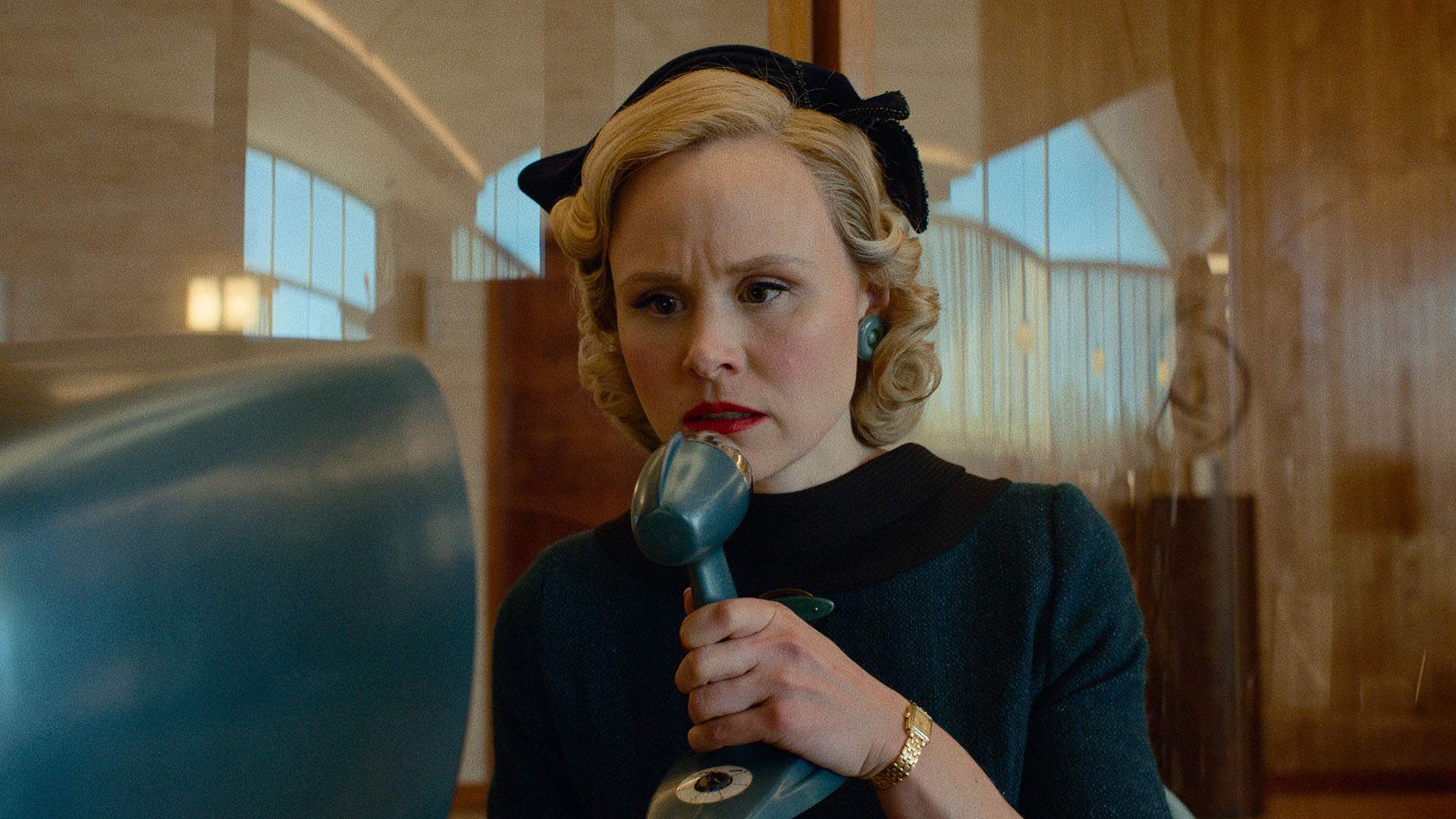 Hello Tomorrow!'s colourful, curved, tailfin-heavy production design (by Maya Sigel, I Am Not Okay with This), art direction (Katie Citti, The Peripheral), costume design (Anna Terrazas, Bardo, False Chronicle of a Handful of Truths) and set decoration (George DeTitta Jr, Succession) are equally sublime and stunning — instantly transporting as well — but they wouldn't gleam as blazingly if its story and themes didn't hit home. The lies keep building, then being exposed, as Jack is forced to confront the fallout of vowing to deliver everyone their best lives. Crudup won an Emmy for his last Apple TV+ role and is in stellar form again, all intuition, optimism and persuasion on the outside, and regrets and loneliness within. "What's life without a dream to make it go down easy?" Jack opines, with Crudup saying it like every character in Hello Tomorrow! believes it.
That sentiment also oozes from the fantastic Azaria as Eddie, the most forceful of the show's figures personality-wise and its most devoted to lusting after the BrightSide life. He makes an excellent duo with Wood as the canny Shirley, who puts her faith in people over easy promises — and both help sell a dramedy that's glorious in its world-building, with mobile phones absent but residing in the Sea of Serenity a normal possibility. Apple TV+ knows this high-concept, highly stylised, deeply engaging and resonant space, of course. With 2022's Severance, it traversed similar terrain in a wholly different way. Here's another dream that Hello Tomorrow! peddles, plus embodies: that our idylls borrow from everything we've seen and experienced, but we always make them our own.
Check out the trailer for Hello Tomorrow! below:
Hello Tomorrow! streams via Apple TV+.
Concrete Playground Trips
Book unique getaways and adventures dreamed up by our editors