Giving Jazz-Age Hollywood a Modern Beat: Oscar-Winning 'La La Land' Composer Justin Hurwitz Chats 'Babylon'
He's already nabbed two Academy Awards, and Justin Hurwitz might just score another for his latest collaboration with filmmaker Damien Chazelle.
"Driving." That's one of the words that Justin Hurwitz uses to describe the sound of Babylon, with his score to Damien Chazelle's new Hollywood-set film after La La Land frequently thumping with a propulsive beat. An array of other terms come to mind while hearing the two-time Oscar-winning composer's latest effort kick in throughout the Margot Robbie (Amsterdam)-, Brad Pitt (Bullet Train)- and Diego Calva (Narcos: Mexico)-starring movie, including at party after party, too. It's urgent. It's infectious. It's as spirited as the liveliest of raucous shindigs. From go to whoa, a handful of quieter moments aside, it bustles with big and jazzy lose-yourself-to-dance energy. 
For the picture that just nabbed him his fourth Golden Globe, Hurwitz is soundtracking the City of Stars' Jazz Age, after all. And, as viewers of his and Chazelle's past features know — Guy and Madeline on a Park Bench, Whiplash and La La Land, with their fourth collaboration on First Man being the only exception — this pair doesn't just like but loves jazz. Babylon's score doesn't simply stick with the obvious, however. Exploring an era where giving oneself over to Los Angeles' star factory and its indefatigable shenanigans was all the rage in the movie's view, it takes its inspirations as broadly as Hurwitz can find them, all to help set a pace and vibe for a flick that throws almost anything it can at the screen — from glitz and glamour to copious amounts of drugs and body fluids — to paint its buzzing, pulsating portrait.
Babylon follows its three central figures — Robbie's aspiring actor Nellie LaRoy, Pitt's established star Jack Conrad and Calva's industry jack-of-all-trades Manny Torres — as they weather everything that chasing their dreams thrusts their way. Given that the picture commences in 1926, that means traversing the Golden Age's wild highs and big changes alike, with the latter spanning the move from silents to synchronised sound from The Jazz Singer onwards, what that meant for actors now featuring in talkies, and shifting moral and societal standards of the period. Nellie parties herself into her big break, then gets saddled with the realities and contradictions of sudden fame. Even with his years of experience, Jack's ongoing lustre in the limelight is far from secure. And Manny does whatever he needs to to get jobs, turn them into better gigs, and keep climbing his way up. For all three, the successes are glorious, but the costs are significant.
There's no reprieve from Tinseltown's relentlessness, or its allure, in Babylon. Hurwitz's earworm of a score is similarly persistent; having it lodged in your head long after watching comes with viewing the film. But what does it take to create that irresistible sound? To give a 1920s- and 1930s-set movie a unique but fitting soundtrack? To hark back a century ago, but interpret it with modern sensibilities? Ahead of Babylon's release Down Under on January 19, we chatted with Hurwitz about making a feature that it feels like he and Chazelle were fated to, his processes, the film's rock 'n' roll and modern dance music influences, and more.
ON GETTING JAZZY WITH DAMIEN CHAZELLE — AGAIN
When you've teamed up with someone on five films, you clearly share a connection — and a wavelength. For Hurwitz and Chazelle, that started two decades back, when they both attended Harvard, met as freshmen and became roommates. And, before they were making movies, they were making music as early members of indie pop band Chester French. Yes, jazz was an influence.
Chazelle was a jazz drummer, after all, and Hurwitz a pianist and percussionist. It's no wonder that the genre had an influence on their filmmaking; in fact, it'd be more surprising if it didn't. Still, while Babylon might seem like a dream for the duo, it's a long-in-the-works effort for Chazelle but a relatively new project for Hurwitz. "I didn't know about this film till 2018," he advises. 
"Damien told me that this was what he was writing. He'd been working on it for a long time, which I actually just learned — I learned a couple of days ago that he'd been thinking about this movie for like 15 years. I had no idea. So I guess it was part of his evolution somehow, from the other jazz movies he made."
"For me, I didn't start thinking about this until a few years ago, and didn't start actually working on it till 2019. There's definitely some commonalities with the other things we've made, but I hope it's different — I hope the music sounds like its own thing."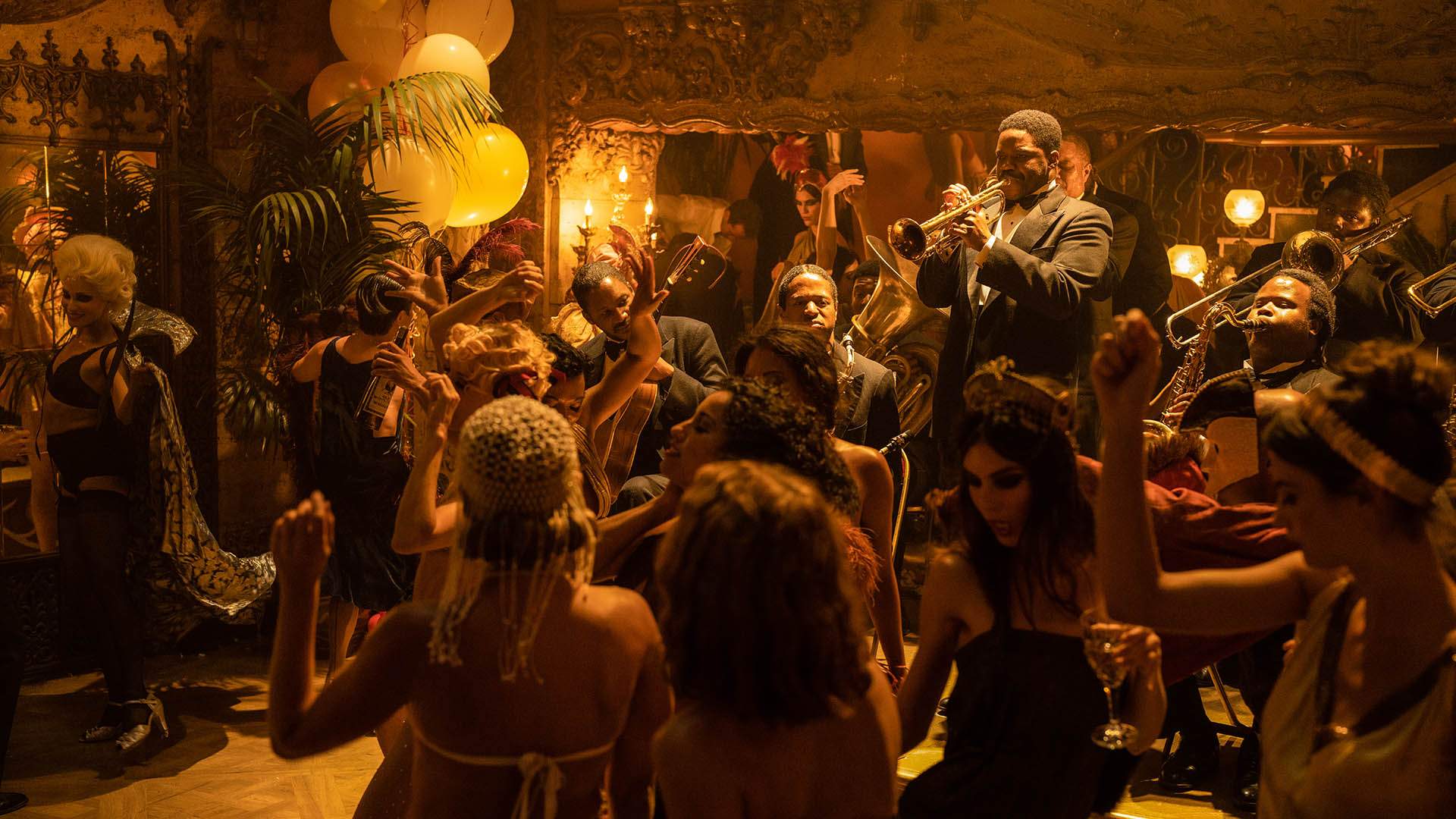 ON TURNING CHAZELLE'S SCRIPTS INTO MUSIC
How does a composer start conjuring up the sound for a film, especially when it is intricately tied to a specific period of music history? For Hurwitz, it's "the script. I always start with the script". With Babylon, he says, "Damien sent me a script, and we started marking it up and talking about where is there going to be music and where won't there be music."
"A lot of the music sequences were very complicated because there were a lot of performances, but also the same pieces of music had to then extend into other parts of the movie. You might have a little bit of a performance, or a little bit of Jovan's [Adepo, as a trumpeter Sidney Palmer] character playing, but then that music spills over into a montage into something else. So we had to think about what could serve the performance, but also what could serve the sequences dramatically."
"You really start with asking 'what do we want to feel?' Just looking at the scenes, what do we want to feel? And then I sit down, I start writing music at the piano or using some samples, some virtual instruments, and just trying to create sounds that feel — whether it's an aggressive driving piece, if we really want to feel something that's pounding you in the face, or if we want feel something sweeter. Whatever it might be, I just start trying to noodle around and sketch in the melodies that have whatever mood we're trying to feel."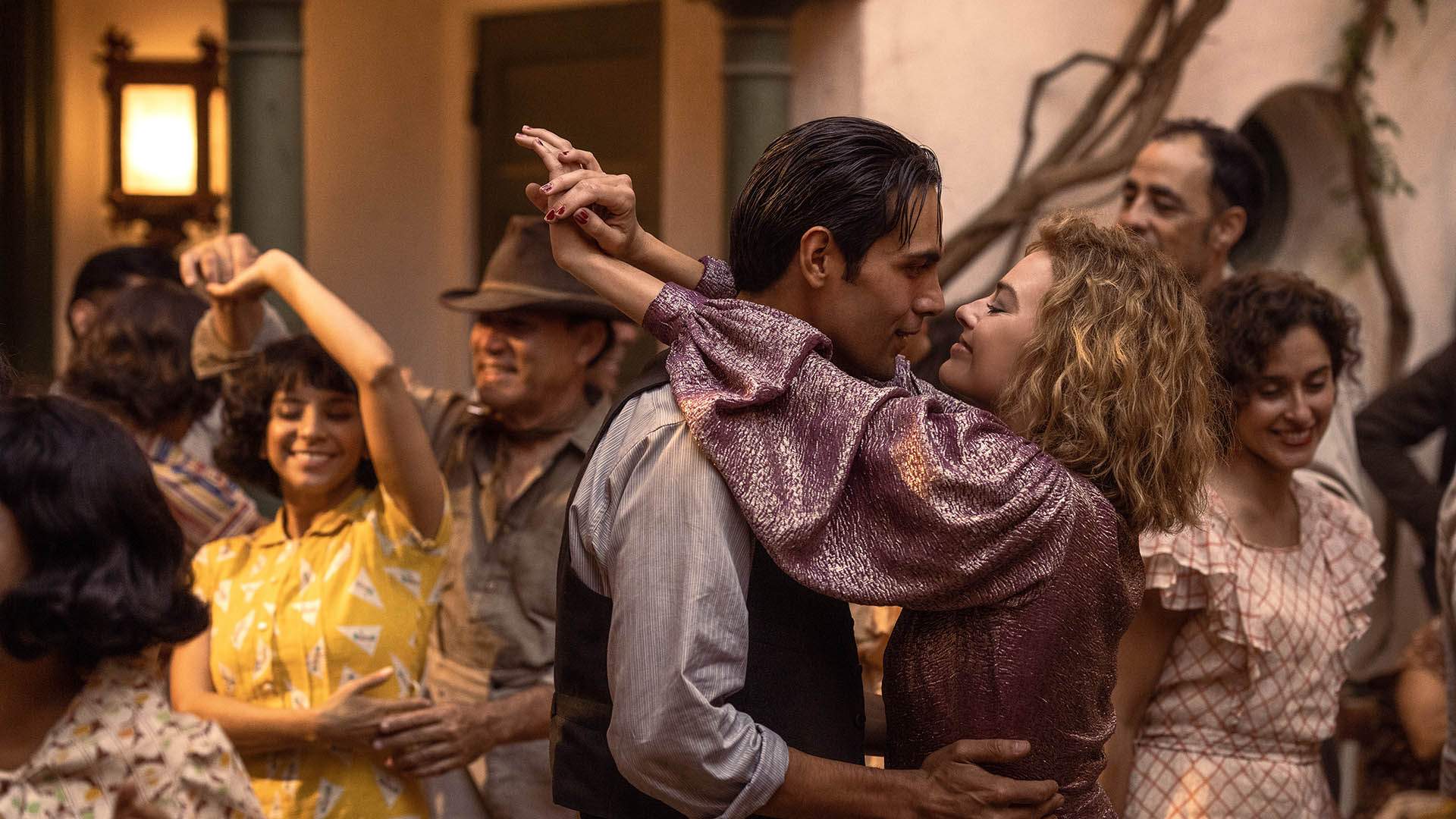 ON DRAWING ON MORE THAN THE OBVIOUS MUSICAL INFLUENCES
Jazz Age-set film, Jazz Age-adoring score, right? That might be the easy and obvious equation, but it wasn't Hurwitz's approach to Babylon. In its narrative, its visuals and its atmosphere, Chazelle is always pushing — as are his characters, and is Hollywood back at them. And, as tunes like 'Voodoo Mama', 'Call Me Manny' and 'Damascus Thump' make plain, so is Hurwitz.
"I know certainly I was trying to push the music, ironically, a lot more contemporary than anything we've done — even though this movie is 1920s, and it's an earlier time period than anything we've done," he explains. "I was trying to push the music more modern, more aggressive, more inspired by rock 'n' roll and modern dance music. So for me it feel pretty new — like a new flavour."
"I was really trying to stay away from music from the era, actually. I didn't want to listen to 1920s music, because we didn't want to have 1920s music in the movie really. So I was taking more inspiration from rock 'n' roll — imagining what it could feel like if you had rock 'n' roll riffs played on brass, played by a jazz band or a horn section. Or things that could easily be on a distorted guitar, but what if you give it to a couple of trumpeters? So that was a thought process."
"I was listening to the Rolling Stones and AC/DC, and things like that. And also listening to a lot of electronic dance music, and getting inspired by the dance rhythms and dance hi-hat and driving, 808 kick-drum feels — and sort of risers and drops, and those sort of moments that build anticipation and then explode and get you wanting to mood. I was taking inspiration from modern dance music for that kind of feel."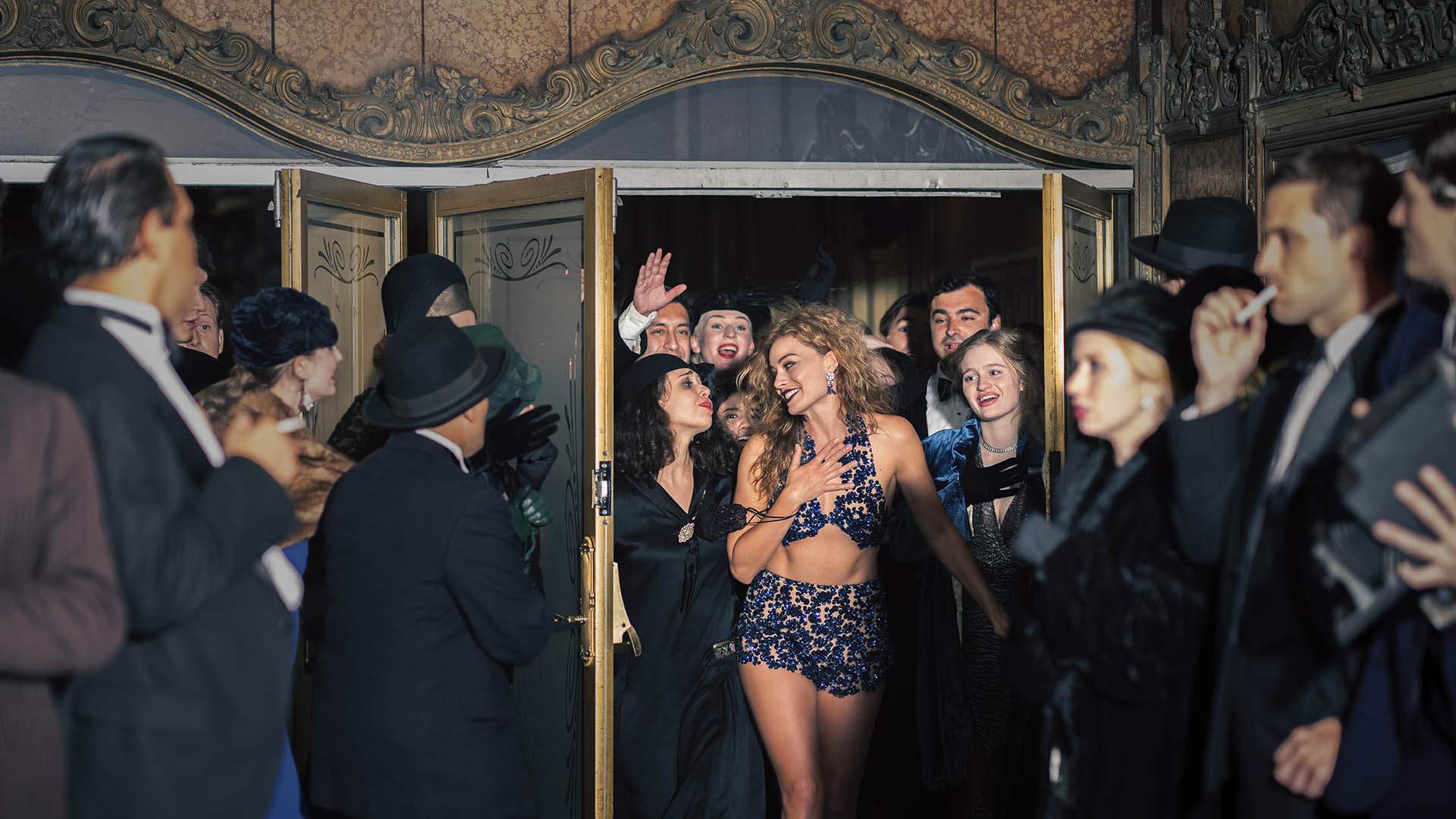 ON THE RANGE OF SOUNDS IN 'BABYLON'
Hurwitz didn't just vary his influences when composing Babylon's music (one tune, 'Manny and Nellie's Theme', even sparks La La Land flashbacks). For a film that he describes as having "a lot of other weird stuff", he employed a wide range of instruments and noises. "There's a lot of circus and carnival sounds," he says. "I was recording kazoos and slide whistles, and party horns for some of the tracks."
"There's erhu, which is a bowed Chinese instrument. There's a lot of world percussion. There's African percussion, Latin percussion, Asian percussion. There are very eclectic sounds in this movie, to match the very eclectic world of this movie — and of the 20s."
"People were really thinking about far-off places of the world, so there was a lot of exoticism, even if it was campy exoticism. Like, you go to theatres [from then] in LA and it's Egyptian style and it's all a little campy — it's obviously not really Egyptian. But people were just interested in it back then, so we tried to bring in certain flavours. That's a very long way of saying that the influences were far and wide."
Babylon screens in Australian and New Zealand cinemas from January 19. Read our full review.
Concrete Playground Trips
Book unique getaways and adventures dreamed up by our editors