Adding Paul Rudd and Meryl Streep to 'Only Murders in the Building' Season Three Is Pure Whodunnit Heaven
Getting sleuthing with the murder-mystery comedy's OG crew and high-profile newcomers is an utter delight.
Corpses and killings don't normally herald joy on-screen, even in pop culture's current murder-mystery comedy wave, but Only Murders in the Building isn't just another amusing whodunnit. With the two Knives Out films so far plus two seasons of The Afterparty, there's no shortage of excellent detective tales that pair crimes with laughs — and killer concepts with stellar casts, too — however there's a particular warmth to Disney+'s Selena Gomez (The Dead Don't Die)-, Martin Short (Schmigadoon!)- and Steve Martin (It's Complicated)-starring take. In each of its three seasons to-date, this New York-set series has unleashed a motley crew of amateur gumshoes upon a shock death, with its key trio sifting through clues and podcasting the details. Along the way, it has also kept telling a winning story about second chances and finding the folks who understand you.
Streaming from Tuesday, August 8, Only Murders in the Building's ten-episode third season relays that tale again, expanding its portraits of artist Mabel Mora (Gomez), theatre director Oliver Putnam (Short) and veteran actor Charles-Haden Savage (Martin) — and of their friendship. Once more, it embraces the power of chemistry, both within its narrative and for audiences. That isn't new; when the show debuted its first season in 2021, instantly becoming one of the best new arrivals of that year, it felt like the murder-mystery comedy genre's version of a cosy embrace because its three leads were so perfectly cast and their odd-throuple characters so full of sparks. While Mabel, Oliver and Charles wouldn't be a trio if it wasn't for a building evacuation, a murder and a love of true-crime podcasts, their connection isn't merely fuelled by chatting about the murders in their building, with crossing each other's paths changing their respective lives.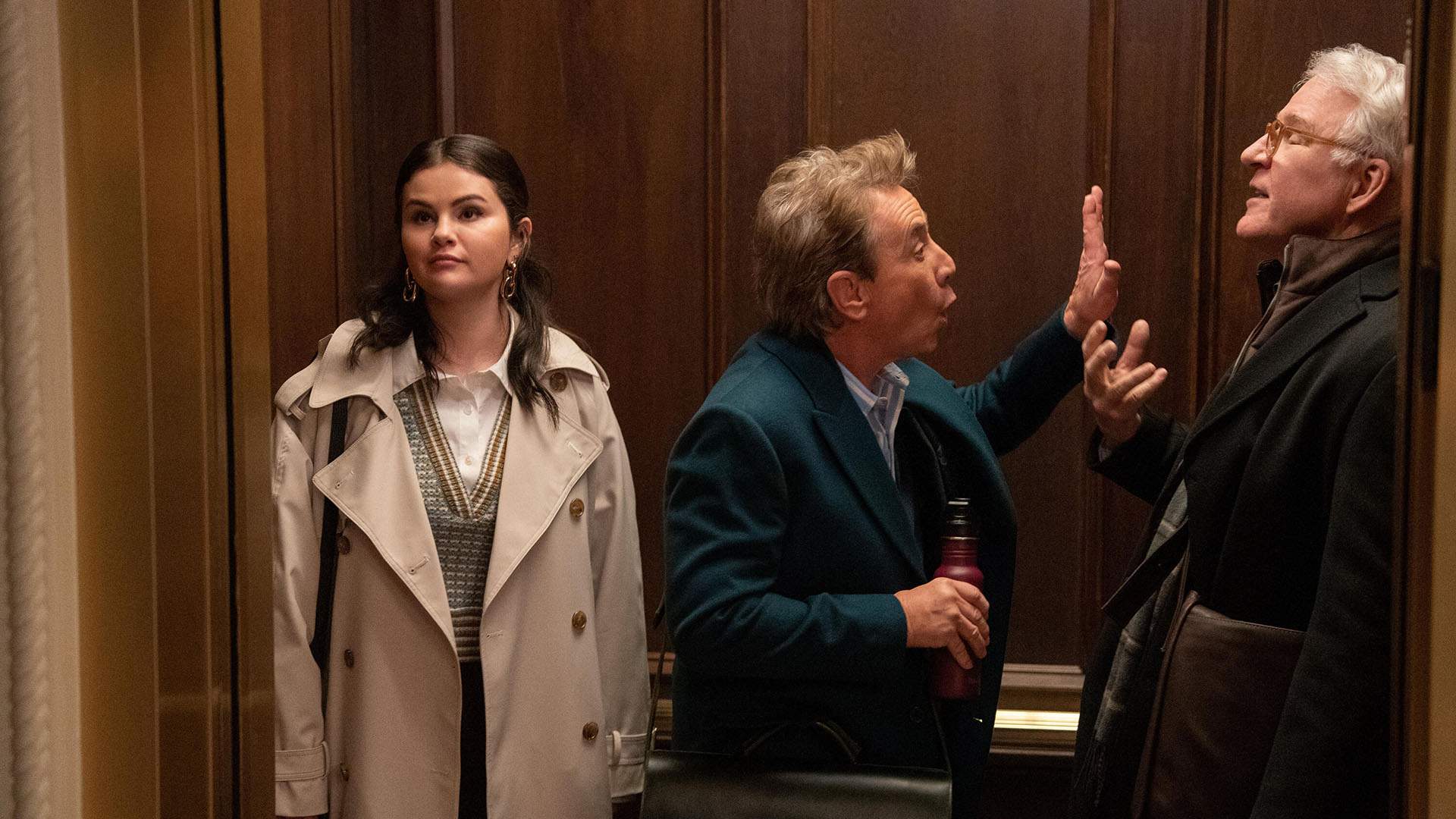 There's a death in season three's initial episode — it first occurred in season two's dying moments, to be precise — and, of course, ample sleuthing and talking about it follows. But Only Murders in the Building's latest run also opens with Mabel, Oliver and Charles in places that they wouldn't be if they were solo. Largely, that applies emotionally: Mabel is more grounded and open, and now thinking about the future more than the past; Oliver has faced his career fears, resurrecting his showbiz bug with a new show; and Charles is less misanthropic and more willing to take new chances. They're also frequently in a different location physically thanks to Oliver's comeback production Death Rattle. No, the series isn't now called Only Murders in the Building and on Broadway.
The victim: actor Ben Glenroy (Paul Rudd, Ant-Man and the Wasp: Quantumania), a silver-screen star best-known for playing a zoologist who fights crime by turning into a snake in the blockbuster CoBro franchise. (Yes, if those movies weren't just Only Murders in the Building's Ant-Man gag, existed IRL and starred Rudd, they'd be a hit.) Ben is Oliver's leading man and biggest name, but he's hardly lacking detractors within Death Rattle's cast and crew. Among the suspects that Mabel, Oliver and Charles swiftly look into is Loretta Durkin (Meryl Streep, Don't Look Up), who has spent her whole life trying to make it on the stage. Also earning their interest: influencer Kimber (Ashley Park, Joy Ride), one of the play's other talents; filmmaker Tobert (Jesse Williams, Grey's Anatomy), who was helming a Ben-centric behind-the-scenes documentary; and Ben's dutiful assistant Dickie (Jeremy Shamos, Dead Ringers), who is also his put-upon brother.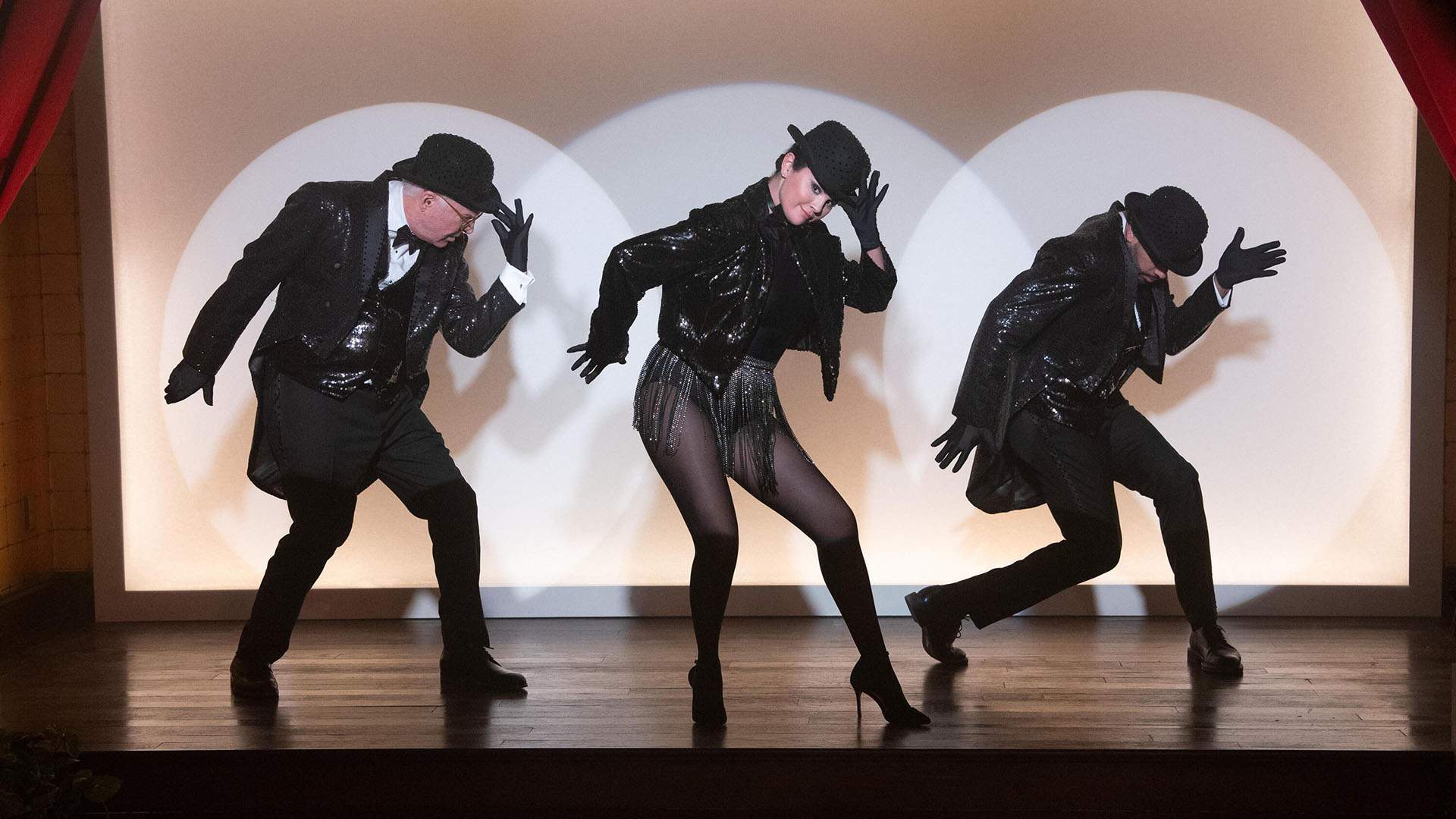 From both 2021's first season and 2022's similarly smart, bright, astute and funny second effort, viewers already know the always-engaging Only Murders in the Building template from here. Season three still links back to the Arconia, still has its core trio scouring for hints and answers while feeding their podcast, still savvily satirises true-crime obsessions, and still charts Mabel, Oliver and Charles' ups and downs both individually and as a team. Using a theatre as a fellow setting doesn't simply mix things up, however, or work in ghosts and superstitions, precariously placed sandbags, a heap of new faces, and ample nooks and crannies. And, it's not only an excuse to also unfurl the third season as a hustle- and bustle-filled backstage piece as Oliver endeavours to rescue Death Rattle (complete with earworm-level musical numbers and the fact that the play is about a potentially homicidal baby).
All of these things are true, and wonderfully and entertainingly weaved into the show. But season three also uses its jumps to Broadway to get the series and its main players pondering roles, performances and what represents a showstopper in their daily lives. Indeed, Only Murders in the Building isn't just warm and joyous because it celebrates the camaraderie of three unlikely pals discovering that life is a bit easier to handle — not to mention other people's deaths — when they have each other to lean on. It's cosy and delightful because it keeps deepening Mabel, Oliver and Charles amid the hunches, evidence hunts, red herrings, pointed fingers, annoyed cops and eager recordings, as aided by pitch-perfect performances by one of streaming's great current collaborations.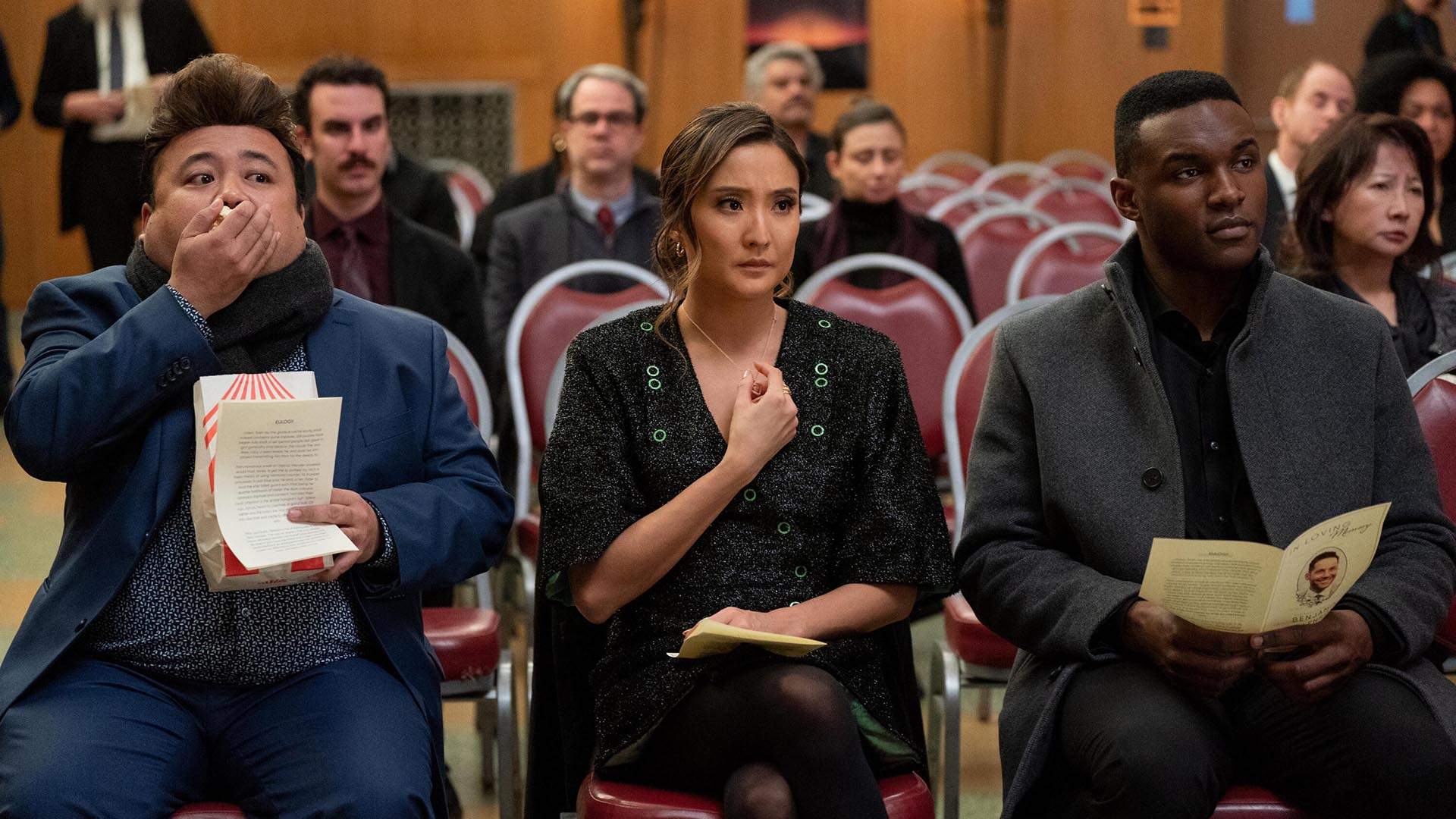 Gomez, Short and Martin make that ace a threesome; whenever they're together, Only Murders in the Building could have them bickering and bantering about absolutely anything and it'd gleam. That said, as creators and writers, Martin and colleague John Hoffman (Grace and Frankie) aren't afraid to separate their main trio to explore who they truly are on their own and why they find such solace in each other, either. In season three, Mabel feels left out with Oliver and Charles getting all wrapped up in Death Rattle, for instance, and relies upon different partners in sleuthing. Navigating this change in the show's core dynamic delivers some of its most revelatory character insights — and, as always, thoughtful comedy.
You can take Only Murders in the Building away from its namesake setting, even if temporarily, and it remains a gem. You can get its chief investigators going out on their own, again only fleetingly, and it's still a spirited unpacking of their friendship. And, this new season also makes plain that you can welcome a couple more megastars to the cast — in more than guest parts, pivotally — and everything still runs like comic clockwork. Rudd and Streep are dream additions, unsurprisingly. The former has a visible and hilarious blast leaning into Ben's egotistical ways and conveying why so many figures could've been responsible for his demise. The latter shimmers with melancholy among the suspects as Loretta faces the costs of a life spent chasing a dream. There are only wonderful star turns in this series, clearly — and you don't need to be a detective to come to that conclusion.
Check out the trailer for Only Murders in the Building season three below:
Only Murders in the Building's third season streams via Star on Disney+ from Tuesday, August 8.
Read our full review of season two — and of the show's first season, too.
Images: Patrick Harbron/Hulu.
Concrete Playground Trips
Book unique getaways and adventures dreamed up by our editors